Bicycling
New SFPD Park Station Captain's Bike Crackdown Won't Make Streets Safer
5:51 PM PDT on July 16, 2015
In the name of "protecting life," SFPD Park Station Captain John Sanford has promised a crackdown on people on bikes rolling through stop signs.
The SF Bicycle Coalition and some neighborhood leaders are calling on Sanford not to divert precious enforcement resources away from the most deadly traffic violations in the district, none of which are bicycle violations.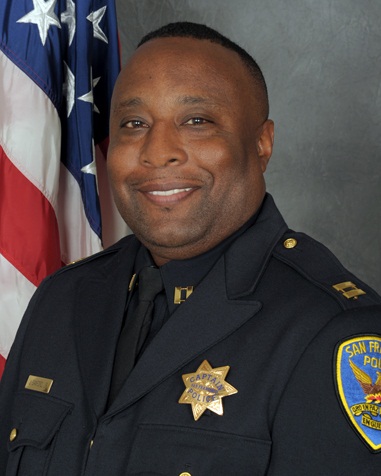 The SFPD has committed to Vision Zero, an end to traffic deaths. Its ostensible strategy is called "Focus on the Five" -- the idea being that most citations should be for the five top causes of traffic injuries in the city, which are all driver violations. All stations but one have failed to meet that goal. The share of tickets issued to people walking and biking is actually growing faster than "the five."
"This crackdown is a significant departure from the SFPD's Vision Zero Commitment and risks lives by diverting resources away from the deadliest traffic violations," the SFBC wrote in a blog post today announcing a petition. "This program at Park Station ignores the SFPD's Vision Zero goal and their own data... which show that the behaviors most likely to result in someone being hit or killed in the Park Station area are failing to yield to pedestrians, speeding, and sudden left or right turns."
Park Station has a history of targeting people on bikes on the Wiggle and streets in the North of Panhandle and Upper Haight neighborhoods, often at intersections that are nowhere close to being the district's most dangerous.
But Sanford, who became captain of the station in April, seems less convinced by data than by his personal perceptions. He explained his reasons for the crackdown at a community meeting in June, reports Hoodline:
Sanford said his decision to step up traffic enforcement where bicycles are concerned was fueled by the cyclist behavior he's witnessed around Park District. "I'm in an unmarked black police car, and they're just zipping past," he said.

Before the crackdown begins, district officers will promote education and awareness, but "bicyclists are required to follow the rules of the road," Sanford said. "There's a thing called a stop sign that bicycles are supposed to stop at." ...

One or two attendees questioned whether increased traffic enforcement against cyclists was appropriate given the district's limited resources, but Sanford said that scofflaws on two wheels "present a hazard for many people," and noted that "the protection of life" is his highest priority.
Sanford wasn't in attendance at a community meeting on Tuesday, and hasn't responded to a request for comment.
At Tuesday's meeting, SFPD Traffic Company Commander Ann Mannix said the department had increased its share of "Focus on the Five" tickets to 33 percent citywide, and explained the campaign's impetus. "The injury that a car inflicts, of course, is far greater than what a pedestrian could do to a car, or what a bicyclist could do," she said. "That said, we get the most complaints about bicyclists, so we will be doing a little more enforcement in that area."
SFPD Lieutenant Christopher Creed said Park Station plans to ticket cyclists "because we already go after vehicles," reports Hoodline.
In response to a letter [PDF] from the North of Panhandle Neighborhood Association expressing concern about his crackdown, Sanford wrote in an email that it "does not take away any enforcement with the Focus on the Five":
In fact, we have increase our enforcement efforts with the Focus on the Five and is committed as ever and have statistical data to support our efforts.

Our step up efforts simply mean first drawing the attention of cyclist violations to the attention of all officers in the Park district. In fact, right now we are still in warning mode in an effort to change behavior. I am hoping our efforts will be purely educational and we will not have to go into enforcement mode. However, I have received enough complaints and witnessed the problem with my own eyes and do believe it is a dangerous practice that can lead to serious injuries or even fatalities.
Sanford didn't explain how it's possible to "not take away any enforcement" when devoting officers to focus on bike commuters rolling stop signs.
The stop sign law in every state except Idaho assumes that bicycles are just like cars, creating the unrealistic expectation that someone on a bike should make a full stop at every stop sign, even when they are clearly not violating anybody else's right-of-way.
The letter of the law leads to an unproductive fixation on the way that people naturally negotiate stop signs on a bike: by slowing, checking for traffic, and being prepared to yield to others. A video posted on YouTube shows two officers demonstrating the practice on Haight Street in the Park District.
Meg Rosenfeld must be one of the residents whose complaints steer the Park District's enforcement. At Tuesday's meeting, when the SFMTA's John Knox White asked attendees to "think about one thing you can personally do that would be safer for everybody else on the street," she muttered with a chuckle, "Shoot the bicyclists." Rosenfeld also said that she sees officers roll stop signs near her home on Hugo Street, a popular bike route.
SFBC community organizer Janice Li, who was in the audience, invited Rosenfeld to suggest locations and neighborhood groups where SFBC should conduct outreach about safe bicycling. That seemed to disarm Rosenfeld, who simply replied, "Great, thank you."
Park Station's prior captain, Raj Vaswani, seemed to take a more reasoned approach to traffic enforcement priorities. For example, he got tow truck companies to avoid parking in the Fell Street bike lane.
"Rather than diverting resources away from enforcing the deadliest traffic behaviors," the SFBC wrote in its blog post, "Captain Vaswani would respond to occasional neighbor complaints about traffic violations by people biking by reaching out to the SF Bicycle Coalition and requesting that we ramp up outreach and education efforts."
Aaron was the editor of Streetsblog San Francisco from January 2012 until October 2015. He joined Streetsblog in 2010 after studying rhetoric and political communication at SF State University and spending a semester in Denmark.
Stay in touch
Sign up for our free newsletter