Bicycle Safety
Menlo Park Gets One Step Closer to Protected Bike Lanes on El Camino Real
3:41 PM PDT on August 10, 2015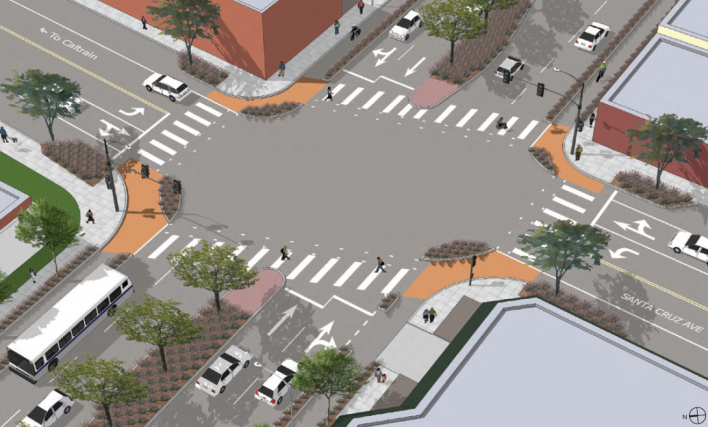 A report released by Menlo Park's Public Works Department last week [PDF] recommends protected bike lanes and Dutch-style "protected intersections" on El Camino Real.
The two-year El Camino Real Corridor Study, led by transportation consulting firm W-Trans, said building bike lanes protected from car traffic by a curb would provide "the most optimum safety conditions for bicycling" and walking while reducing car traffic on the city's 1.3-mile section of the highway.
The study looked at three bike lane options on El Camino Real, any of which would replace the 156 on-street car parking spaces that currently line the curb on the segment. Only one-third of those parking spaces are used, at most, according to a counts taken last September.
Menlo Park joins San Mateo as the second city in San Mateo County to envision physically protected bike lanes on El Camino Real, the deadly street-level highway owned by Caltrans that runs up the Peninsula.
Menlo Park's Public Works Department would take it a step further with a "protected intersection" design at three intersections: Santa Cruz, Valparaiso/Glenwood, and Oak Grove Avenues. That design, common in the Netherlands, minimizes potential conflicts between people biking, driving, and walking and makes cyclists more visible to motorists.
The study also considered an buffered, unprotected bike lanes on El Camino, as well as foregoing bike lanes altogether and widening the road from four to six lanes.
In February, W-Trans presented its findings that widening the roadway to a continuous six lanes would induce between 47 and 64 percent more car traffic north of Ravenswood Avenue during rush hour, increasing risks for pedestrians even as it slowed down driving trips.
Adding bike lanes instead is projected to fare far better, cutting traffic volumes up to 4 percent. With continuous protected bike lanes, bicycling on El Camino Real would multiply by a factor of seven or eight, according to W-Trans.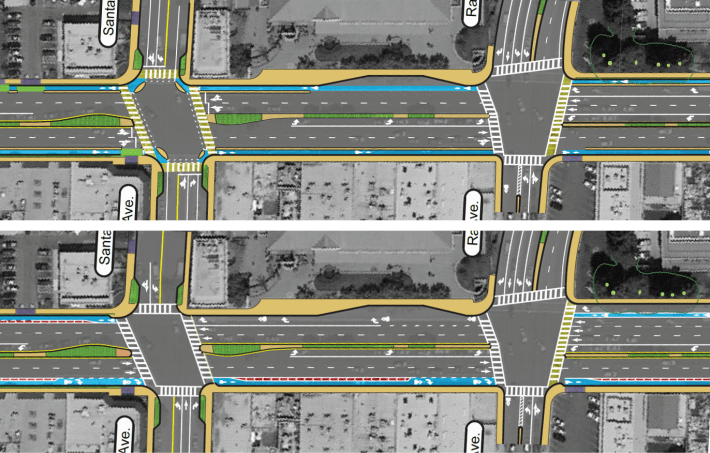 Removing 156 on-street parking spaces would not have a large effect on the downtown parking supply. The City of Menlo Park maintains 1,595 free parking spaces in its downtown core and aims to add more parking spaces in a new parking structure.
The city's Bicycle Commission, Transportation Commission, and Planning Commission each reviewed the proposed street redesign options twice between November 2014 and April 2015, and have all recommended either buffered or protected bike lanes for El Camino Real. On April 6, the Planning Commission also rejected an older city project to widen northbound El Camino Real approaching Ravenswood Avenue, which would require cutting down 11 trees.
Menlo Park's five-member City Council will review the W-Trans report and weigh in on the prospect of protected bike lanes on El Camino Real at its August 25 meeting.
Andrew Boone covers the Livable Streets Movements for Streetsblog in San Mateo and Santa Clara counties. Andrew's claim to fame is once having bicycled more than 12,000 miles of smiles in one year. nauboone@gmail.com
Stay in touch
Sign up for our free newsletter