Bicycle Safety
Menlo Park Fire District Opposes Protected Bike Lanes on El Camino Real
5:12 PM PDT on September 8, 2015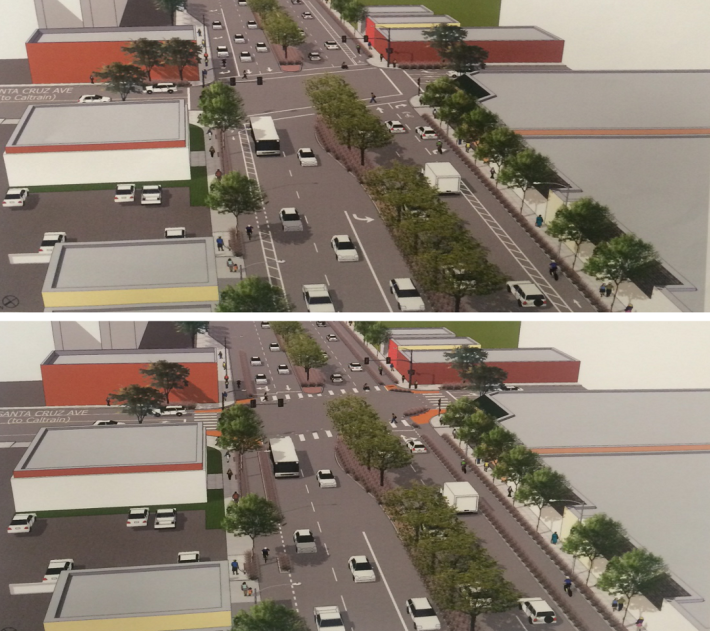 Menlo Park's proposal for protected bike lanes on El Camino Real is meeting resistance from the top brass at the city's Fire Protection District, who would rather see the road become wider and more dangerous.
In a recent letter to the Menlo Park City Council, Fire Chief Harold Schapelhouman completely missed the point of installing protected bike lanes -- to make making bicycling safer and more attractive. "I cannot recommend the use of El Camino Real in Menlo Park to bicyclists because it is a fairly dangerous route," he wrote. "In my 35-year career, bicyclists almost always 'lose' when they are involved with an accident involving a vehicle, no matter who is at fault or to blame."
Instead, Schapelhouman said it would be "interesting" to expand the street-level highway to six lanes and synchronize traffic signals to let drivers speed through downtown Menlo Park.
Three city advisory commissions have endorsed the conceptual plan to install bike lanes, either physically protected from motor traffic by curbs and landscaped traffic islands, or an alternative with just a painted buffer zone.
At an August 25 meeting, Menlo Park City Council members refrained from voting on those proposals but did say they favor a trial version of the protected bike lanes, which would replace 156 parking spaces along all 1.3 miles of El Camino Real within the city.
"Until we as a city envision transportation differently and implement actually very simple infrastructure... it's just going to always be easier to jump in your car," said Cindy Walton, vice chair of the Menlo Park Bicycle Commission, told the City Council. "We have to do things that are transformative in order to enable people to ride their bikes, or take buses, or walk."
The Silicon Valley Bicycle Coalition "strongly support[s] adding protected bike lanes to El Camino and creating a safer Complete Streets corridor with transportation options for everyone," said Policy Manager Emma Shlaes.
At the same meeting, Menlo Park Fire Marshall Jon Johnston asked the City Council to delay action until "a comprehensive public safety analysis is included" in the two-year El Camino Real Corridor Study that recommends protected bike lanes, and until the city's General Plan Circulation Element is updated (expected next July). Johnston said that the El Camino study did not factor in "emergency response, the recognition of hospitals on either end, and Fire Department access in regards to this corridor."
Transportation planners from W-Trans, the consulting firm that conducted the study for the city, explained that expanding El Camino to six lanes would only invite more car traffic and make the street even more dangerous for people walking and bicycling.
Ceding the curbside lanes car traffic would also slow emergency vehicles more than the bike lane configurations, "because essentially there is no place to pull over" in the event of a traffic backup, said W-Trans Principal Steve Weinberger. "With a striped buffer and bike lane, in the case of an emergency vehicle siren behind... you can easily pull over into the bike lane and buffered area to create room for the emergency vehicle."
The idea of a six-lane configuration didn't win over Council Member Kirsten Keith. "I just don't see that as the vision for Menlo Park," she said. "It just creates three lanes [in each direction] of faster traffic."
As Keith noted, other California cities like Long Beach have proven that protected bike lanes enable more people to bike. "It's impressive, and they have separate signals for cars and for bikes," she said. Menlo Park's vision for El Camino Real would take it a step further with Dutch-style "protected intersection" designs.
Along with the Fire District, some business owners have opposed bike lanes on El Camino Real because it would remove car parking. According to the Almanac, a merchant submitted a petition with 240 signatures to preserve car parking on the street.
Only one-third of those parking spaces are used, at most, according to counts taken last September cited in the city's study.
Others told the City Council that making El Camino Real better for biking and walking would boost business. From the Almanac:
Dale Hall, who works in Menlo Park and is part of the new environmental organization Menlo Spark, said other communities, including San Francisco and Oakland, have seen more business for nearby retailers after improving bike lanes.

"If you're in a car on El Camino, you're either flying by or you're at a stoplight," he said. "This just isn't a proposal to help out a small group of die-hard bicyclists," he added, but something that "will benefit the entire Menlo Park community."
Siding against bike lanes on El Camino, Council members Catherine Carlton and Peter Ohtaki said bike traffic should be detoured on to side streets, which would be less direct. Ohtaki also backed six traffic lanes on El Camino, saying it could reduce cut-through car traffic in the Allied Arts neighborhood south of downtown.
Council Member Rich Cline also favored alternative routes, but said El Camino Real needs to be made safer for the people who bicycle there anyway.
The City Council is expected to review a report in October with details about the trial bike lane project, including the implementation schedule, plans for data collection, and details about traffic, parking, and emergency response.
"We as a city can make El Camino what we want it to be," said Council Member Ray Mueller, who favored the trial. "Is traffic volume actually going to drop? Are we actually going to go ahead and see people use these bike lanes?"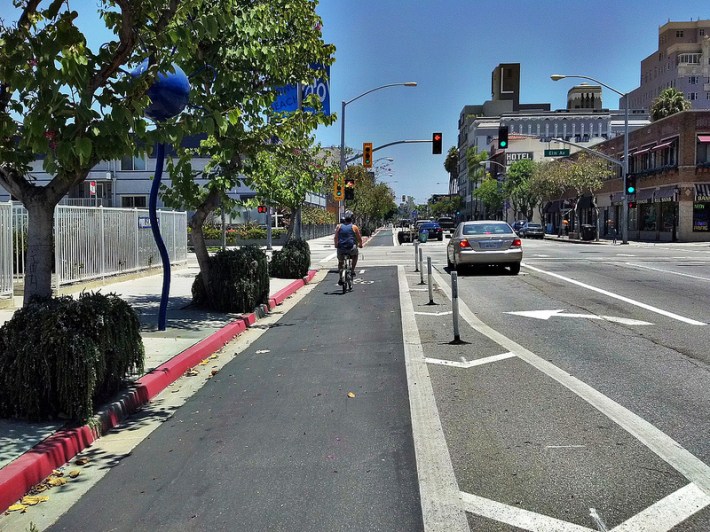 Andrew Boone covers the Livable Streets Movements for Streetsblog in San Mateo and Santa Clara counties. Andrew's claim to fame is once having bicycled more than 12,000 miles of smiles in one year. nauboone@gmail.com
Stay in touch
Sign up for our free newsletter