Peninsula
San Mateo County to Appoint Five-Member Bike/Ped Advisory Committee
3:42 PM PDT on September 15, 2015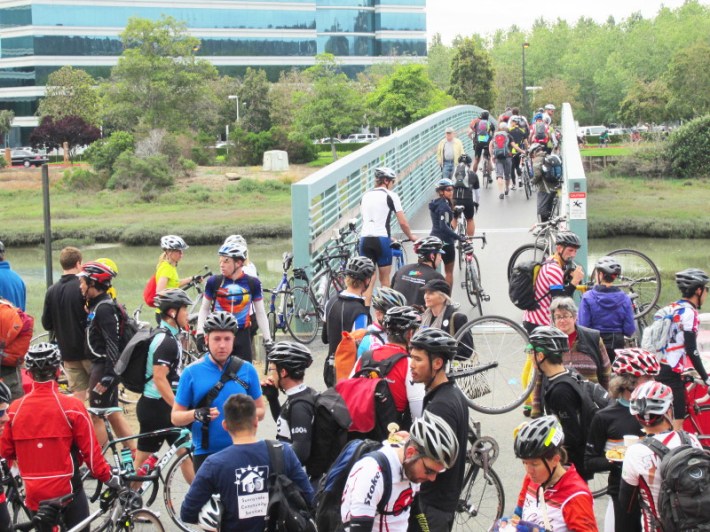 Last week, San Mateo County established a new Bicycle and Pedestrian Advisory Committee (BPAC). Its stated mission: to improve public health, reduce greenhouse gas emissions, and extend mobility for children, seniors, people with disabilities, and those who live in disadvantaged communities.
The committee's five volunteer members will be charged with providing recommendations not only to the county's Board of Supervisors, but also to "committees, commissions, and departments on issues related to bicycling, walking, and complete streets," including funding priorities.
"We applaud the County for taking this positive step in ensuring that the needs of all roadway users are considered when determining projects and priorities," wrote Silicon Valley Bicycle Coalition (SVBC) Policy Manager Emma Shlaes in an e-mail to the Board. "This committee will contribute to transparency and accountability in policy decisions, ease the decision making process and ensure community support."
San Mateo County's 2011 bike/ped plan [PDF] points out that major roadways such as El Camino Real, Highway 92, Highway 1, and Woodside Road "prioritize motor vehicle traffic flow with minimal consideration of impacts on bicyclists and pedestrians," and that Highways 101, 280, and 380 also create barriers to active transportation, with most interchanges remaining hazardous for people walking and bicycling.
The new committee is expected to help guide investments and recommend infrastructure projects that address these barriers and "increase rates of active transportation and to improve the quality of facilities that serve people making daily trips by walking and bicycling," according to last week's resolution establishing the advisory group [PDF].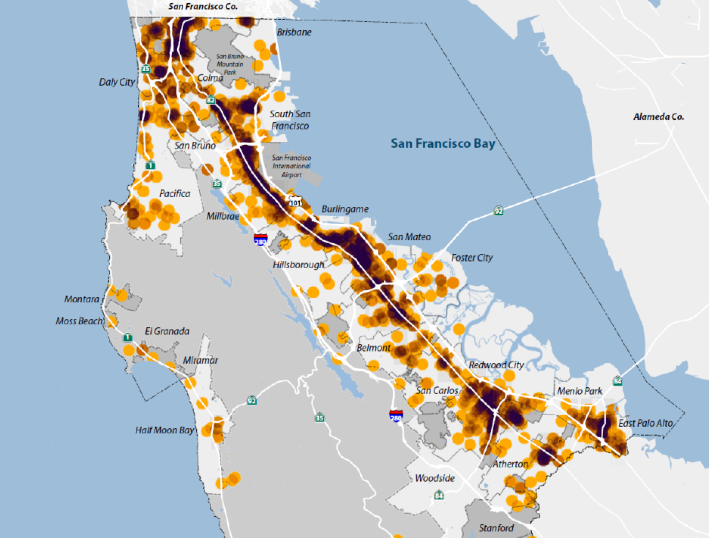 San Mateo County has two existing bike/ped advisory committees, but both are limited in scope. Caltrain's Bicycle Advisory Committee helps guide investments to improve bicycle access on trains and at stations. And the City/County Association of Governments (C/CAG) Bicycle and Pedestrian Advisory Committee primarily seeks to prioritize projects funded by that agency, which only comprise a small fraction of the total bike/ped dollars spent in the county.
"C/CAG BPAC is composed of elected officials and community members who are appointed based on geography, not involvement in bicycle or pedestrian issues," said the Silicon Valley Bicycle Coalition in a 2011 report on regional bike planning [PDF], noting that such committees should "be composed of individuals who walk and bike as their primary modes of transportation."
San Mateo County's new bike/ped advisory committee, in contrast, will include county residents "who regularly walk and/or ride a bicycle for transportation purposes," such that "one member represents the interests of the bicycle community, one member represents the Safe Routes to School community, and one member represents the interests of the older adult community. The two remaining seats shall be at-large."
According to County Active Transportation Coordinator Ellen Barton, applications to serve on the BPAC will be available later this year, with Board appointments and the committee's first meeting taking place in early 2016.
Andrew Boone covers the Livable Streets Movements for Streetsblog in San Mateo and Santa Clara counties. Andrew's claim to fame is once having bicycled more than 12,000 miles of smiles in one year. nauboone@gmail.com
Stay in touch
Sign up for our free newsletter