Pedestrian Safety
San Mateo County TA Rejects Ped Safety Projects But Not Highway Expansions
3:57 PM PDT on October 14, 2015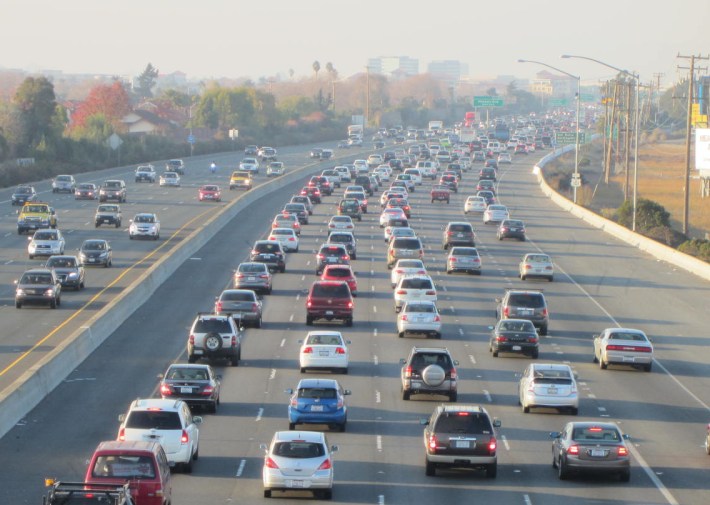 With $125 million to lavish on it's Highway Program this year, the San Mateo County Transportation Authority (TA) has decided to spend $108 million on highway expansion projects while denying funds for major pedestrian and bicycle safety improvements [PDF].
On October 1, the TA Board approved $11 million to reconstruct the Holly/101 Interchange in San Carlos as a partial cloverleaf to accommodate higher traffic volumes, but rejected the city's $3 million request to include a ped/bike bridge. Scheduled for completion in 2018, the interchange will force people crossing the highway on foot or by bicycle to navigate a series of hazards.
"With the new design of Holly/101, people on bikes still must cross and weave with [auto traffic from] high-speed on and off ramps, and it won't make people safe and comfortable enough to use walking and bicycling," Silicon Valley Bicycle Coalition (SVBC) Policy Manager Emma Shlaes told the board. "If a true Complete Streets design cannot achieved on the interchange itself, then funding should be provided to alternatives, in this case, the bike and pedestrian overcrossing."
The pedestrian bridge was declared "not eligible to be funded from the Highway Program" by TA staff, even though the Highway Program has funded many safety improvements included in other projects.
"I certainly would not go so far as to say it would be illegal," said TA Legal Council Joan Cassman at the board meeting. "But I would say that given the confines of this call for projects, and the rules we established in seeking proposals from sponsor cities to submit requests for grants from this agency for highway projects, we were quite clear that the requests for the projects we were seeking would not include separate bicycle overpass facilities."
TA staff also defended their decision to deny funds on grounds that several ped/bike-specific funding sources could be used instead [PDF]. But those grant programs are tiny -- dwarfed by sums heaped on highway expansions -- so most critical safety projects remain unfunded for years or even decades.
"We are opposed to the position that the Holly Street & Highway 101 Interchange Reconstruction Project in San Carlos is ineligible for Measure A Highway Program funds," wrote Sierra Club Loma Prieta Chapter Sustainable Land Use Committee Co-chair Gitv Dev in a letter to the TA Board. "The project was intended to ensure the safety of all users on the interchange. By splitting the project into a highway project and a bicycle pedestrian project, the Transportation Authority (TA) is unnecessarily inflating the cost and endangering a disadvantaged class of users."
Also denied funds by the TA Board: Belmont's $7.9 million request to implement part of the Ralston Avenue Corridor Plan, which install traffic signals, new sidewalks, crosswalks, and bike lanes, and a new roundabout at the entrance to Notre Dame de Namur University.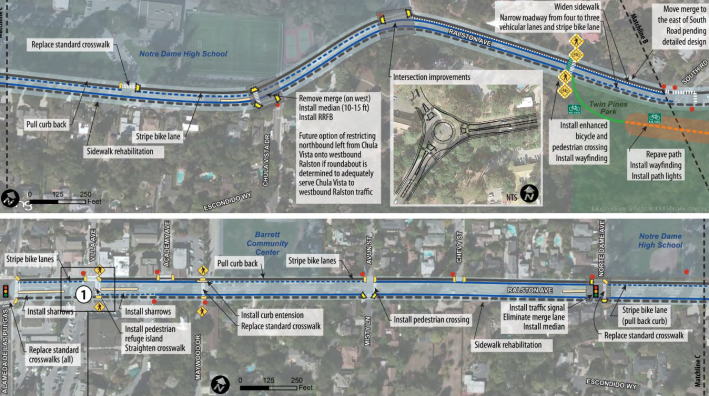 And in another blow to creating walkable, bikeable streets and reducing traffic, the TA Board denied funds to a project that would create a more complete street grid in South San Francisco by extending Railroad Avenue under Highway 101. The highway is a major physical barrier that discourages nearly all non-motorized travel between the west and east sides of the city.  A continuous Roadroad Avenue would "alleviate significantly the existing traffic congestion caused by the only known west-east crossing along Grand Avenue... and create a more friendly bicycling and pedestrian environment," according to the city's application for $19 million in Highway Program funds.
Instead, the $108 million allocated by the TA Board on October 1 will fund eight interchange reconstructions or lane addition projects along Highway 101 in the hopes that providing more space for cars will somehow reduce traffic jams, even though decades of experience has shown otherwise.
Take it from the Federal Highway Administration:
The new or widened highway facility can carry significantly more traffic before it becomes congested. Many travelers who previously took other routes or traveled at other times may switch to the new facility to take advantage of decreased travel times... each user of a highway facility contributes to increased congestion on the facility. As congestion grows on the new facility, the overall user benefits attributable to potential travel time savings may decline. In addition, increased [Vehicle Miles Traveled] due to new or longer trips can result in air pollutant emissions and noise above the levels that would occur without the additional vehicle travel.
While the TA Board opted to deny Highway Program funds to the Holly/101 pedestrian bridge on October 1, it will review that decision at its next meeting on November 5.
Andrew Boone covers the Livable Streets Movements for Streetsblog in San Mateo and Santa Clara counties. Andrew's claim to fame is once having bicycled more than 12,000 miles of smiles in one year. nauboone@gmail.com
Stay in touch
Sign up for our free newsletter