BART
Is BART Ready for the Big One?
2:51 PM PST on February 9, 2016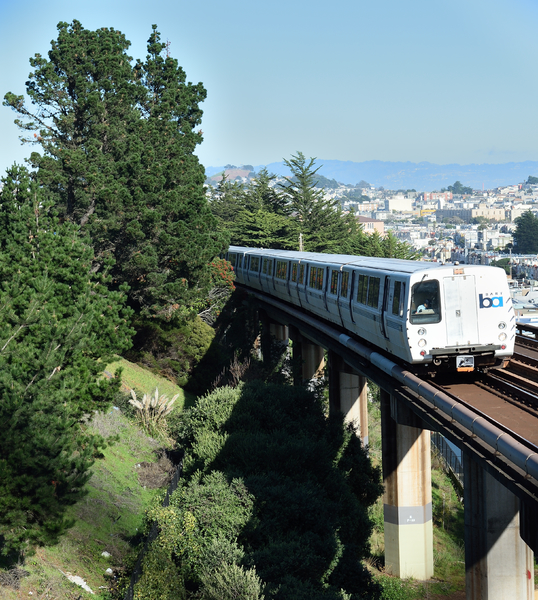 Last week, the White House and members of Congress renewed a commitment to completing "ShakeAlert," a prototype early warning system developed at UC Berkeley that alerts users via cell phones and other means of an earthquake in progress. Although it can't predict earthquakes, it sends a signal a few seconds before the most violent shaking starts, giving people a chance to duck under a table or take other precautions.
While that may not seem like much, it's incredibly important for a few professions--and could potentially save many lives. Fire Department garage doors can automatically open, since they often jam in a quake. Surgeons can pause a delicate operation. And BART trains can apply the brakes.
So how does it work?
"It's like the midnight ride of Paul Revere. You find out after the Red Coats have arrived, but it gives you time to prepare," said Sarah Minson, a Menlo Park seismologist with the US Geological Survey. She also likens it to the delay between when one sees lightening and hears the accompanying thunder. Earthquakes come in two waves: the first one travels faster, but doesn't do much damage. The second wave comes behind it; it's the one that collapses buildings and derails trains. California already has some 400 sensors distributed near fault lines to detect these initial waves and send out the warning.
BART is participating in the system's development. "We've had the beta in place since 2012," explained BART Director John McPartland in an interview with Streetsblog. "We test the system quarterly." When that initial wave is detected, ShakeAlert automatically cuts power and starts decelerating trains—to about the same rate they slow to when entering a station. Depending on the distance from the earthquake epicenter, that means 60 to 90 seconds of warning, which is enough to stop or significantly slow a train. The trains could stop faster, but then there's a risk of "throwing and injuring passengers," explained McPartland. The train conductor can decide to manually hit the emergency brake, if faster braking seems warranted.
The system actually had something approximating a real-world test during the Napa quake in 2014. That quake happened at 3:20 am and "we weren't running any trains at the time," said McPartland. "But the signal was received and everything seemed to work."
Meanwhile, there was one very successful test of this type of system. The devastating 8.9 earthquake of March 11, 2011 in Japan triggered that country's own warning system and 33 bullet trains automatically applied the emergency brakes, preventing any loss of life. California's High-Speed Rail project will also have this kind of earthquake protection.

That said, Caltrain, Amtrak and Muni aren't yet part of the ShakeAlert system, according to a document from the US Geological Survey (although Los Angeles Metro and LA's commuter railroad, Metrolink, are participating). Streetsblog requested comment on whether Caltrain and SFMTA will join the system in the future and will update this post as more information comes in [update: "We do receive an alert from BART's system. It gives us about a 10 second advanced warning," says a Muni spokesman.] Presumably, Caltrain will get these safety systems along with electrification and other upgrades that will be part of California's High-Speed Rail project.
Either way, the ShakeAlert system isn't as robust as it could be yet, explained Minson. The plan is to add 715 more sensors around the state and eventually 8,000 for the entire West Coast, at a cost of $38 million. Even then, it won't be perfect. Areas close to the epicenter may get little or no warning. False and missed alerts are also possible, according to scientists.
But BART also has a second, passive line of defense against earthquakes. The train cars are built with "a very low center of gravity, to make it difficult for them to tip over," explained Tom Horton, group manager of BART's Earthquake Safety Program. There's also a channel on the track bed so if a train derails, its wheels will fall into it "so the train doesn't jack knife." The agency also has completed excavating and reinforcing pylons on its elevated track sections, among other safety improvements.
Scientists say California has a 99.7 percent chance of a magnitude six or greater quake in the next 30 years.
Stay in touch
Sign up for our free newsletter