Muni
Muni Taraval Meeting Met with Grimaces Groans and Grumbles
3:11 PM PST on February 18, 2016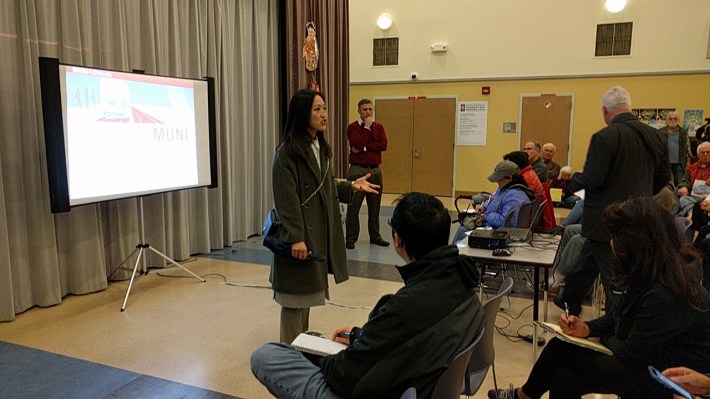 Over a hundred people braved the wind and rain yesterday evening to attend the latest public outreach meeting about SFMTA's planned "Muni Forward" improvements to the L-Taraval streetcar line. The meeting was held at Dianne Feinstein Elementary school, about two blocks south of Taraval.
District 4 Supervisor Katy Tang kicked off the meeting. "I am here to listen," she stressed, talking about the importance of public comment in formulating transit improvements. The main presentation was given by Sean Kennedy, SFMTA Muni Forward Program Manager. He talked about how SFMTA, as part of the Vision Zero goals, had identified Taraval as a street where safety improvements are needed. "22 people have been hit in the past five years getting off trains," he said. "And 46 total," making it part of the city's "High Injury Network."
To reduce these collisions, the agency is looking at installing more concrete platforms in some places and improving markings and law enforcement in others. Kennedy explained that a common problem is too many motorists do not understand that it is illegal to pass a stopped train when it is loading and unloading passengers. "Around a third of motorists ignore state law, putting passengers in danger," he said.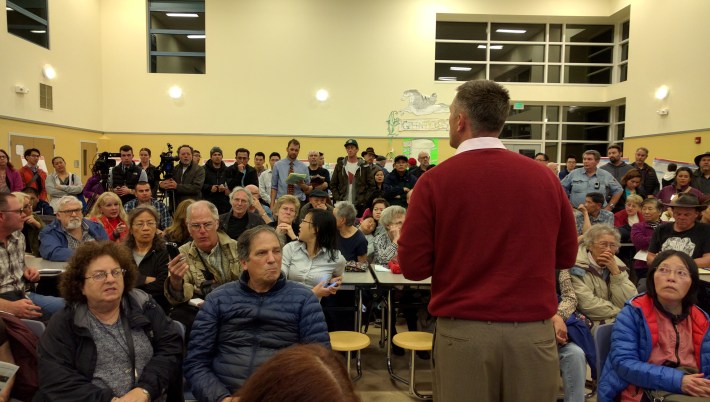 The project includes general improvements, such as rail replacement and upgrades, to smooth out and quiet the ride. They will also paint the track area as red, transit-only lanes.
However, Kennedy had to struggle to get through his presentation, as he was continually interrupted and shouted down by an unruly audience. "You're taking parking away!" was a common refrain. Kennedy tried to explain that, yes, in places a handful of parking spots would be removed to make room for safety platforms and markings to protect riders and other pedestrians, but they would be replaced, on a one-for-one basis, with parking on side streets. When he stressed again that they need this to create safety refuges for passengers, one person shouted "Why not get people to comply when they get off the train!" The same person blamed Muni riders who got hit by cars for "wearing dark clothes at night."
Another complained that replacing parking around the corner was not good enough. "You're still ruining it for those merchants!" Another man shouted that 22 people hit while alighting the trains "doesn't seem like that many" and does not warrant making changes.
After about 40 minutes, Kennedy got through his presentation--and constant interruptions--and he invited questions. "You're following a procedure called decide, announce, defend!" said Doug Buchwald, a resident of Berkeley who frequents the area. He dismissed the notion that Muni was listening to audience suggestions. "I'm here because I'm concerned."
Teri Lenfest, an Outer Parkside resident who held a cane, suggested Muni "take a hint from the railroads" and have grade-crossing barriers come down to block automobiles from endangering pedestrians. Kennedy suggested that would not work, as motorists would just go around them.
Buchwald complained that the plan to speed up the train by eliminating some stops was tantamount to "having two stops for the entire line, one at each end," he said. "That may sound funny, but if you have mobility problems and it's your stop that gets eliminated, they may as well do that."
Audience members also grumbled that they couldn't hear the speakers and that the presentation should have been in multiple languages. Paul Rose, chief spokesman for SFMTA, said, "it's about the parking, they have misconceptions about the parking." He also stressed that many more people comment about the project online. "Our main priority is safety--by 2024 we want to all but eliminate road fatalities."
SFMTA also did surveys and went door to door for feedback. When pushed as to why the people at this meeting seemed unusually distrustful and irritable, Rose shrugged. "These are the people who showed up."
Stay in touch
Sign up for our free newsletter