Bicycle Infrastructure
Are Outdated Regulations Holding Back Safety Changes on Market?
5:01 PM PST on March 1, 2016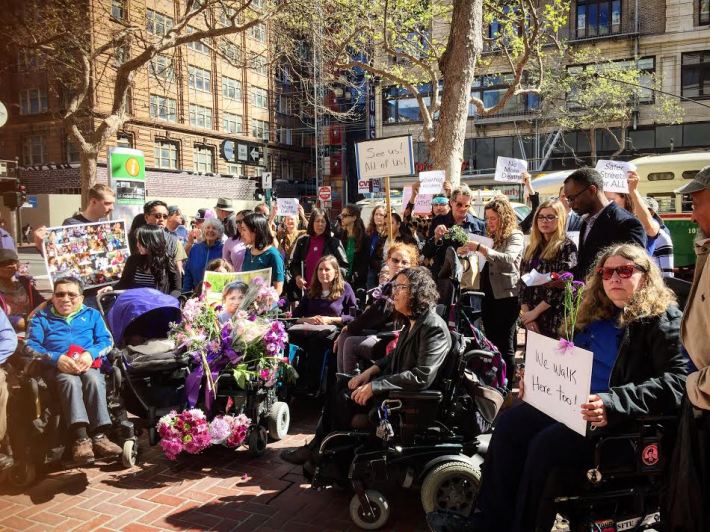 Today, advocates for livable streets attended the memorial service for Thu Phan, a woman killed in a crosswalk on Market Street on February 5. Yesterday Streetsblog urged SFMTA to stop compromising on safety improvements, a theme echoed at the event.
"In the first two months of 2016, five people have already died in traffic crashes – and over half of those were killed on or near our most dangerous streets," said Walk SF executive director, Nicole Ferrara. "While the recent changes to Market Street are important first steps in making San Francisco's streets safer, they do not go far enough, especially to protect people who are most at risk, including seniors and people with disabilities. Thu Phan's tragic death could have been prevented, if stronger safety measures were in place."
The tragedy highlighted something else that's painfully obvious: Market Street will always be a dangerous place as long as there are automobiles on it. Between the streetcars, bicycles, buses, pedestrians and—above all else—automobiles, it's not so much that there's a particular intersection that's problematic. The entire street, as currently configured, is a conflict generator.

There are two programs underway to correct this. One, of course, is Safer Market Street, which brought in safety improvements as part of the Vision Zero goals. This includes turning restrictions—which were apparently violated in this latest fatality.
The other project is "Better Market Street." Depending on how the alternatives shake out, preliminary estimates are the project could cost approximately $400 million. Funding would come from the voter-approved 2014 San Francisco Transportation and Road Improvement Bond and other state, local, and federal sources.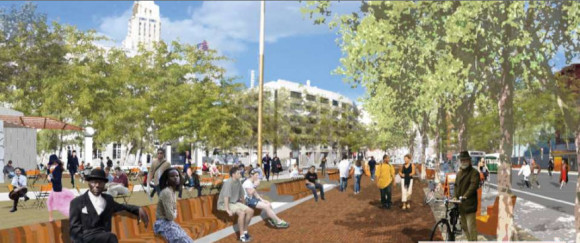 Streetsblog took a look at the project a couple of years ago. An additional study will be done this month, said Simon Bertrang, Project Manager for Better Market Street. It includes a Light Detection and Ranging (LIDAR) map of Market Street—basically, a far more detailed examination of existing conditions. "That will support the Draft Environmental Impact Report, anticipated in 2017."
Under the different options, there will be bulb-outs to narrow pedestrian crossings. Trucks, depending on the scenario, will be forced to load and unload on side streets. The project will also look at safety improvements such as more "changes to signal timing to provide pedestrian leading intervals," said Bertrang. When the study is completed, the public will be invited to comment. Under at least one scenario, the length of Market Street from about Van Ness to the Embarcadero will get raised, separated bicycle lanes. Another likely improvement should reduce bus-bicycle conflicts, by building boarding islands to the left of the bike lanes—that way buses and bikes aren't constantly leapfrogging as they make their way down the street. Private automobiles will no longer be permitted on stretches of Market. But "there will still be taxi cabs on Market Street," said Bertrang, plus trucks and other commercial vehicles.
"We think 'Better Market Street' needs to consider further restrictions on the types of vehicles that can travel on Market Street," said Ferrara. "We shouldn't be sacrificing safety on our city's main corridor for convenience. That's the bottom line."
It's interesting to note that because of the timing of this project, the team is preparing the study to meet two sets of requirements under the California Environmental Quality Act. They estimated Levels of Service (LOS), but are also looking at the new rubric of Vehicle Miles Traveled (VMT). Until recently, Californian environmental law considered slowing down car traffic to be a negative environmental impact—so even something as benign as a bike lane could trigger the need for some kind of mitigation. In other words, the Better Market Street study is straddling these two ways of looking at environmental impacts, which may be partly why the city isn't proposing stricter controls on automobiles.
San Francisco is an old city with a compact core, like many European cities. And European cities such as Oslo, Norway, are now banning cars from their cores. It's high time for San Francisco to consider bolder moves for safety. Besides, San Francisco just performed an unintentional experiment during the Super Bowl: the city continued to function even though cars were heavily restricted on many streets.
Studies are supposed to look at distinct options. It's something advocates can demand during the next public comment period for Better Market Street, when the draft environmental studies are published next year. In the meantime, they can come comment at the Planning Commission meeting on Thursday, where the transition from LOS to VMT in San Francisco projects will be discussed.
"In our grief, we realize changes need to be made in San Francisco; people shouldn't die crossing the street in our city," said Phan's sister Holly Michna at today's memorial event. "No family should suffer the same tragedy we've had to face."
Stay in touch
Sign up for our free newsletter