Muni
L-Taraval and the Concrete Boarding Island Question
5:18 PM PDT on May 9, 2016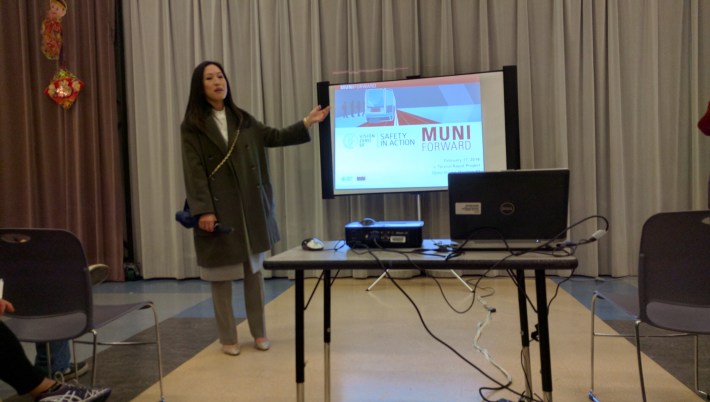 Back in February, Streetsblog reported on one of three meetings about SFMTA's planned "Muni Forward" improvements to the L-Taraval line. Since then, SFMTA has held various smaller meetings with local stakeholders, confirmed SFMTA.
But rumors have grown that, under the direction of Supervisor Katy Tang, the SFMTA was backing off safety improvements, such as adding concrete boarding islands. This was reinforced by a San Francisco Examiner headline "Supervisor slams brakes on L-Taraval changes." Concrete boarding islands require the elimination of some parking spots on Taraval, and local business owners were objecting.
This follows a pattern, also seen on Mission Street, where local business owners complain that any elimination of traffic lanes or parking hurts business. This led to Supervisor David Campos calling for a rethink of the transit-only lanes on Mission. He confirmed that directly with a Facebook post.
But in the case of Tang, sources close to the goings-on say the rumors are wrong. Streetsblog reached out to Supervisor Tang's office on several occasions but, most likely due to timing, hasn't connected so far. That said, Streetsblog was able to obtain this response via email from Tang to the Examiner and, along with it, to the rumors that she's for eliminating boarding islands:
With a single headline, "Supervisor slams brakes on L-Taraval changes," the Examiner has completely misrepresented what has transpired with the L-Taraval Muni Forward Project. [The Examiner's article] from May 5, 2016 attempted to provide readers with an update about SFMTA's proposed changes to the L-Taraval to improve pedestrian safety and transit reliability. Instead, readers were led to believe that my office tried to stop the proposed changes from happening.

SFMTA presented our community with a set of proposals that included installation of boarding islands, stop removals, transit-only lanes, and traffic signals as part of the L-Taraval Muni Forward Project. Naturally, the proposal was met with opinions from all sides. Neighbors were invited to community meetings that turned into public shouting matches. Thus, our office suggested that we hold focus group meetings with representatives from all communities to move the conversation forward in a more productive manner. We included community members who represented youth, seniors, transit riders, drivers, merchants, bicyclists, pedestrian safety advocates, and those with disabilities. Through this forum, we were able to discuss in greater detail SFMTA's initial proposal and where potential changes could be made or not be made. All of the detailed feedback will help SFMTA refine its initial proposal.

As with all large projects, community members will find that they share a diversity of opinions. But regardless of how people feel about specific proposals, most community members have acknowledged that we share common interests: safety and transit reliability. My job is to facilitate a productive dialogue to ensure that we meet our shared goals in the best way possible – not to interject my own opinions about a project. At no point during this process did I slam the brakes on any component of the L-Taraval Muni Forward Project. We are trying to move the conversation forward, and we hope the Examiner will do the same.

– Katy Tang, District 4 Supervisor, San Francisco Board of Supervisors.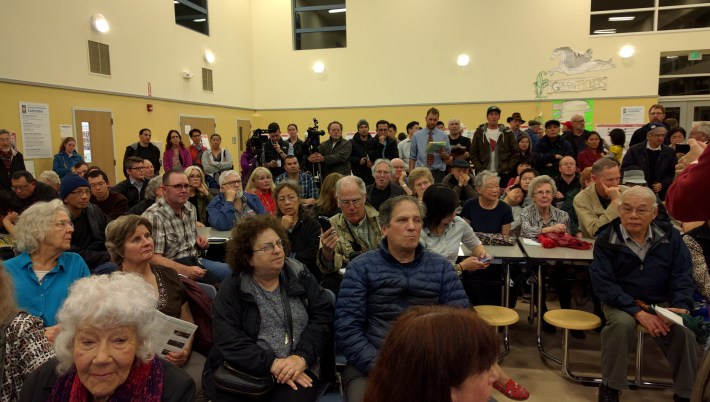 SFMTA confirmed that Tang's statement was accurate. Of course, this bit: "My job is to facilitate a productive dialogue to ensure that we meet our shared goals in the best way possible – not to interject my own opinions about a project" is one point of view about what it means to be an elected official. There are other Supervisors who don't shy from interjecting opinion--that's clear in Streetsblog Q&As with Scott Wiener and John Avalos, for example. The question of whether a politician's job is to bring their own positions--or just interpret the desires of the electorate--is as old as democracy itself. And what one person calls "interjecting opinions" another might call "leadership."
And as Nicole Ferrara, Executive Director of Walk SF and a leading activist for safer streets, put it in an interview with Streetsblog: "...we need to redouble our commitment to the quality of projects we're talking about and having our city leaders– whether it's at MTA, or a Supervisor in the Outer Sunset, or the mayor's office–they all need to be pushing for the safest treatments possible. Vision Zero is not about compromising; it's about doing the safest things and figuring out the rest later."
That said, a representative from SFMTA re-affirmed that Tang has not asked them to stop building concrete boarding islands, which is to become the default, standard treatment for all stops on the L-Taraval. The only exceptions are something they explained long ago at the public meetings: they are using five of the least-used, most-safe stops on Taraval to try some alternate safety measures, such as well-marked (but not concrete) boarding areas. If they don't seem to be working (if, or example, cars are still passing stopped LRT vehicles at those locations) then those stops will be rebuilt in concrete as well.
Stay in touch
Sign up for our free newsletter