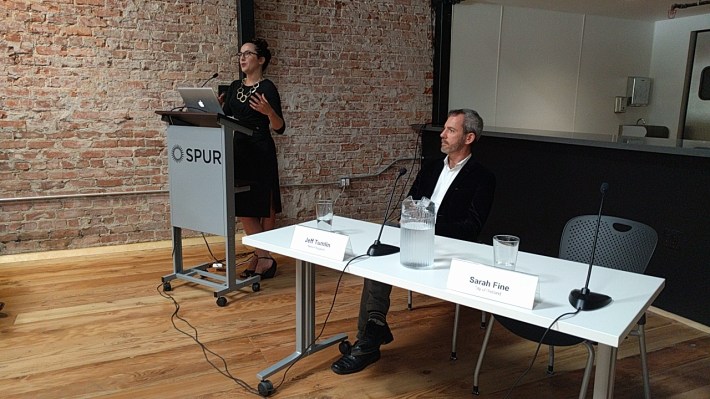 Wednesday evening, SPUR, the San Francisco Bay Area Planning and Urban Research Association, sponsored a talk entitled "Reconsidering Transportation to Create Better Urban Spaces" at their new downtown Oakland location. The talk focused on the history and damage done by the almost mindless adherence over the years to Level of Service (LOS) on urban spaces throughout California.
"We're wearing black," joked Jeff Tumlin, Principal and Director of Strategy with NelsonNygaard, "because we're talking about the death of LOS." LOS, for Streetsblog readers who might not be aware, is a way to measure traffic impacts of development projects that made its way into California environmental law. Although ostensibly designed to protect the environment, most livable streets advocates blame it for destroying urban spaces and actually making traffic and air pollution far worse.
Tumlin explained that LOS wasn't originally part of the California Environmental Quality Act (CEQA). "It was something the courts came up with," he said. "They fixated on this single metric that measures the average seconds of delay that a car experiences—just in the peak fifteen minutes of the peak hour."
In other words, if an intersection is all but unused, but analysis shows that a project would cause delay during the most congested fifteen minutes of the busiest hour of the day, the project would have to do something to mitigate that delay—typically, widen the nearby intersection. The result is well known to livable streets advocates—the state is now littered with streets that are wide and unwalkable. Meanwhile, thanks to induced demand, traffic has only gotten progressively worse.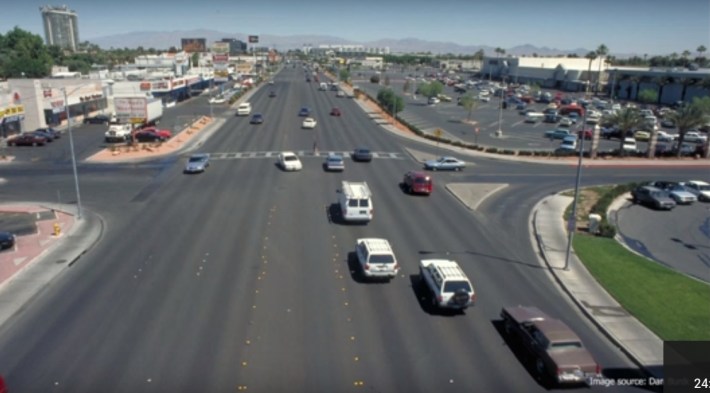 Tumlin used a couple of colorful metaphors to illustrate the problem with focusing solely on LOS. "In economic terms, it'd be like Southwest Airlines only focusing on their 8 am flights," said Tumlin. Imagine, he said to the audience, if instead of charging people more to fly at certain times, the airline bought nothing but 747s so that everyone could have a seat during their peak hour, and then let the planes sit idle for the rest of the day, or used the same giant planes during off-peak times with only a few seats occupied. "They'd go out of business," he said.
"It'd be like buying a pony for every little girl in California who wanted a pony."
Aiming for a Level of Service A is like aiming to have "an empty street," he said. "So a street [ends up] three times wider than it ever needs to be. But now walking on the street is a miserable experience and transit will not work, so the street drags down adjacent property values."
Of course, much of this is now corrected, at least in theory, by 2013's Senate Bill 743, which required the Governor's Office of Planning and Research to come up with an alternate metric for measuring the environmental impacts of traffic. And that new metric, explained Sarah Fine, Senior Transportation Planner for the City of Oakland, will be a measure of how many Vehicle Miles Traveled (VMT) a development produces. A dense housing project near a BART station, with retail on the ground floor, would have less of an effect on VMT than it would on LOS, and under new CEQA rules it would therefore not require mitigation. "It lets us think holistically, so the checklist aligns project outcome with goals for the city," said Fine. That's part of why Oakland created its new Transportation Department, she explained, to help reduce VMT and encourage more walkable, bikeable projects.
To get that department up and running, Oakland brought in Bloomberg and Associates: "former people from New York Mayor Bloomberg's administration are now pro-bono consultants and help cities with all of their problems," Fine explained. "I got to shake hands with Janette Sadik Khan!" she said of the New York Department of Transportation's famously pro-bike leader. "They are helping us work through a strategic plan for Oakland. In this transportation department process we're talking about what our mission and process will be."
And that will mean more bike lanes, like the protected lanes recently installed on Telegraph, more bus lanes, and more dense, infill projects centered around mass transit.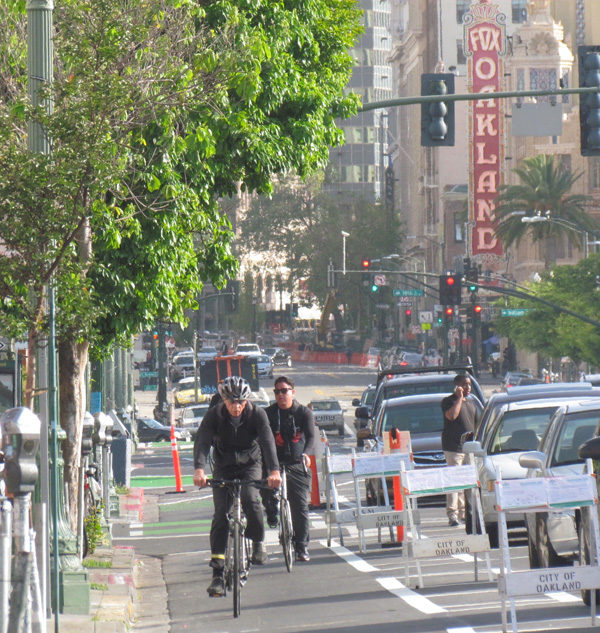 An audience member asked why it's taken so long to get reform, given the destructive effects of LOS. Tumlin explained that some of it is financial (road builders, clearly, loved LOS). But much of it was an educational issue. For one, because LOS was wrapped up in "environmental" law, people thought it must be good for the environment. "It takes at least thirty minutes to explain why the practice was wrong and you're lucky if you can get fifteen seconds of someone's time," said Tumlin. "With our brains we are object thinkers, not system thinkers, and this is an incredibly complex process."
But Tumlin warned that not everyone is yet on board with VMT. He singled out the Southern California Association of Governments, who have opposed OPR's solutions.  "Municipalities are worried that any change will result in litigation and uncertainties," he said. "Abandonment of LOS is up-ending transportation plans."
Both Tumlin and Fine were pleased, however, with how far San Francisco and now Oakland have come in adopting the new VMT way of thinking. "It was illegal for San Francisco to install bike racks for two years under CEQA. Now roadway projects have to be analyzed for induced demand," Tumlin said. "Roadway projects now need to be bundled with walk, bike, and transit to be sure they won't have environment impacts. But that's freaking out agencies."
Freaking out agencies in a good way, of course. For more of Tumlin, check out his TedX talk.
Stay in touch
Sign up for our free newsletter