BART
BART Board Candidates Discuss Future of Bay Area Transportation
5:32 PM PDT on September 13, 2016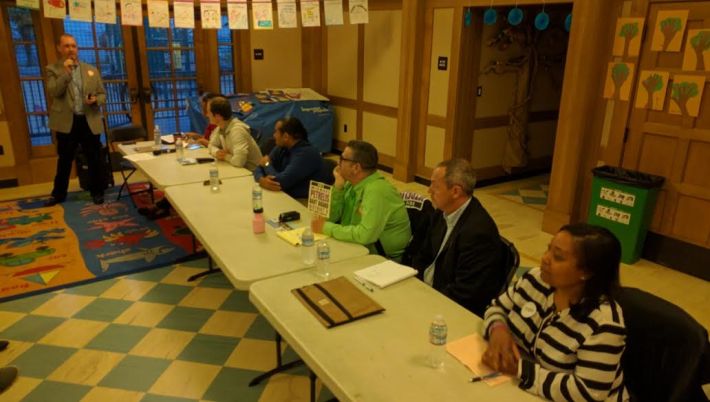 Yesterday evening, the San Francisco Transit Riders held a "BART Board Director Candidate Forum" at the Mission Pool & Playground Clubhouse in the Mission District.
From the SF Transit Riders:
We are hosting the forum for the candidates to introduce themselves and respond to SFTR and public questions. This is an important time in BART's history. Its aging system is facing the challenges of ever more crowded trains. With these BART Board elections and the $3.5 billion BART bond to improve safety and increase train reliability on the same ballot, there are many issues to discuss at the forum.
Thea Selby, chairwoman of the SF Transit Riders, spoke with Streetsblog prior to the event. She explained that the forum was intended to help educate the voters about what each candidate stood for, without her organization taking sides. "To my knowledge this is the only educational forum," she said. It was also part of "Transit Week," a push by the advocacy group to change perceptions of riding the bus as something people only do when they don't have a better alternative. "We want to remind transit riders they can be proud of producing less congestion and pollution and helping San Francisco meet its climate change goals," she said.
The panel included Gwyneth Borden, Bevin Dufty, and Michael Petrelis, who are running for the open seat in District 9. Streetsblog readers will recall that the District 9 seat, which includes the Mission Street BART stations, plus Glen Park, Civic Center, Powell, and Balboa Park, will soon be vacated by outgoing Board President Tom Radulovich. (Streetsblog readers may also recall that Radulovich endorsed Lisa Feldstein for his seat, but that she dropped out of the race.)
Meanwhile, Will Roscoe and Lateefah Simon were there running for the District 7 seat against incumbent Zakhary Mallett. D7 encompasses parts of Alameda, Contra Costa, and San Francisco. Roland Emerson, another candidate for D7, was unable to attend.
Selby and Supervisor David Campos made introductory remarks. Campos stressed that transportation infrastructure is integral to people's lives and the Bay Area economy, but it rarely gets the focus it deserves. "BART caries 440,000 people per day. It's the fifth largest heavy rail system in the country," he said, adding that the entire region will falter if BART is neglected. He described his own commute; often he can't squeeze onto a train for his ride to City Hall. "That situation is only going to get worse. We need to talk about a second tube," he said.
Brian Stokle of the Transit Riders introduced the candidates and kicked off the debate by asking each one to give an opening statement. Borden, in the far right of the above photo, spoke first. "I'm running for this Board because transportation is the lifeblood of this community," she said, citing her past work for the Chamber of Commerce as a qualification. "It is vital to our economy." She said that BART is faltering and having breakdowns because of a lack of focus. "[We must] shore up core infrastructure," she said, ruling out extensions that "do not prioritize our housing needs." She also stressed the importance of the upcoming Measure RR--the $3.5 billion bond measure that will go to repairing and updating BART's rail, signal, and electrical systems. "Steve Glazer in Contra Costa County wants it to fail. We can't let it," she said.
Bevan Dufty, the former San Francisco Supervisor for District 8, spoke about the work he did to improve Muni and how those lessons will apply to BART. "J-Church riders used to phone me whenever the J was late; people would let me know about forty-minute delays, so I would call Muni and ask questions about it and I kept getting different answers," he said. Eventually, he asked the city controller's office to audit Muni. "It led to the 'Transit Effectiveness Project,' which was the first time Muni looked for patterns of problems. I can focus on the nuts-and-bolts of a smaller problem and look at the bigger solution." And that bigger solution, he said, became apparent when the controllers at West Portal station asked him to look at their equipment--he said it looked like something out of a Flash Gordon serial. They were still using electronics with vacuum tubes and other out-of-date parts that were prone to failures, unable to handle Muni's modern demands, and too difficult to fix. "I spent the next three years to get it rebuilt," he said.
Michael Petrelis, a declared Green Party candidate--wearing a green shirt--spoke about cleanliness. "Two years ago, my hand went into pigeon poop at a BART station," he said. "I queried the incumbent, Tom Radulovich, to get it cleaned up.' Petrelis described his frustration in getting little response from the current Board President. But he kept at it. "I contacted the Department of Public Health myself and within a month there was regular cleaning...and they  added pigeon spikes," he explained. But the experience left him determined that BART has to do better. "I made a commitment to run against Radulovich."
Zakharry Mallet, the one incumbent on the panel, said he "took a passion for transit at an early age; grew up as a foster youth [who took transit everywhere] but it didn't work for me. It took forever to get anywhere. And I wanted to figure out how to make it competitive with the automobile," he said. Mallet, who has a Masters of City Planning with a Transportation Planning emphasis from the University of California, Berkeley, was first elected to the BART board in 2012, "the youngest person to ever be elected as a BART Director." His priorities, he added, were also nuts-and-bolts oriented. "BART is at its lowest point because of uncleanliness and overcrowding. But many of my colleagues have put money towards public art in the BART system. But art can't prosper when the environment is so filthy. Make BART safe, clean, and reliable. First things first," he said.
Only one candidate seemed to pour some cold water on the upcoming BART bond. That was Will Roscoe, a civil engineer. "I dug into ridership data. I was hoping to find a trend or plan that would get us in twenty years to an awesome transit system. Instead I found a plan for a BART bond to have the same system we have now, with the same schedule and problems... and property owners will have thirty years of debt to repay." Roscoe sees a greater roll for automated cars and new technologies in BART's future. "There's massive innovation going on thanks to self-driving technology. Electric cars now cost less than gasoline engines; ride-share is operating on a global scale. If BART wants to survive it needs to have someone on the Board to create or at least aspire to create awesome transit," he said.
Lateefah Simon, president of the Akonadi Foundation, spoke last. Simon, who is legally blind, was focused on making BART work for people who are absolutely dependent on it--and she takes exception with politicians who run transit systems but don't actually use them. "Many politicians who develop transit policy then drive off into the sunset," she said. "It's about moving people to and fro, not trains and tracks. It's about riders and workers and people like me who don't have car keys when the going gets tough."
After opening remarks, Stokle asked a series of questions, aimed at one subgroup of candidates or another, that gave a sense of where they stood on important BART issues. For example, where did candidates stand on providing parking around BART stations? "We can't have huge parking lots, we should be encouraging housing," said Borden. "We ought to support that in suburban areas as well; people should get to the stations by buses, bicycles, and walking."
Each candidate had areas they focused on. Petrelis, for example, advocated that the region "tax banks and tech companies near stations that benefit from the stations and get them to pony up more money." They also differed on the question of allowing BART workers to strike. "I feel that transit workers going on strike creates a profound impact on the most vulnerable populations and disables them from getting to work," said Mallett. "They lose jobs. I'm an outspoken supporter of banning transit worker strikes." Dufty took a different view: "My dad worked for the UAW... I think unions have been standing up and fighting against this conservative tide. I am disappointed that a member of the BART board seeks to vilify labor."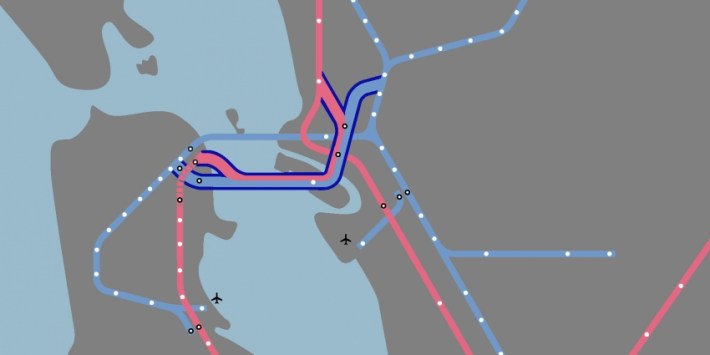 Stokle also asked about the prospects for BART expansion, such as a second Transbay crossing. Mallett, for example, asked the audience to be mindful about what a second tube would mean. He suggested that rather than having a second tube shoot east towards Alameda, as many parties would like to see, it might make more sense to have it roughly parallel the existing Mission and Market Street alignment, so the core system will be more robust and redundant, to allow for breakdowns and diverting trains for track work. Dufty, meanwhile, reminded people that it's about future generations. "A second Transbay tube is an exciting prospect," said Dufty. "I have to get home and look at my ten year old…she'll be riding High-Speed Rail. She will ride the second tube."
Overall, the forum was a great venue for hearing the different perspectives of the candidates. Some were focused on equity, economics, or the nuts-and-bolts, but all the candidates had a good grip on the issues. Streetsblog did, however, take exception to Roscoe's notion that BART trains are old technology that could be replaced by personal transit, driverless cars, and the sharing economy. See his driverless-car "AutoBART" concept for more on his thoughts.
That said, Streetsblog readers have a wide range of qualified candidates to vote for. Meanwhile, for a great breakdown of the candidates for the BART Board, and other offices, check out the Bicycle Coalition's growing candidate summaries.
Stay in touch
Sign up for our free newsletter