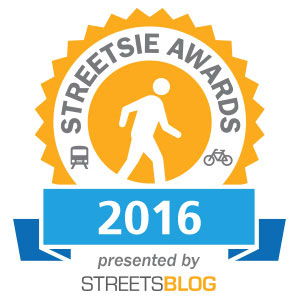 As we near the end of 2016, we thought it's time to reflect on some of the year's most important projects and developments in the livable streets arena. Below, we've listed our first set of Streetsie nominations, the Best Street Treatment Quick Fixes of 2016. For this category, we're looking for street treatments that were relatively inexpensive and quick to install, but still made cycling or walking in the area safer and/or more comfortable. That means big, expensive projects, such as the Bay Bridge bike path, are excluded.
To vote or to suggest an additional nominee, send an email to: tips [at] sf.streetsblog [dot] org, or comment below. If you have a nomination that you think should be included, include some photos and an explanation of why it deserves to be named the Best Street Treatment Quick Fix of 2016.
For now, here is our first set of nominations:
1) Duboce Park Raised Crosswalk, San Francisco. This raised crosswalk on Steiner Street, connecting the sidewalk of Hermann with Duboce Park across the Wiggle, is the first one–so far as we know–that bridges across a fairly heavily trafficked through-street in the middle of the city. While Streetsblog was critical of the execution of this sort-of-raised crosswalk, it was a path in the right direction. It was a super-quick install, done with little-to-no fanfare and none of the usual political wranglings. It still needs work, however--a higher level, or rumble strips on the approach--to get cars to actually slow down. We're hoping SFMTA or Public Works can come up with a simple design that can bypass drainage concerns and really keep the crosswalk level with the sidewalk from curb to curb. Pre-fab crosswalks anyone? That said, seeing its sudden appearance is a hopeful development we want to see more of, and therefore it's earned a nomination.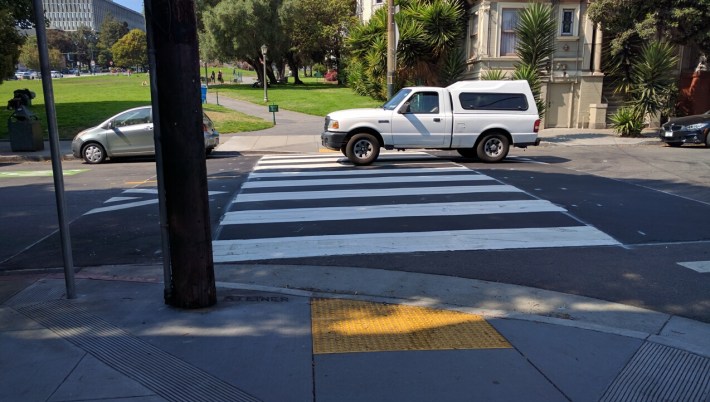 2) Parking-Protected Bike Lane, Fulton Street, Berkeley. Unfortunately, this welcome addition to Berkeley required someone to get severely injured: Megan Schwarzman was struck by a motorist here last February. (She's recovering, thank goodness, as Berkelyside documents here). Bike East Bay had been pushing for years to get this notorious stretch fixed, as it was a known trouble spot. But the addition of protected bike lanes was delayed repeatedly because of bureaucratic absurdities. It shouldn't have taken a horrible crash to get it done--nevertheless, the long overdue improvements on Fulton make a huge difference there and deserve a nomination.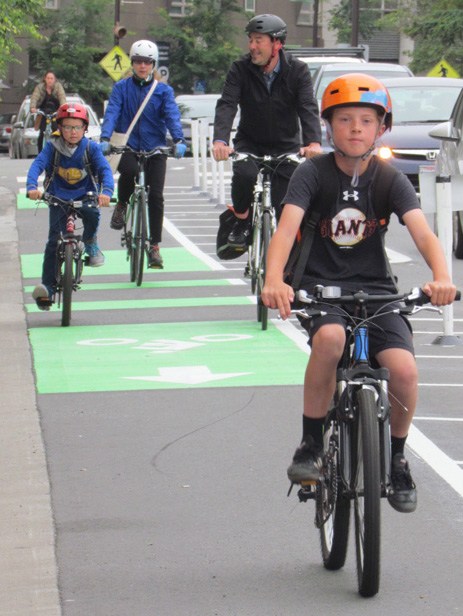 3) JFK/Kezar Safe Hit Posts. On this one, believe it or not, we're not trying to be cheeky. Streetsie Awards aren't restricted to official installations, after all. The safe hit posts that were glued down by the SFMTrA have done a lot to stop cars from trespassing onto the bike lanes where JFK and Kezar merge in Golden Gate Park at the Panhandle. They were simple and quick to install and made a notoriously dicey intersection much safer. Totally worthy of a Streetsie nomination for a quick fix.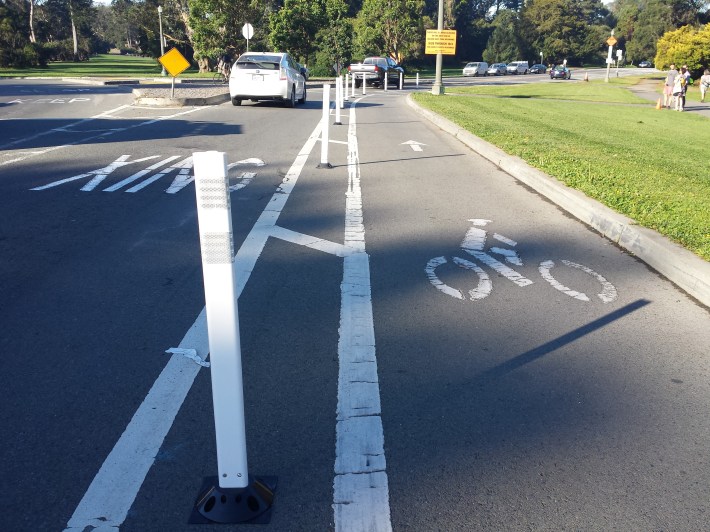 4) Page Street Green Lane, San Francisco. For some time now, the intersection at Page and Octavia has been a mess, with cyclists and cars trying to turn right jockeying for position. The logical thing to do--and the action that most cyclists took--was to move to the center of the street to avoid mixing it up with the right-turning cars. But of course, not every driver or cyclist is on the same, well, page--and that was causing conflicts. The addition of this green paint helped rationalize the intersection. Kudos to the SFBC for pushing to get this done and worthy of Streetsie consideration.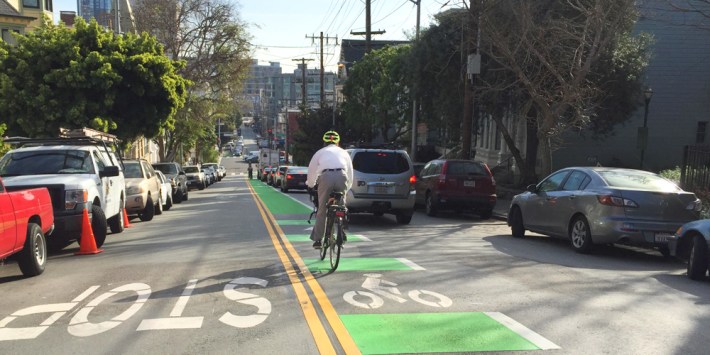 5) Parking-Protected Bike Lanes, Telegraph, Oakland. First opened in the spring of this year, this protected bike lane has had its hiccups--most notably the seeming inability of people not to park in it and the way it ends abruptly and dumps riders back into traffic. But seeing a protected bike lane in the middle of a city's downtown, on a major street, counts as great progress. Streetsblog hopes this fix is just the start of greater things to come in Downtown Oakland.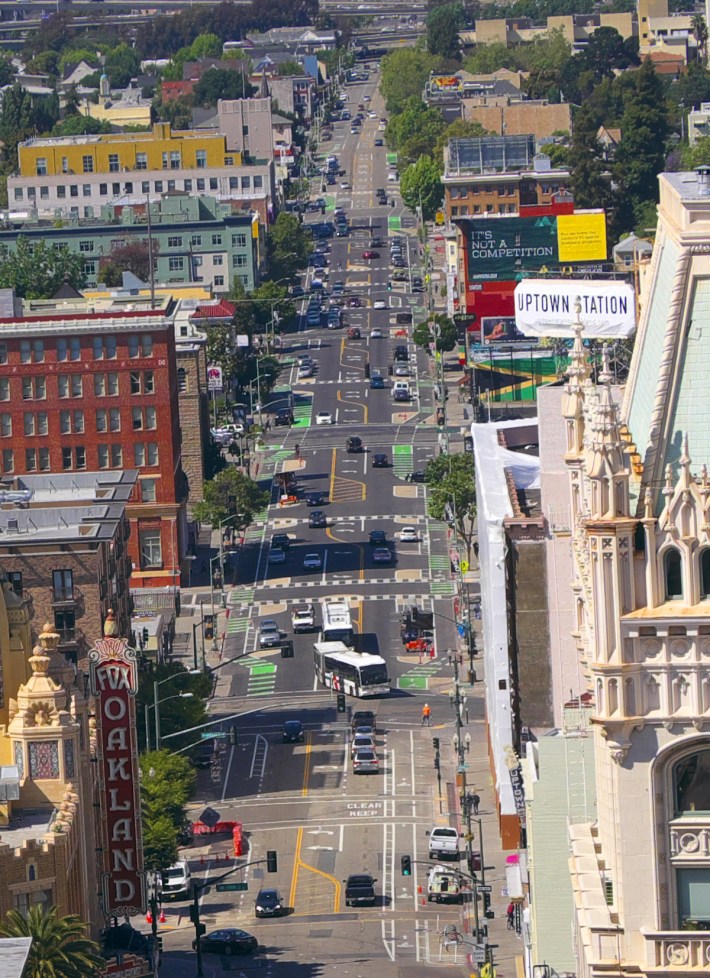 Know of a street treatment quick-fix we've left out? To vote and/or suggest an additional nominee, email tips [at] sf.streetsblog [dot] org or leave the details in the comments. And we hope to see you tonight at Dalva.
Streetsblog California editor Melanie Curry has been thinking about transportation, and how to improve conditions for bicyclists, since her early days commuting by bike to UCLA long ago. She was Managing Editor at the East Bay Express, and edited Access Magazine for the University of California Transportation Center. She also earned her Masters in City Planning from UC Berkeley.
Read More:
Stay in touch
Sign up for our free newsletter