Bicycling
Crash on the Hairball as Dangerous Conditions Persist
5:15 PM PST on January 24, 2017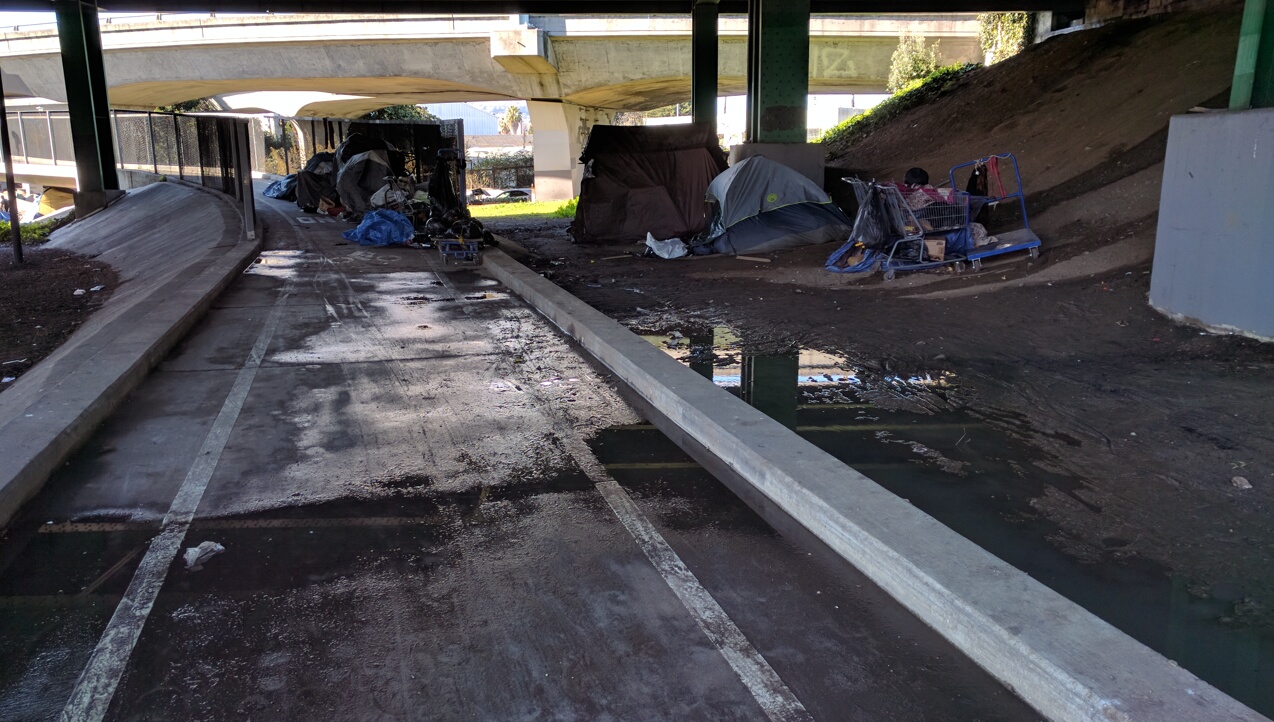 Streetsblog readers may recall that last summer tipster Dan Crosby told us about a hazardous situation on the Cesar Chavez bike bridge under the 101, in the middle of the not-too-affectionately named "hairball." In a follow up story, Streetsblog reported that the bike bridges had been mostly cleared up, but also feared that it wouldn't last.
It didn't. The homeless encampments and debris returned.
And during the holidays it finally happened--Crosby crashed his bike, exactly where he was afraid it would happen. In his own words, from an email to Streetsblog:
So I wondered if I was being hyperbolic before when I said the encampments on the bike bridge were going to cause an accident. Well, they just did. I hadn't biked that way in some time, since I just moved and have been off for the holidays anyway. But today I did, and it was as bad as it ever was. There were tents more than halfway across, and then just as I was going by (not too fast) somebody stepped right in front of me. I swerved and my handlebar caught a shopping cart and I went down. I, and my bike, are scraped up and hurting but not seriously injured. I'm pretty sure I didn't hit anyone else, but I didn't stick around because five people immediately descended on me. I'm pretty sure they were trying to help but I was quite scared.
Streetsblog caught up with Crosby shortly after the crash. His hands were still a bit bruised, but he's recovering. That said, he stopped biking for several weeks. When he started biking again, he decided to check out the hairball bridge. "It's by far the worst that I've ever seen it. There are many tents blocking almost the whole width of the bridge. Even walking I would have had to squeeze, and that tiny gap had people standing in it," he wrote in a follow-up email to Streetsblog. "Separately from the collision possibility, it's just terrifying. If any of those folks are ill-intentioned you're basically defenseless."
Crosby now just avoids the area altogether; it's a sad reality that cyclists in San Francisco always have to take an educated guess on which route best minimizes the risk of a serious collision.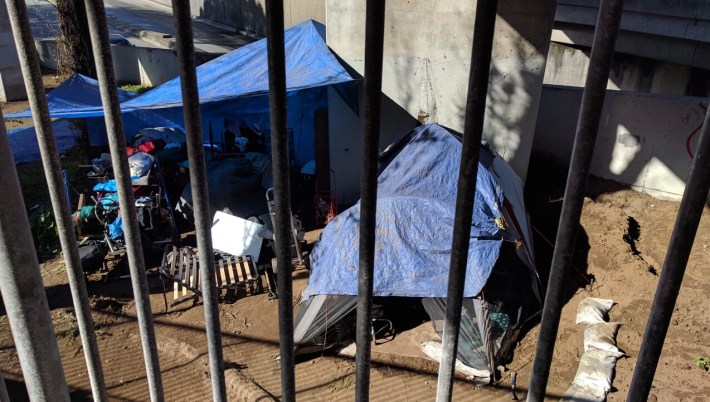 Streetsblog toured the hairball again this afternoon. At this point it seems as if the encampments are spread equally across Caltrans property (the dirt below the ramps) and city property (the bike ramps). There's also what looks like a commercial freezer blocking half of the westbound bike bridge. One of the homeless volunteered that it's used to make ice cream, before uttering something guttural and incomprehensible, punctuated by the phrase, "white boy." Crosby said the above photos actually look much better than the last time he passed through. He added that the freezer is a new addition to the obstacle course.
Streetsblog got this from the city: "Under the freeway at the Cesar Chavez area has been refuge in stormy weather for at least 20 years. A staff member of mine just reported this condition to me today (she squeezed through the bike path as well)," said Sam Dodge, Deputy Director of the Department of Homelessness & Supportive Housing for San Francisco. "I have notified the Homeless Outreach Team, MTA, Public Works, and CalTrans to help. It currently is not a safe place for bikes nor those seeking shelter on that path."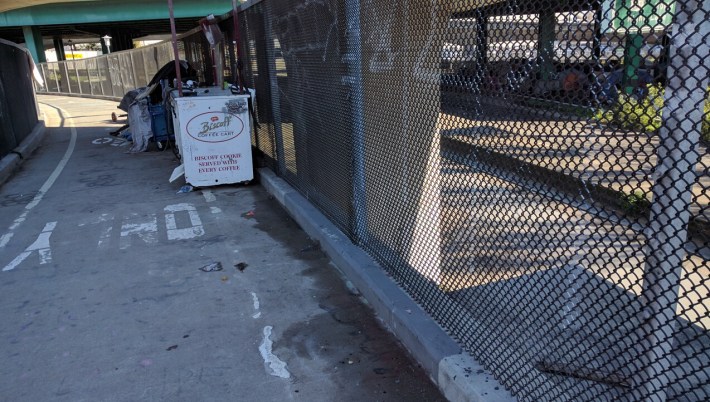 It's a shame that sometimes even when the city builds separated bike infrastructure, it can become unusable. Given the danger of a collision--not to mention getting attacked by someone who is mentally unstable--it's intimidating enough during the day. At night, it would be foolhardy to ride here. Streetsblog flagged down a passing SFPD car on the eastern end of the freeway maze. The officer said there's a special detachment that regularly clears off the bike path. But, as discovered in the previous post, they just move to the Caltrans property below the bridge. Then Caltrans will come through and chase them back to the bike bridge. Although today it seemed as if the camps were evenly distributed across both properties.
Homelessness does, indeed, seem as insurmountable as it is tragic. It's just difficult to understand why Caltrans and the city can't work together to provide services and encourage the encampments to stay off the bridge. At some point this game of whack-a-mole has got to stop, hopefully before someone is seriously hurt or killed.
Do you ride the hairball? Have you seen any changes between the summer and now? Or have you adjusted your commute to avoid the area completely? Comment below.
Stay in touch
Sign up for our free newsletter