Bicycling
Legal Update and Getting a Bike Camera for Peace of Mind
5:19 PM PST on January 30, 2017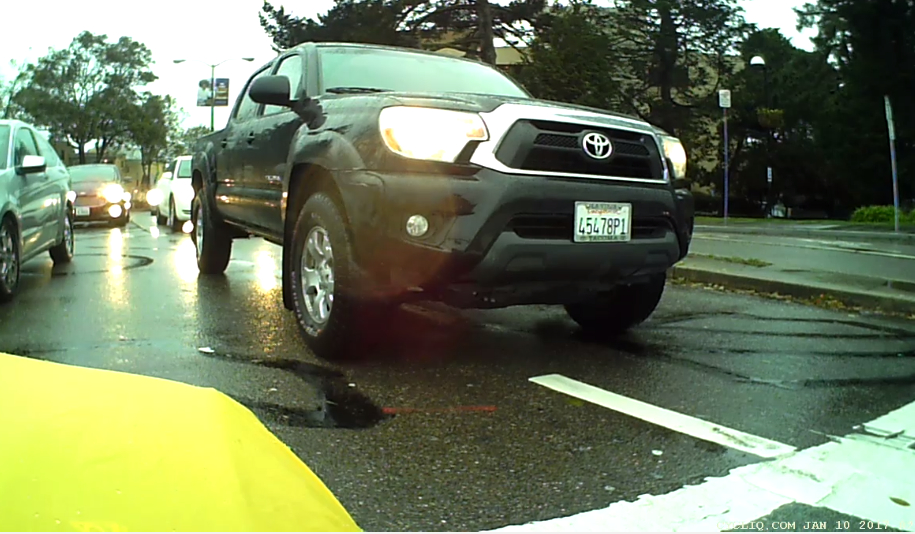 Streetsblog just learned that Timothy Doyle, who was hit by an SFPD cruiser last May, has filed suit against the city for pain, lost work, and other damages. Readers will recall that Doyle was riding his bike in the bike lane near the intersection of 2nd and Mission when an SFPD cruiser illegally jinked into the bike lane, sending Doyle to the hospital. "It will take years to work its way through the courts," he wrote in an email to Streetsblog. Meanwhile, "I have healed about as much as possible. I certainly don't feel as good as I did before May 12th, 2016, but things are passable."
Doyle will probably win his lawsuit only because a motorist/witness behind him had a dash-camera and captured the incident. The video makes things crystal clear: Doyle was riding in the bike lane at the time and doing everything according to the law.
There's another, more common outcome--illustrated by the case of Justin Liszanckie--who was waiting to make a left turn and then woke up in the hospital with no memory of his crash. He was handed a citation from SFPD. The police report of that crash didn't match the physical evidence at the scene, but if anybody captured the crash on video, they have not come forward.
Because of cases such as these, as editor of Streetsblog SF, I have made the point that it's essential to get video cameras on your bike. That said, until recently, I've been a hypocrite--I did not have a camera on my own bike.
But I've thought about what happened to Liszanckie, Doyle and Anthony Ryan, who was also fortunate enough that someone had a dash cam going when a motorist tried to intentionally run him over. I've had my own share of incidents. There was the time someone threw a bottle at me, where video might have resulted in his prosecution. In grad school, in Pittsburgh, I had a car once "punishment pass" me and then back towards me at high speed, slamming on the brakes at the last moment, to "teach me a lesson." I was also once doored by a cab in New York City, although, miraculously, only my bike was damaged.
Somehow, though, it was the recent incident I had with an Uber driver in San Diego that finally got me to give up my personal objections to mounting a video camera on my steed. It wasn't that the run-in with the Uber driver was worse than the other incidents. I was on the way to visit my mother for the holidays. When I got to her house and told her what happened, she said: "Did I raise an idiot! All the reporting you do... are you going to get a camera after somebody hits you!"
Moms have a way of cutting to it.
I started researching. My conclusions agreed with Bike East Bay's Education Director, Robert Prinz, who, in an email to Streetsblog, mentioned a couple of cameras specifically designed for bikes: "Action cams like the GoPro have been popular for a while, for capturing fast motion outdoor video, but for people who want more of a 'dash cam' style product to use as evidence in a crash, other features are more in demand. Some bike-specific products which have been developed recently include the Cycliq Fly6 and Fly12, and the Rideye."
Prinz listed the features offered by the Fly cameras and the Rideye:
long battery life so they can run constantly without having to recharge every ride
looping technology so the camera doesn't stop recording when memory is full
impact sensors which automatically save a chunk of video if a crash occurs and the bicyclist is incapacitated
easy on-off mounting hardware so the user can take the camera with them when parking their bike
wide angle video to capture as much of the street as possible (although wide angle also tends to make objects look further away than they actually are)
I wanted a camera for front and back. After all, a recording from a front-facing camera won't help if I get hit from behind and visa versa. I'm still of two minds about the front-facing camera. Should it be helmet mounted? Handlebar mounted?
So I decided to solve the rear-facing camera first. The Fly6 had decent reviews and is combined with a red flashing tail light, so it's not really adding any hardware to the bike. I bought mine at REI because of the one-year, no-questions-asked guarantee. That gives me plenty of time to return it.
It works, but there's only one mounting option--the seat post. And that doesn't help if, like me, you have a Thudbuster shock-absorber seat post. I tried jury rigging it to the shock absorber, but it kept wobbling from side to side. I also use a seat-trunk style bag on a rear rack, which obstructs about half of the camera's view. So I mail-ordered an adapter from Shapeways so I could attach it to the tail end of the rack, where the view isn't obstructed.
That finally works, but it's a sign of new, relatively immature technology that there aren't multiple mounting options right in the box.
I'm also disappointed with the resolution. It's hard to read license plates. It doesn't see well at night. But I'm confident it would record the make and model of the car and--perhaps most importantly--what happened and who is at fault if I'm ever hit from behind. It would have made my previous brushes with death totally clear cut. Despite the short comings, the long battery life and integration with the tail light makes it a turn-it-on-and-forget-it-unless-you-need it type of device, which is what I want. As I research front-facing handlebar and helmet cameras, I'll look for something that's better at capturing license plates and seeing at night.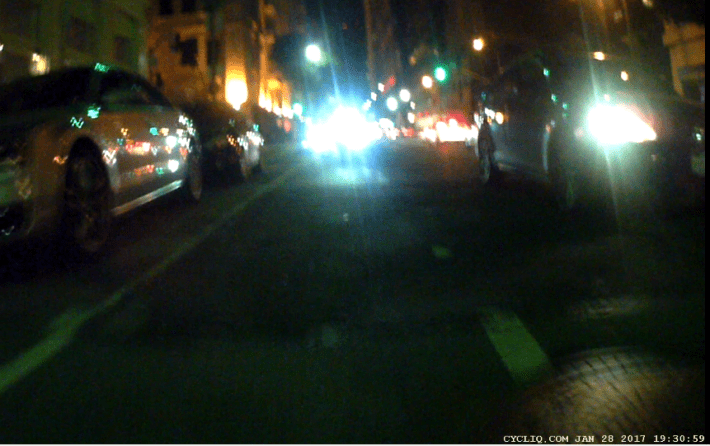 That said, the obvious need for cameras is incredibly depressing. As Doyle put it: "...who wants to record every f**ing second on one's bike? To mount and un-mount it every time you lock it up?" He's also tried Nexar, an app that turns your cell phone into a security camera. As he said of the company that makes the app: "...we philosophically differed in our views of Orwellian See All, All The Time as a Utopian benefit to society. I know I lucked out and benefited from my case and that I may be hypocritical for not wanting cameras all over all the time."
But as we struggle with the city--and motorists--to put safety first, what else can we do?
A camera isn't going to prevent a crash, but if enough of us have them, it might at least get motorists to hesitate before intentionally harassing and endangering vulnerable road users. And, "...like any dash cam footage it would obviously be helpful in a 'your word against theirs' scenario," said Prinz, "especially in a case were a bike rider might be knocked out with no memory of the crash itself." As was the case with Liszanckie, who will never know for sure exactly what happened.
Do you have a camera? What do you think of the different technologies/makes/models? Got any videos you want to share? And how do you feel about the utility of having cameras mounted on your bike?
Send links and comment below.
Stay in touch
Sign up for our free newsletter