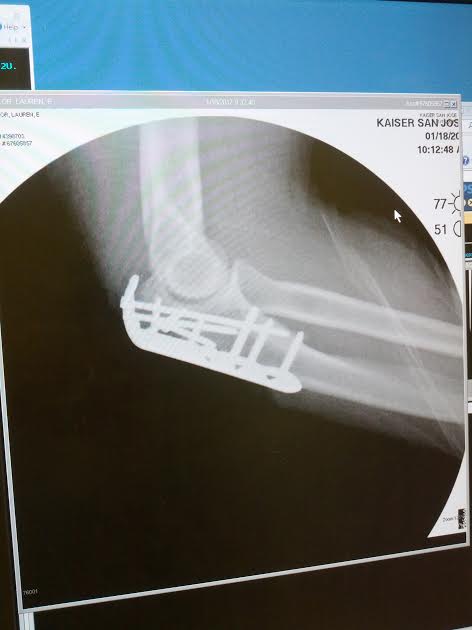 On the evening of January 10, during the last round of storms, tour guide and active San Francisco Bicycle Coalition (SFBC) member Lauren Sailor was bicycling down the 800 block of Market Street on her way to get a tune up for her trusty steed, Morgan. It was dark and rainy. That portion of Market Street has no real bike protection or lane--just some sharrow markings. Sailor heard a car coming up on her left. Then she saw a rectangular shaped--and innocent looking--puddle. She had to make a choice: take her chances with the puddle, or swerve and risk a conflict with the car. She made the same instant calculation all cyclists have to make on our streets, almost every day--she decided the puddle was the safer bet.
This time she was wrong.
Sailor hit an especially deep pot hole that was lurking below the surface of the water. It swallowed her front wheel, grinding her bike to an instant halt. Her momentum had to go somewhere and it did--she flew over her handlebars and crashed down on her right side. "Fortunately, I landed on my arm and not my head!"  said Sailor.
But she smashed her elbow.
"I knew something was unusual, because my arm hurt more than it should. I've taken plenty of spills, but I was like ooooh, this really aches!" A good Samaritan helped her retrieve her bike and some nearby police came over. They put a safety cone in the pot hole to make sure nobody else hit it. And Sailor was off to the hospital. On Jan. 18 she had surgery and had a titanium plate and screws put into her arm.
Rachel Gordon, a spokeswoman for SF Public Works, said it's imperative that people call 311 to report pot holes, especially during such strong winter rains. "Our crews filled nearly 3,000 pot holes in January, which is double the typical month...we've had five or six crews running seven days a week filling them--if we know about them." She said they do prioritize bicycle routes.
The San Francisco Bicycle Coalition, meanwhile, has an online guide for riding in the rain:
Metal surfaces, road imperfections, and painted surfaces can become slippery in wet weather. So be especially mindful when crossing over train tracks, metal grates or sewer covers, and even bike lane markings. When you ride over them, keep your feet in a "neutral" position (both feet even on the pedals at the 3 and 9 o'clock position), take some of your weight off the seat by lifting your butt up, and stop pedaling to maintain balance.
SFBC also recommends slowing down, of course. But even doing all of these things, sometimes the road can get you. It's hard to see what Sailor could have done differently--if she'd opted to swerve in front of a car, the results could have been far worse. Of course, with protected bike lanes, she would have had the flexibility to evade the pothole without risking getting hit by a car. "We've been calling for years and years to see physically protected bike lanes from the Embarcadero through Octavia. The City's lack of urgency for Better Market Street on delivering protected bike lanes along this high-injury corridor is particularly disappointing while people continue suffering serious injuries and worse there," said Janice Li, Advocacy Director for the SFBC.
Meanwhile, today was Sailor's first physical therapy session. Thankfully, it was less painful than she feared. She's looking at a few months of hard work and rehab and, if all goes well, she should recover nearly the full range of motion in her arm. With luck, she'll be riding again in a month or two--sadly, without Morgan, which was damaged beyond repair.
"I have eight screws and a titanium plate. They put me together Humpty Dumpty style. It could have been a lot worse." Still, she remains frustrated with San Francisco's streets. "If there had been a dedicated space for me to ride where I wouldn't be worried about getting into a driver's path, I doubt this would have happened... this is a major bike thoroughfare. It's a shame that there aren't safe conditions."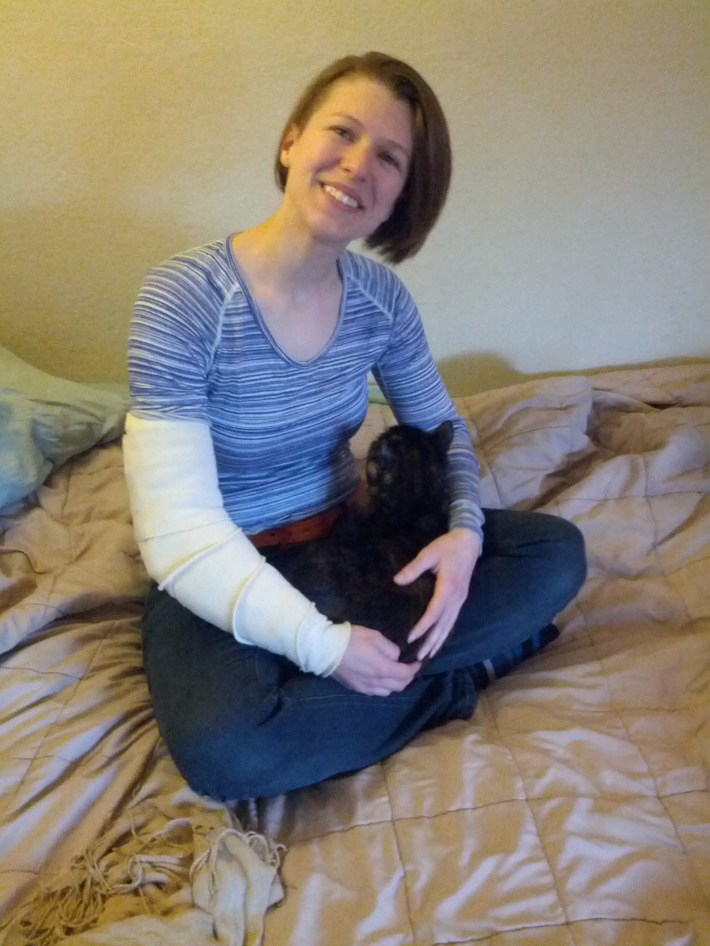 Stay in touch
Sign up for our free newsletter