Housing
SPUR Talk: Scratching Away at the Housing Crisis
3:08 PM PST on March 2, 2017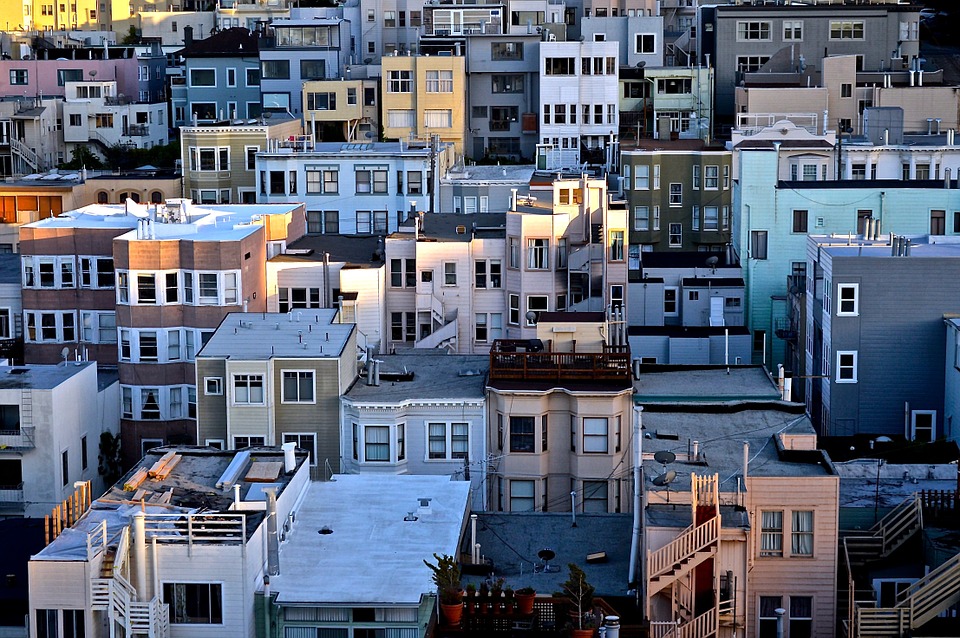 Yesterday evening the San Francisco Bay Area Planning and Urban Research Association (SPUR) held a panel discussion about efforts to provide housing for families. The presentation, held at their downtown SF location, also doubled as a rally supporting legislation from Supervisor Katy Tang of District 4 (Sunset/Parkside), called Home-SF, which aims to increase the amount of work-force and family housing in the city.
"I got interested in figuring out how we can better utilize...sites along transit corridors, including in my district in the Sunset, where pretty much no development happens," said Tang. "We felt the state bonus law was not extensive enough...it did not incentivize workforce housing. So Home-SF was developed."
The Home-SF program, she explained, creates affordable homes for families making $60,000 to $140,000 a year for a family of four--too much to access housing programs that currently exist, but not enough to support a family in San Francisco. Under the new legislation:
30 percent of all new housing is required to be permanently affordable
All new housing includes units affordable to middle-income, working class families
40 percent of new units are required to include two or more bedrooms
No displacement of existing tenants
Furthermore, explained Tang, the program is only available in areas of San Francisco that are within ¼ mile of transit lines. It also has to be near schools and parks, again to help families stay in San Francisco.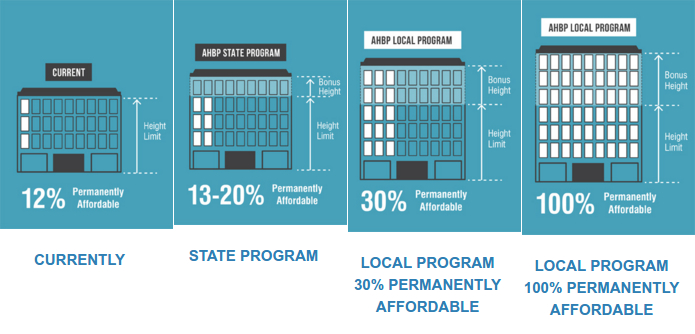 "We're a city with one of the fewest numbers of housing for families. The question is how do we make room," explained Kearstin Dischinger, who is working on the Home-SF legislation for the San Francisco Planning Department. "And by that I mean housing for children." That challenge, she said, is made incredibly complicated because it has to be accomplished without spending public funds. "That can be addressed by zoning," she said, meaning that by conditionally lifting height restrictions it creates incentives for developers to build affordable housing.
Dischinger pointed out that this is an issue even for people who already have good, legacy housing in San Francisco, because too many workers can't afford to live near where they work. "We have workers commuting one or two hours which impacts transportation, sustainability, climate, health," she said, adding that it also makes the city less diverse, when its residents come from a single class of people.
She reiterated that Home-SF applies only in neighborhoods with commercial corridors, "where we have transit, but we have not seen a lot of development because of our zoning controls."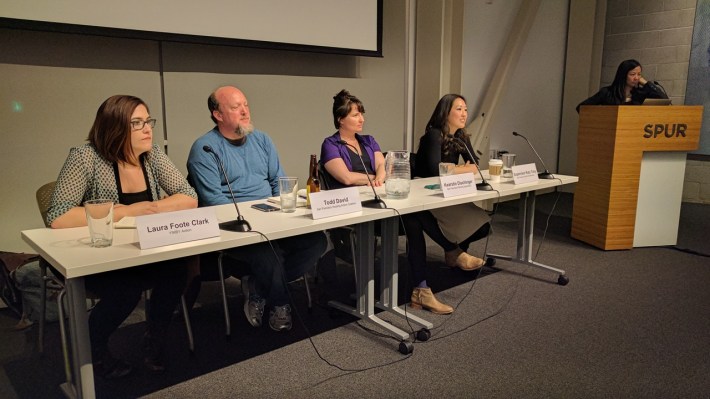 "I'm a parent of three public school children. Housing is just one thing families need," said Todd David of the San Francisco Housing Action Coalition. "We need really great public schools, recreation and parks...there's so much to tackle in the housing conversation."
One audience member said he was from New York where when they want more housing, they build bigger buildings. Indeed, Streetsblog found it incredibly odd that all these affordable housing programs are built to circumvent regulations limiting growth. Why not get rid of the regulations that are causing the problem in the first place? In other words, tear up zoning laws that restrict all areas within walking distance to a transit line to single-family housing. The excuse Streetsblog often hears is "it will change the character of San Francisco." Maybe so, and there's nothing wrong with passing new laws that mandate bay windows or preserving historic, ground-floor facades, but what's the point of having a city with character once nobody can afford to live in it?
"Because the politics are like a knife fight in a phone booth," said Laura Foote Clark with the housing advocacy group YIMBY Action. "The argument here all the time is parking, but there are lots of other fears that get built up into it. Lots of people look at the changing face of San Francisco and worry that they will be displaced."
Either way, high-rise "projects just won't get the votes," said Tang. "Although it might be popular among people here [in the room], you have to keep in mind: will it survive the Board of Supervisor's vote?"
"There's a voting block that says don't ever do anything to a single family home," added Clark. In that light, the panelists explained, the legislation is carefully crafted to protect people from displacement--and to add whatever housing it can by adding a few more stories, rather than Manhattan-size towers. Still, "You're going to hear a lot of tense conversations," said Clark. "We need representatives of the community pushing Home-SF across the finish line," she added.
David added the key to bringing around more support is to talk with the opponents about people, not wonky policies. "Tell them that project will house firefighters, teachers, and EMTs...ask who is against teachers living near you?" he said, adding that the only way to address housing is to stop putting forth extreme solutions. "There's so much to tackle in the housing conversation. I want to talk about the value of incrementalism."
The panelists asked audience members--and, indirectly, Streetsblog readers--to support the Home-SF legislation as it winds its way through committee. Tang urged people to speak at, or at least write in to, the next Land Use and Transportation Committee on Monday, March 13 at City Hall.
For more events like these, visit SPUR's events page.
Stay in touch
Sign up for our free newsletter