Bicycling
Punched for Riding a Bike
4:10 PM PDT on March 14, 2017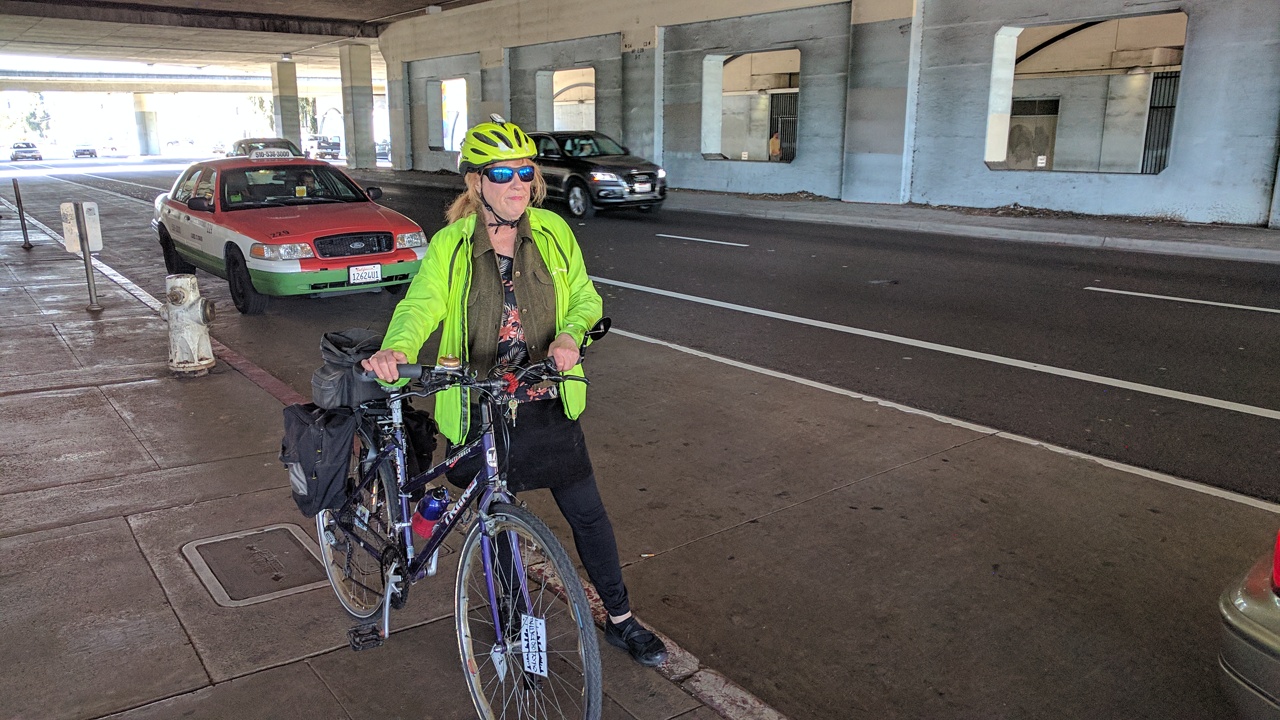 Last Wednesday, March 8, at 9:15 am, Mary Ann Blackwell was riding her bike down Martin Luther King in Oakland, on her way to the MacArthur BART station, to get to an appointment in San Francisco. She turned left onto 40th, to reach the station entrance. The long-time cycling advocate saw something familiar to cyclists throughout the Bay Area--a car, in this case a black sedan, stopped on the bike lane. "There wasn't even a car against the curb, but he didn't pull over," she told Streetsblog, during her first trip back to the location since the incident.
Blackwell did what many Bay Area cyclists do—she was frustrated, so she said, "this is a bike lane!"
"This isn't parking," she added to Streetsblog, pointing at the striped bike lane at the MacArthur BART station. "I never made any slur or anything like that."
But this motorist, who was in the process of discharging a passenger, got out of the car and punched her in her eye. "I was very fortunate. It wasn't a bad punch; it was a glancing blow. If it had been full force it would..." she trailed off, motioning to her eye, which still has signs of purple bruising. It had enough force, however, that she was left stunned and lost her balance. "I was straddling my bike. I set it down and then fell over," she recalled.
She fell into traffic. As the perpetrator got back in his car and drove off, good Samaritan cyclists stopped and blocked traffic and helped her out of the busy traffic lane, probably saving her life.
Her fellow cyclists, she said, seemed to show more concern for her than the BART police did. "The BART police listened to me but seemed to take no particular interest--their main issue was 'do you need medical treatment?'" she said. "And then they said 'it's in the street' so it's Oakland Police (OPD) jurisdiction."
The OPD sent an officer to her house the next day. Blackwell said the police are hopeful that they can get evidence from security cameras located around the station (if they are working). Additionally, one of the cyclists got a partial plate and a description of the suspect. All in all, she's hopeful the man who hit her will be apprehended and charged.
That said, there's another "perp" she holds responsible for what happened, and that's the city engineers who designed the street. "This is poor infrastructure," she said, motioning to the wide lanes and insane design of the bike lanes, which she says contribute to creating conflicts between cyclists and motorists.
For those unfamiliar with the area, there's a green "kermit" lane, also called a "super sharrow," down the right lanes of 40th leading up to the station. However, 40th, with two wide lanes in each direction, is more like a ground-level freeway than a street, with cars continually speeding along it. "This green stripe has been called a fail. Cyclists don't have the confidence or knowledge to hold the lane and the drivers are aggressive and fast," said Blackwell.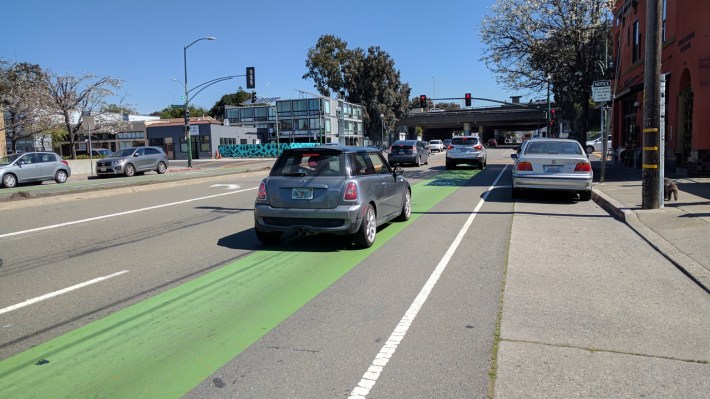 "All of 40th Street remains problematic, including the green 'super sharrow' experiment which has not yielded favorable results," wrote Robert Prinz, Education Director for Bike East Bay, in an email to Streetsblog. "I was involved in an intentional (non-injury) hit-and-run on 40th, right on top of a green sharrow and next to a 'bikes may use full lane' sign."
As Streetsblog has long argued, except on the calmest streets, putting down sharrows or door-lanes or any other kind of paint-only treatment is a travesty. It's pretend infrastructure that offers no protection and, in many cases, just intensifies conflicts and hazards. A wide road needs physically protected bike lanes and intersections. "We have brought issues regarding bike and pedestrian safety with both 40th Street and the internal station streets to the attention of BART and Oakland staff and electeds over several years, but with no action taken yet," said Prinz.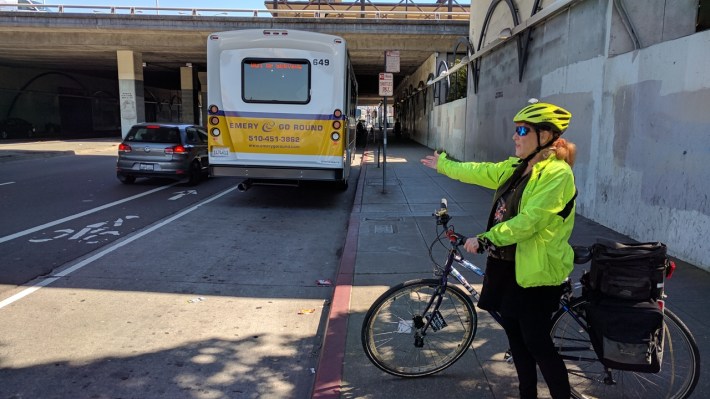 In fact, where 40th goes under the freeway to the BART station, as seen in the above photo, even the green stripes disappear, and it returns to being a door lane. Motorists are supposed to jog across the bike lane to discharge passengers at the curb. Short of feeding cyclists onto the freeway above, it's hard to imagine what traffic engineers could have done to make the area more dangerous--it's a staggering example of bad design that desperately needs to be fixed. As Blackwell points out, there "isn't even a curb cut so cyclists can get from the street . . .  into the station."
Prinz, meanwhile, hopes this can be improved in the future. "Oakland's bike master plan update, happening throughout 2017, will be a great opportunity to rethink not just these streets but also safe and stress-free bikeway connections to all transit hubs around the city," he wrote. "With a new DOT, talented staff, and local funding to make things happen, Oakland is poised for some very transformative changes, but only if we choose to prioritize safety and mobility."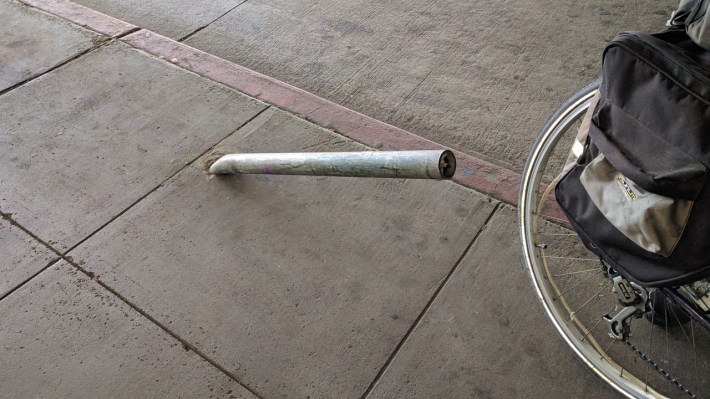 None of these issues, of course, forgives the motorist for punching her. But Blackwell hopes the incident can be a catalyst to focus public officials on fixing this dangerous area, before more road violence occurs. "Reconfigure this to have a protected bike lane and a curb cut, and I'm also requesting a couple of bicycle-mounted policemen patrolling this urban, dense BART station," she said, adding that cops on bikes can see much better and are more connected to the environment.
Blackwell is slowly getting back into her regular routine, but it's been difficult. She's caught herself crying over the incident. "I've been riding all over this area with impunity for twelve years. I even used to go to the De Young Museum by myself on a bike. I no longer feel like I can do any of those things," she said, her voice cracking. "And I'll be 68 in March," she said, pointing at her shiner and trying to force a smile. "Now I won't get any young boyfriends anymore."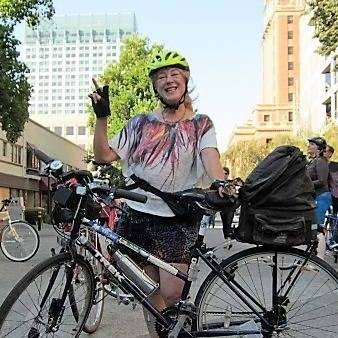 Stay in touch
Sign up for our free newsletter