Bicycle Infrastructure
Silicon Valley Bike Vision Plan Is a Great Tool for Advocates Everywhere
2:41 PM PDT on March 24, 2017
A new report on the state of bicycling in Silicon Valley takes a unique regional view on what biking can do for cities, and especially the cities of the San Francisco peninsula. Those places are not exactly famous for being great for bicyclists, and they share characteristics that make biking seem unsafe, such as wide, fast roads and hard-to-cross highways.
But there are patches of the Silicon Valley that can be safe and inviting, such as Stanford. The chart above shows the stark differences between the Stanford campus, which has extensive separated bicycle and pedestrian pathways, and the city of San Jose that, despite recent efforts, has few safe bike facilities. Stanford, with a high number of bicyclists on its campus, has few crashes or injuries.
What does Stanford have that other Silicon Valley cities lack? Getting cities to ask that question was one of the purposes of creating the Silicon Valley Bike Vision, in which those charts appear.
A chance meeting between Russell Hancock, CEO of Joint Ventures Silicon Valley, and Shiloh Ballard, executive director of the Silicon Valley Bicycle Coalition, planted a seed that eventually led to the creation of the bike vision report.
"Russ asked me: Why don't more people ride their bikes here?" said Ballard. "Well, this is the question we grapple with every day at the Bike Coalition," she laughed. "Our mission is to solve this question."
Hancock's group, Joint Ventures, publishes a much sought-after annual report known as "The Index" (Silicon Valley Indicators) that tracks the economic health of Silicon Valley in terms of things like housing affordability, unemployment rates, and the number of patents local businesses apply for. When Hancock asked Ballard how Joint Ventures could help, she mused: "Wouldn't it be nice to have something comparable [to the Index] in the bike world?"
After all, "a healthy community," said Ballard, "is one in which people are riding bikes."
Joint Ventures and the Bike Coalition approached Google, which had already produced its own, very local Google Bike Vision Plan, and Facebook, which has a campus in the area as well, and secured funding to collect data. Stanford also contributed funding, and NelsonNygaard contributed to the report.
The resulting document shows what Silicon Valley cities are doing right, as well as what they could do better to improve conditions for bicyclists and encourage more people to ride. It serves as a vision of what bicycling could be like in the Silicon Valley, and provides a general roadmap on how to get there.
"It was intended to do a couple of things," said Ballard. "First, to get people excited about the role of bicycles in creating healthy communities. Also, we now have a set of data that we can track year after year, and these will be incorporated into the Index in the future. So bikes are now included among indicators for Silicon Valley health."
The report, as highlighted by Rachel Dovey in Next City, takes a regional look at what is usually only planned for locally. In doing so, it made an interesting discovery: that many of the most dangerous intersections for bicyclists are at the borders of the cities.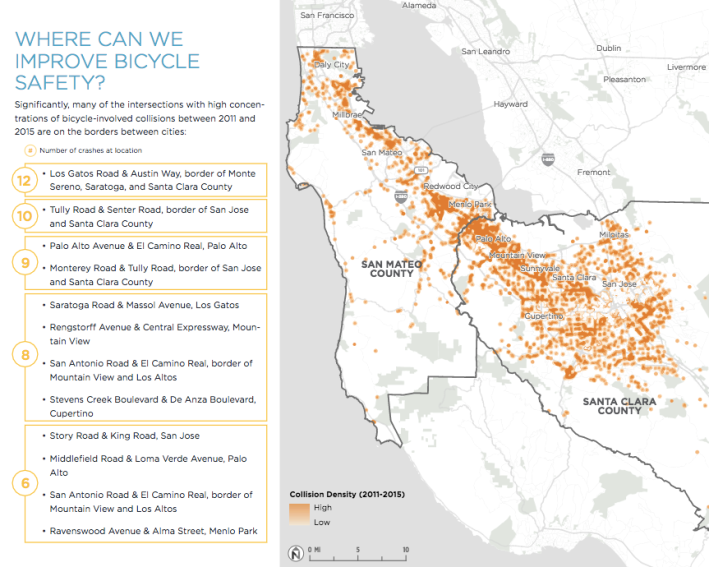 Why is that? Is it a communication problem between cities? The report suggests some solutions, like taking part in the relatively new Managers Mobility Partnership, a regional, cross-jurisdictional planning forum that brings together local city managers to discuss overlapping issues.
"Regional planning can be difficult because regional planners can't decide for locals how they spend their money," said Drusilla van Hengel, one of the planners at NelsonNygaard that worked on the document. But through the efforts of groups like Joint Ventures and the Managers Mobility Partnership, it's not impossible. Four of the peninsula cities--Redwood City, Palo Alto, Menlo Park and Mountain View—just launched a joint planning effort to develop a regional bike corridor.
The Bike Vision report also details how the cities differ and why they have different levels of bicycling. For example: does a city have a robust, engaged, passionate Bicycle Pedestrian Advisory Commission? Does it have city staff dedicated to these issues? Does it have an updated Bike Plan, and has it adopted a Vision Zero plan or the NACTO street design guidelines?
One of the other accomplishments of this document is that it sets a high standard. It's not a government-adopted plan, with the power to enforce actions, but it does provide a broad vision of what is possible, and it provides a tool for advocates who can take it to cities and agencies and use it to help inform the public.
According to Chris Kidd, a planner who worked on the Google Bike Vision Plan, it joins that equally visionary document in being "indicative of a unique situation in the South Bay, where you have private employers and business associations not only recognizing, and even advocating for, the importance of high-quality, connected regional bike networks, but also putting in the money and effort to do the planning and analysis themselves."
"These groups aren't content to just support or even privately fund good bicycle infrastructure. They're actively trying to create a new minimum baseline of what is considered acceptable for planning and bike facilities in the South Bay,' he added.
Be sure to take a look at the section on the benefits of bicycling. This is the kind of data presentation--clear messages and simple graphics on health, safety, perceived comfort, and economic benefits—that will be useful to a broad swath of advocates, government officials, agencies, planners, and anyone else wanting to know about bike infrastructure or encourage more bicycling in American cities.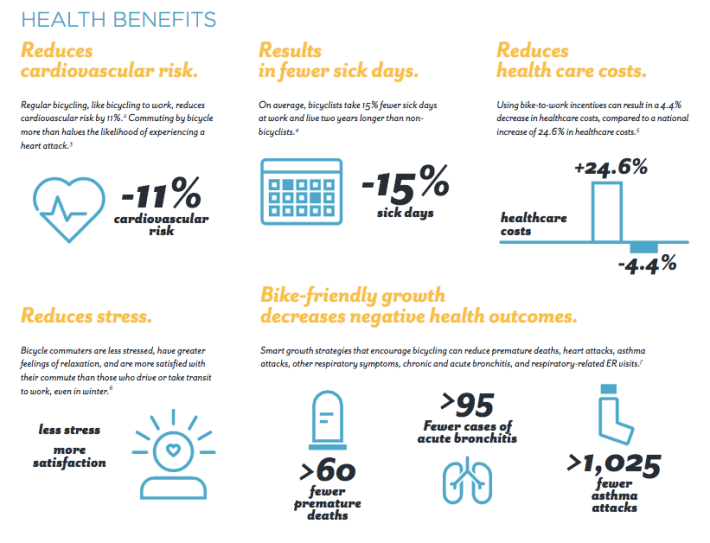 Streetsblog California editor Melanie Curry has been thinking about transportation, and how to improve conditions for bicyclists, since her early days commuting by bike to UCLA long ago. She was Managing Editor at the East Bay Express, and edited Access Magazine for the University of California Transportation Center. She also earned her Masters in City Planning from UC Berkeley.
Stay in touch
Sign up for our free newsletter