caltrain
Fate of Caltrain Electrification Hangs on Trump's Budget
4:23 PM PDT on April 26, 2017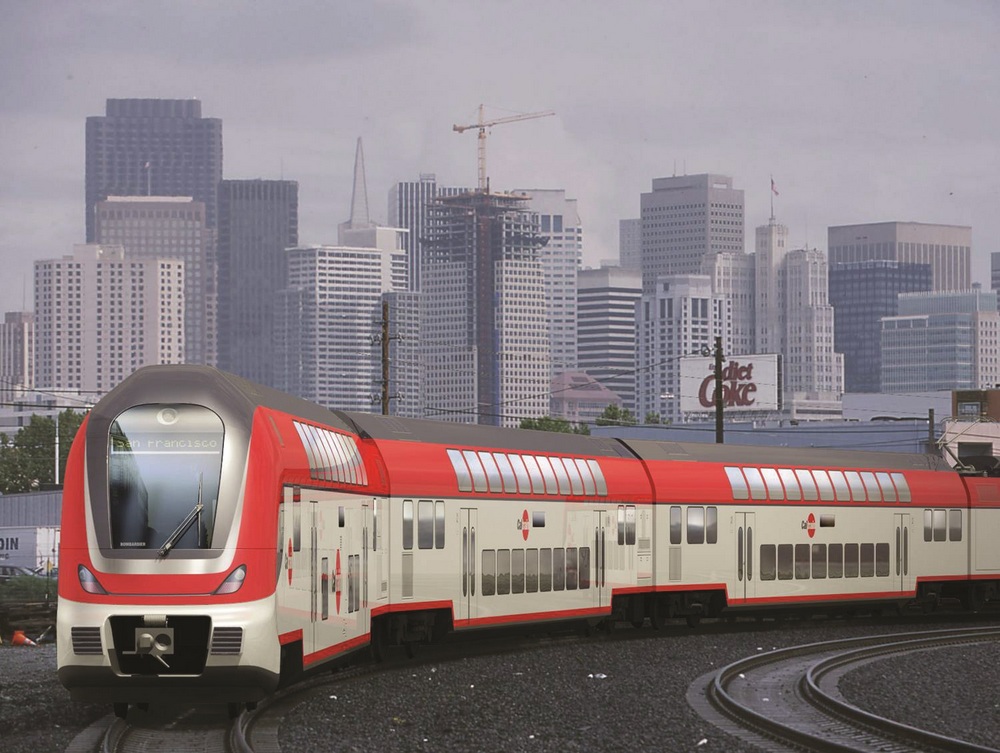 Caltrain's electrification project is coming down to the metaphorical wire.
Details of President Donald Trump's proposed budget will be released next month, determining the fate of a $647 million grant agreement for Caltrain electrification that was scuttled by the administration in February. In advance of the announcement, the local campaign to save the grant is working with advocates around the state and country.
In this time of hyper-partisan politics, many believe the fate of the project rests not on its merits but on whether or not Congressional leaders from the state's Republican caucus can be persuaded to not block a project that they perceive would only benefit coastal Californian cities.
"It's not just Bay Area commuters that ride these trains," explained Adina Levin of Friends of Caltrain and editor of the website Green Caltrain. "People connect from the Capitol Corridor and the San Joaquin Valley. If these people contact their Congress members, it would have the greatest effect."
Friends of Caltrain is encouraging transit supporters with access to train stations in San Jose, Santa Clara, San Francisco, and Oakland to reach out to riders of trains coming from Inland California - the ACE, Capitol Corridor, and San Joaquin trains - to make sure those riders know that their Congressional representatives are blocking funding that could make their commutes faster, safer, and more comfortable.
Then Chao and the administration decided to postpone approval of the grant, at the urging of members of the California House GOP Caucus. Caltrain supporters were hoping for good news with the release of the administration's budget priority document later that month, but instead it proposed deep cuts to transit funding nationwide.
Now the focus is on the release of the administration's more detailed budget for the fiscal year beginning July 1. A deadline with its contractors is looming on June 30, and if Caltrain's funding is included in the budget, then work on electrification can begin almost immediately. If not, the picture goes from uncertain to desperate.
The worst case scenario is that other funders of the $2 billion electrification project will also pull their funding, killing it. Ironically, much of the objection to this project from the California GOP is because they perceive it will help the California High Speed Rail Project (CAHSR). But if the roughly $700 million CAHSR has budgeted for Caltrain is pulled back, it could be re-purposed to accelerate HSR construction.
Caltrain, and its supporters in Congress, are attempting a different tact to make their case: focusing on the administration's promises to promote infrastructure and jobs. Yesterday, Congressmember Jackie Speier (D-SF, San Mateo) held a press conference rallying support for Caltrain and its electrification grant. A sign at the event said the president's transit plans would "Make America Stop Again."
Senator Diane Feinstein has also been working to make a case for electrification based on economic benefits. Feinstein is promoting a letter written by CEOs of Silicon Valley businesses urging the administration to fund the electrification project.
"At a time when we are encouraged to 'Build American and Buy American,' electrifying Caltrain creates 9,600 jobs: from power converters and transformers built in Richmond, Va.; the assembly of electric trains in Salt Lake City, Utah; the transportation of electric train shells in Humble, Texas; or engineering services in San Mateo, California; American workers win," the CEOs wrote. "The electrification of Caltrain puts Americans to work, while helping our fellow Americans get to work."
The jobs message seems to be finding traction with GOP leaders, although not with ones in California. Utah Senator Orrin Hatch, perhaps eyeing those jobs making electric trains in Salt Lake City, has been promoting the project. In a recent Washington Post article, Hatch states, "the project would be very beneficial to Utah," adding that "we're going to do what we can to get that done."
Stay in touch
Sign up for our free newsletter