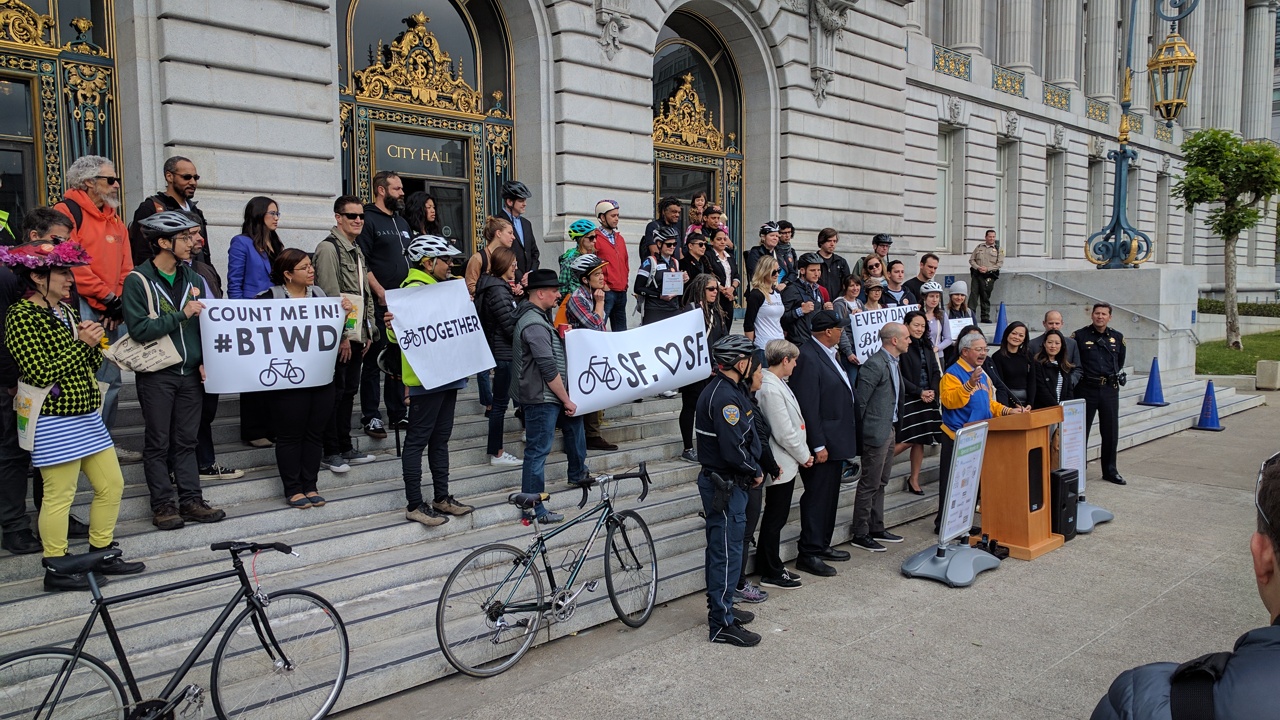 The streets of San Francisco were filled with thousands of exuberant and experienced cyclists and quite a few newbies this morning on this 23rd annual "Bike to Work Day."
From the San Francisco Bicycle Coalition release:
Eleven "Commuter Convoys" departed from each Supervisorial district for a morning bike commute downtown, gathering new and experienced riders together with their neighbors and community leaders. Nearly 300 SF Bicycle Coalition member-volunteers are brightening commutes at 26 Energizer Stations across the city with free snacks, beverages and other goodies, reusable tote bags filled with goodies on this, San Francisco's 23rd Annual Bike to Work Day.
Streetsblog caught up with the convoys at the Bicycle Coalition's political rally on the steps of City Hall. "We want to promote this great exercise," said Mayor Ed Lee, who admitted he hadn't biked in a while. "I was looking at every pothole and putting it on my 311 list. If I avoided them, maybe someone else won't." He also boasted about the 160 new bike share stations that will soon be added to the city.
Supervisor Jane Kim talked about the importance of protected bike lanes to make a relatively new rider feel safe. "There are three protected bike lanes, all in District 6 [her district] It's such a difference for a new cyclists--it's night and day, knowing that cars can't drive into you!" She also said the move towards protected bike lanes needs to continue, especially on Turk.
Supervisor London Breed recalled her days as a college student in Davis, and how much safer it felt riding a bike there. "We need infrastructure that works for all who want to ride." Supervisor Katy Tang, rode from the Outer Sunset meanwhile, probably the farthest ride of any official. She talked about new technology that is making cycling safer and more reliable--in her case, she was riding a bike with solid rubber tires. "No tubes, so no worry about flats, which makes it more fun to bike."
SFTMA head Ed Reiskin said that all the city agencies are aligned in achieving Vision Zero and that cycling, aside from being good for the environment, can be the best way to navigate San Francisco's heavy traffic. "It is often the fastest way to get around."
Meanwhile, the audience was filled with advocates and enthusiasts. Maria Stokes, the Bike Coalitions "commuter of the year" was there with her flower-adorned helmet. She cycles daily from the Richmond District to her job in Dogpatch. "I love wearing flowers on here," she said, pointing to her helmet. "People say hello to me...they lean out of their cars and say 'nice hat!' It keeps me going."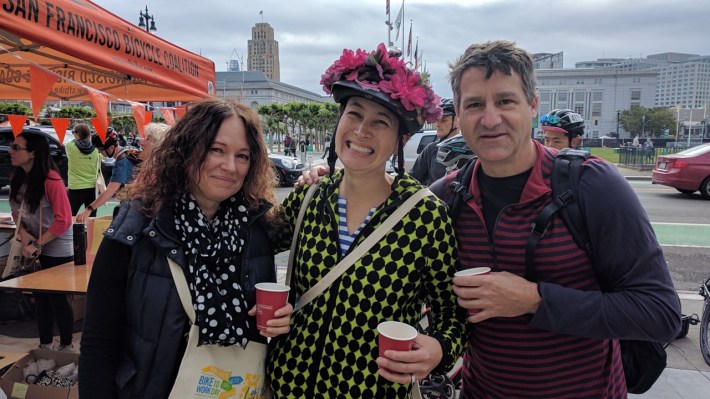 Diane Pray dispelled the notion that cycling is incompatible with dressing up. "This is my little taxi!" she said, pointing at her yellow bike. She explained how she tucks away the ties of her blue dress and keeps her ankles clean with reflective straps.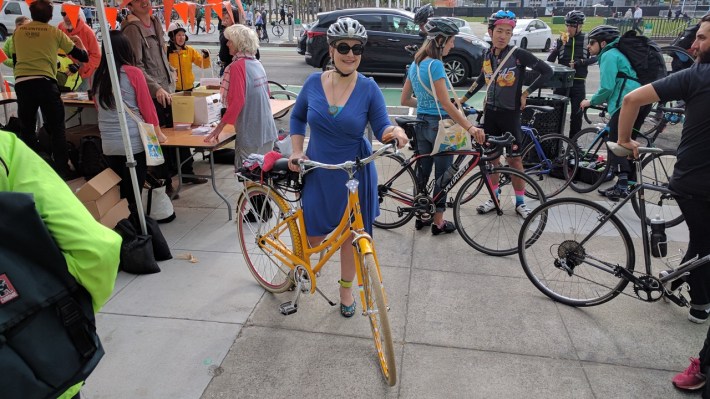 John O'Sullivan, meanwhile, probably gets the award for longest ride today--he came in 28 miles from Redwood City and, as luck would have it, got a flat on Polk and Market, almost within sight of City Hall. "There's so much glass," he said. "One shard just got into the tire the right way--or the wrong way, maybe is what I mean." Bryce Fesing, a repairman with Huckleberry Bikes, was out fixing his flat for him in front of City Hall, at a free bike-repair station. "We had a couple of flats," he said, "...and a few people just having their brakes checked."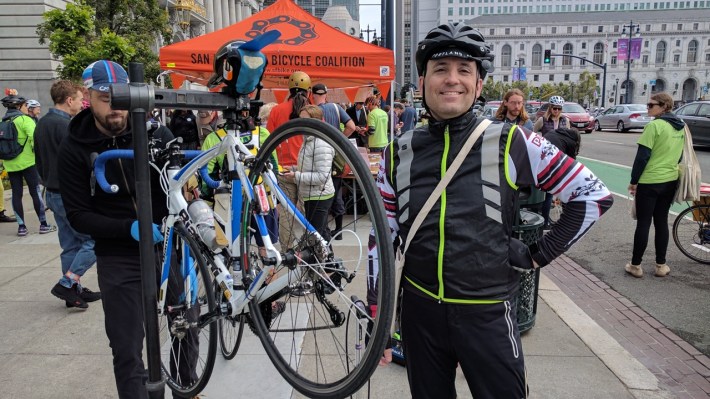 Meanwhile, in a side interview with Streetsblog, Reiskin said he rode a share bike from Glen Park. He mentioned how much safer it felt riding on San Jose, now that safe hit posts are there to clearly delineate a separate bike lane. He also enjoyed riding the new gateway to Valencia, referring to the cut-through via Tiffany that links San Jose to Valencia. Streetsblog remarked that the city needs protected bike lanes extended onto the rest of Valencia.
Brian Wiedenmeier, SFBC's director, meanwhile, was busy recruiting members.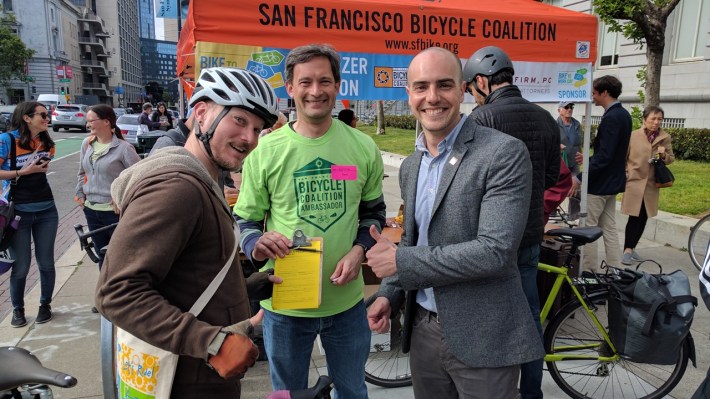 All in all, it was a wonderful, upbeat celebration. But also a reminder of all the work that still needs to be done to get protected bike lanes on all major streets. That was underlined by a sedan that drove onto the bike lane right in front of City Hall, just as a cement truck passed along side, making it impossible to use the infrastructure the city officials were boasting about. Even after that cleared, cyclists trying to leave the event had to deal with ride-hails stopping on the bike lane. Streetsblog asked one cyclist to move a bit forward, closer to an Uber that was blocking the bike lane, to get them both in the photograph and to illustrate the point.
"Which Uber!?" grumbled the woman, pointing to the line of cars in front of her, blocking the Polk bike lane on both sides of Grove Street.
A few more pictures below, courtesy of SFBC: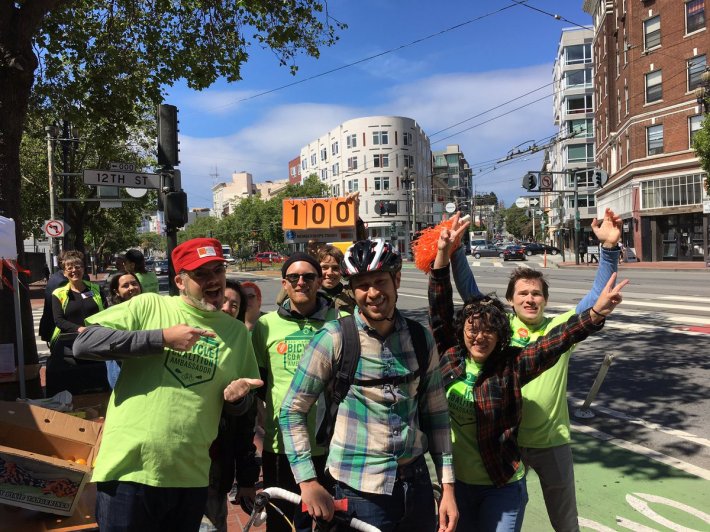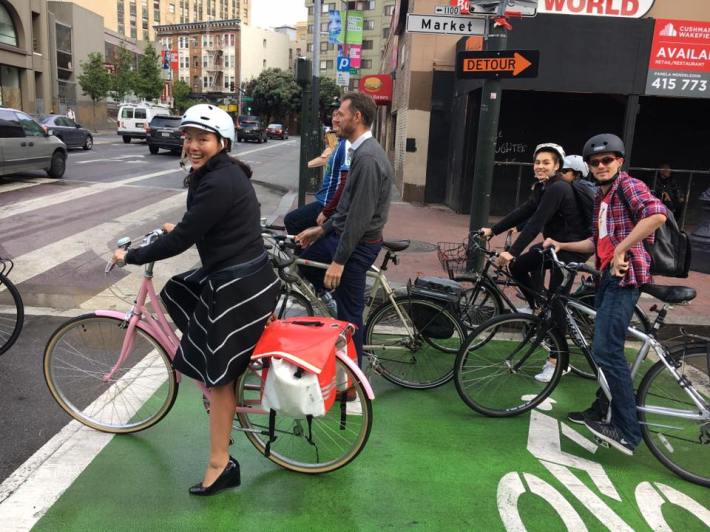 Did you ride in Bike to Work Day? What stood out for you? Let us know below.
Stay in touch
Sign up for our free newsletter