The San Francisco Municipal Transportation Agency (SFMTA) has published a permit application for so-called "dockless" bike-share companies. These are companies that offer rental bikes based on smart-phone and GPS technology--unlike the official, Bay Area Bike Share/Ford GoBike system, they don't require fixed docking locations where users have to pick them up and drop them off. The nine-page permit document is online, but here is the breakdown of permitting fees: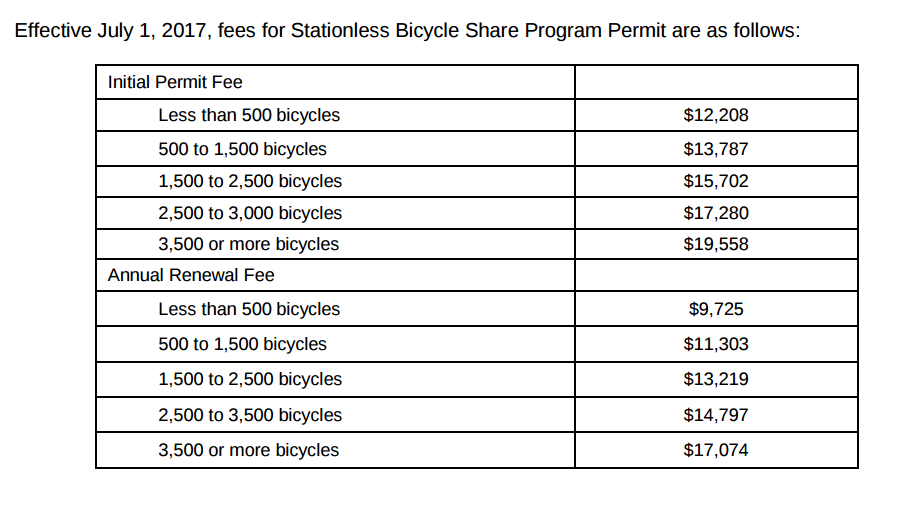 As Streetsblog readers are surely aware, the Ford GoBike/Bay Area Bike Share is in the midst of a ten-fold expansion, from 700 bikes to 7,000 bikes, which will be distributed throughout San Francisco and the East Bay. The entire bike-share scheme, however, has had to contend with 'disruptors,' such as GPS-based BlueGoGo, which requires no docking stations and can be locked up anywhere, just like a normal bike. However, the city, which has an exclusive arrangement with Bay Area Bike Share, threatened to sue BlueGoGo. Eventually, BlueGoGo was effectively shut down, at least for now.
That hasn't stopped other GPS-based competitors, such as Jump, an electric bike-share from Social Bicycles in New York, from, uh, jumping into the SF Market. Streetsblog New York did a great breakdown of the new speculative bike-share market.
Ryan Rzepecki, the CEO of Jump, said he isn't at all phased by San Francisco's new permit. "We've done bikes in six countries, with a total of 10,000 bikes ... the things they're asking for in the permit are familiar and we're comfortable with it." His company normally works in partnership with cities to set up bike-share systems; they set up bike-share in Portland and Santa Monica, for example.
The Jump electric bikes his company is offering in San Francisco are actually "geo-fenced," so while they can be locked to conventional bike racks, they do have to be returned within a certain area. That is a way to avoid having bikes strewn all over the city, as San Francisco officials seem to fear. In addition, the company will be setting up charging stations, and will credit riders who take the bikes to one of these stations and plug them in (the bike is rideable when the charge is gone, although it's pretty heavy--Streetsblog will write more about Jump bikes in a future post).
Meanwhile, the National Association of City Transportation Officials (NACTO), in a release from last April, had this caution about some of the new GPS-based bike-shares:
In recent weeks, "rogue" bike-share companies have launched, uninvited, in U.S. cities with flimsy equipment and limited or no public notification, posing significant safety risks to the public, and fully divorced from larger transportation planning and municipal needs. Photos from cities in China, where rogue systems are already in place, show junk heaps of broken bikes. People who have used the bikes in the U.S. report that they are of poor quality and often unsafe.

Bike-share systems have a strong role to play in a city's transportation network. But, by starting up without invitation or coordination, these companies have shown that they are not serious about providing bikes as a real mobility option for people. Instead, their actions suggest that they are more interested in media attention and a quick buyout. Such fly-by-night operations put the public at risk.
Maybe so. And it's important to distinguish between some of the low-ball, junky "rogue" bike-share offerings (check out this pic if you're curious what that looks like) and robust GPS-based share-bikes, such as Jump is offering. Either way, if anything can be learned from ride-hail companies such as Uber and Lyft, it seems like GPS-and-smart-phone-based bikes are the future, whether they be "rogue" or launched through an official permit process by an established company. It makes one wonder how successful Motivate's Ford GoBikes will be, when faced with quality electric and conventional shared bikes that aren't tethered to big docking locations.
Tell us what you think. Comment below.
Stay in touch
Sign up for our free newsletter