Bicycle Infrastructure
'Quick Fix' Parking Protected Bike Lanes Coming to Folsom and Howard
4:46 PM PDT on July 14, 2017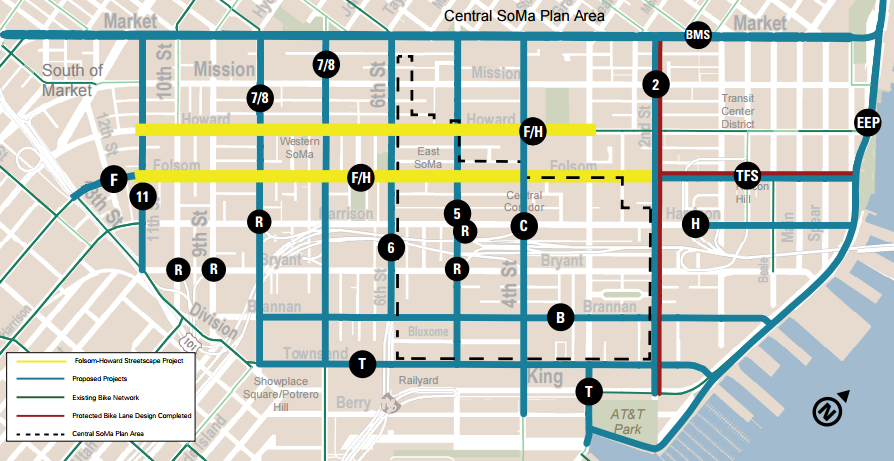 For some time now, advocates have called on SFMTA to work with more urgency to get safe-street fixes on the ground. And, it seems, this is starting to happen. "We'll pour concrete on top of asphalt to make bus boarding islands," explained Bradley Dunn, a spokesman at SFMTA, at last night's "Folsom-Howard: Safer Streets Sooner Near-Term Open House #1," held at the Gene Friend Recreation Center.
Pouring concrete on asphalt means the boarding islands--an integral part of installing protected bike lanes on a street with bus routes--won't last as long, but they can be put in quickly, he explained. By combining this approach with paint and plastic bollards, SFMTA hopes to have parking-protected bike lanes installed on Folsom by this winter.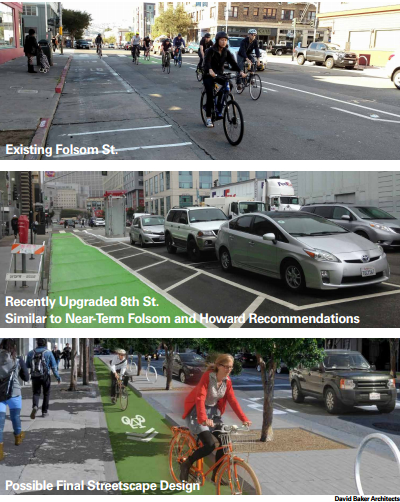 This approach is emulating what SFMTA did, under the Mayor's Executive Directive, on 7th and 8th streets, where there are now parking-protected bike lanes and bus boarding islands, to add a strong degree of safety over regular bike lanes. The heavily traveled streets of SoMa, meanwhile, remain a hot spot of traffic collisions.
Not everyone is pleased with the coming safety changes. Lisa Wong, an architect with on office on Folsom near the corner of 8th Street, is concerned about losing the parking spot in front of her shop, which will be eliminated to make way for a right-turn pocket and 'mixing zone.' She finds the neighborhood too sketchy to carry pricey cameras and other equipment a longer distance to her car, so she doesn't want to park around the corner. "My concern is for my safety," said Wong. She's also worried about trucks being able to load materials into her shop.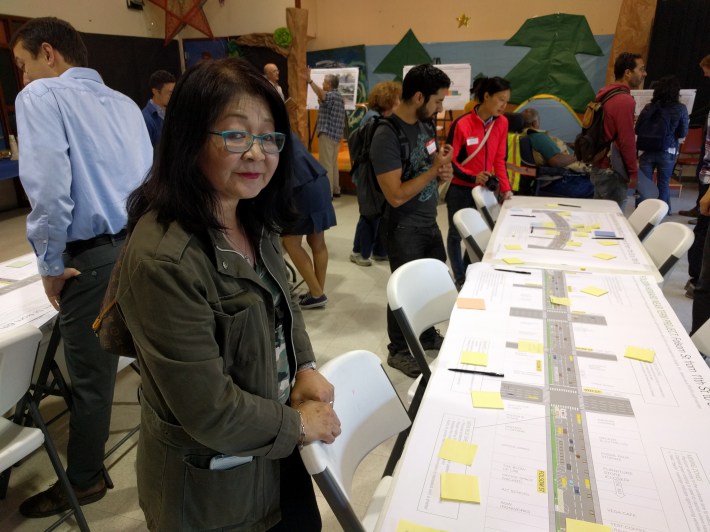 Paul Stanis, Project Manager for SFMTA, said the project will double the number of loading zones from 21 to 42 on Folsom, and that he would work with Wong on some kind of accommodation.
The project, as currently designed, uses 'mixing zones' instead of protected intersections. That means that as cyclists get to the intersection, if they want to go straight, they have to merge one lane to the left and cross paths with cars turning right.
A treatment that included protected intersections, similar to what SFMTA installed on 9th and Division, could potentially also maintain Wong's parking spot, since the parking protection lane could extend another car length or two to include the area in front of her office (under SFMTA's current plan, the parking row stops early to allow cars in the travel lane to transition to the right-turning pocket). Stanis said SFMTA may look at a protected intersection for the longer-term project (which will take a few more years) but for this short-term, interim fix they don't want to do anything that's overly complex or expensive.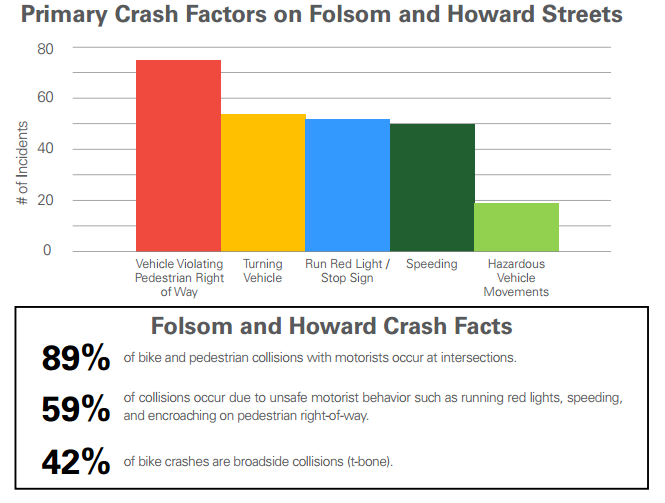 Fair enough, but as readers can see in the above chart, intersections are where 89 percent of collisions occur. It hardly seems the place to scrimp. Even painted bike lanes stop abruptly just as cyclists spill into intersections where the paint is needed most to remind motorists to look out for cyclists. That's not a cost issue, but a design issue.
Sothene Recht was also not too keen on the changes. "I'm concerned about cars trying to get to the bridge ... I walk a lot, but America is made for cars ... Eliminate a lane, and instead of taking one hour to get home it takes an hour and a half," she said.
But aside from Recht, Wong, and a couple of others, most of the participants in the open house were bullish about the new bike lanes and some even wanted the protections extended well beyond central SoMa. "I'm happy about the changes," said Eric Thorne, who commutes between SoMa and Glen Park by bike. He cautioned that the current configuration on Folsom is confusing and that "... the buffer is too wide. I have a car too and and have been confused by the wide buffer." He said parking-protected bike lanes will solve the confusion and keep motorists out of the bike lane.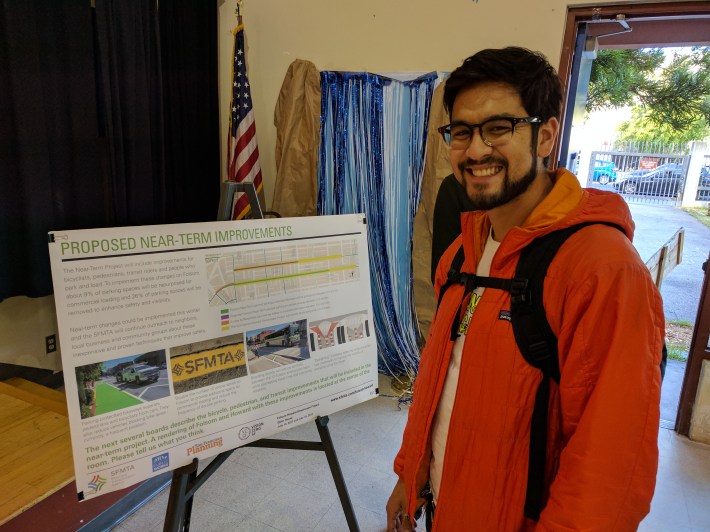 While these changes are being discussed for Folsom street, the timeline for parking protected bike lanes along Howard is less certain. That's because of a frustratingly familiar issue. "We've been meeting with the fire department," said SFMTA's Dunn. Howard has power lines for electric buses, so the fire department is pushing back against the proposed design, just as it did about bike infrastructure on Market and Turk. The concerns here are the same--that ladder trucks may not be able to maneuver around trolley-bus wires when fighting building fires.
SFMTA's strategy for now, said the officials, is to focus on Folsom and get what they can on the ground as soon as possible, while they iron out the fire vs. wire issue separately.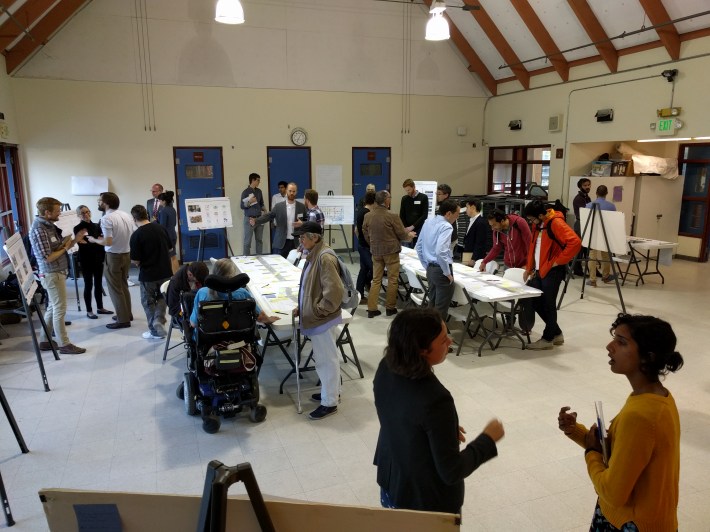 For more information on the project, check out SFMTA's project page.
Stay in touch
Sign up for our free newsletter