Muni
Muni Subway Closures — Can't We Do Better?
4:35 PM PDT on July 31, 2017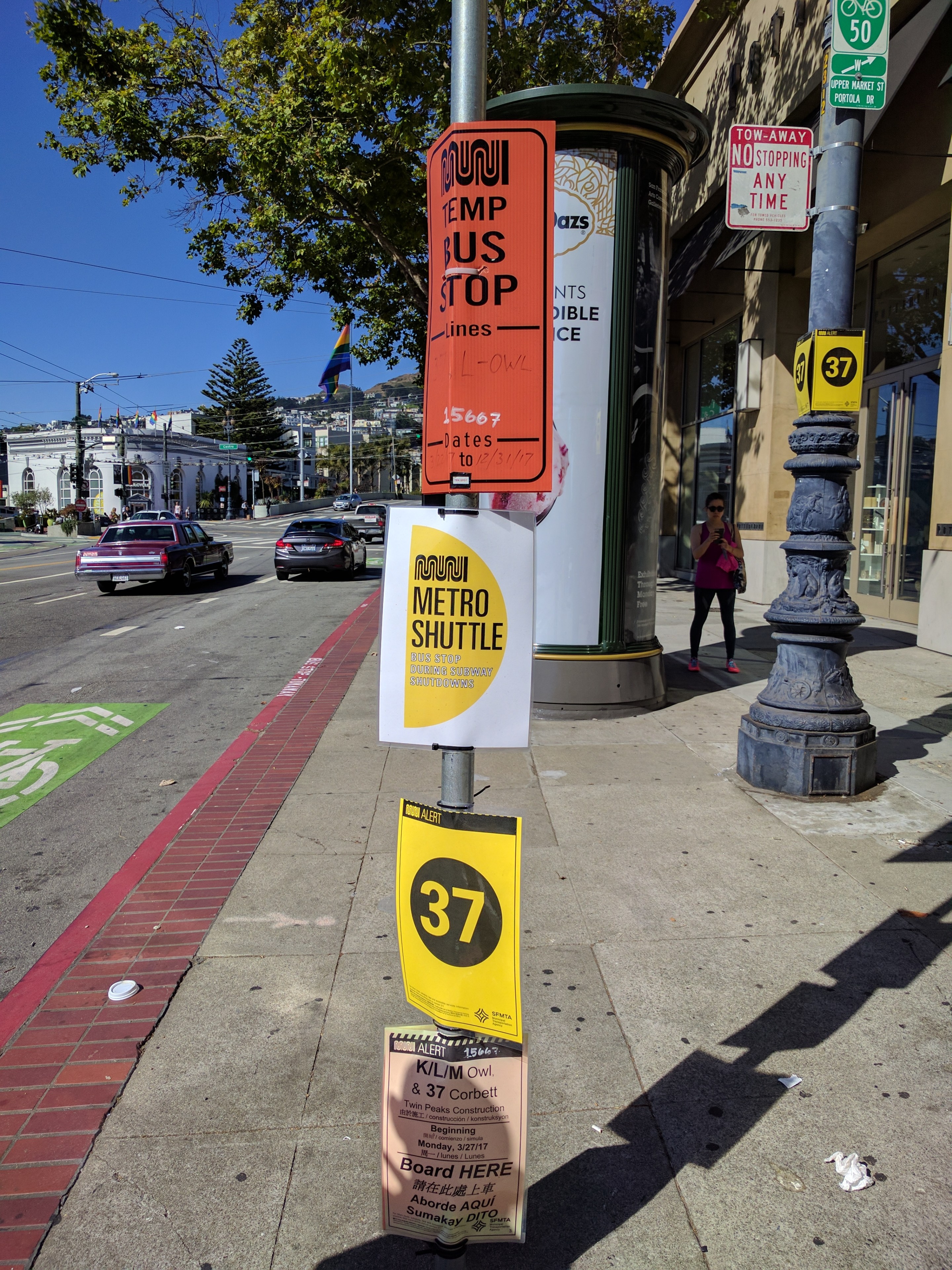 Here we are in week two of the San Francisco Municipal Transportation Agency (SFMTA)'s month-plus of weekend and evening closures of the core of its system--the subway tunnel from Embarcadero to West Portal. Overcrowding on the replacement bus service, as the SF Examiner reports, has left customers further peeved. In response, SFMTA is adding longer buses to its substitute routes to alleviate some of it.
Hmmmm, if only there were a second rapid transit system in San Francisco that could help with this crunch. (More on that below.)
Streetsblog would like to hear from readers about how well they think SFMTA is handling the closures (which the agency says are necessary in order to test new train cars). As can be seen in the lead image, there were serious problems with wayfinding and communications. What's wrong with making one big sign reading "Catch Subway Replacement Bus Here" instead of the visual noise seen in the lead image? And where were the Muni workers offering directions to uncertain riders on Market Street and Castro, where that photo was taken?
"The Transit Riders have been quite vocal with our dissatisfaction of the subway shutdown. It's inconvenient for riders, it's confusing, and we all know the bus can take a lot longer than the subway," wrote Rachel Hayden, Executive Director of the San Francisco Transit Riders, in an email to Streetsblog. "However, I was pleased to hear that the SFMTA listened to rider concerns with overcrowding and added the larger vehicles, and that they are working to improve signage and make it easier to find the shuttle stops. "
Bigger buses are great, but that raises another question: what about BART?
An SFMTA spokesperson confirmed via email that they never approached BART to ask whether they could honor Muni passes in San Francisco during the closures. Streetsblog spoke with BART directors Rebecca Saltzman and Robert Raburn, who both said they would have been happy to work something out. For Muni customers who normally depend on the subway tunnel between Civic Center and Embarcadero, BART would be an easy substitute. And those who need to get to points south and southeast of West Portal could get home from downtown faster by riding BART to Balboa Park, rather than waiting around for a bus bridge to West Portal.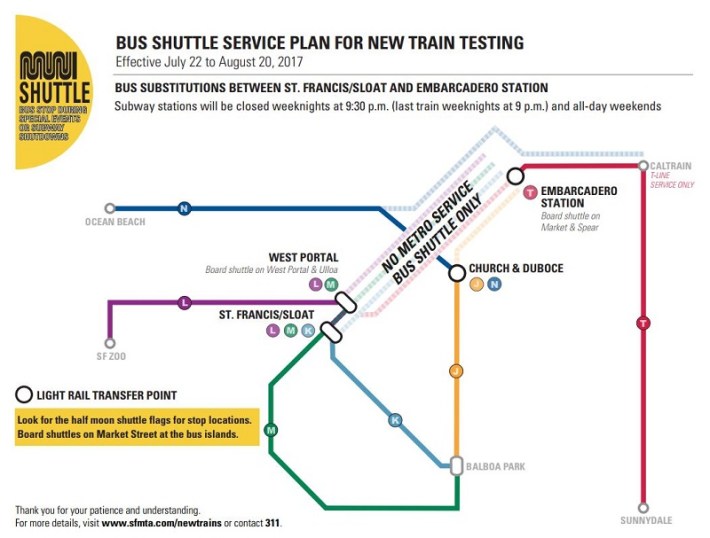 "My guess is that it would have complicated things more than helped," wrote
Joël Ramos
, Regional Planning Director for TransForm and SFMTA Boardmember. On the other hand, "if BART is willing to honor Muni passes/tickets, regardless, that would be a great gesture. . . especially for those who don't go all the way out to Van Ness or West Portal!"
It also, of course, would be appreciated by people who go well beyond West Portal on the M-Ocean View and K-Ingleside lines. Taking BART to Balboa Park and back-tracking by Muni trains or buses could be faster even under normal circumstances. "Yes, there are a lot of us who 'go backwards on Muni to go forward on BART.' I do the same when going from the Sunset to the Mission via the 28R," said Ramos.
"We did not ask for mutual aid from BART, but given rider feedback, this is something we are looking into for the next shutdown," wrote SFMTA spokeswoman Erica Kato in an email to Streetsblog.
"Given there are still several shutdowns to go, SFMTA should absolutely partner with BART to honor Muni passes. The shutdown is off-peak and on weekends, when BART is less crowded. This is a perfect opportunity to offer riders a faster alternative in the city. BART has honored Muni passes during previous shutdowns," said Hayden. "This would go a long way to show riders MTA is doing everything it can to make up for the inconvenience."
Stay in touch
Sign up for our free newsletter