Jaywalking
San Mateo Joins Legislative Charge into 'Jaywalking 2.0'
4:23 PM PDT on September 13, 2017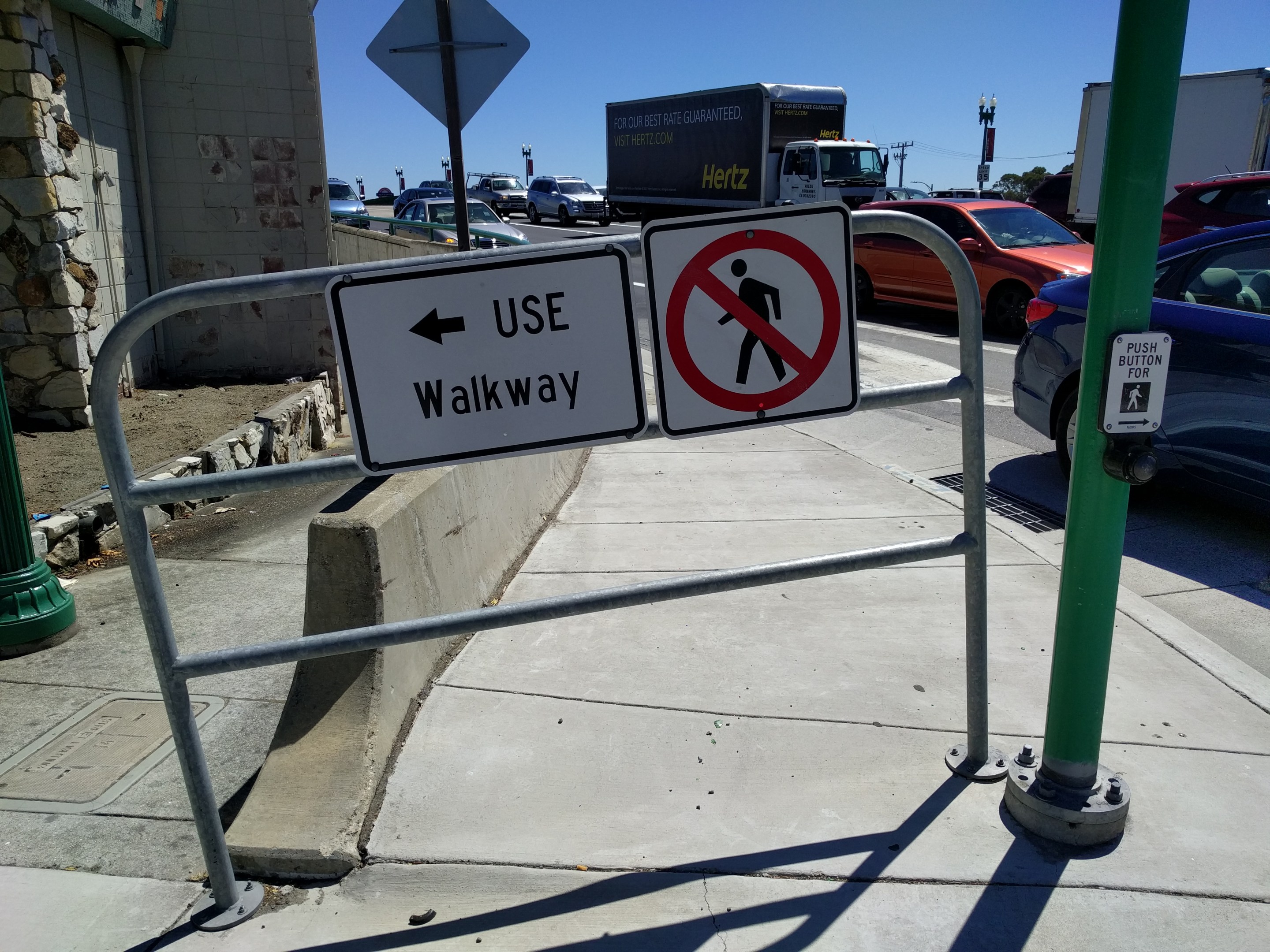 Yesterday, the San Mateo Board of Supervisors passed a resolution that could be the first step towards a statewide ban on texting while walking in a crosswalk. The resolution, introduced by Supervisor David Canepa, "urges the state legislature to take action to promote traffic safety by prohibiting use of cell phones while crossing streets or, alternatively, giving express authority to local jurisdictions to regulate the issue."
In other words, San Mateo County just joined the bandwagon, started by Honolulu, Stamford, Connecticut and Cleveland to further expand the definition of 'jaywalking' to include crossing with the right of way if you stop to check your phone.
"It's purely dangerous to walk in a crosswalk with your cell phone," said Bill Silverfarb, Legislative Aide to Canepa, in an interview with Streetsblog. "They're not paying attention to their surroundings."
Silverfarb said the resolution is in response to an uptick in pedestrian deaths in California. Around 700 pedestrians are struck by cars and killed every year in the state.
The uptick in deaths, however, is not clearly attributable to people stepping in front of moving cars while texting. What is clear, however, is that speeding and distracted driving are getting people hurt and killed all over California. Diverting police resources away from fighting those problems is not going to help. Silverfarb said enforcing existing laws about texting while driving and speeding is "not a high [police] priority--they're busy, they have other things to do."
He said he hopes some selective stings of people texting and crossing the street will get people to pay more attention to their surroundings. "You put police on corners and have them watch the crosswalk, if people are behaving badly you give them a warning," he explained.
But advocates for safe streets aren't buying it.
"When data consistently show that speeding is a leading cause of crashes, victim-blaming is neither productive nor appropriate," said Natalie Burdick, Outreach Director for Walk San Francisco. "Lawmakers should enact legislation (like automated speed enforcement) that has been proven to both calm traffic and reduce the likelihood of deadly crashes."
Elizabeth Stampe, a San Francisco-based advocate for sustainable transportation, agreed. "This is a misguided idea that criminalizes walking and removes responsibility from where it belongs. It's the driver's responsibility to make sure his car--the thousand-ton weapon he's piloting--doesn't hit anyone. What about people who can't see, who can't look up at cars? By this logic, [crossing the street while] being blind would be a crime too."
And how will this resolution be received in the state legislature? "Distracted walking, like distracted driving, creates safety problems. However, we need to be very clear that cars, not pedestrians, are at the heart of the unacceptable number of injuries and deaths we're experiencing on our streets," said San Francisco State Senator Scott Wiener.
He was, however, open to discussing the idea if the fines "aren't too high."
Dave Campbell, Advocacy Director for Bike East Bay, said he could support the resolution if it came with a comprehensive change in safety priorities. "Every time we talk about slowing cars down in the name of safety we get a tremendous amount of push-back from elected officials who also get an earful from their constituents. We're left with streets that aren't safe," he said. ""I'll trade support for this bill for a 25 mph speed limit on every street in the state."
Tweets to Canepa echoed these points.

Indeed, countries with the best safety records have low speed limits and engineer streets with safety as the first priority. But criminalizing walking? In the Netherlands jaywalking is not even a crime. It wouldn't be here, either, except for America's long history of prioritizing motoring convenience and car sales over safety (click here or watch the video at the end of this post for a primer on the history of 'jaywalking.') From Streetsblog's perspective, this latest resolution is just an extension of the original jaywalking laws and are about keeping the roads clear of pesky pedestrians who inconvenience motorists.
If someone is crossing the street with the right of way in a crosswalk, it doesn't matter whether that person is texting, talking on the phone, picking their nose, or eating a bag of wasabi chickpeas--it's up to motorists to drive safely and stop. Victims of road violence are no more guilty for getting run over than a rape victim is for wearing a miniskirt. Trying to turn "texting while walking" into a crime is absurd and obscene.
Silverfarb, meanwhile, said they have a state legislator ready to write a bill. He declined to name that person, but it's not hard to find a lawmaker in San Mateo who will throw safety to the curb.
Canepa, meanwhile, has a history of prioritizing motorist convenience.
Stay in touch
Sign up for our free newsletter