Open Streets
Last Sunday Streets of the Year, Excelsior
4:41 PM PDT on October 2, 2017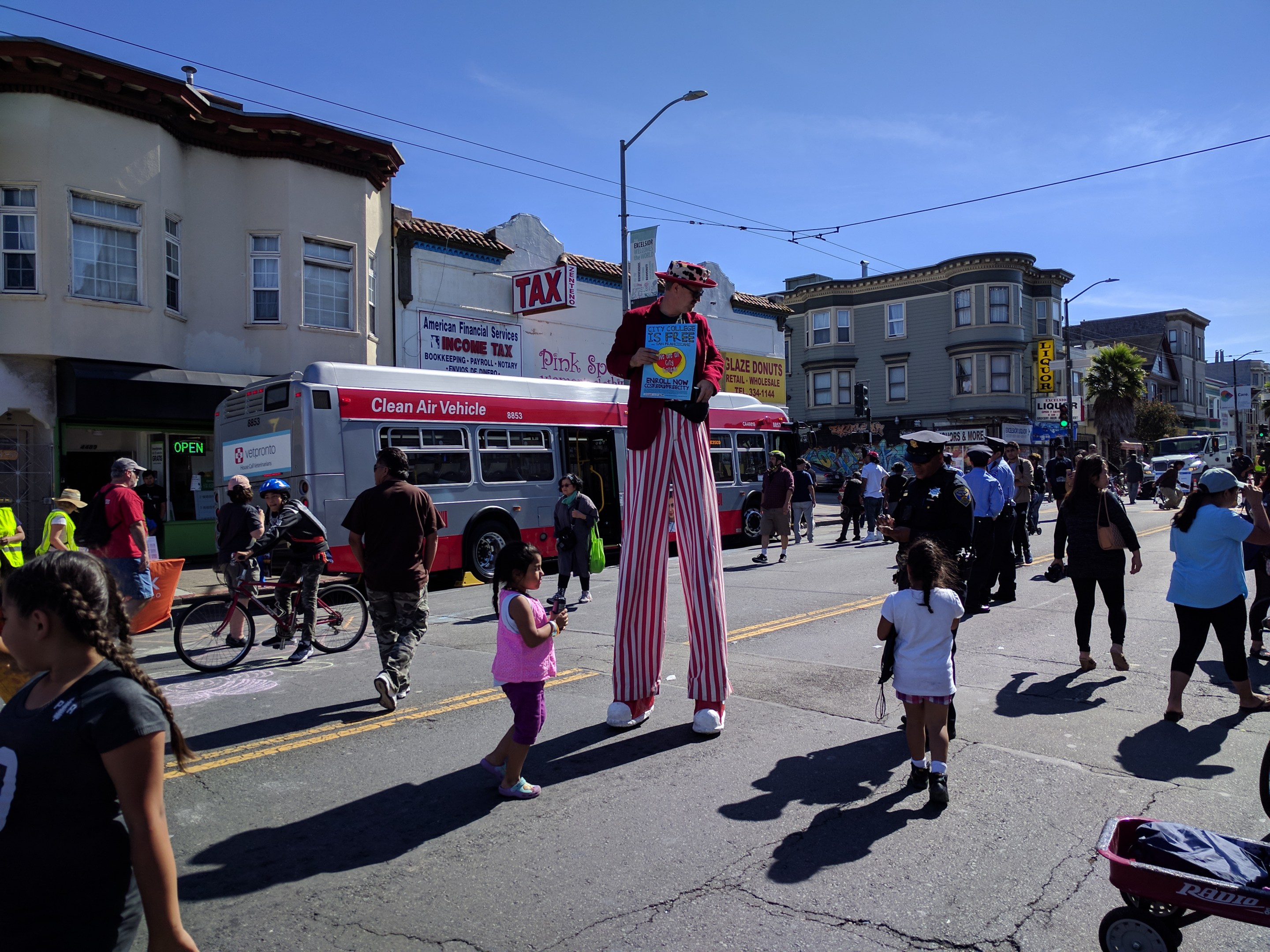 Thousands of people, including lots of kids, came out to the Excelsior neighborhood yesterday morning and afternoon to enjoy a bright and sunny Sunday Streets on Mission Street. This one ran from Avalon/Theresa to Geneva Streets, and marks the final Sunday Streets event of 2017.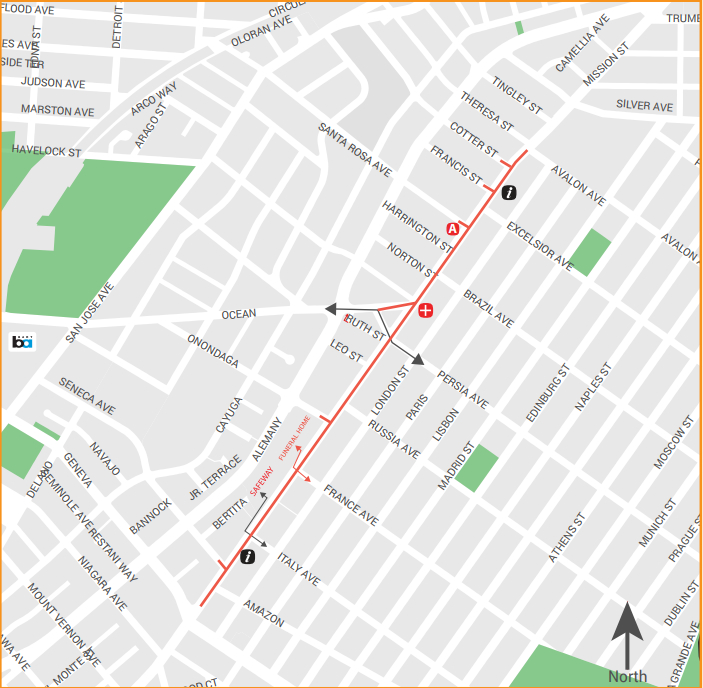 As the city's best-known open-streets event, it was also an opportunity for checking in on a variety of issues important to advocates for safe, livable streets.
For example, Mark Miretsky, launch director of Jump Bikes, was there promoting that company's electric-assist, dockless bike share system. "We want to expand to Portola, Visitacion Valley--areas that don't yet have regular bike share," he said, adding that these communities also have serious mobility issues. Back in July, Jump applied for a city permit, mandated by SFMTA, for non-official bike share systems (meaning not Ford GoBike). According to Miretsky, the city still hasn't issued them a permit--so for now, they are stuck in a 100-bike, grant-funded, 'preview period.'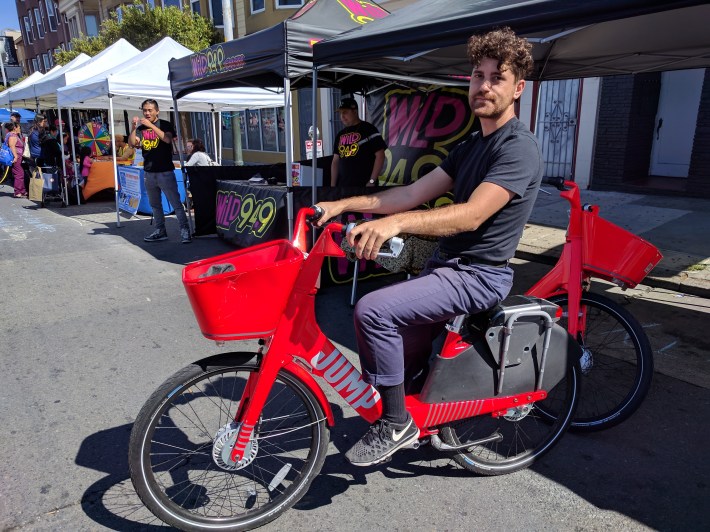 Joel Ramos, who sits on the SFMTA Board of Directors, was out recruiting future riders--and future transit drivers. "Look at these kids how they're smiling," he said, pointing to children sitting in and standing around the driver's seat of a shiny new SFMTA bus that was sitting on Mission Street on display. He was also handing out Clipper cards, to get more people onto the program. "It's now $.25 more to use cash, which encourages people to use Clipper." He said getting people away from cash is speeding up the whole system. "Every rider wastes ten seconds using cash, every time they board--that may not seem like much, but multiply it over five days a week and thousands of riders."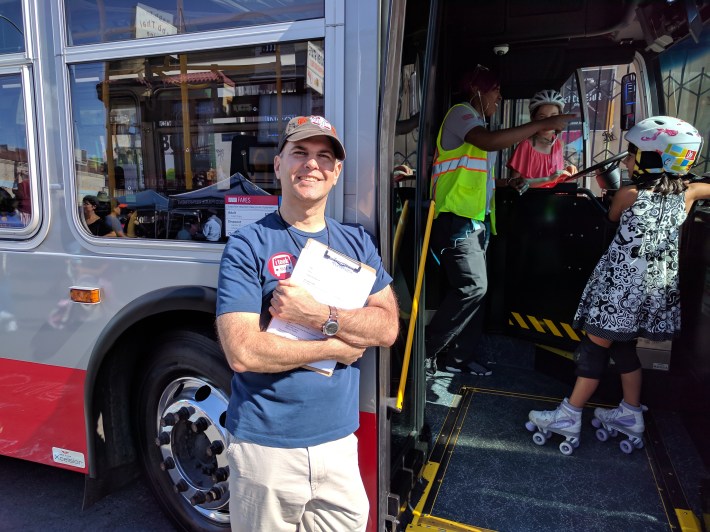 Speaking of Muni, the San Francisco Transit Riders (SFTR) were out wrapping up the last day of Transit Week. "It's been great," said Rachel Hyden, the group's Executive Director. "We've talked to so many riders who love Muni." She said that's important because, while Muni certainly has its problems, it's good to occasionally appreciate that it does get people where they're going. At Sunday Street, SFTR was advocating to make Muni more family friendly, by assuring parents that it is okay to bring strollers on a bus.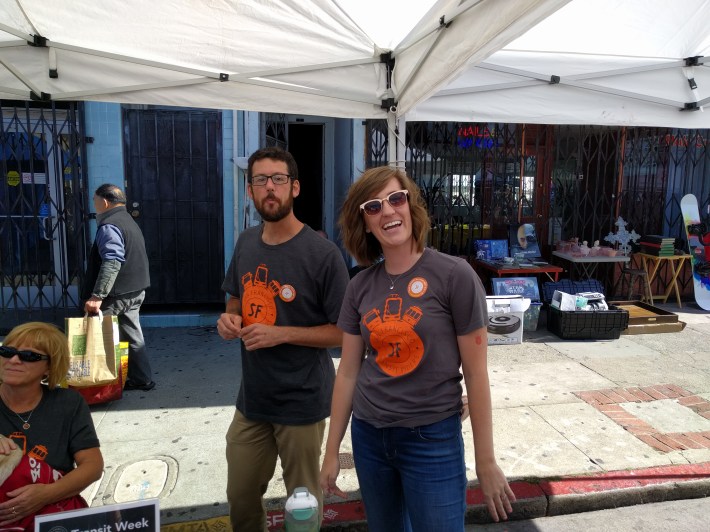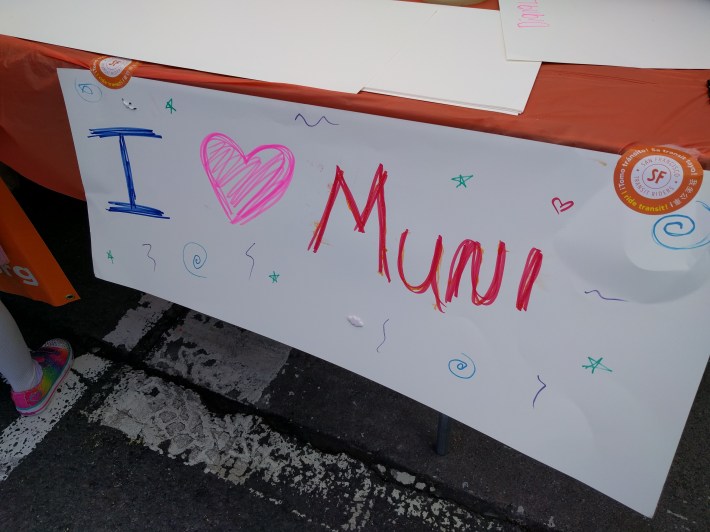 Sunday Streets has always been a place for fun and music. Ted Kuster with 'Bluegrass Music' was out playing with a band at the parklets by the Persia Triangle--these permanent improvements were installed back in 2014. A block away, Brian Belknap, a one-man band, was playing tunes on his accordion and drum.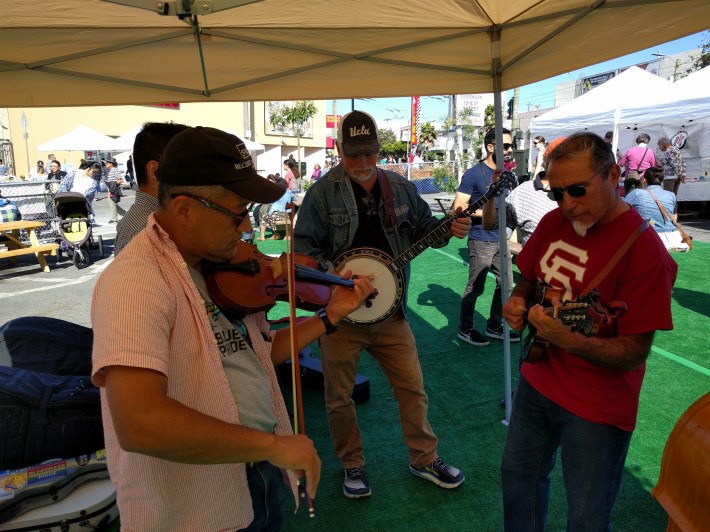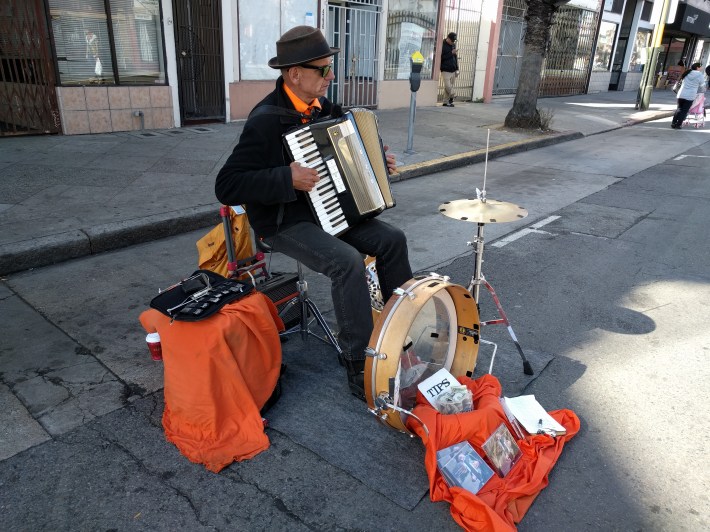 Sergeant Martin of the SFPD's Ingleside station was extolling patrolling by bike rather than a car. "It's the best of both worlds--I can respond quickly but maintain contact with the public," the 24-year SFPD veteran explained. "Mission Street is bumper-to-bumper, more often than not I beat the patrol cars." He said it also helps him catch drunk drivers, since he can see an open bottle through a car windshield. "They don't run, because when they see me, they know I already have their license plate."
The svelte, fifty-something cop also likes the idea of staying in shape on the job. "I get paid to exercise!"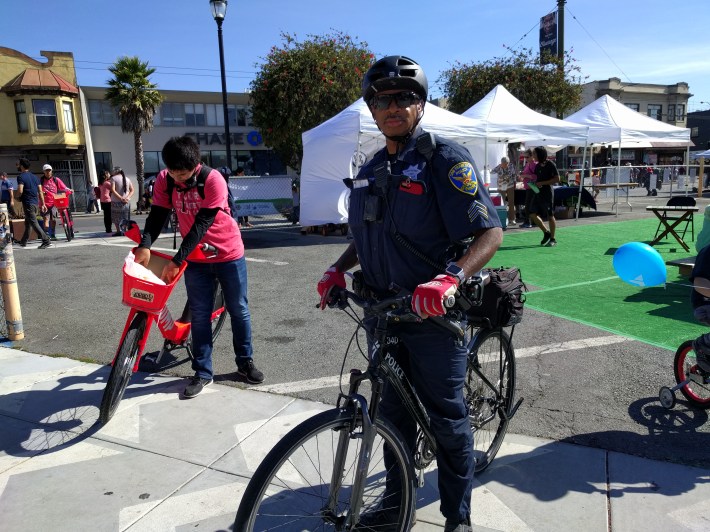 Up and down Mission, kids were playing in the street, as all the chalk drawings illustrate.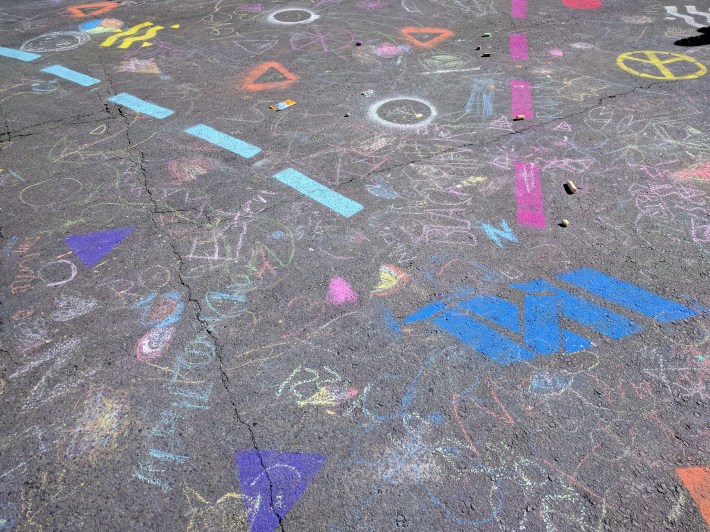 Sunday Streets is an opportunity for meeting neighbors and reclaiming sections of street for something other than motor traffic. It's a chance for safe and livable streets advocates to dream about what our city can be like when streets are returned to the people.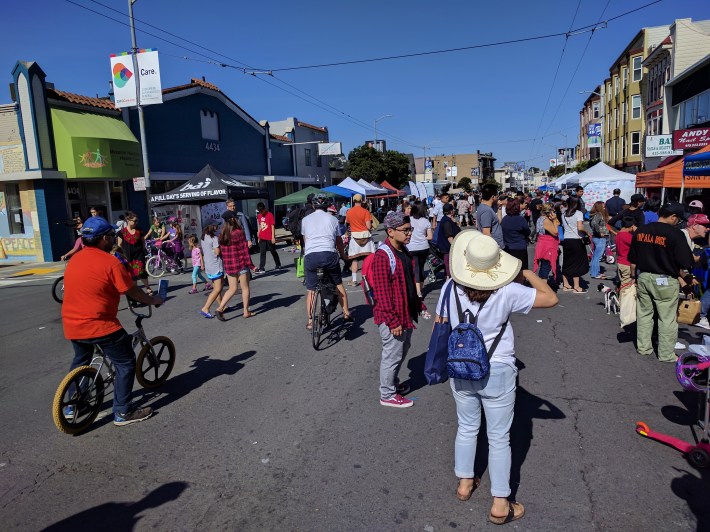 But a block away, at the intersection of Silver and Alemany, rests the ghost bike of Moises Chavez, a 51-year-old man who was killed last June at this notorious intersection. The intersection now has some painted bulb outs and plastic posts to slow down turning cars--at least somewhat. But the intersection still lacks any bike markings and the bike lane on Alemany remains just a dangerous door-zone stripe. It's all a stark reminder of how far we have to go before our streets are again safe for all users, not just during special events, but all year round.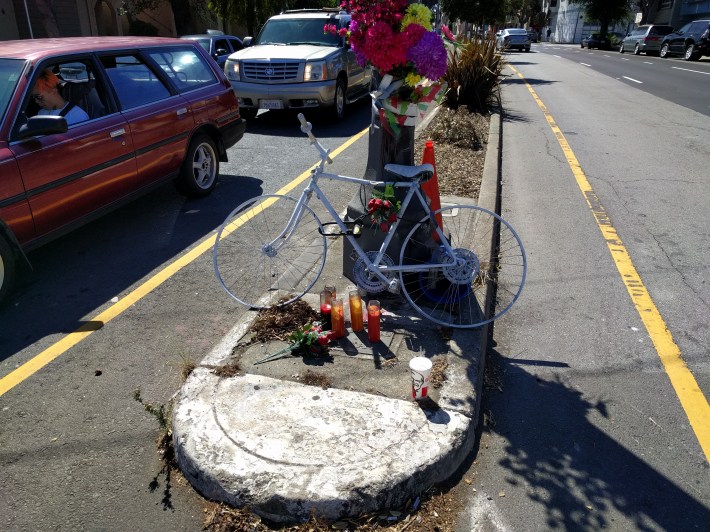 The next Sunday Streets will be in March, 2018. Details will be posted when available on the Sunday Streets web page.
Stay in touch
Sign up for our free newsletter