Bicycling
Oakland Promises Fast, Guerilla-Style Safety Measures
5:05 PM PDT on October 10, 2017
"The driver was so inattentive he went five or six blocks after he killed my son," explained Alvin Lester, the father of 21-year-old Arman, who was killed in 2014 while riding his skateboard. Lester said the driver, who was distracted, or fell asleep, or who knows what, plowed into his son, killing him instantly. That incident, which happened at 3rd and Cargo Way in San Francisco, was a result of bad policies and bad designs.
That's why there's no time to waste in making streets safer, he explained.
Lester was speaking at a City of Oakland press conference this morning on Harrison Street. A long-time Oakland resident, he helped found "San Francisco Bay Area Families for Safe Streets." The same kind of dangerous conditions that got his son killed exist all over the Bay Area, he explained.
The key to fixing those conditions--fast--is visible in the photo below, behind this morning's press conference. That's the intersection of Harrison and 23rd where, last June, Robert Bennett was killed while crossing the street in a poorly designed crosswalk. It's now much easier to access, automobile speeds are slower, and it's safer, with a minimum of cost and time spent on improving it.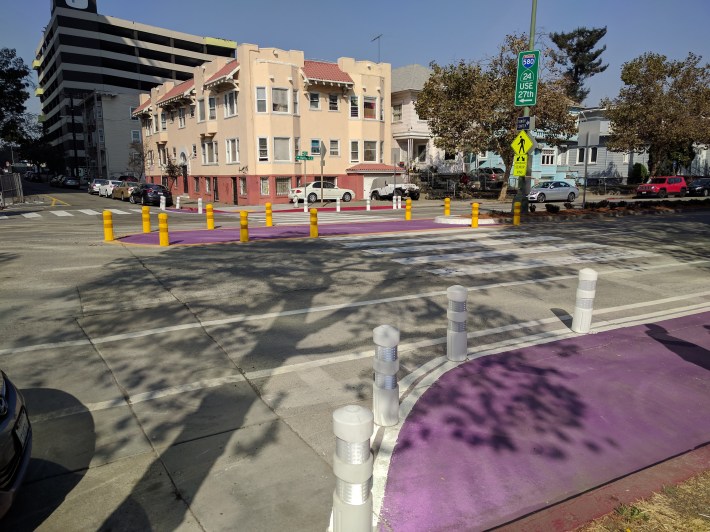 Plans were already underway to redesign the crosswalk with expensive improvements that involved new concrete and asphalt. But Oakland's DOT, under the leadership of Ryan Russo, and its Vision Zero Coordinator, Nicole Ferrara, announced that Oakland just isn't going to wait anymore. "It's an old model," said Russo. "Following a tragedy, we'd do contract approvals, seek grants, do outreach..." The result, he explained, was a long, drawn-out process that let hazardous conditions persist for years while the city did a top-to-bottom redesign. Instead, Russo said, Oakland wants to adopt what they did at 23rd and Harrison across the city--that is, when a hazardous condition is identified, low-cost infrastructure such as paint, bollards, and other simple fixes should go in right away. After the area is made safer, then the process for more permanent fixes can start. "In this new model, we can act meaningfully in weeks rather than years," he said.
As Streetsblog covered in previous posts, the city rerouted the crosswalk, added a ramp, extended a bus stop, and added bollards and purple paint quickly, as seen below: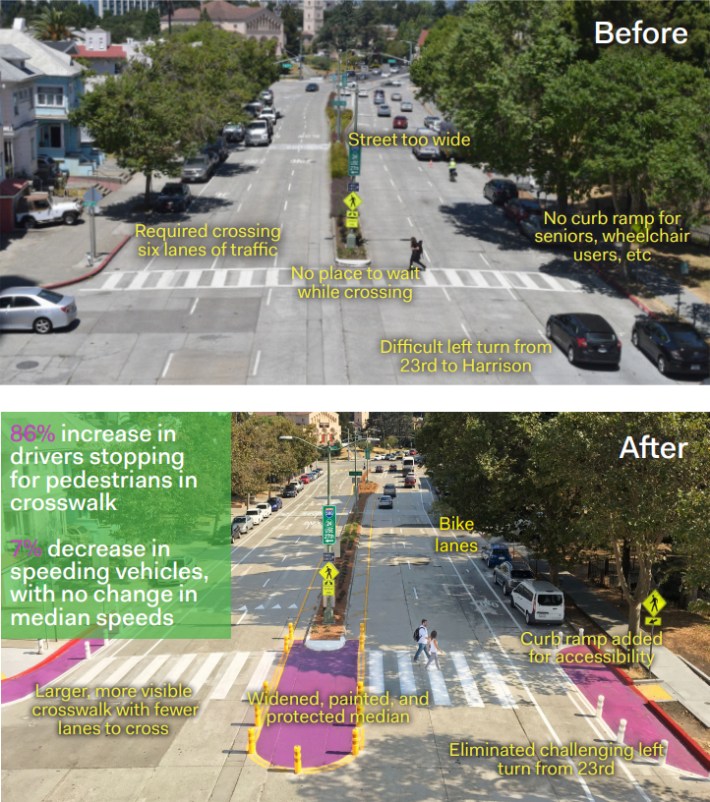 "We're not stopping here. This project will have new asphalt and concrete in two to three years," added Russo.
Oakland DOT is now planning similar quick fixes on 8th Street and Fallon in West Oakland, Fruitvale Avenue in the Fruitvale District, along the planned Bus Rapid Transit project connecting East Oakland to the Lake Merritt area, and along both 69th Avenue and 98th Avenue in East Oakland. The city will be making specific announcements about those projects over the next few weeks and months.
"We're going to launch a suite of projects, prioritizing seniors and disadvantaged communities," said Ferrara. Oakland Mayor Libby Schaaf, meanwhile, said she wants the city to keep moving these improvements along quickly. "It's a new mindset that fixing roads is not just about pavement, it's about people."
The politicians, advocates, and planners at the press conference said they want the improvements to be safe and functional, but also  fun. "We are also here to celebrate beauty," said Lynette Gibson McElhaney, who represents District 3 on the Oakland City Council. "They used my favorite color--purple."
But the underlying reason for this project, and the others to come, was the recurring theme: "This project is critically important because it's going to save lives," said McElhaney.
Lester said it all comes back to sparing other families the pain he carries. "Until his death, Arman's future looked bright," he said during his presentation. "For my son and for Mr. Bennett, these improvements didn't come soon enough, but these changes will make a difference for countless others who use these streets."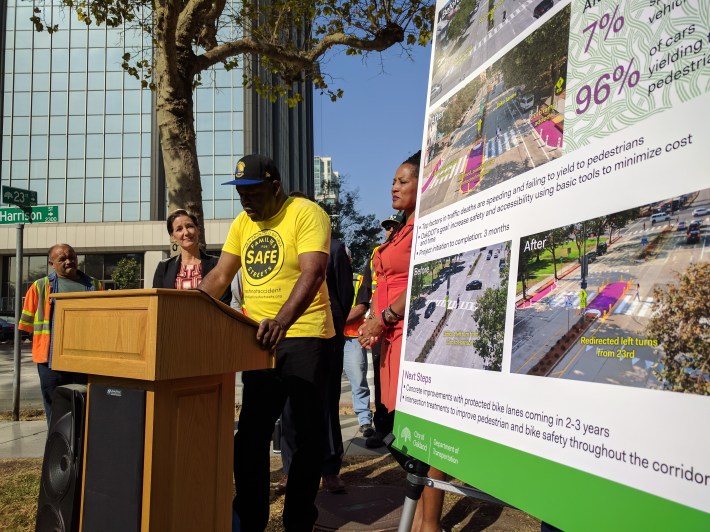 Stay in touch
Sign up for our free newsletter