Bicycle Infrastructure
Protest on Upper Market Highlights Dysfunction on Project Delivery
5:02 PM PST on December 5, 2017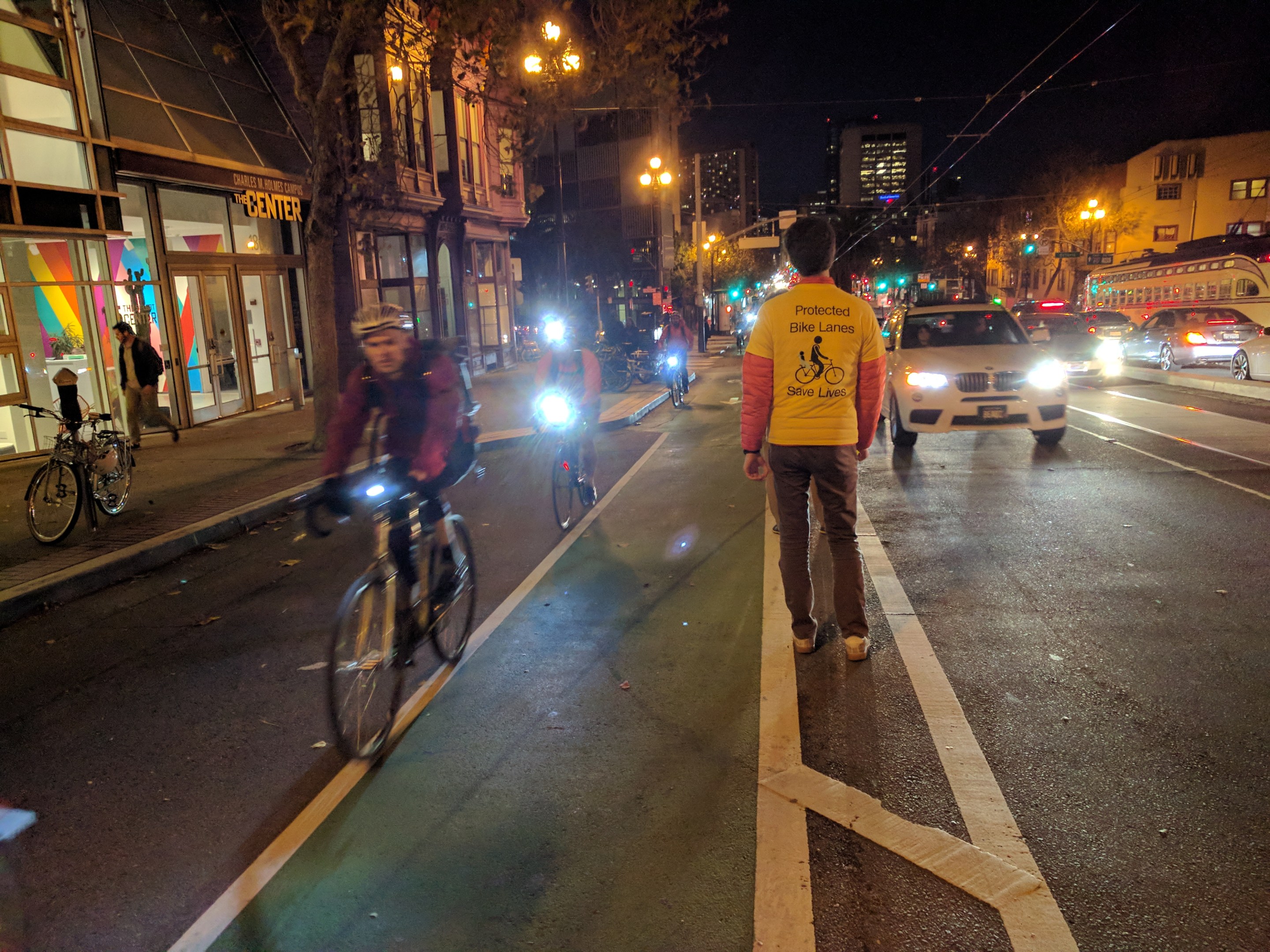 Yesterday evening, some 70 people came to stand on the edge of Upper Market to protect cyclists traveling between Octavia and Laguna from motorists encroaching on the bike lane.
It's become a familiar sight, following on the heels of similar protests on Valencia, in the Tenderloin, on the Embarcadero, and in other cities. But last night's was different. In the case of Upper Market, there's no legislative debate about whether there should be a protected bike lane. Protected bike lanes were approved for this stretch of road by the SFMTA Board in May. The last legislative challenge was thrown out in July.
So where are the construction crews? Where are the protected bike lanes? Why was this protest even needed?
"We have an approved plan," said State Supervisor Scott Wiener, who participated in the demonstration. "I just want them installed."
As Streetsblog readers are surely aware, construction of the bike lanes was stalled by ongoing negotiations with the fire department, which is concerned that parking-protected bike lanes (flipping the parking lane to the left of the bike lane and the bike lane to the right) will limit their ability to maneuver ladder trucks when responding to a tall building fire. However, fire department concerns were heard and the project was approved by the city's democratically elected government officials. And yet negotiations and, apparently, project changes, have continued behind closed doors.
"Today, we learned that a compromised design has been agreed to that will allow construction to begin in January," said Brian Wiedenmeier, executive Director of the San Francisco Bicycle Coalition, in a public statement to the SFMTA board today. "With incomplete drawings of the design and insufficient time to review, the SF Bicycle Coalition has questions about the design and the lack of physical protection. Given what we know, we would not consider this new design a protected bike lane."
"I appreciate everyone's patience, or impatience, with getting the project moving," said SFMTA Director Ed Reiskin, also at today's SFMTA board meeting. "We want to make sure we can build this project in a way that doesn't adversely effect the fire department's ability to respond to emergencies."
He didn't offer details, except to say that the new design would "...require some changes" but that it will support its "integrity." He also said it would require additional outreach.
The Upper Market safety plan began outreach in 2015.
It's not too hard to make an informed guess about what the change--the political compromise between the fire department and the SFMTA--involves. Supervisor Jeff Sheehy, who participated in the protest and whose district includes this stretch of Upper Market, remarked to Streetsblog that the parked cars along that stretch of Market "have been there the whole time." He said a suitable compromise with the fire department would be to eliminate the street parking. "I'm fine if the parking goes ... we need protected routes for cyclists across the city and people should be able to get to work, to home, and to school safely."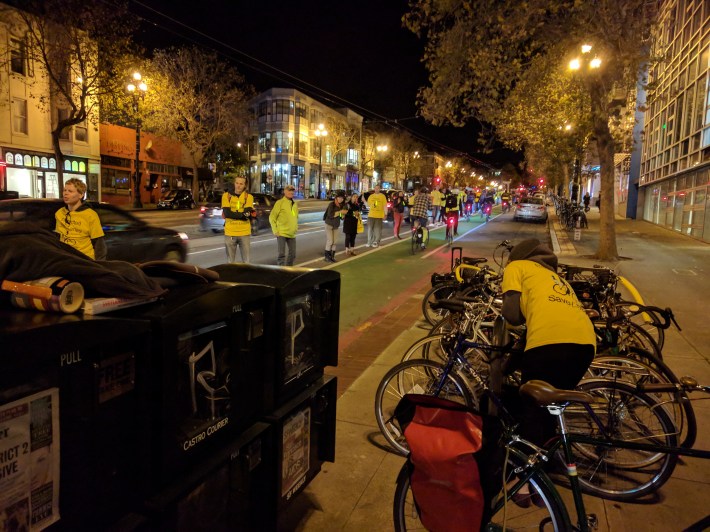 Indeed, over the course of the 90-minute protest, Streetsblog observed only three cars leaving parking spots between Octavia and Laguna--and one was driven by a San Francisco Chronicle journalist who was there to photograph the protest. Clearly, parking on this stretch has a very low rate of turnover and is not essential to commerce in the area. And as Streetsblog pointed out before, eliminating the parking actually gives the fire department more room to maneuver than they have now, since they could extend their trucks across the bike lane if necessary. Converting the street parking to "loading only" would satisfy the fire department, while not putting the local businesses in a pickle when it comes to deliveries or depriving them of Uber and Lyft customers.
But if eliminating street parking is the solution, it raises a host of questions. For example, what's the point of doing two years of public outreach if a few officials from city departments just redesign the plan behind closed doors? And doesn't that fact open the city up for more lawsuits and other forms of blow-back from merchants and motorists?
"The project that this board approved over six months ago was the result of two years' worth of community outreach and engagement. Over 700 e-mails were written in support of this project, and dozens of members of the public turned out in person to voice their support," said Wiedenmeier. "Now we are left with a design resulting from a process that included only the fire chief, the SFMTA Director, and the mayor's office."
Wiedenmeier is right. The fact that these issues are still being debated, even after two years of public outreach, is disconcerting. "We need to fix project delivery at SFMTA," said Nick Josefowitz, current BART director and candidate for District 2 supervisor, who participated in last night's protest and the one on the Embarcadero. "We need an organization that is more focused on basic project management and delivery."
And without the physical protection of a row of parked cars, the city now has to consider a robust concrete barrier or curb, or cyclists will remain vulnerable to getting hit by an inattentive motorist. Safe hit posts on their own, absent a row of parked cars, are really only a way of demarking the bike lane--not truly protecting it.
Reiskin, during his report to the board, said this solution isn't even something that can be applied to other streets with Muni wires, such as Turk and Howard. "It'll be on a case-by-case basis."
"If this is the process that we should expect on future projects where protected bike lanes are planned for streets with overhead wires, then we have grave concerns about San Francisco's ability to achieve Vision Zero by 2024," said Wiedenmeier.
More pictures of the protest below: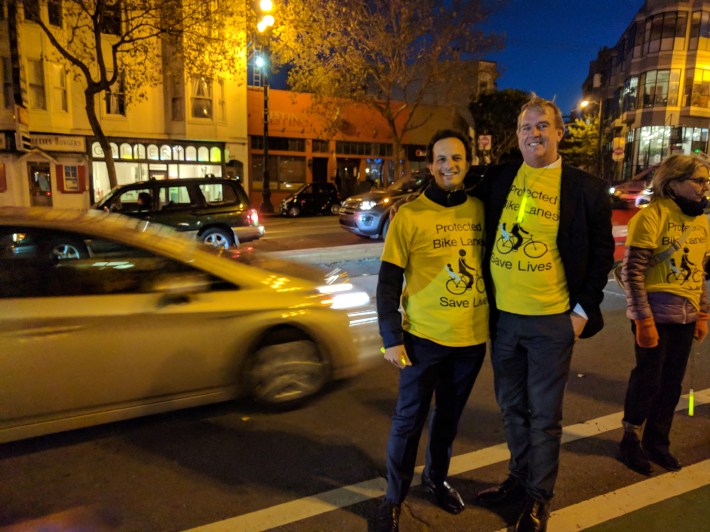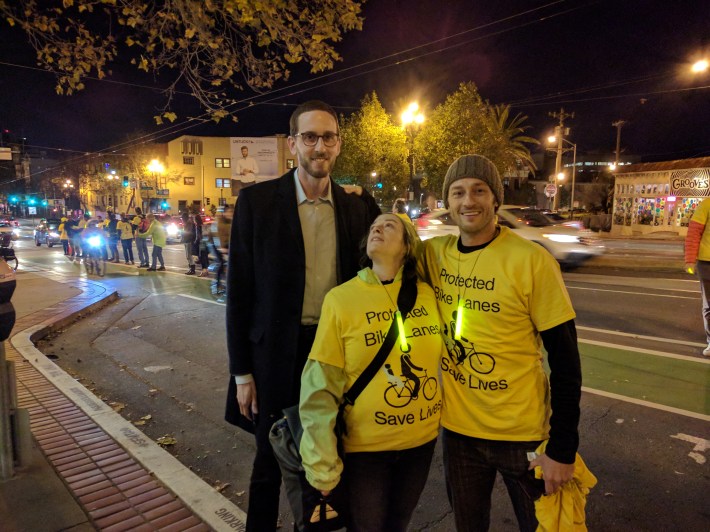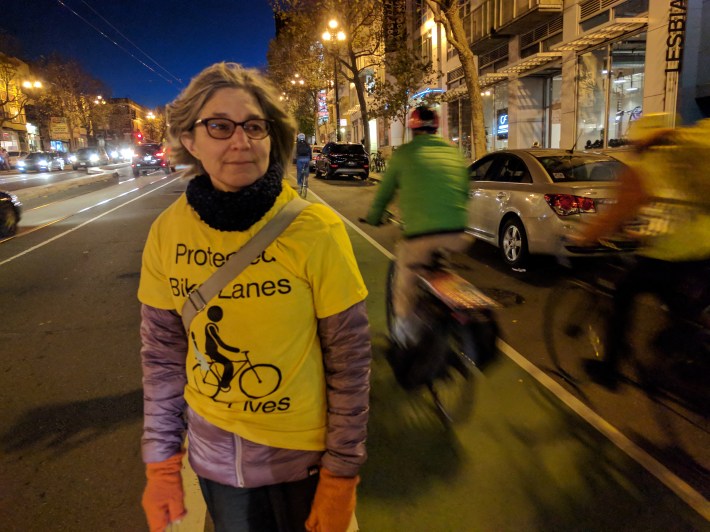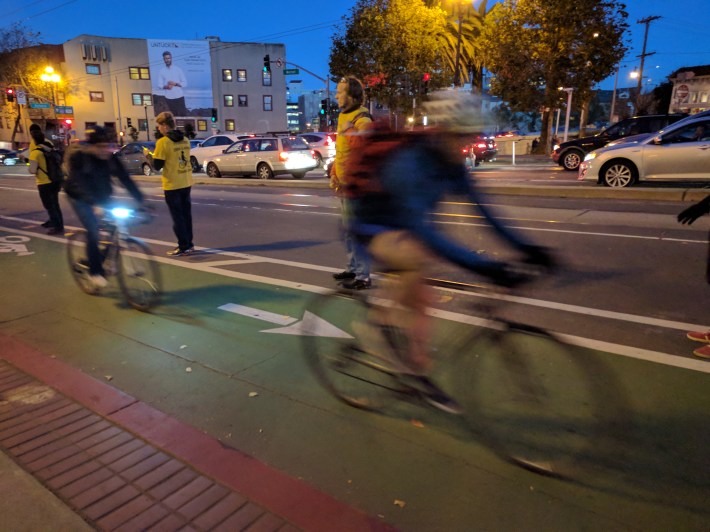 Stay in touch
Sign up for our free newsletter