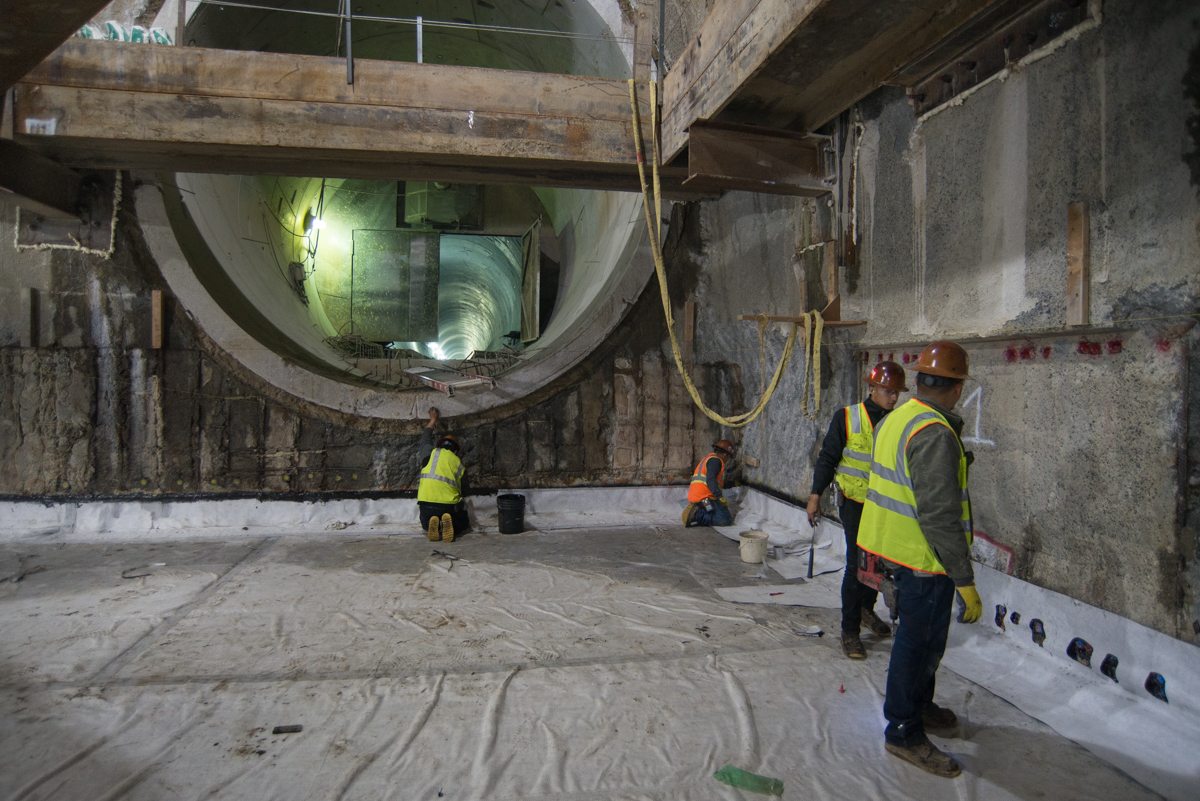 Note: GJEL Accident Attorneys regularly sponsors coverage on Streetsblog San Francisco and Streetsblog California. Unless noted in the story, GJEL Accident Attorneys is not consulted for the content or editorial direction of the sponsored content.
A majority of San Francisco voters want more subways, more bike lanes, more buses, and more investment in Caltrain, according to the 2018 Dignity Health CityBeat Poll, released by the San Francisco Chamber of Commerce.
Support for extending the T-line from Chinatown to Fisherman's Wharf and bringing Caltrain to the Transbay Transit Center was especially strong, with 78 percent and 77 percent in favor.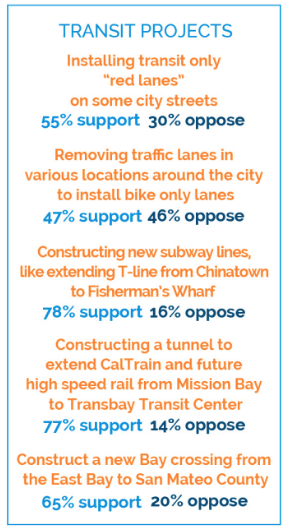 Jim Lazarus, Senior Vice President for Public Policy at the Chamber, told Streetsblog the poll indicates that San Franciscans are likely to back local funding measures for transportation. "The city is clearly interested in some of these major long-term projects," he said, adding that people are also taking a more favorable view of Muni compared to last year. Support for dedicated bus lanes is also up from last year's poll.
"The overwhelming support for more subways, the support for transit-only red lanes, and the support for a sales tax to pay for better transit shows us this is a real political moment to push forward for the world-class transit system we need in San Francisco and the Bay Area," wrote Rachel Hyden, Executive Director of the San Francisco Transit Riders, in an email to Streetsblog. "We're excited to keep advocating for awesome transit in a city that is becoming so much more supportive of the idea."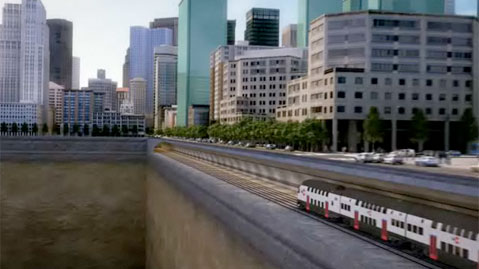 Removing traffic lanes to install more bikes lanes also had majority support, albeit a little more tepidly, with 47 for and 46 percent against. That's statistically unchanged from the previous year's poll, when removing automobile lanes to add bike lanes polled at 49 percent for and 47 percent opposed.
The San Francisco Bicycle Coalition, however, said their own polls show overwhelming support for safe bike infrastructure. "We found 87 percent of San Franciscans agreeing that 'bicycling in San Francisco should be comfortable and attractive to people of all ages,'" said Chris Cassidy, SFBC spokesman. "The bottom line is that San Franciscans know biking is good for the city and, by and large, want it to do more and do better at making biking more accessible for more people."
Meanwhile, a narrow majority of San Franciscan voters who responded believe the city is going in the right direction. However, there is increased concern about the cost of housing and a belief that crime is getting worse.
From a Streetsblog perspective, the poll is a just further indication that a majority of San Franciscans are ready to move beyond a car-centric future for the city and want to get around on and experience streets geared for bikes, walking and transit. But that doesn't mean getting a local funding measure passed is going to be easy, as advocates discovered last year with the failure of Proposition K.
"These survey results are hugely encouraging to us. San Franciscans are clear that they are fed up with parking and traffic, and are ready to invest in a more robust transportation system as a real alternative to driving," wrote Hyden.
The poll was conducted on 500 San Francisco voters. For more details, check out the PDF.
Stay in touch
Sign up for our free newsletter