"I lived in Noe Valley, in a rent-controlled unit, and a neighbor wanted to turn a one-story building into a two-unit building--and the neighborhood lost their mind," recalled Laura Clark, at Tuesday evening's panel discussion on the future of advocacy in the Bay Area.
She got so mad at her neighbors' reactions that she started an advocacy group--she is now Executive Director of YIMBY Action, the SF chapter of a movement to counter NIMBY (not in my backyard) forces that have prevented expansion of housing and slowed transit improvements. The panel, held at SPUR's San Francisco location, also included advocates from the San Francisco Bicycle Coalition, Walk San Francisco, the San Francisco Housing Action Coalition, and Livable City, who talked about what motivated them to become advocates and what they've learned along the way.
Cathy DeLuca, Walk San Francisco's Policy and Program Director, grew up in the suburbs of Washington DC. "I used to walk. I biked until I got a car," she recalled. But her point of view changed when she finally moved into the urban core of D.C. "I took my first bus. I biked in the city. I felt so powerful that I could step out my door and get from place to place by my own power." The vibe of the city got her to go back to school to get a degree in urban planning.
"I wanted to be an architect," said Tom Radulovich, Executive Director of Livable City. "But then I got involved in the Central Freeway after the earthquake damage. That was my political education--it helped me understand how San Francisco works and how it doesn't work."
Tearing down the Central Freeway through Hayes Valley, replacing it with Octavia Boulevard, and transforming a once-desolate neighborhood into a livable, walkable urban area is exactly what these advocates strive to achieve. But building coalitions to achieve these kinds of transformations is hard work.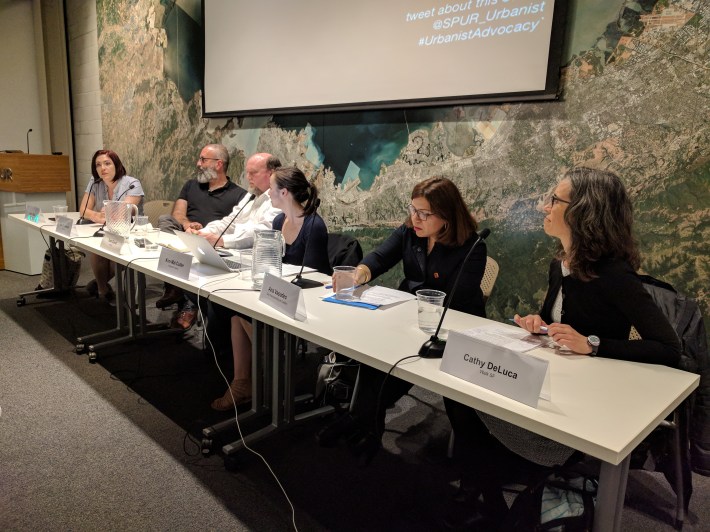 The San Francisco Bicycle Coalition's Ana Vasudeo agreed. "You have to build coalitions and be intersectional. I think you have to constantly straddle between grass-roots advocacy and local government," she said. "We know the stats for Vision Zero. We go and try to engage with people.... We have very top-down tools, but we have to listen."
DeLuca said it's important to always remember the needs of people who didn't move to a city for its vibrancy, but are there because they were long-time residents, sometimes with low-paying jobs, who are struggling to survive. "To me urbanism should not be about accommodating someone who decides to live in a city... How do we accommodate everyone who lives in a city already? How do we use everything we know about safety and transit to give people options?"
Vasudeo cited the example of the SFBC's approach in Chinatown. The SFBC wants people to ride bikes for everyday transportation but, she said, the residents of Chinatown that she met with just weren't ready to go there. "Tweak the conversation. Be culturally competent." She said that includes having people who can speak Cantonese, Mandarin, and other languages. In Chinatown, she said, they learned that people were more concerned with the dangers of crossing the street safely, so the SFBC took walks with them first. "We talked to them about using bike share because a lot of people don't have space to store bikes." Eventually, they introduced people to cycling in the comfort and safety of a park.
She said they used a similar approach in the southeastern neighborhoods, where she found people more interested in talking about how to build paths on the waterfront than cycling infrastructure specifically. And all of that requires adjusting goals and working with other advocacy groups. "It's not the 1970s where the crazy guy just wants to ride down Market Street. That's why we're working on the Hairball, working with homeless advocates... it's not just about biking," said Vasudeo.
Todd David of the San Francisco Housing Action Coalition agreed with that kind of a broad approach, but he said it would be a mistake to conclude that different advocacy and cultural groups in the city want radically different things. "They manifest it differently, but who doesn't want affordable housing?" To which one audience member quipped, "Menlo Park?"
There were a few chuckles in the room, but David stayed serious. "I know of no parent who doesn't want their children to succeed, be happy, and get a great education... I can't think of any community that would say 'I don't want to make it any easier to get around San Francisco," he continued. "It's just that achieving it will look different in different communities."
Clark added that the political system--the way democracy and public outreach in San Francisco work--puts some communities at a particular disadvantage. "I found that the conversation at City Hall was so detached... 70 percent or more of Bay Area residents think we need more housing, but that doesn't translate into who shows up to meetings." She said people who work two jobs, don't have cars, and live far from City Hall often have no practical way to be heard. "The biggest systemic problem is our democracy is very unrepresentative."
That gives wealthier, established residents a leg up. It gives anti-growth groups with good political connections more representation than others, explained the advocates.
David added that respect for all 'points of view' isn't always justified. "If someone wants to have a conversation about having enough infrastructure to support housing, I'm all for it," he said, "but if someone wants to make the argument that no matter how much housing we build the cost will never come down, I don't want to have that conversation... I want to stop normalizing supply and demand deniers."
Clark bemoaned the fact that every local pro-housing law (she cited Home-SF as an example) ends up making exceptions for single-family zoned parts of the city. "We talked to political consultants who said the only way to get your housing bill passed is to say except in RH-1 neighborhoods (zoned for single-family homes)." She said it's very hard to convince people in the Mission, for example, to accept more housing when the city refuses to do it in West Portal, the Outer Sunset, or any of the other areas of the city that are predominately zoned for RH-1. "How do we convince low-income communities that have been historically screwed [that more housing] is good when we don't ask anything of successful 'hoods that have blocked everything?"
That historical inequity is a big part of why there is so much pushback against making neighborhoods more bikeable, livable, and transit-oriented, said the panelists.
But that's where advocates can make the biggest impact, said the panelists. "Our role is to be the people's planners," said Radulovich, recalling a time people at the end of the M-Ocean View line, on Randolph Street, came to his group. They wanted to know why their streetcar line "never got a commercial district, so they came to us to tell them how planning and zoning works." He said his group helped them figure out what kind of infill development fit into the zoning in their community so they could advocate for more business activity and life on the corridor. "You bring them the tools to enhance and create the community they want to live in."
In the meantime, the pro-housing, pro-transit panelists seem to think that, while they advocate from the bottom up, some solutions will ultimately have to come from Sacramento.
"How many people think local government has done a good job of getting housing done, of getting transit done?" asked David. "90 percent of local governments are not reaching their Regional Housing Need Allocation numbers."
To solve local problems locally, it's going to take a broader coalition of advocates, said Vasudeo. "If bicycle advocacy is going to survive, it has to be intersectional."
"In five years, I'd like to see this panel look more like San Francisco," said DeLuca. She added that, with proper advocacy and cooperation, the Bay Area has the brain power to make our cities safe and livable. "We can find solutions... We know Automated Speed Enforcement works, we just have to pass it. We have ignition interlocks to stop drunk driving. We can do this now. We have the technology. We have the brain power to serve everyone."
For more events like these, visit SPUR's events page.
Stay in touch
Sign up for our free newsletter