Amtrak
More Sophistry in Favor of a Second Bay Bridge for Cars
5:22 PM PST on February 12, 2018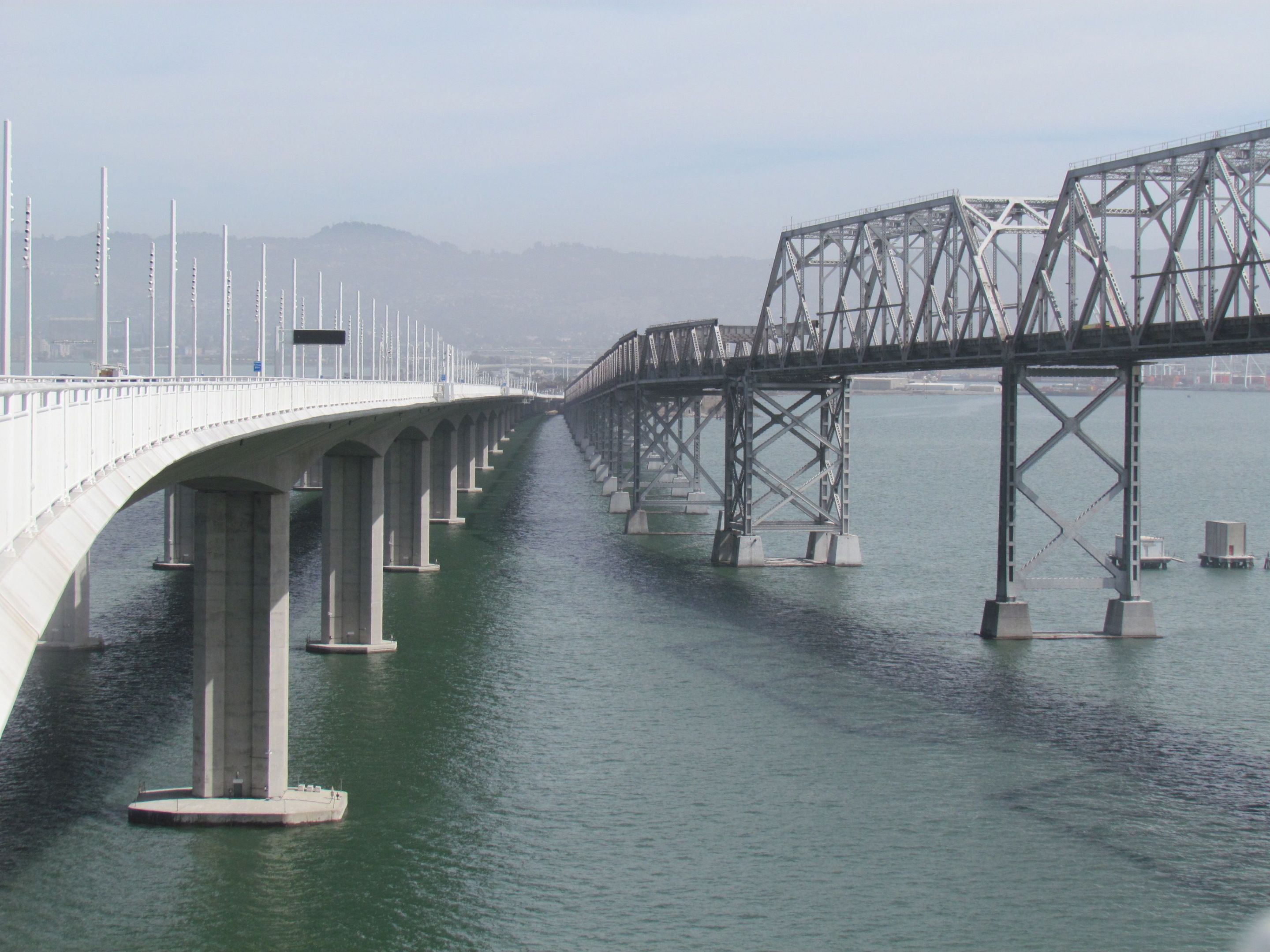 Note: GJEL Accident Attorneys regularly sponsors coverage on Streetsblog San Francisco and Streetsblog California. Unless noted in the story, GJEL Accident Attorneys is not consulted for the content or editorial direction of the sponsored content.
"According to the U.S. Census, 90.47 percent of the Bay Area's workforce that needs transportation uses a vehicle to get to work and requires roads and bridges... BART travelers constitute only 3.3 percent of commuters, so even a second BART tube would have a negligible effect on traffic improvement," goes the logic of a recent Op-Ed in the San Francisco Chronicle. The writer of the piece, structural engineer Roumen V. Mladjov, argues that the Bay Area should invest in another car bridge to increase mobility.
It's unclear how Mladjov arrives at that figure of 3.3 percent, but he seems to be lumping in all Bay Area commuters--including those who don't go anywhere near the Oakland Bay Bridge or the BART Trans-bay tube on their daily travels. Obviously, BART carries a small percentage of all commuters throughout the Bay Area, if one includes the entire mega region; by that measure, so does the Bay Bridge. What matters in the decision to build another Bay crossing is how many people want, and will want, to commute across the Bay, and what's the most efficient way to serve that need.
A more relevant figure, from BART's presentation at last week's BART Board workshop: 75 percent of Trans-Bay travel is done by transit, with 66 percent done just on BART. It doesn't matter how people commute from Sausalito to SoMa, Cow Hollow to Cupertino, or Moraga to Orinda, and a million other destinations that don't involve travel on the congested corridors between Oakland and San Francisco.
Mladjov also argues that a second Bay Bridge would cost $3 billion--compared to the $6.4 billion it ended up costing just to replace the eastern span of the existing Bay Bridge. He argues that the new bridge construction can be managed better. But is it credible to write that it can be built for less than half the cost, for twice the length of bridge?
Mladjov's Op-Ed, as Curbed pointed out on Friday, is part of a growing call for a new Transbay crossing. And while most people studied in transportation agree that it must be a rail crossing, following on the heels of Senator Feinstein's call for a new car bridge there seems to be a disturbing kind of deja vu. It's as if some in the region are relapsing to 1950s/1960s logic, when planners, believing that the only way to add mobility was to add more motor-vehicle lanes, even went as far as to remove the train tracks from the Bay Bridge. Image how much better off we'd be if we still had those tracks and the massive transit system that went with it?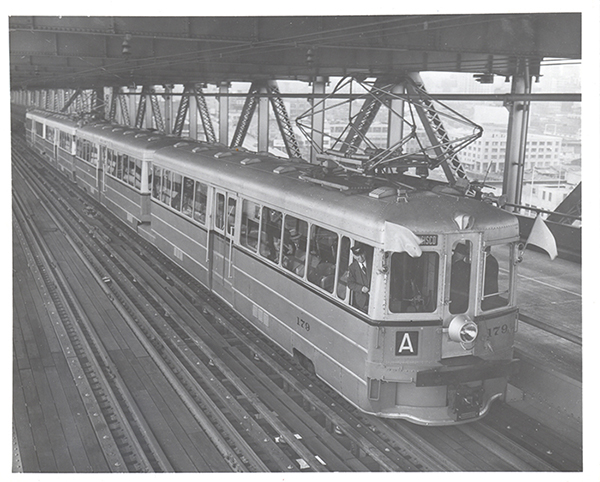 Even without the historical perspective, it's kind of imponderable that the SF Chronicle would run an Op-Ed advocating for a new Bay Bridge when the article doesn't even attempt to answer the most gaping hole in its argument--where are all these 160,000 or so additional cars supposed to go once they get across the new bridge? Where are they going to drive? Where are they going to park in San Francisco?
Mladjov writes that other cities generally have more car bridges per person than San Francisco. He uses New York and London (and Paris and Sydney) as examples. It's a little hard to make one-to-one comparisons since there are clear differences in geography (such as the fact that the Oakland Bay is far wider than the Thames, the East or Hudson Rivers, the Seine, or Sydney Harbor). That said, New York has seven roadways that cross the East River, connecting Manhattan to Brooklyn, Queens and Long Island.
It has 13 rail crossings across the East River, with a 14th currently under construction.
London, between its many tubes and overground rail routes, has roughly an even number of rail and road crossings.
So to try and continue Mladjov's logic: the Bay Area has the Bay Bridge, the San Mateo Bridge, and the Dumbarton bridge across the Oakland Bay. It has one, two-track rail crossing--the BART tubes. Between Marin and San Francisco it has only one bridge, for cars only obviously; same with the East Bay and Marin.
If we take Mladjov's argument that we need the Bay Area to develop a bridge ratio on par with New York, London, etc., then, indeed, we have lots of catching up to do. After we build a four-track Transbay crossing to take BART and Caltrain across the Bay (which is generally the format that planners seem to favor), and we've restored the Dumbarton rail bridge, and we've built a rail bridge either for SMART or BART from San Francisco to Marin, and we've built a rail bridge between Oakland and Marin somewhere near the San Rafael Bridge, then we can start to talk about another highway bridge. At least, that's what we'd have to do to have our bridge ratio resemble New York and London.
The freeway building age destroyed neighborhoods, ripped apart the fabric of our communities, left us with horribly polluted air, teeth-grinding traffic jams, and a transportation death rate that, in a civilized country, would have people protesting in the streets. The development of driverless cars and electric cars may mitigate some of these problems, but only if planners resist the urge to relapse into a 1950's mentality that the automobile is the future of all transportation. Yes, it's a part of it, but only if supported by robust public transport and sensible, human-scaled planning that prioritizes people over the free-flow of automobiles.
Mladjov is right about one thing: even additional train tubes and bridges to carry BART, Caltrain, High-speed rail, Capitol Corridor trains, and SMART will probably have a negligible effect on car traffic. That will be even truer if we build another car bridge (and it will probably make backups even worse). At least with a rail crossings, hundreds of thousands of people will have an alternative to soul-crushing traffic.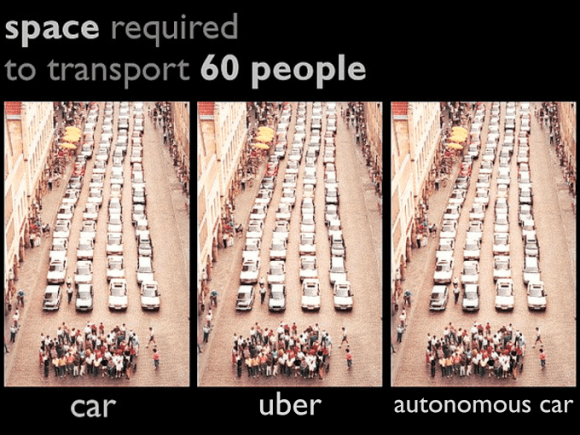 Stay in touch
Sign up for our free newsletter