Bicycle Infrastructure
Riding the Infrastructure Accomplishments of the Last Year
4:19 PM PST on February 26, 2018
Note: GJEL Accident Attorneys regularly sponsors coverage on Streetsblog San Francisco and Streetsblog California. Unless noted in the story, GJEL Accident Attorneys is not consulted for the content or editorial direction of the sponsored content.
A protected bike lane was added to 17th Street between Church and Sanchez at the start of 2018. Before it was installed, "People were crashing every other week," explained Jiro Yamamoto, San Francisco Bicycle Coalition Board Member, firefighter, and nearby resident. "I called an ambulance four times."
Yamamoto came out to meet a tour of ten cyclists, part a "Community Cruise" ride series "for and by people of color," to tell the story of how a protected bike lane was added to this stretch of 17th. The ride, held Sunday afternoon and sponsored by the SFBC and ¡PODER!, was a way to access, appreciate, and learn from the hard work of advocates in getting safer street installations.
Janice Li, Community Organizer for SFBC, explained that the crashes on 17th had been overlooked by the city because they weren't getting logged.  Most of the crashes were happening because double parkers forced cyclists onto the streetcar cracks, where their wheels would get stuck--causing them to crash. "Solo bike crashes are badly under-reported."
But as the city has started to look at emergency room data, rather than police reports on crashes, a more accurate picture of which streets pose hazards started to emerge. That helped make it clear that something bad was happening on 17th. There was something else: "If you want to make change, make sure you have video," said Yamamoto.
He's referring to the video shot by advocate and fellow blogger John Entwistle, of a woman crashing with her child on the back of her cargo bike. Entwistle lives right above the location and had witnessed crash after crash--he complained continually.
Li said Entwistle is an example of why it's important not to dismiss people as local gadflies, because sometimes a persistent and determined individual can make all the difference. "You never know who your champion will be in an area," she said.
The educational ride, which started in Chan Kaajal Park in the Mission, then moved on to the Wiggle and to the intersection of Waller and Steiner, where a sidewalk-level crosswalk was recently added. "By far the most exciting piece of the Wiggle upgrades is the raised crosswalk," said Li, pointing at the crosswalk at Steiner and Waller. "This is a good crosswalk, totally level with the sidewalk, and that height increases ped visibility." She added that they had originally hoped to get a "speed table" to raise the entire intersection, but drainage made that impossible.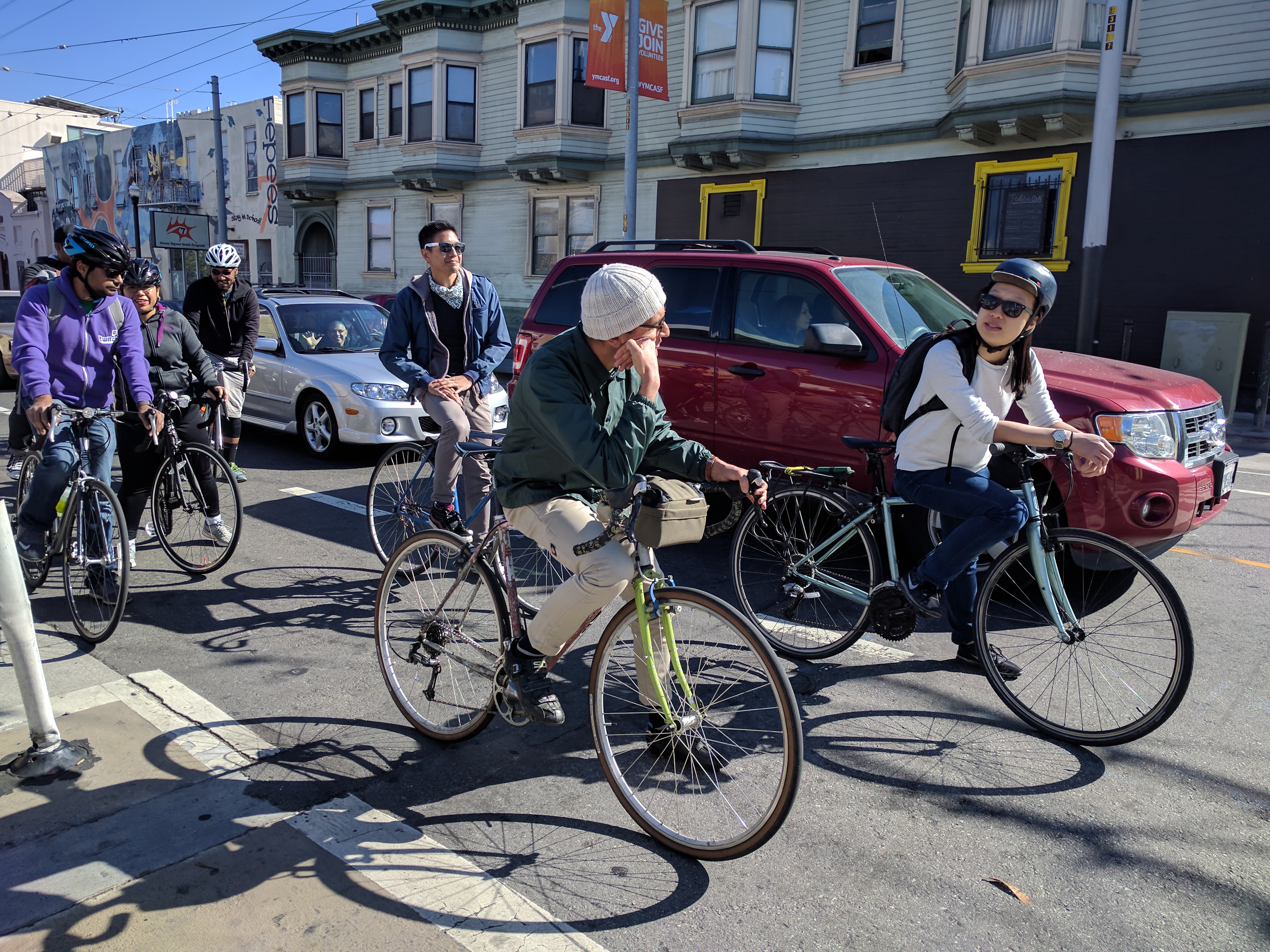 Overall, Li said she thought the Wiggle upgrades deserved a B-, with much of the infrastructure wanting. For example, the improved crosswalk at Steiner and Hermann isn't high enough and doesn't seem to slow motorists, as covered in a previous post. But she's pleased with the bulb-out at Scott and Fell, at the start of the Fell protected bike lane.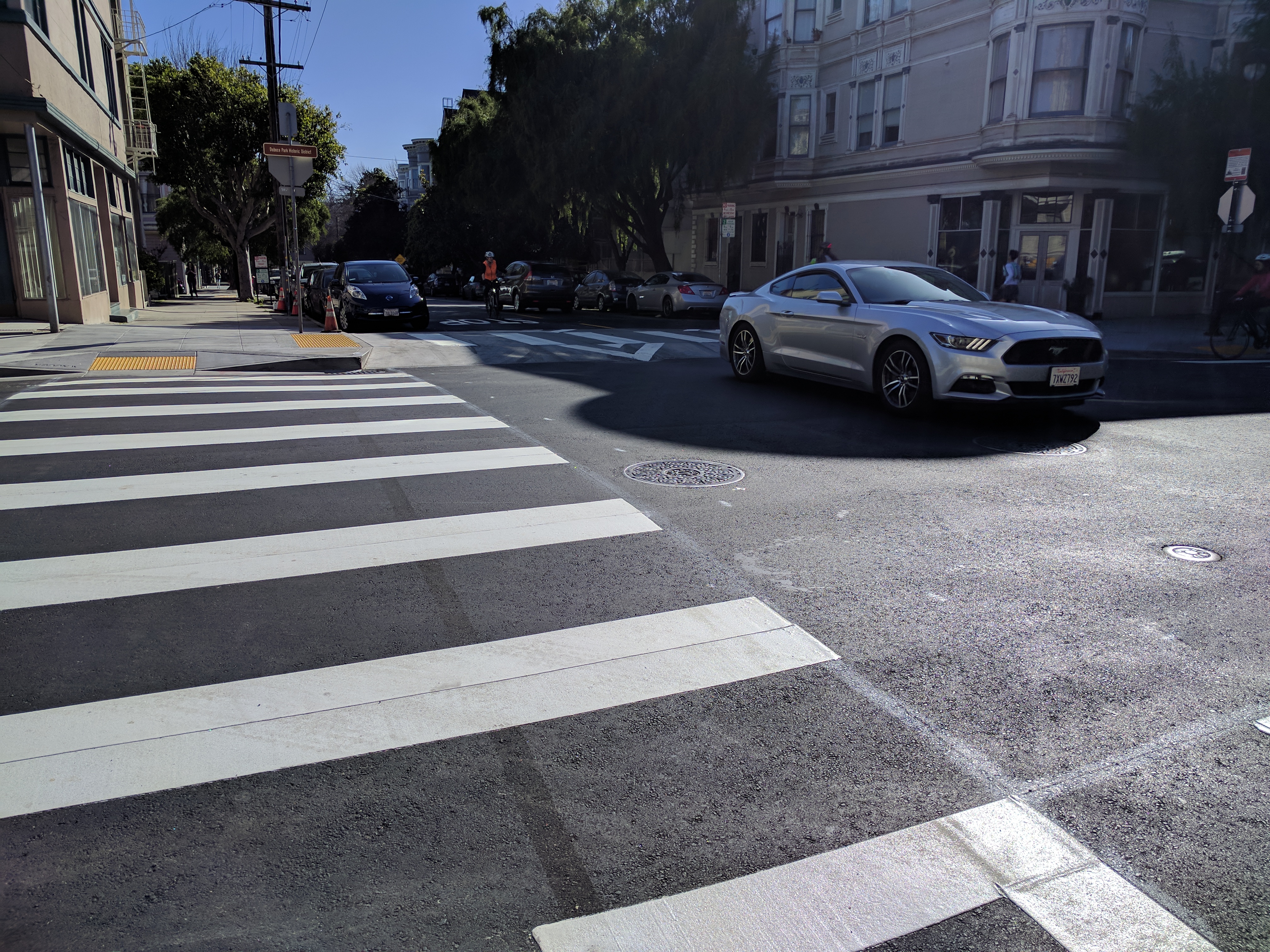 The ride then continued back to Market before pausing at 8th and Mission to review the bike infra on Upper Market and SoMa. Li talked about the raised bike lane experiment on Market. "The SFMTA is calling it a failure," she said. The idea was to see if a slight rise of the bike lane would deter motorists from parking on it, but it didn't work, unless reinforced by a physical barrier, such as a tight row of bollards. However, the SFMTA feels that kind of treatment might still work on a residential street where loading and off-loading is less common, such as on Masonic. "We'll just have to see if that works," said a seemingly skeptical Li.
The group stopped to chat right across from one of the relatively new bus-boarding islands at 8th and Mission. These treatments are becoming commonplace in SoMa. The treatments in SoMa, of course, came in quickly because of Mayor Ed Lee's executive directive in 2016. That was a result of the emotional outpour, channeled by the SFBC into political pressure, after the deaths of two cyclists in June of 2016.
However, there are still challenges to getting the parking-protected bike lanes installed. "The soft hit pots obstruct the path of transit for wheelchairs." Li said, adding that one solution is to get more midblock curb cuts so the wheelchair-bound can get better access to the sidewalk. And, in much of SoMa, the city needs to install better, wider sidewalks, she said.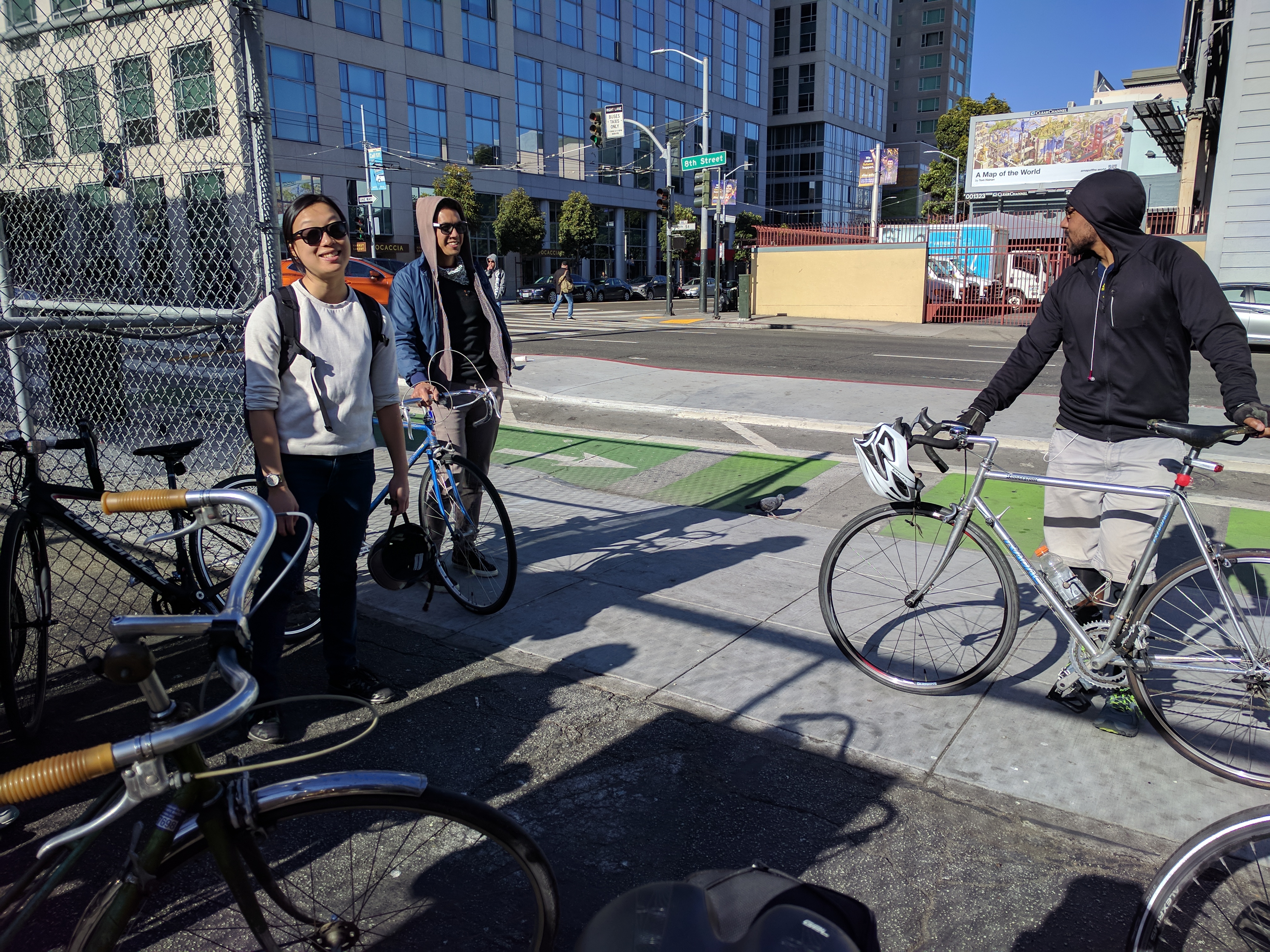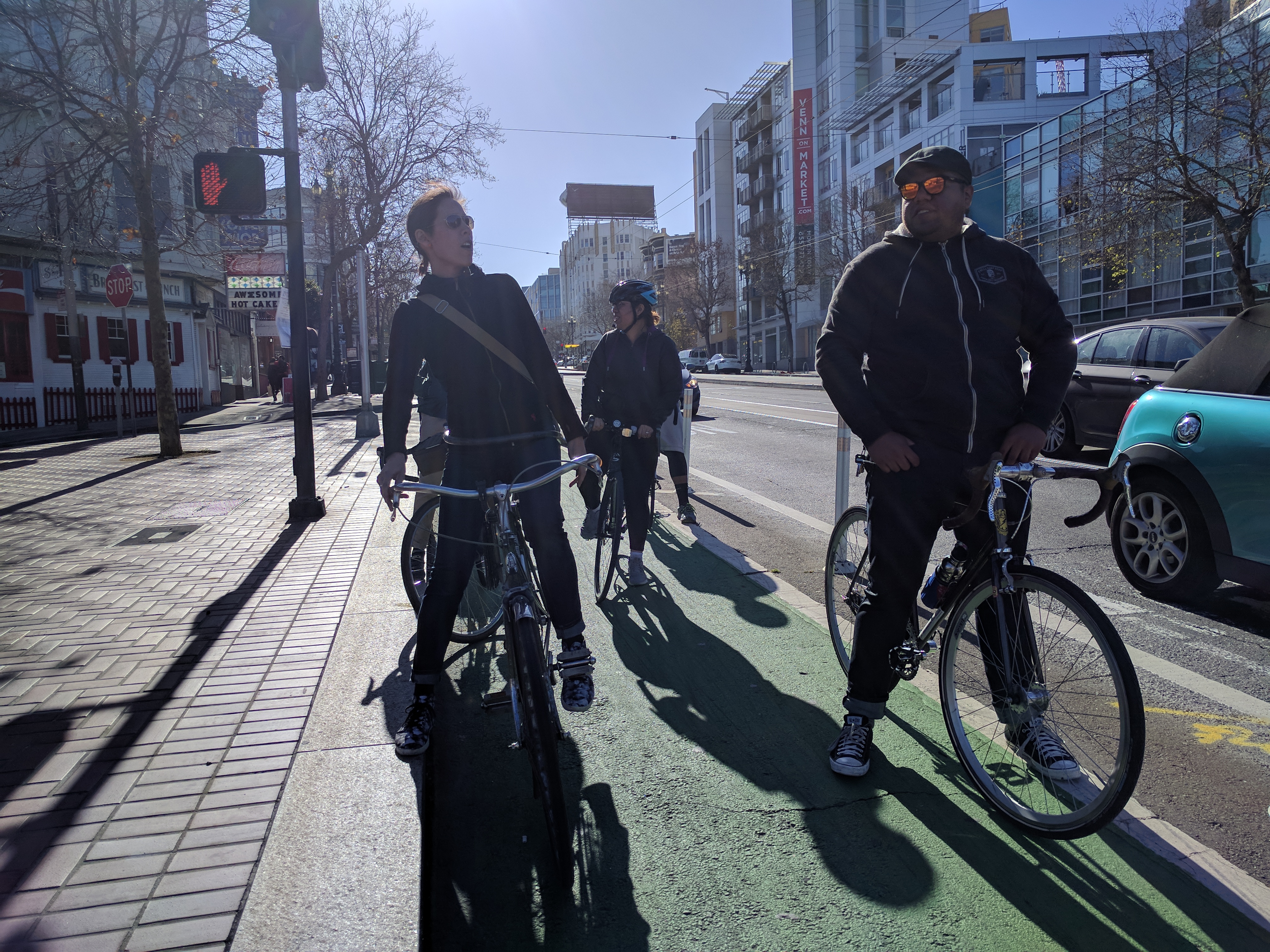 The group then went to the SFBC's offices at Market and Valencia, to discuss soon-to-begin projects. For example, thanks to the continued pressure and protests on Valencia, SFMTA will soon start converting parts of that street to parking-protected. In addition, Upper Market's protected bike lane project, with its fits and starts, is finally underway--and the first signs of construction can now be seen between Laguna and Pearl, where there's a new curb cut (see photo below). It may not look like much, but that's the start of getting protected bike lanes on this contentious stretch of street (speaking of which, there will be an SFMTA open house about Upper Market Street designs on Wednesday at Sanchez Elementary School).
Meanwhile, Jessie Fernandez, Community Organizer with ¡PODER!, hopes these successes can start getting people activated in the southeastern neighborhoods of San Francisco, and emulating some of these safer treatments. But that's going to take more group rides. "We want to get folks out more, creating conditions that get people out on the road." Ana Vasudeo, program director with the SFBC, agreed that they need to start holding rides in the southeast. "Protected infrastructure--we want to get people familiar with what it is."
Stay in touch
Sign up for our free newsletter