Gondola
Is there a Place for Aerial Gondolas in the Bay Area's Transit Picture?
3:54 PM PST on March 5, 2018
Note: GJEL Accident Attorneys regularly sponsors coverage on Streetsblog San Francisco and Streetsblog California. Unless noted in the story, GJEL Accident Attorneys is not consulted for the content or editorial direction of the sponsored content.
The city of Gothenburg, Sweden, selected Amsterdam-based UNStudio to design its new aerial tramway. "The new cable car system will comprise one cable car line with four stations and six towers," announced UNStudio in a statement issued last month. "The cable car will provide an alternative form of public transport by way of aerial shortcuts across the RiverCity. Travel times will be significantly reduced with minimum environmental impact, while an efficient and direct connection will be established between areas north of the river and the old city to the south."
The design of the towers are "Inspired by and referencing the steady motion of Gothenburg's famous shipyard cranes," added UNStudio in its release.
They also look a bit like the Port of Oakland's cranes, near Jack London Square.
It's a bit odd that the Bay Area, with its various waterways, elevations, and last-mile problems doesn't have any aerial trams (with one exception, mentioned at the end of this post). The most screamingly obvious place for one is to link downtown Oakland and BART across the Oakland estuary to Western Alameda. It's a narrow waterway with lots of boat traffic, which makes a bridge complicated. The only way to get across is by a circuitous trip by car or bus through the Posey and Webster tubes (one can also ride a bike through the Webster tube, sort of).
Randy Woolwine with Doppelmayr, the Austrian-Swiss company that built Portland's aerial gondola, presented to the city of Alameda about the potential for a gondola that would connect BART/downtown Oakland, Jack London Square, and Western Alameda. He recommended a "3S" system, which can carry 5,000 passengers per hour.
"A preliminary budget for the 3S system without foundations would be in the range of $50 million. Adding in all the required infrastructure, concrete and egress and ingress could easily double that amount," wrote Woolwine in an email to Streetsblog. Meanwhile, the Estuary Crossing Feasibility Study, done in 2009, seems to favor a pedestrian and bicycle drawbridge as the long-term solution, but acknowledges that it requires the "US Coast Guard allows the bridge to remain closed during peak times." An aerial tram can be built high enough that it doesn't interfere with shipping traffic, which is why it's often favored for active waterways.
"I'm thinking four stations. Webster/Lincoln & Alameda Landing in Alameda, JLS and Downtown in Oakland," wrote Bike Walk Alameda's Brian McGuire, in an email to Streetsblog. His organization has been pushing for an alternative to the Posey tube for some time.
The 2009 study dismisses the idea of an aerial tram because of "high construction cost" and "potential environmental and visual impacts." It also states that "any closures will shut down access along this route," which is true of any transportation system and hardly seems like a reason not to build something (it also isn't totally true in this case, since replacement bus service could run through the Posey and Webster tubes, and cyclists could use the existing bikeway through the Posey tube, noxious though it may be).
Gondolas/aerial tramways are actually fairly commonplace around the world for short transit connections, especially when it involves an estuary, narrow river, or a big climb. A nearby example is Portland, Oregon's aerial tram to the Oregon Health & Science University (OHSU) campus, which is about 3,300 feet long (with a vertical distance of 500 feet) and links the hill-top campus to the South Waterfront Lower Tram terminal and a protected bike path. The aerial tram, which has been operating for more than 10 years, crosses two freeways, takes about three minutes, and transports about 9,500 people on an average weekday.
There's also the Roosevelt Island tramway in New York City. It's been operating since 1976, is 3,100 feet long, climbs up 250 feet to cross the East River, and carries between 5,500 and 6,500 people each day.
The distance across the Oakland estuary is about 1,200 feet.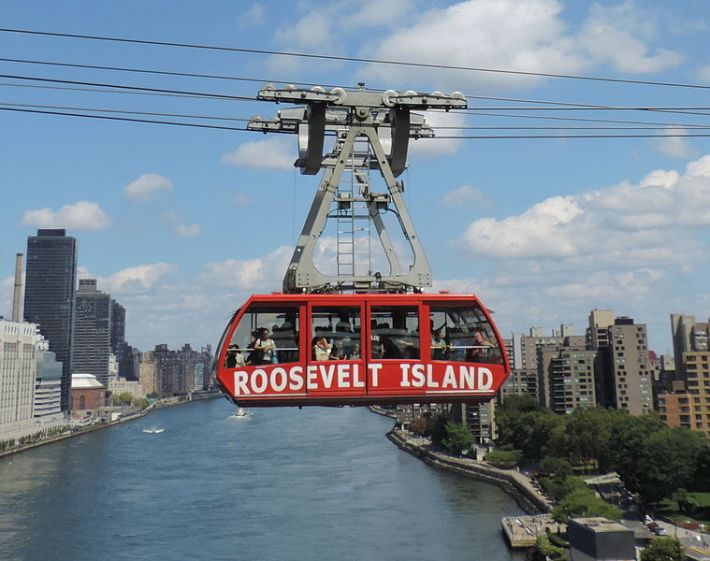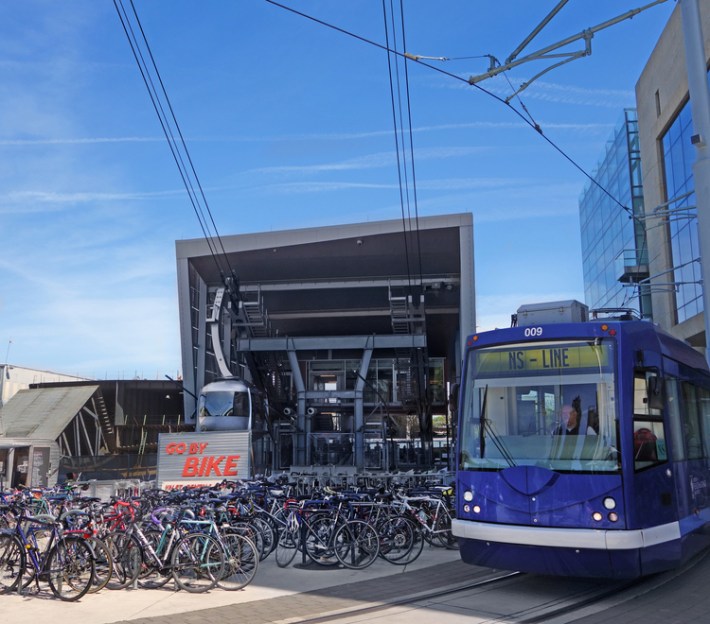 Currently, the only project underway to "improve" the connection between Western Alameda and Oakland is the car-centric, levels of service-inspired Oakland Alameda Access Project, an $83 million plan to rejigger I-880's off-ramps to try and pipe more cars into the Webster tube. (Perhaps if someone invented an aerial gondola that can carry cars, it would get more consideration?)
Certainly, aerial gondolas are not a transit panacea. But with all the development going on in Western Alameda, and now discussions of a baseball park at Howard Terminal, and the ongoing issue of the shipping clearances in the estuary, perhaps in this specific instance, it's time to give an aerial tram another look.
Meanwhile, the Bay Area already has one gondola line--it opened last year in the Oakland Zoo. And San Francisco had an aerial tram long ago--in Ocean Beach.
Stay in touch
Sign up for our free newsletter