Congestion Pricing
Congestion Pricing Can Improve Traffic, Fund Transit, Save Lives
5:04 PM PDT on March 13, 2018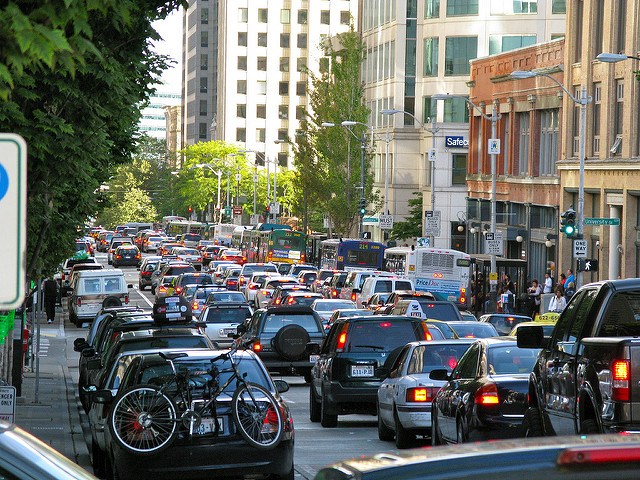 Note: GJEL Accident Attorneys regularly sponsors coverage on Streetsblog San Francisco and Streetsblog California. Unless noted in the story, GJEL Accident Attorneys is not consulted for the content or editorial direction of the sponsored content.
Traffic congestion costs the city of San Francisco more than $2 billion a year in lost work time and fuel costs, according to a 2013 study done by the San Francisco County Transportation Authority (CTA)--and that doesn't even include the costs of pollution or of injuries and deaths from crashes. Now San Francisco lawmakers, including State Senator Scott Wiener and Supervisor Aaron Peskin, want motorists who contribute to that congestion to help pay for the costs.
A new state bill authored by Wiener and Assemblymember Richard Bloom (D-Santa Monica) would authorize two congestion pricing demonstration projects in northern California and two in southern California. The bill would define 'congestion pricing' to mean "...the assessment of a charge on motor vehicles using local streets and roads in a participating jurisdiction, which charge could vary based on the time of day or the day of the week."
This would preempt current state law, which effectively bans local agencies from congestion charging on public roads. "Giving cities the ability to explore and implement local congestion pricing pilot programs will reduce gridlock and provide more funding for public transportation," said Wiener in an email to Streetsblog about the legislation.
The CTA has long studied options for congestion pricing. And Supervisor Aaron Peskin, who chairs the CTA, has long supported the idea, reports the Examiner. So the city is more or less waiting for the all-clear from the state to put its ideas into action.
Here is a look at the three scenarios the CTA studied, including potential fees (the first two are under consideration):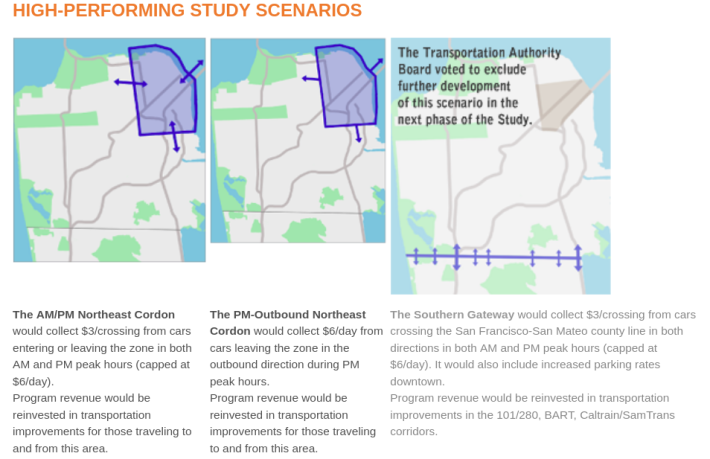 Congestion pricing is something transit and safe-streets advocates have long supported. Still, it's a tough political lift for an obvious reason: motorists never want to pay the full costs of driving. But in the few cities where it has been tried--and one has to go overseas to find them--congestion pricing has resulted in better traffic flow, better bus reliability and speed, and safer streets.
"We think that congestion pricing, done in a way that expands and speeds public transit and increases pedestrian safety, can have tremendous benefits for cities that are choking on an excess of cars," wrote Clarrissa Cabansagan with TransForm, in an email to Streetsblog. "Done well, it can have positive impacts on social equity, by speeding up transit so it better serves the needs of those who rely on it. London has demonstrated how this can be done successfully."
CityLab did a great breakdown last year of London's congestion charge, which started in 2003 and has greatly reduced traffic, increased cycling rates, and cleaned up the air. Of course, congestion charging doesn't work magically all on its own, but rather it must include upgrades to bike infrastructure and transit.
"As San Francisco's streets become increasingly gridlocked with auto traffic, including tens of thousands of unregulated Lyft and Uber vehicles and delivery services, our city needs tools to help manage the problem," wrote Brian Wiedenmeier, Executive Director of the San Francisco Bicycle Coalition. "We've seen the positive impacts that congestion pricing has had in cities such as London and Singapore, including increased investment in transit and biking infrastructure."
Indeed, a U.S. federal study of London, Singapore, and Stockholm shows that if cities stop providing free road space in congested areas, roads work better for everyone. In Singapore, congestion inside the "Restricted Zone" (RZ) was virtually eliminated, and "speeds inside the RZ in the AM peak increased by 20 percent or more (including for buses)." Rush hour pollution levels actually fell below mid-day, non-peak levels. Similar effects were seen in Stockholm.
"Congestion pricing seems to be working well elsewhere--vehicle miles traveled are reduced; collisions have gone down; public transit has improved; air quality has improved," wrote Rachel Hayden, Executive Director of the San Francisco Transit Riders, also in an email to Streetsblog. "We'd expect reliability to drastically improve as fewer private vehicles compete for space with buses. Transit will only get better as we continue to invest more in our system."
All the scenarios under consideration by the CTA include discounts of around fifty percent for disabled and low-income drivers.
It's clear from experience in other cities that congestion pricing is an effective tool for saving lives on city streets. But again, it's a big political lift--which is why San Francisco has been studying and testing the concept while it waits for more favorable political winds and clearance from Sacramento. New York has also tried for years, so far unsuccessfully, to get congestion pricing.
But if the bill succeeds, the benefits for the most congested and gridlocked portions of San Francisco are clear. "Our streets are choked with car traffic and we need to empower local governments to explore new solutions like congestion pricing that work in other countries," said Wiener.
The New York Times, meanwhile, did a great breakdown of congestion pricing in cities where it's currently in effect.
Stay in touch
Sign up for our free newsletter