Transit
Beyond Commuter Rail
4:47 PM PDT on April 4, 2018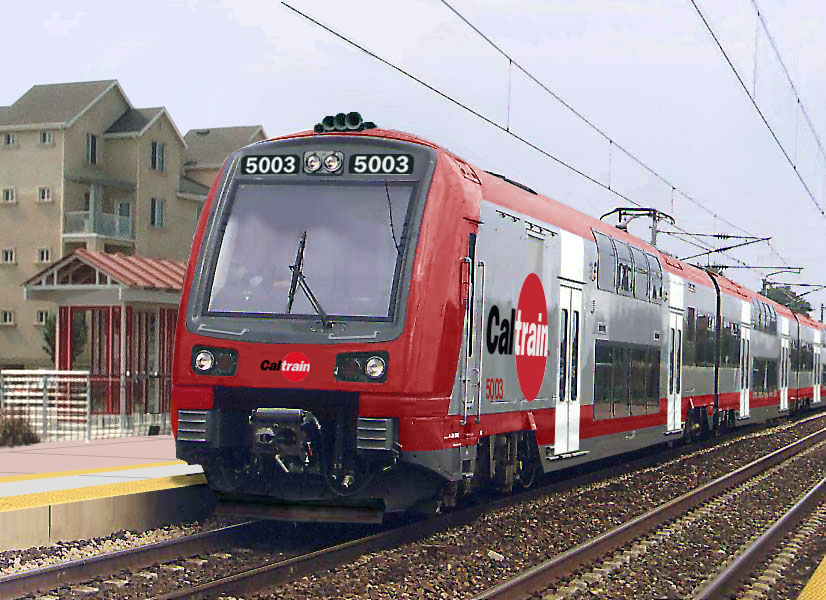 Note: Metropolitan Shuttle, a leader in bus shuttle rentals, regularly sponsors coverage on Streetsblog San Francisco and Streetsblog Los Angeles. Unless noted in the story, Metropolitan Shuttle is not consulted for the content or editorial direction of the sponsored content.
What is BART anyway?
"Would you put BART in the category of Berlin's S-Bahn, or New York's Long Island Railroad, or LA's Metrolink, or LA Metro, the NY subway, the Paris Métro, the Washington Metro?" asked Alon Levy, transport guru, analyst of transit systems around the world, blogger and Streetsblog contributor, at the 'Beyond Commuter Rail' talk yesterday evening at Remix in San Francisco.
"Answering this question is relevant for deciding what to build," he said. The talk was arranged by Friends of Caltrain, the San Francisco Transit Riders, and Seamless Bay Area, a new advocacy group that aims to better integrate the Bay Area's disparate transit systems.
The world's metropolitan transit services, explained Levy, are generally classified into two types: urban rail and regional rail, as seen in the diagram of German "U-Bahn"(urban) and "S-Bahn" (regional) services seen below: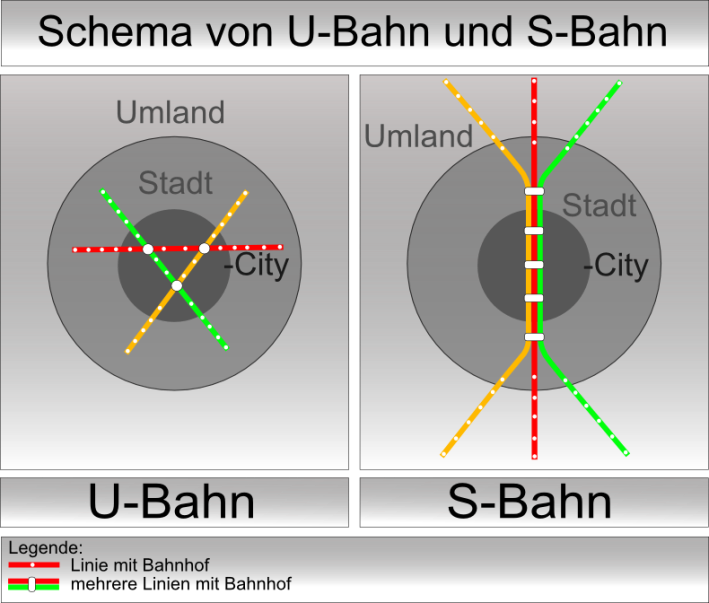 Knowing which type helps planners decide how to emulate best practices from rail systems in other cities.
Urban Rail, he explained, generally has overlapping lines and tight stop spacing. Regional Rail, on the other hand, has several branches with less frequent service in more suburban areas. The branches combine into a single trunk which has frequent service.
The best examples of Regional Rail, he said, are the Paris Réseau Express Régional (RER) and the S-Bahn in Germany.

And BART clearly looks like Regional Rail--with multiple lines feeding into a central trunk--but with one enormous handicap.
Regional Rail such as the RER normally shares track with freights and mainline trains on the branches. Subways tunnels and full grade separation are reserved only for the urban core trunk lines. But to do that means "...regional rail has to be compatible with mainline trains," he said.
And that greatly reduces construction costs and increases the overall reach of the system into the outer suburbs.
But BART was built using non-standard gauge trains. That's why BART extensions are extremely expensive, since BART can't exploit existing tracks.
"BART cannot share tracks, so construction costs farther out are akin to the construction of above-ground metro extensions. Instead of just hooking into Caltrain on the west side or one of the commuter systems on the East side, they are spending quite a lot of money getting to Berryessa," said Levy.
He added that huge elevated viaducts are ridiculously expensive and totally unwarranted out in low density suburbs. Tunnels, such as those planned for the BART extension into San Jose, are even more ridiculous. "Sorry San Jose, but you're not that dense," he said.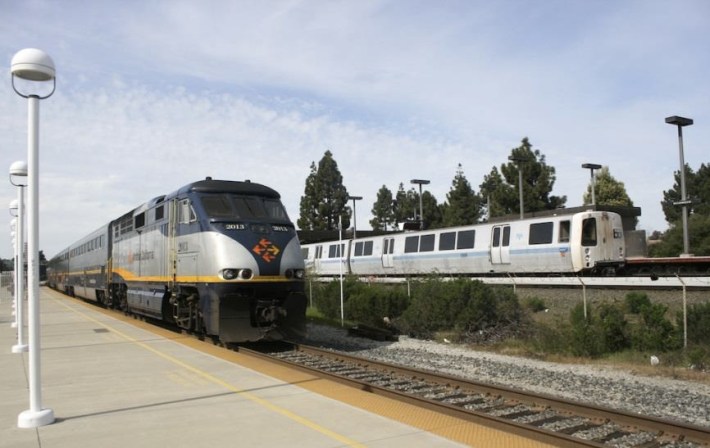 The implication is that moving forward, Caltrain, with its standard-gauge equipment, is going to have to operate more like BART--or the RER or S-Bahn--and branch out onto additional lines, perhaps via a rebuilt Dumbarton Bridge, to become a transit system that operates on both sides of the Bay. "Dumbarton should be as an electrified regional rail corridor. It's near Facebook!" said Levy.
That also means if San Francisco builds more subway lines, such as under Geary, they should be compatible with Caltrain, not BART.
The Caltrain electrification project will be a first step towards a more Regional Rail-style operation, akin to the RER or S-Bahn, since trains will  accelerate much faster and, it is hoped, run more frequently and reliably.
So Caltrain is moving in the right direction. However, much of it will be for naught if they don't actually change their operations.
Key to that, he explained, is going to clock-face schedules all day long--meaning trains will run on a predictable timetable. So if a train leaves at 1:15, there's also a train at 2:15, 3:15 and so on. And they have to increase frequency--dramatically, especially off-peak. "It helps for planning. The Swiss say we just plan one hour, and then use the same plan every hour," he said.
During rush hour they might run slightly more trains, but they should also look at just running longer trains, to keep those schedules consistent. That will also dictate the design of infrastructure, since planned train frequency tells the planners and engineers where to build passing tracks, how to construct their signals, and where to add more station capacity.
"What is the biggest problem with increasing frequency? Operating costs," Levy explained.
Running a train that doesn't have a lot of passengers late at night still generates more revenue than leaving it in the yard doing nothing. But the problem is the cost of "Fare collection, because they have conductors on Caltrain. Traditionally a conductor would sell you tickets, or punch your tickets," he said.
But in the age of electronic ticketing, this is just a waste of money. "Caltrain still has a conductor and an assistant conductor... Paris and Berlin trains just have a driver." Levy said the key is to have roving inspectors and a proof-of-payment system. "But civilians, not cops. Save them for investigating murders."
It's also essential to integrate the fare collection and prices in disparate systems (and that also dictates station design). He cited Millbrae as an example of how not to build a transit station. Firstly, the Caltrain and BART schedules need to be coordinated so people can transfer. But, he said, the fare gates between the two systems have to go. Fare gates cost money and in the age of electronic ticketing, they just aren't necessary except in downtown. "If you tore down the barriers between BART and Caltrain at Millbrae it would cost less overall." (And let's get rid of the barriers between Muni and BART while we're at it).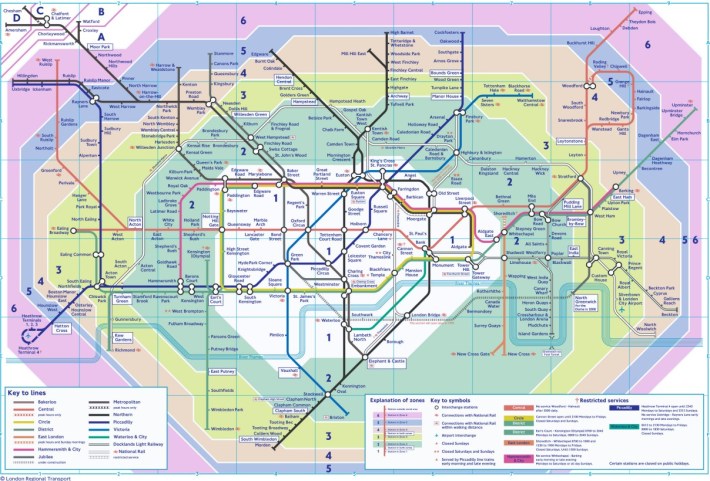 "You need a regional fare system. That means zones," he said. "Maybe there's an SF zone, where everybody gets free transfers between BART, Muni, and Caltrain—fares should be the same. Maybe you have two zones for San Francisco, with a downtown and a rest-of-city zone."
In European cities, that fare integration is almost without limits. In France or Germany, for example, if there's a long-distance train that happens to be stopping at a station in the suburb, and you have the right zone pass, you can get on it for your journey into the city center. "In some German cities you can even get on a high-speed train with an S-Bahn ticket," he explained, adding that you might have to stand or pay extra to reserve a seat.
Might it be possible someday to ride an electrified Amtrak from Richmond, pictured three photos above, to Oakland with a Clipper card, for the same fare as BART?
To Levy, the answer is a resounding 'Yes.' "Planning should emphasize connections between different things," he said. "And fare integration applies to everything."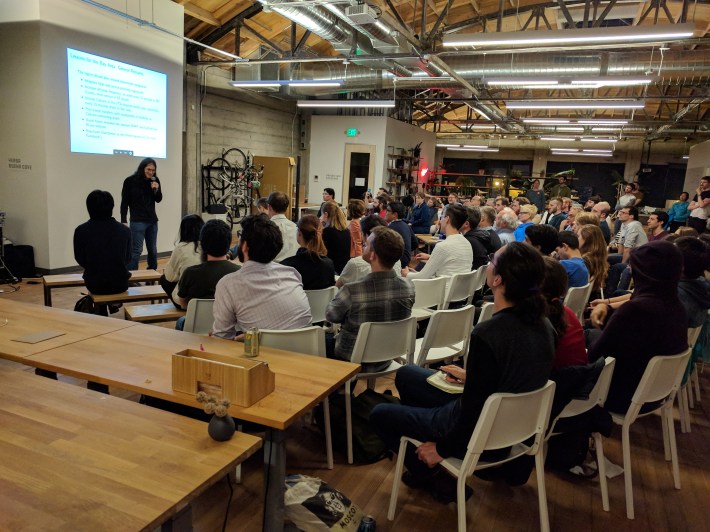 Stay in touch
Sign up for our free newsletter