Pedestrian Safety
City Celebrates Sixth Annual Walk to Work Day
5:05 PM PDT on April 5, 2018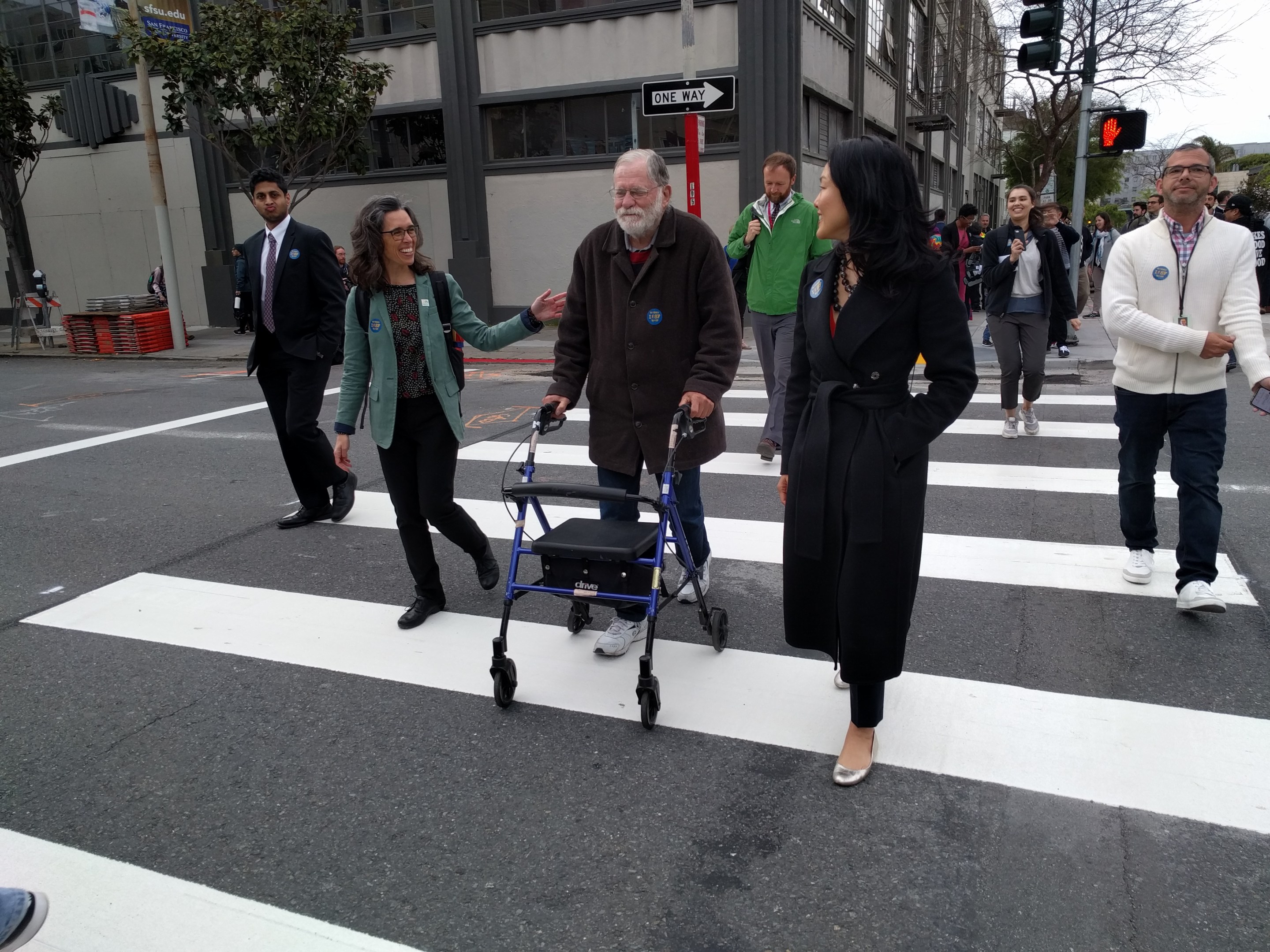 Note: GJEL Accident Attorneys regularly sponsors coverage on Streetsblog San Francisco and Streetsblog California. Unless noted in the story, GJEL Accident Attorneys is not consulted for the content or editorial direction of the sponsored content.
To kick off this year's Walk to Work Day, the SFMTA activated the city's newest signalized crosswalk Thursday morning at Howard and Russ Street in the South of Market neighborhood. "It's wonderful," said Mother Elaine Jones, who lives up the street. Jones added that she feels trapped and unable to get around because of the speeding cars on the streets of SoMa. She's seen seniors hit. "It's a death trap!"
"This is my neighborhood," said Supervisor Jane Kim, who represents the district. The streets were originally designed to serve warehouses and trucks, not people, she explained, and the new mid-block crossing is just one of many going into the area to make it easier to get around. "This really breaks up the long blocks."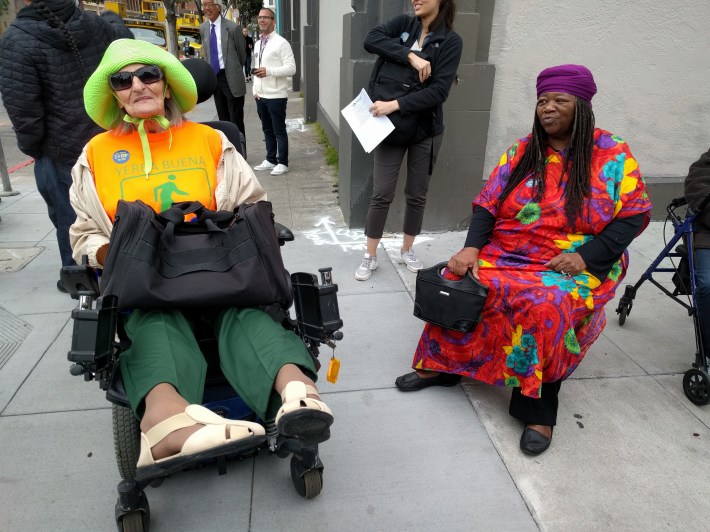 Every major street in SoMa is part of the high-injury network--the 13 percent of streets that result in 75 percent of severe and fatal crashes.
"We're here to celebrate everything we love about walking and reflecting on all the work we need to do towards Vision Zero," said Jodie Medeiros, the Executive Director of Walk San Francisco, the organizer of the event. She pointed at the new crosswalk, adding, "We're very satisfied with these results... bulb-outs, extended sidewalks--it's everything that makes a complete street."
"Every day we played frogger trying to get across this street," said Rudy Valintino, Executive Director of United Playaz, an area nonprofit that works with at-risk youth. "This is one piece of the safety plan--but we still have a lot of work to do."
The crossing, with its new signal, control box, concrete extensions, curb ramps, etc. cost $350,000 according to the SFMTA.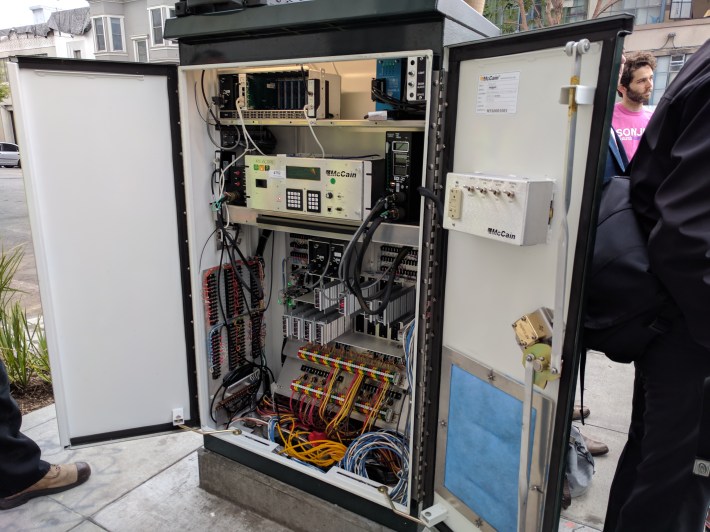 After the new signal was officially activated, a group of about 20 people--advocates and officials from the major transportation agencies--started their trek to City Hall. The walk took them down Russ Street, with a recently completed street treatment that was as a stark contrast from the main drags of SoMa. That street is now lined with stanchions and it has a level sidewalk that clearly indicates that this is primarily a pedestrian area where cars are guests.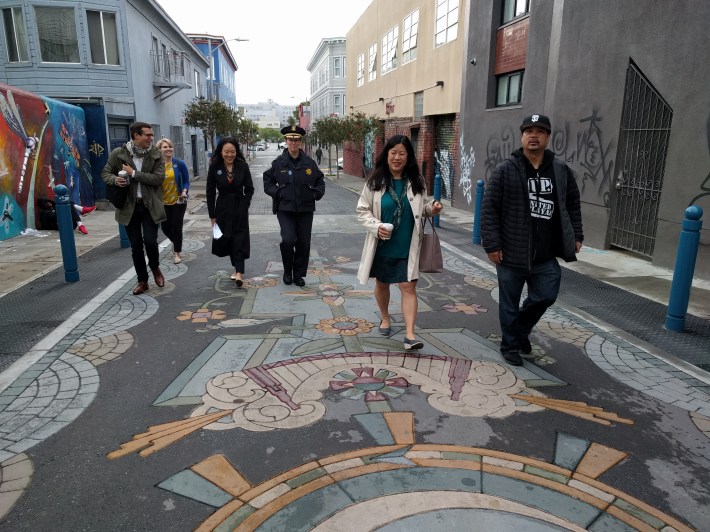 But as the group turned the corner on Natoma and then emerged on 6th Street, they got a reminder of Valintino's rejoinder, that "we still have a lot of work to do." At the intersection with Natoma there isn't even a painted crosswalk, forcing pedestrians to "play frogger" across 6th or divert to the next major intersection. Walk SF's Cathy DeLuca talked briefly about the upcoming 6th Street Pedestrian Safety Project. "SFMTA will put in a light and widen sidewalks, reducing crossing distances by 20 feet."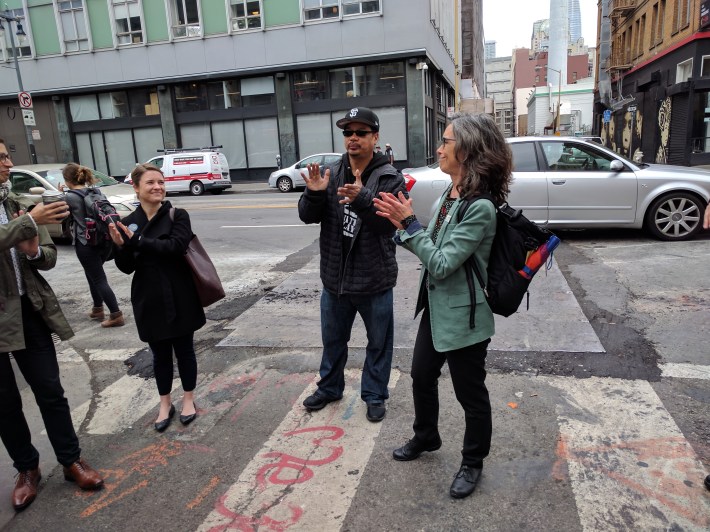 The group made its way up the narrow, uninviting sidewalk of 6th Street and turned left on Market, where it joined with walkers from other Walk to Work Day hubs, including Mayor Mark Farrell. "When you walk to work you feel great and find new parts of your city," he said. "Such as yarn bombs--who would have thought to see yarn octopuses on the way to work!"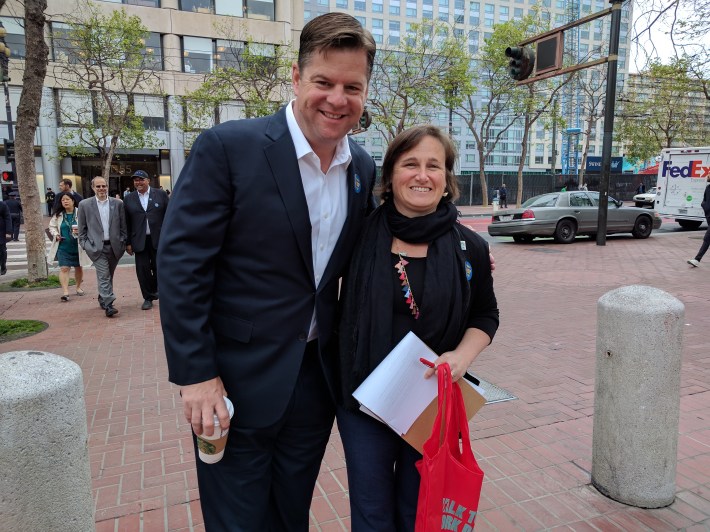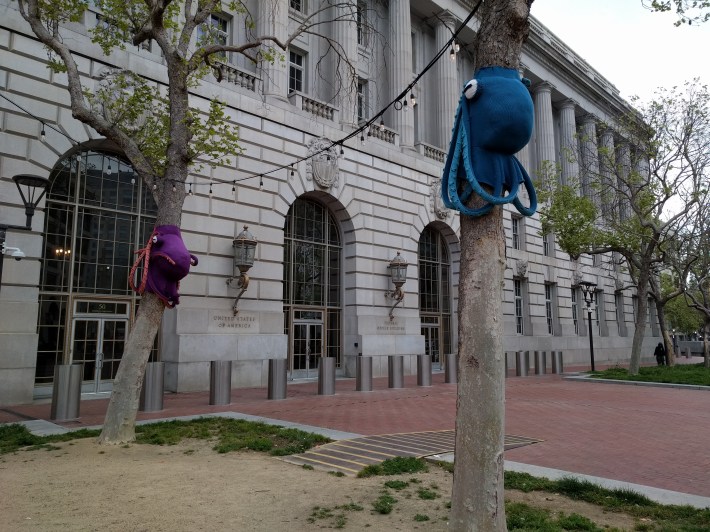 But the Mayor was very cognizant of the serious point of Walk to Work Day. "Last year we had the lowest number of deaths on our streets in over 100 years, but one death is unacceptable."
Walkers from 11 Walk to Work Day hubs, scattered throughout the city, convened on the steps of City Hall for a presser to remind the public how much work remains to be done to make the streets safe. "When I was a child we used to walk to school, and we used to help seniors cross the street," said Supervisor London Breed. "But last year 90-year-old David Grinberg was killed crossing Fell at Baker right in front of where he lived... we have to make sure people like David don't die on our streets in the future."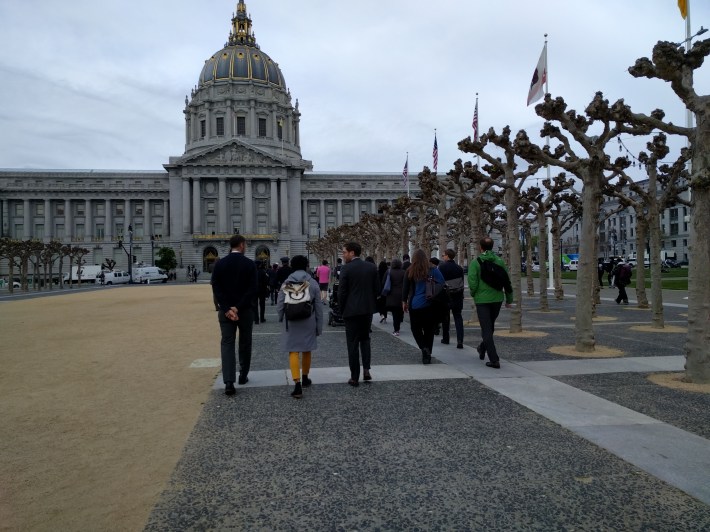 Walk SF, meanwhile, will be keeping up the pressure for rapid improvements on 5th, 6th, 7th, Folsom, and Howard in SoMa, and on high-injury streets throughout the city, said Medeiros in a statement about the event. "They must become safer for the neighborhood's many workers and residents--including people of all ages and abilities."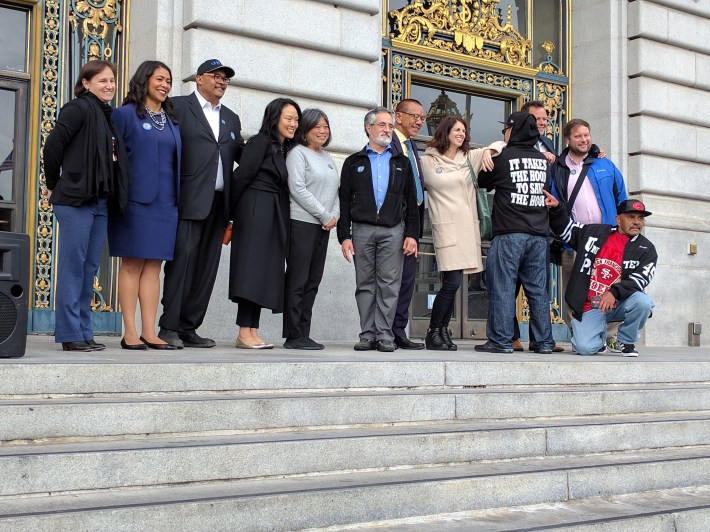 Counts aren't in yet, but Walk SF estimates some 10,000 people participated last year, and, based on sign-ups at the various hubs, it's thought this year saw a much higher turnout. "We believe we blew our numbers out of the park!" wrote Medeiros in an email after the walk. Not bad for an event that started only six years ago.
Stay in touch
Sign up for our free newsletter