Housing
Amendments to S.B. 827 Help Push Transit Housing Bill Forward
4:40 PM PDT on April 11, 2018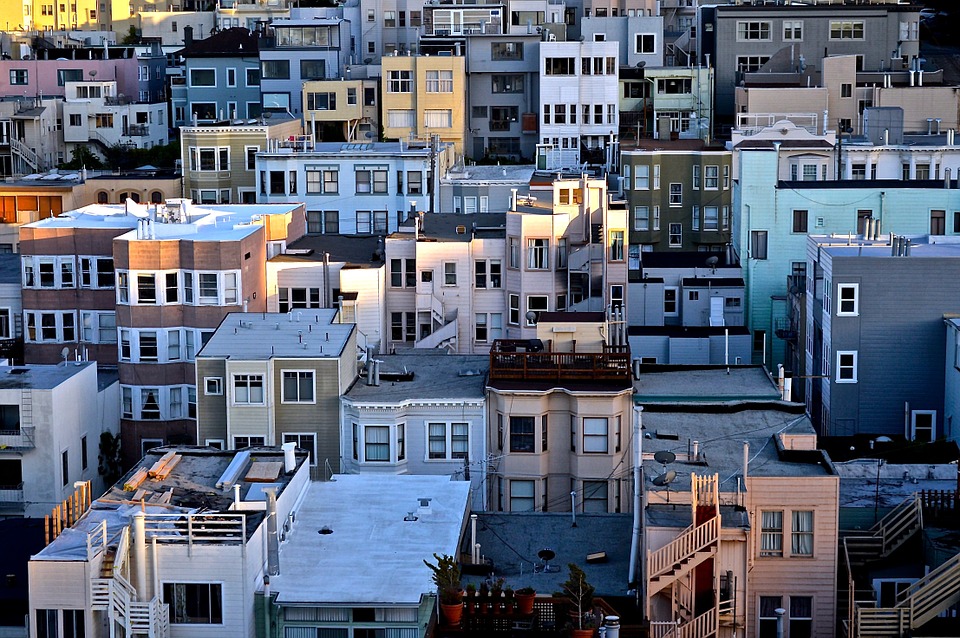 Note: GJEL Accident Attorneys regularly sponsors coverage on Streetsblog San Francisco and Streetsblog California. Unless noted in the story, GJEL Accident Attorneys is not consulted for the content or editorial direction of the sponsored content.
Senator Scott Wiener has revised S.B. 827, the Transit-Rich Housing Bonus, his bill to allow more housing near public transportation. The changes came in response to outcry and blowback from local government officials concerned about losing control over housing regulation.
"California has a housing deficit approaching 4 million homes, and our housing shortage is a huge threat to our state's diversity, economy, environment, and quality of life," said Senator Wiener in a prepared statement. "S.B. 827 is about creating more opportunities for housing where we need it – near public transportation."
The amendments to the bill include redefining transit stops (and thereby the area where the density and high restrictions would apply) and reducing minimum height limits from 85 feet to 55 feet.
Housing advocates support the changes. "We're excited to continue to see the evolution of this bill and hope these quality amendments help make this pro-housing legislation the law," wrote Corey Smith of the San Francisco Housing Action Coalition.
The bill, if passed, will supersede local controls on housing heights and density near transit throughout California and has already been opposed by resolution from the San Francisco Board of Supervisors (which actually has no direct power over state legislation, of course).
"I am opposed to S.B. 827 because it radically reduces our communities' ability to have a say in how development occurs in our neighborhoods and because it creates an expedited pathway for building new housing without mandating any additional infrastructure assistance from the State," wrote Norman Yee, SF District 7 Supervisor. "I am in favor of building new housing, particularly affordable housing, on the west side of our City but there has to be a role for meaningful community input as we review proposed projects."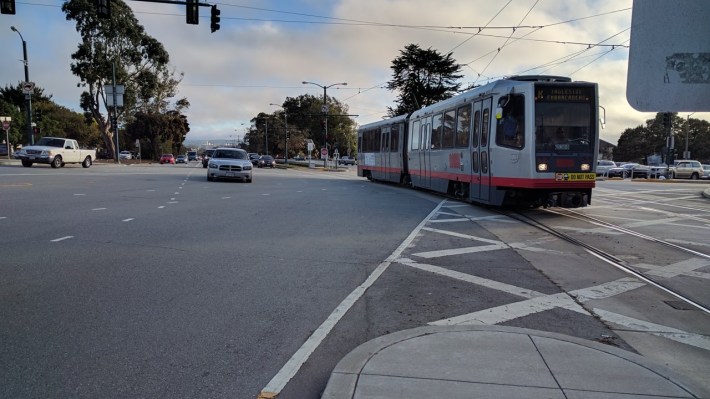 Of course, Yee's sentiment that he is in favor of new housing hardly tracks with the reality on the ground, as seen in the above image of St. Francis Circle, where two of San Francisco's Muni rail lines converge. The area is surrounded by wide roads, parking lots, and, above all, single-family homes. The shopping district of West Portal is one of the best transit-served areas of the city but has height restrictions and zoning that makes it impossible to add density. The handful of older apartment buildings that are there would be illegal to build under current local zoning laws.
"West Portal Avenue is the poster child of what S.B. 827 is trying to accomplish," said Todd David, Executive Director of the San Francisco Housing Action Coalition, in a phone interview with Streetsblog. "You have so many trains, they're so frequent--is there any reason not to have four or five-story apartment buildings in a place well-served by Muni trains and where people would be able to shop locally and help neighborhood retail?"
"Residential zoning districts encompass 70 percent of San Francisco's private land. Across most residential districts, current zoning permits only one or two units per lot. As the housing crisis in San Francisco and the Bay Area becomes more acute, and as the City and the region continue to grapple with transportation and sustainability, the practice of exclusionary zoning--zoning which segregates people by income or economic class--is coming under increasing scrutiny," wrote Tom Radulovich, in a Livable City blog post about the bill.
It's not just San Francisco of course. Think of the giant surface parking lots and the single-story shopping center next to the Larkspur Ferry landing. Or the area around Rockridge BART, with its height and zoning restrictions. There are hundreds of places throughout the Bay Area with strong transit connections but low housing density (or sometimes no housing at all) in proximity.
Pushback from San Francisco and other cities around the state was inevitable. There's no doubt that Wiener's tactic was to introduce an all-in bill that he could pull back and modify later according to political realities (and, no doubt, because of some legitimately better ideas). That was certainly true about the eight-story height limit going down to five stories in the amendments.
"These concessions will likely reduce the risk of backlash we feared when we imagined eight-story buildings springing up in single family home areas," wrote TransForm's Stuart Cohen, in a detailed analysis of the bill modifications. The amended bill also strengthens protections against potential displacement.
"Politics is the art of compromise. At the end of the day, I think he'll be as aggressive and pro-housing as he can be, but I don't think he believes in Pyrrhic victories," said David.
Stay in touch
Sign up for our free newsletter