Bicycling
Ford GoBike Adds Electrics
4:16 PM PDT on April 24, 2018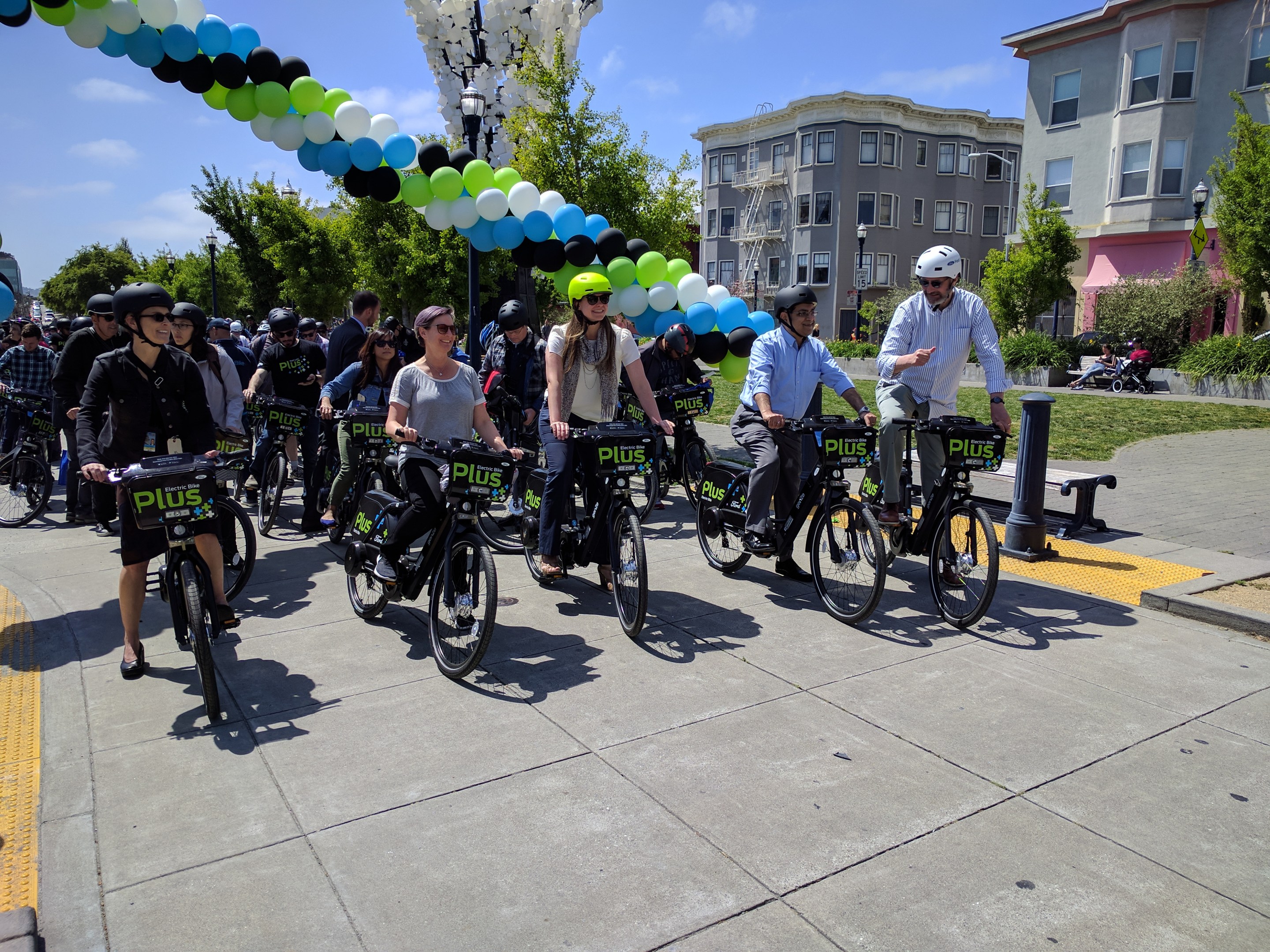 Note: GJEL Accident Attorneys regularly sponsors coverage on Streetsblog San Francisco and Streetsblog California. Unless noted in the story, GJEL Accident Attorneys is not consulted for the content or editorial direction of the sponsored content.
Motivate, operator of Ford GoBike, the Bay Area's official bike-share system, added 250 electric assist bikes to the fleet today. The new black bikes were rolled out during an event this morning at Proxy in Hayes Valley.
From Motivate's release:
The new ebikes, branded as Ford GoBike Plus, will be able to be unlocked via a Clipper card or the Ford GoBike app and docked at any Ford GoBike station in San Francisco — making Ford GoBike the first bike share system in North America to incorporate ebikes alongside classic bikes at its stations.
Motivate partnered with Silicon-Valley based GenZe, a leading developer of zero-emissions, two-wheel electric vehicles, to develop the custom ebikes making their debut in San Francisco. Each ebike features a 345 Wh Li-on battery and an LCD display that allows riders to track their speed and battery charge level. With a maximum speed of 18mph, the ebikes are also legal to operate in bike lanes.
"E-bikes will be part of a regional transportation system," said Jay Walder, Motivate CEO. "It's part of a network of mobility--planned, not dumped on our street."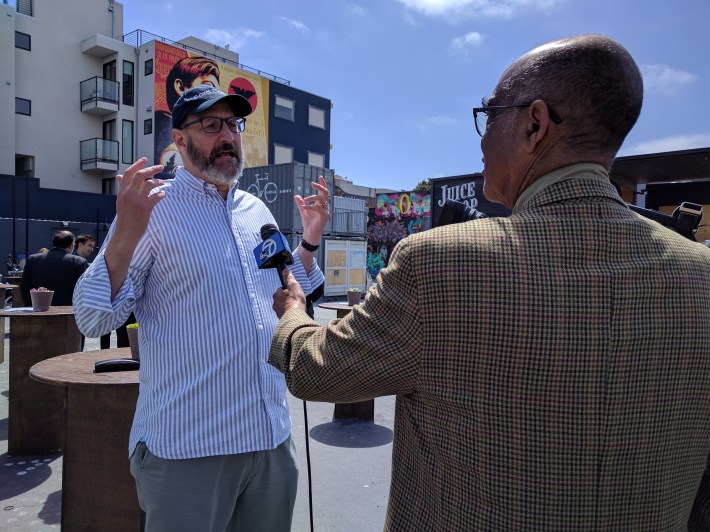 Walder, in that last statement, was taking a dig at scooter companies and bike-share startups dumping their machines in the city without any official mandate or permission from the city. He likens it to Uber and Lyft's sudden launch into cities about a decade ago. "It's back to the future--the mindset that we'll just do what we want in the public space."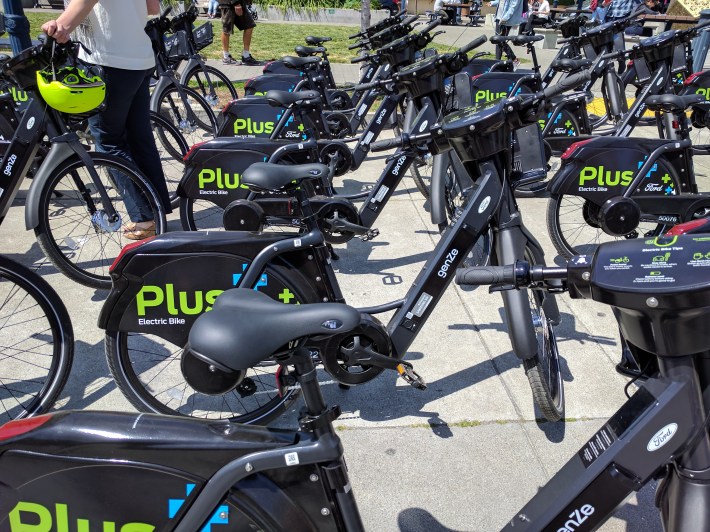 Ford GoBike, meanwhile, will charge the same rate for the electric-assist bikes as for their regular bikes. They will be placed in FordGo Bike stations around San Francisco and data will be gathered to see where they end up, if any re-balancing of electric bikes is needed, and how popular they become.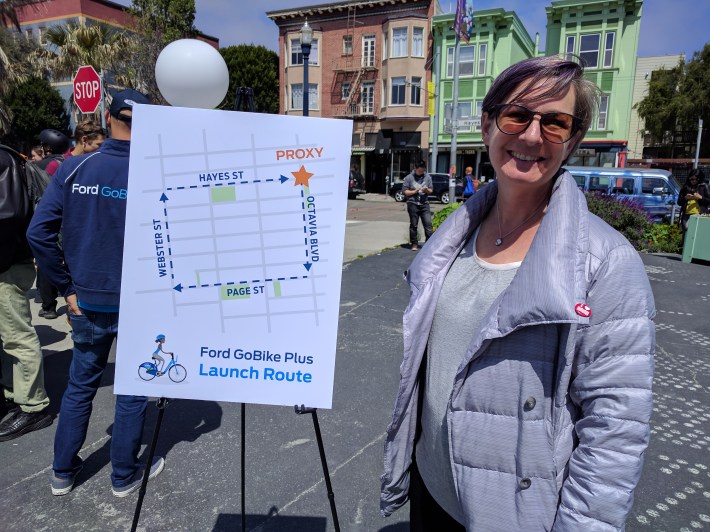 SFMTA Board Chairwoman Cheryl Brinkman was among the many transportation officials who attended the launch event. She had ridden a Jump-brand electric assist bike previously, and said e-bikes will really change how people approach riding to the higher elevations in the city. "It made me think with access to these, I wouldn't think twice about riding anywhere."
How did they perform? The bikes worked well helping people get up the Page street hill on the short loop set up by Ford GoBike. However, a couple of riders found that their motors weren't working and they got stuck about halfway up. The riders thought the batteries might not have been charged, but one Ford GoBike representative suspects they may have simply neglected to push the "start" button on the bikes' handlebars. Motivate service staff, by the way, will change out the rechargeable batteries with fresh ones when they get a signal that a bike's charge is low.
Last Thursday Streetsblog got to take a separate, much longer shakedown ride that started at the Ford GoBike warehouse in SoMa to the top of Potrero Hill, as seen below: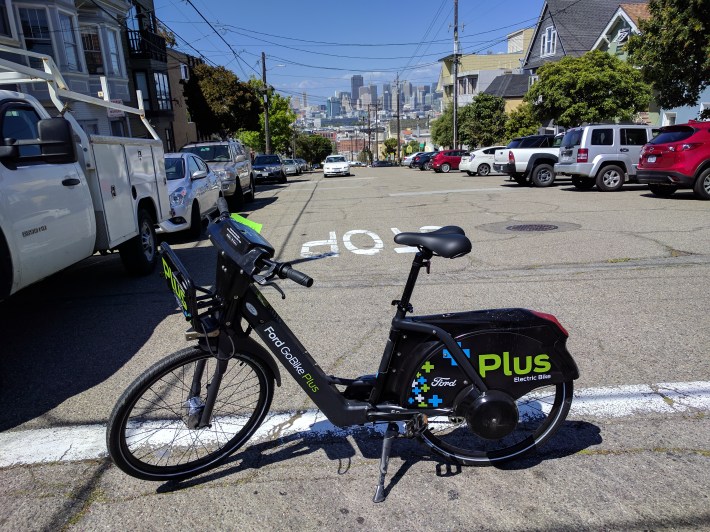 The bike performed just fine and, even on a relatively hot day, it was possible to pedal up confidently while breaking only a very mild sweat. If Streetsblog were to nitpick, it would only be that the electric assist was late to switch on while trying to get going from a dead stop on a hill. That can make getting started on an uphill a little challenging, given the weight of the bike.
Walder, meanwhile, told Streetsblog that electric-assist bikes can be a game-changer for transportation in San Francisco and other hilly parts of the Bay Area. "It's a chance to smooth out the city," he said. There's also hope the electric bikes will make it so trips from bike stations at the tops of hills won't always be a one way/downhill trip. "How cool would that be that there's a hill but it doesn't deter or get in your way at all?"
Brinkman said e-bikes are part of a trend towards many different transportation options, including electric scooters, conventional bike shares, and whatever else is coming around the bend. "The future will look really different," she said.
According to the official launch statement, Ford GoBike is currently offering a discount on all its bikes "To celebrate the addition of e-bikes to the bike share network... reducing the price of its 30-minute single rides from $3 to $2." For now, the electric bikes will be rolled out in San Francisco only, but could be expanded depending on their popularity.
Stay in touch
Sign up for our free newsletter