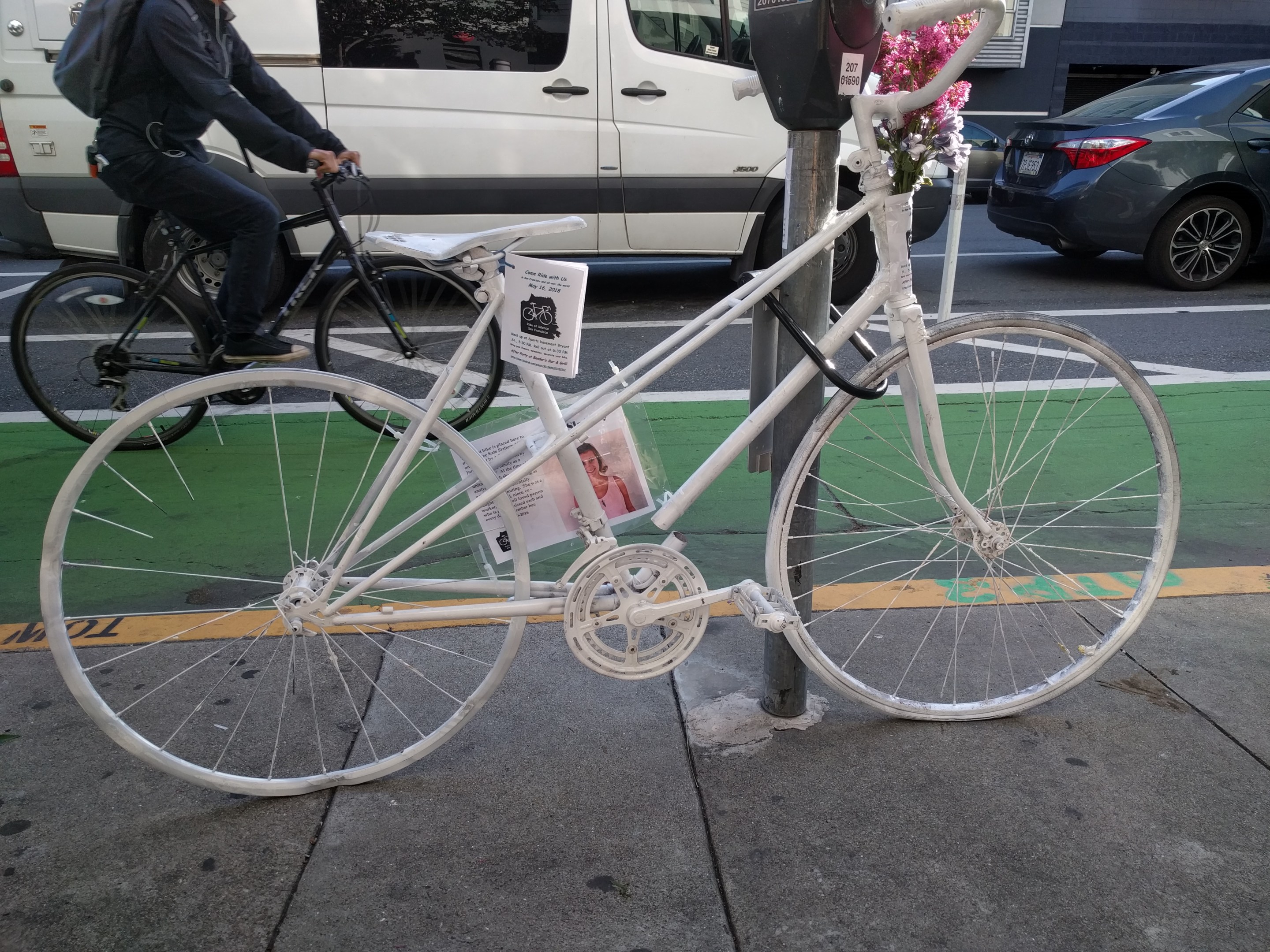 Bike safety advocate Devon Warner just replaced Kate Slattery's ghost bike, at the corner of 7th and Howard, for the third time.
Great strides have been made in providing short-term fixes to make the streets of SoMa safer for cyclists and other vulnerable users. In response to the late Mayor Lee's Executive Directive, parking protected bike lanes were added on 13th, 7th and 8th. Protected bike lanes were added to Folsom. And the protected bike lane on 8th is getting extended South of Harrison. And there's the protected intersection at 9th and Division.
But on Howard, nothing is happening.
That's why yesterday evening advocates held another parking protected bike lane protest, this time on Howard. Past protests such as these have brought mainstream media attention and political pressure to get similarly delayed safety projects, on Upper Market and Turk, back in motion. It's not that there isn't a plan or funding for putting a protected bike lane on Howard, it's just that it isn't happening. Matt Brezina, one of the key organizers of these protests (two photos down, doing a TV interview) is hoping that, once again, the protest can embarrass dawdling and bickering city agencies into action.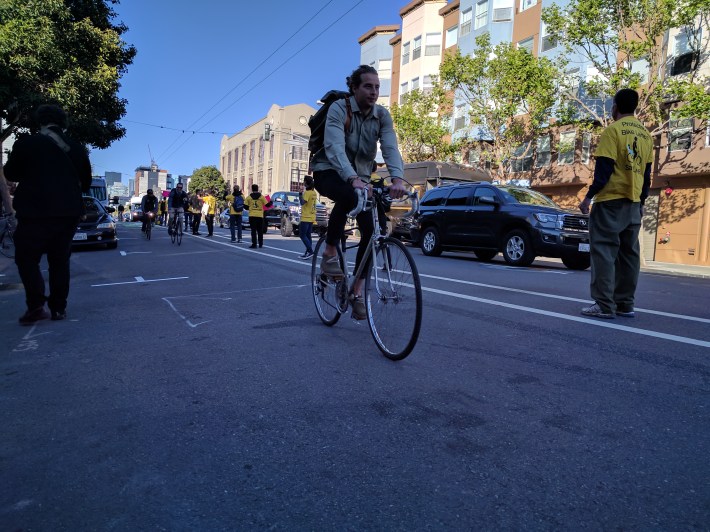 Streetsblog has an inquiry in with SFMTA and has been swapping calls with Jane Kim's office, the supervisor who represents the district, to find out what the delay is all about (Kim, by the way, was at the protest but left shortly before Streetsblog arrived). But according to a source close to the goings on, the problem holding up Howard is the same one that was been holding up Howard for over a year--conflicts with the fire department.
*UPDATE: After publishing, Streetsblog received this reply from SFMTA: "Unfortunately, Howard Street has unique engineering challenges because of overhead Muni powerlines and the diversity of uses on the street, including the Moscone Center. We are continuing to work the  San Francisco Fire Department on these issues. These challenges mean that near-term improvements similar to Folsom could not be installed," wrote Bradley Dunn, an SFMTA spokesman for the project.*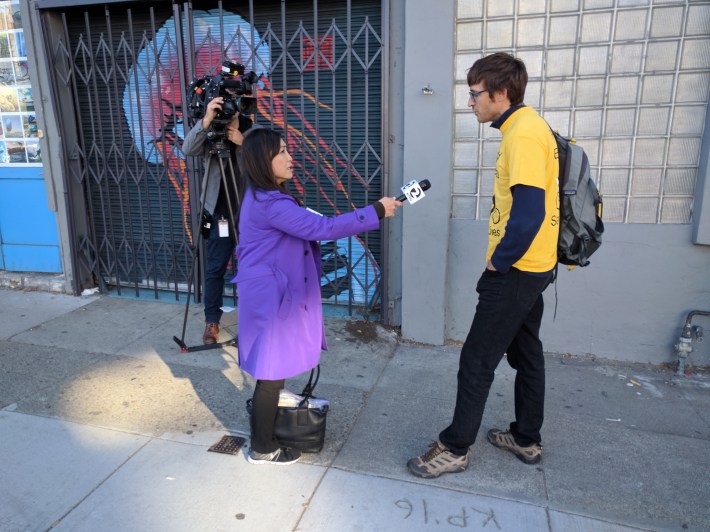 There are Muni trolley bus wires over the bike lane on Howard. The concern is, at least ostensibly, that if the parking lane and bike lane on Howard are swapped to create a parking-protected bike lane, fire engine ladder trucks will no longer be able to get their outriggers down (the struts that stabilize a ladder truck when the ladder is extended) and get the angle they need to get a ladder up to the tops of buildings. This is the same issue that delayed putting in a protected bike lane on Upper Market and Turk.
The solution on those streets? On Turk, the bike lane was put on the left side of the street. And on Upper Market, the parking lane was eliminated and a concrete curb was used instead to protect cyclists. This gives fire trucks ample room to do what they need to do in the event of a building fire.
So why not do the same thing on Howard?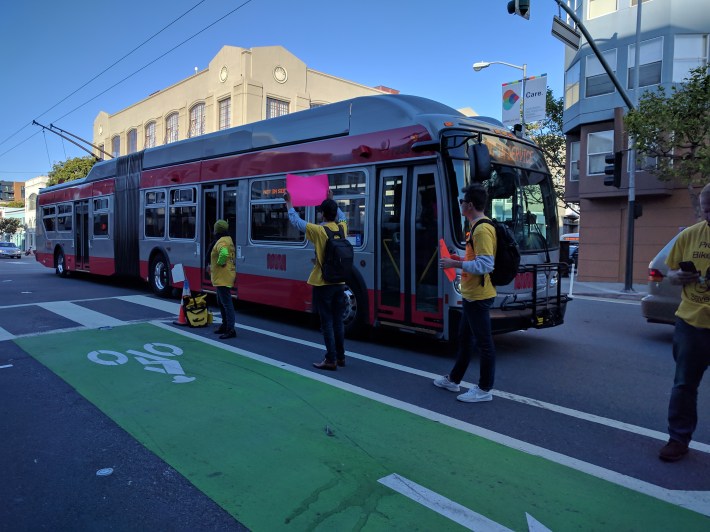 Either is possible. Chris Cassidy, spokesman for the San Francisco Bicycle Coalition, explained that businesses on Turk and Upper Market were very supportive about moving parking on those streets to allow for safety improvements. Without similar support on Howard, it's been harder to get things moving.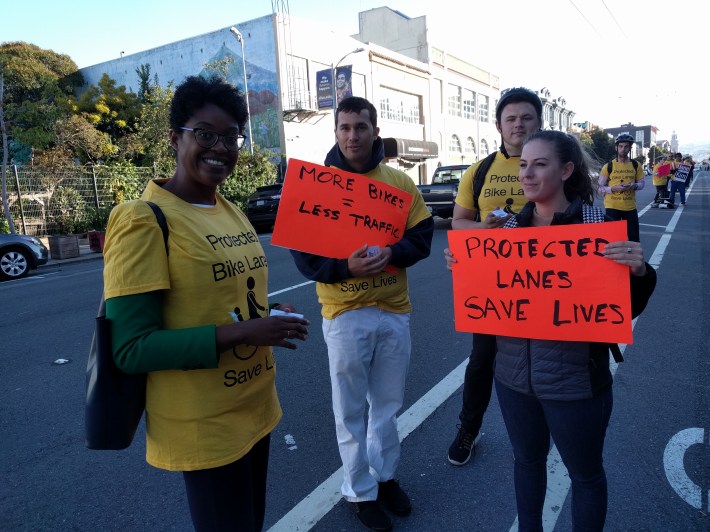 There is some hope, however. Streetsblog's source says that fire department representatives on the Transportation Advisory Staff Committee (the body where street improvements are getting jammed up) are soon to be replaced. And advocates hope that by continuing the pressure and media attention this latest impasse to safer streets can be broken and a parking protected bike lane on Howard will finally get put in. Brezina said he would like to see a protected bike lane on Howard that is wide enough for a ladder truck to use--and put down its outriggers--to satisfy both sides of this issue.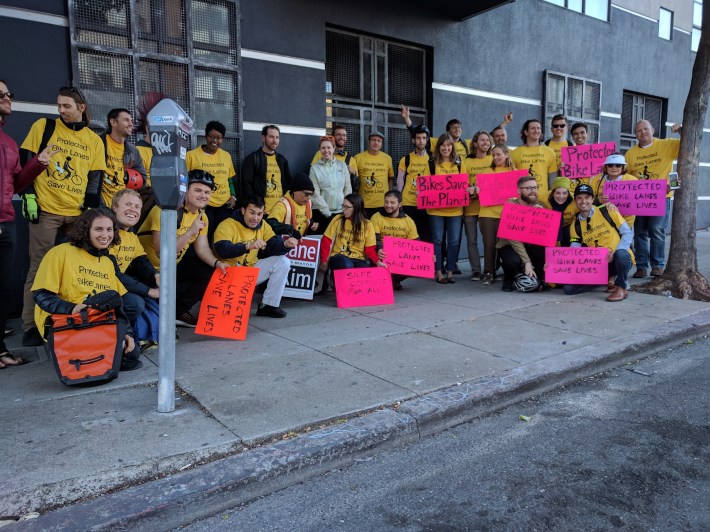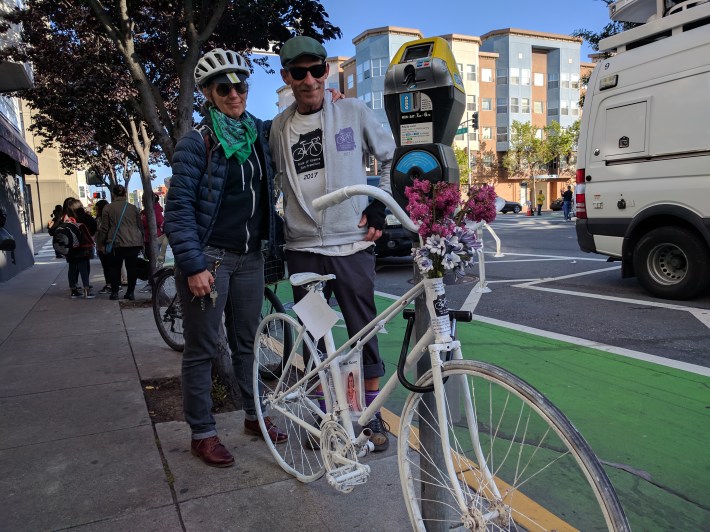 Meanwhile, Devon Warner and Jeff Jones, seen in the photo above (they also joined the protest) will keep replacing ghost bikes when they get stolen or removed. They're also organizing the next annual "Ride of Silence" to remember the dead and injured, scheduled this year for May 16.
Stay in touch
Sign up for our free newsletter