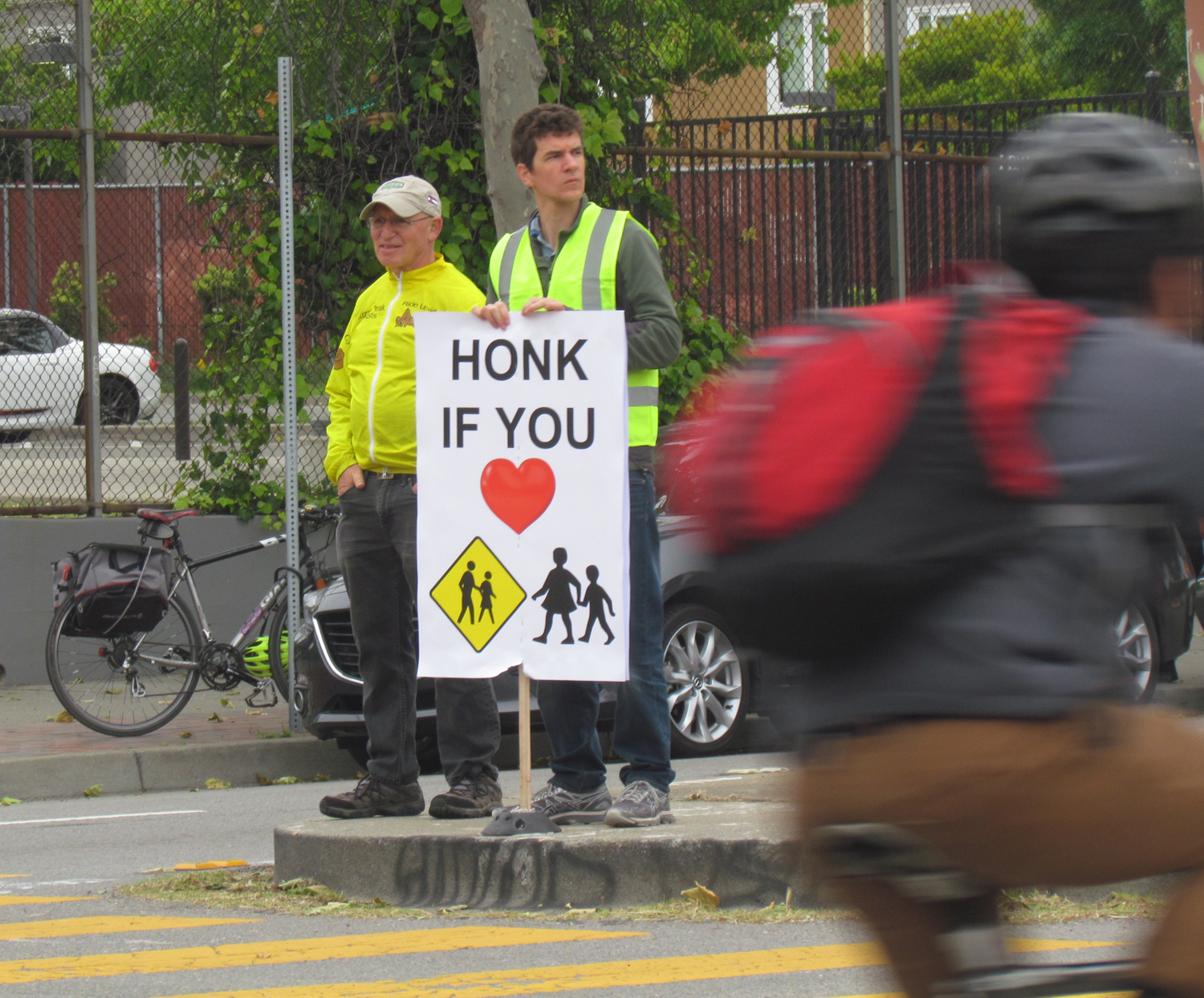 Concerned parents held signs and acted as crossing guards this morning at the intersection of San Pablo Avenue and Virginia Street in Berkeley to draw attention to the dangerous conditions there for bike riders and people walking.
San Pablo is a state highway, so it is under the control of Caltrans, not the City of Berkeley. Caltrans is planning to install a button-activated signal called a "pedestrian hybrid beacon" at that intersection some time in 2019. Getting it installed will be a huge help for parents wanting to walk or ride bikes with their kids to nearby schools.
But the organizers say it's not enough.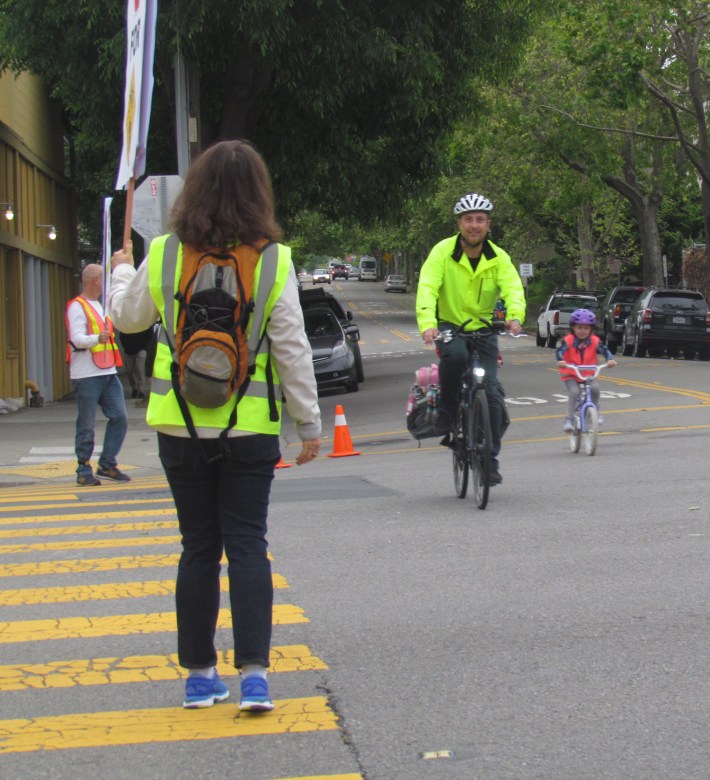 "Many parents are rightfully concerned about their children walking or biking to school because they have to dodge traffic at intersections like San Pablo at Virginia," said Liza Lutzker, a local parent and Safe Routes to School volunteer. "So they stick to their cars instead. If we are serious about meeting our climate goals and protecting our kids, we need to fix these high-stress intersections now."
The planned pedestrian beacon won't include bicycle detection or any other way for bike riders to trigger the flashing lights to warn drivers to stop. That's a problem, because Virginia Street is one of Berkeley's Bike Boulevards. The city's Bike Boulevard "network" is supposed to offer low-stress alternatives to busy main corridors with quieter routes along parallel streets.
But while the boulevards themselves may be relatively safe and quiet, the "network" breaks down at busy intersections. Where the Virginia Bike Boulevard hits San Pablo, riders must cross four busy traffic lanes. Drivers move fast along San Pablo, and the crossing feels treacherous, even with the yellow zebra crosswalk and the median refuge.
So this morning a few people headed out to demonstrate how great it could be and to get support for adding bicycle detection to the planned pedestrian beacon.
Holding up signs urging people to honk in support and stop for pedestrians and bicycles (see pictures) they helped people cross the street at Virginia and San Pablo.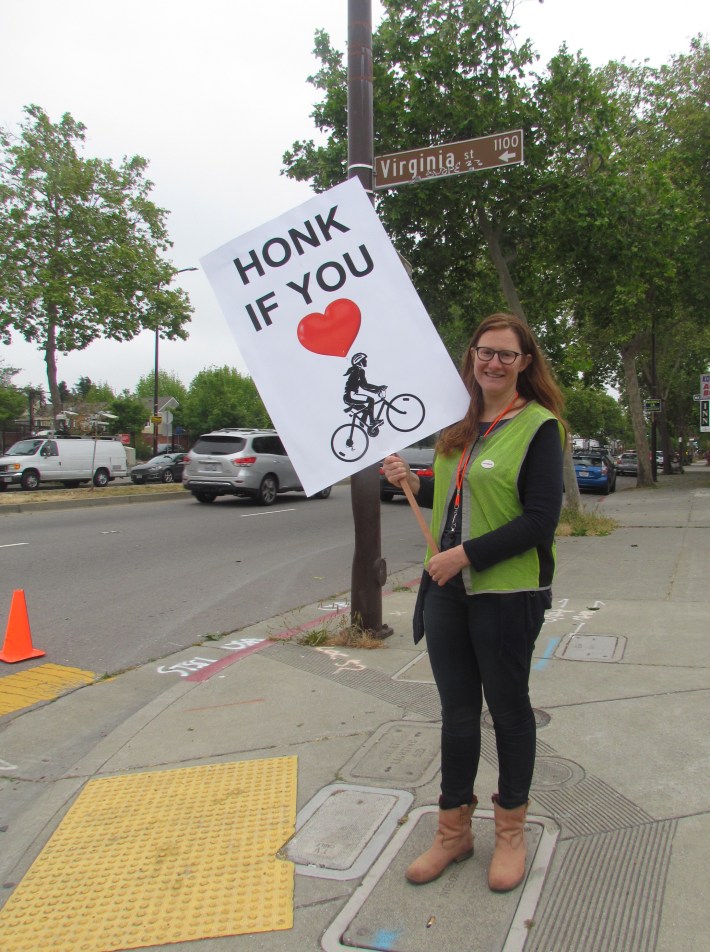 Noah Parolek, an eight-year-old out helping the volunteers, counted more than fifty bikes during the hour-plus that the street corners were manned. He also counted more than twenty pedestrians—and almost 200 honks from drivers in response to the signs.
"Can we interpret those honks as being from people who would rather be on a bike?" asked Phil Morton, one of the participants.
The traffic was no joke, despite all the waving and honking and generally cheery responses. Several times volunteers headed out into the crosswalk and drivers just kept driving through, even though they wore bright vests and carried huge signs--and blew whistles. A few cars using Virginia tried to take advantage of the gaps created by the "crossing guards" to turn right onto San Pablo, in front of or around people trying to cross.
Several truck drivers, including a city truck and a garbage truck, crossed San Pablo by creeping out into the intersection, using the size of their vehicles to intimidate other drivers into stopping. But that's hardly an option for a person on foot or bike, especially when drivers are focused on the traffic in front of them.
People who got the unexpected help to cross smiled and expressed their appreciation. One pedestrian grinned as the volunteers stopped traffic for him. "This is the safest I've ever felt crossing this street," he said.
"If there was always this level of control, I'd feel a lot safer crossing here with my kids," said Lutzker.
Another volunteer, Monika Mann, showed up because she knows exactly how difficult it is to cross here. She was hit by a truck when she tried to cross San Pablo about a half mile south. "I got off and walked my bike, I did everything to make sure I crossed safely," she said, "and I was still hit."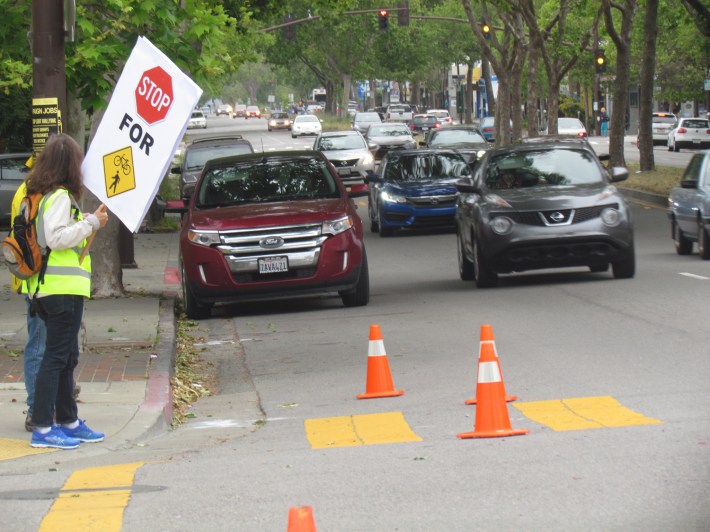 The driver of the truck took off, but she was able to get the license plate and that person was later arrested, she added. She had jumped back at the last second and her bike took the brunt of the crash.
"It's important that Berkeley amp up its bike infrastructure," she said. "I think we have something like the third highest proportion of people who bike, but we don't have the infrastructure to keep them safe. And the Bike Boulevards are not complete," she said as a bicyclist pulled up, wanting to cross.
"These are important environmental and public health issues," she added.
Ben Gerhardstein, who helped organize the event, was pleased with the results. "Today we heard time and again from people walking how much they appreciate a low-stress experience on San Pablo and Virginia," he said. "If we were to do this at all bike boulevard intersections, we'll see a lot more biking and walking in Berkeley."
Streetsblog California editor Melanie Curry has been thinking about transportation, and how to improve conditions for bicyclists, since her early days commuting by bike to UCLA long ago. She was Managing Editor at the East Bay Express, and edited Access Magazine for the University of California Transportation Center. She also earned her Masters in City Planning from UC Berkeley.
Read More:
Stay in touch
Sign up for our free newsletter