Balboa Park
SPUR Talk: Update on Balboa Park Reservoir Development
4:56 PM PDT on May 31, 2018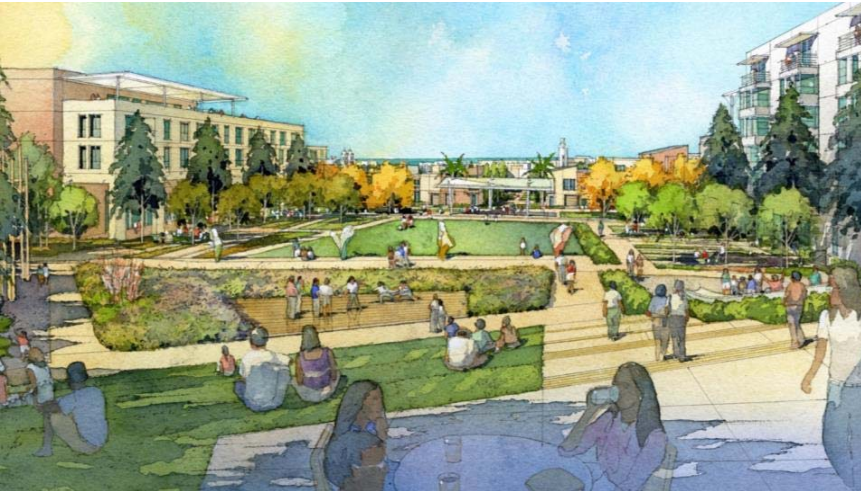 Note: GJEL Accident Attorneys regularly sponsors coverage on Streetsblog San Francisco and Streetsblog California. Unless noted in the story, GJEL Accident Attorneys is not consulted for the content or editorial direction of the sponsored content.
There's a housing crisis. To achieve its environmental and mobility goals, the city is trying to build housing near shopping and transit. There's a 17-acre lot of city property, right near BART, Muni, a bus transit center, and shopping, but it's currently used as a surface parking lot.
Seems like an opportunity.
The Balboa Park reservoir was originally built, obviously, to store water--but it never did and it never will. In 2014, under the late Mayor Lee's 'Public Land for Housing' initiative, the city started looking for developers to get housing on the site. "It's the largest site of the public sites available for housing," explained Emily Lesk with the Mayor's Office of Economic and Workforce Development at a panel discussion this afternoon at SPUR's San Francisco location.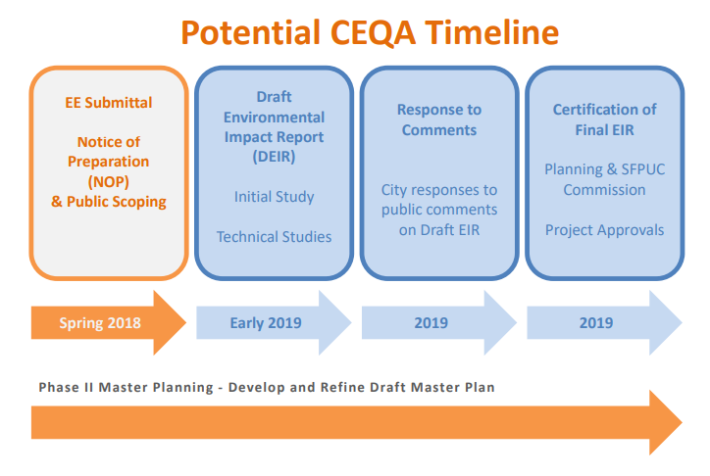 The panelists explained that the plan is to build 1,100 units and a two-acre central park on the site. But why just 1,100 homes on such a huge site? Apparently, building more residences and higher structures would require steel and concrete construction, as opposed to wood--something that would not pencil out financially, explained Avalon Bay's Joe Kirchofer.
The housing, which will be built and managed by BRIDGE Housing Corporation and Avalon, will be half market rate and half 'affordable,' with a mix of condos, apartments and some townhomes. "City College is right there, the Ocean Avenue commercial corridor, Whole Foods, the Ingleside library," said Lesk. "It's  surrounded by a lot of different residential neighborhoods."
That makes the site attractive, but also complicated. The college and the neighborhood have parking and traffic concerns. BART is close but difficult and treacherous to access by bike or on foot, thanks to poorly planned roads and the high-speed freeway ramps of I-280 between the site and the station.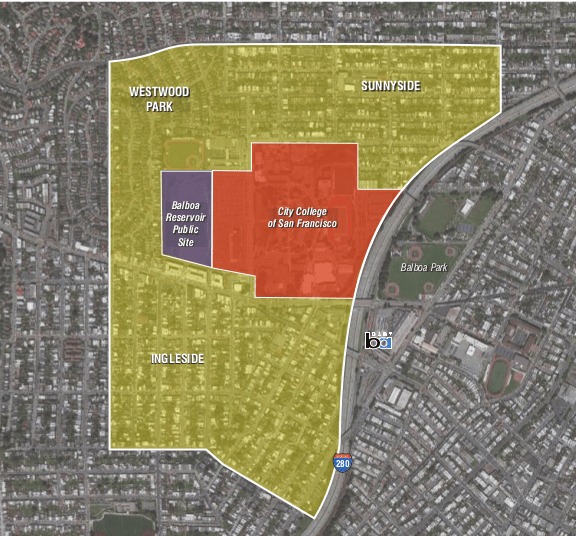 Making the site more pedestrian friendly and safe is going to take some work. "We did some walks with folks from MTA and BART last month to think about what kind of improvements need to be made," to make it more appealing to walk to the stations, said Kearstin Dischinger of BRIDGE Housing. "We're looking at the Balboa Station improvement plan to achieve our transportation goals."
SF Planning's Jeremy Shaw explained that a priority of the project is to make sure there are easy pedestrian connections to the street, shopping, and transit. "Everything starts with the pedestrian," he said. "So connecting to the existing neighborhoods is very important and permeates all the sections of the project."
They are also planning to build the housing in a stepped fashion, with lower height limits on one side, stepping up to six or seven stories at the highest side, to maintain ocean views, minimize shadows, and maintain a neighborhood feel, as seen below: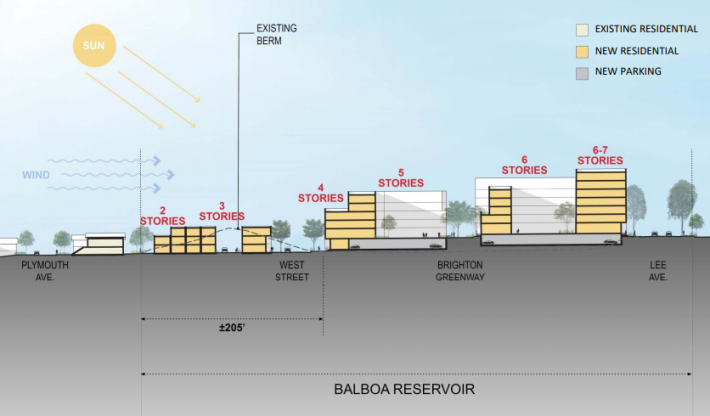 There is also an intention to keep the center of the new development road-free. "How do you match the context of the neighborhood?" asked Dischinger. "Our preferred approach is to move the roads to the exterior of the development."
But there will still be plenty of cars involved in this plan: it includes 500 parking spots for residents, or one for every two units. They will be sold or rented separately, unbundled from the units themselves. The developers also have an obligation, apparently, to replace some of the surface parking that was on the site and is currently used by students and faculty at City College across the street, which is fighting to keep its parking.
"We're going to build parking spaces [for the college], but we want them to be used by different people at different times of the day and year," explained Kirchofer. "We started with [another] 500 to serve college students and faculty and potentially residents overnight."
An audience member who identified herself as a nearby resident mentioned that parking can't be too expensive or students might be unable to afford it. "We talked about charging $8 to $10 a day, which is more than what City College charges now," said Kirchofer. "They park there now because it is cheaper to park than to take transit."
If all goes according to plan, the first units should be available in 2023.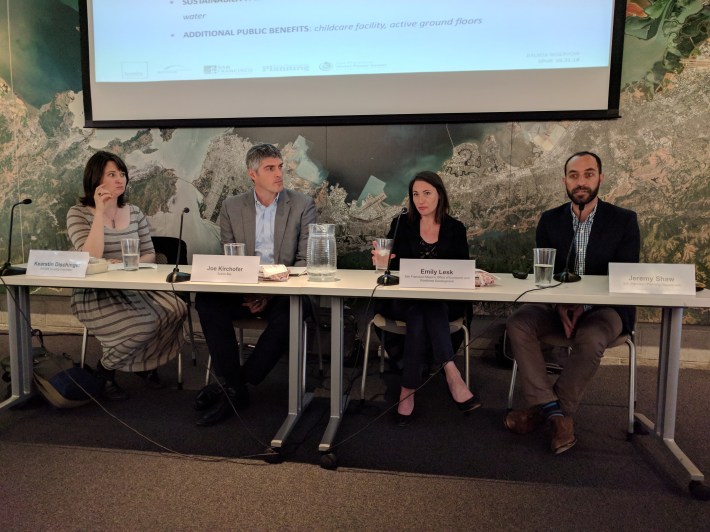 For more events like these, visit SPUR's events page.
Stay in touch
Sign up for our free newsletter