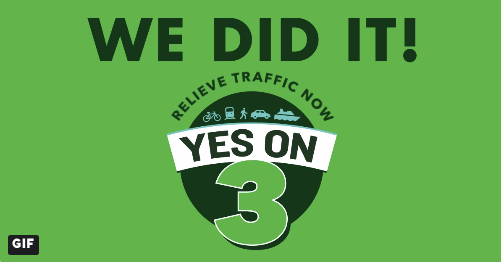 Note: GJEL Accident Attorneys regularly sponsors coverage on Streetsblog San Francisco and Streetsblog California. Unless noted in the story, GJEL Accident Attorneys is not consulted for the content or editorial direction of the sponsored content.
Ballots are still to be fully counted. But advocates in the Bay Area's safe-streets community already have much to celebrate about yesterday's election--and much still to ponder.
First, as the lead graphic shows, Regional Measure 3, which will increase bridge tolls in the Bay Area to raise $4.45 billion for transportation, won by almost 54 percent.
Senator Scott Wiener had this to say:
Others were celebratory but nuanced, such as TransForm's Stuart Cohen: "This gradual toll increase will provide an important boost to expand Bay Area transit and biking and walking infrastructure. We're particularly excited that the measure will fund Safe Routes to Transit, operating funds for express buses, Bus Rapid Transit projects, and work on the Bay Trail — lower profile projects that will mean a lot for transit riders and low-income residents."
But he added that "Social equity was definitely our biggest concern about RM3, which was shared by many opponents and is likely responsible for the somewhat narrow margin. Even though 75 percent of toll payers make more than $75,000, we know this may be a hardship for low-income commuters already struggling to afford living in the Bay Area."
"We are eager to expand the Bay Area's Safe Routes to Transit Program, potentially seven-fold, with RM3's $150 million for this program," said Dave Campbell, Advocacy Director for Bike East Bay. "We also look forward to working with AC Transit to build bus lanes and protected bike lanes on busy streets such as San Pablo Avenue with RM3's rapid bus allocation."
Livable City's Tom Radulovich had this to say: "We were ambivalent about RM3, with its mix of constructive and destructive projects, and it's grab-bag approach uninformed by coherent or effective transportation planning for our region. We'll be glad to see the measure's transit projects move ahead - Caltrain modernization, Muni service improvements, more Transbay buses, and additional BART cars." He said he's also hoping the freeway projects in the measure will be as benign as possible, by adding bus-only lanes, for example.
Radulovich seemed psyched, meanwhile, that Rafael Mandelman ousted District 8 Supervisor Jeff Sheehy. "Rafael was a member of Livable City's board, and served as our president, so we know firsthand how committed he is to a more livable San Francisco, and how thoughtful he is about big issues that affect City livability. "
And then there's the San Francisco Mayor's race. Late last night, it seemed as if London Breed had it almost sewn up, but thanks to San Francisco's ranked-choice voting, Mark Leno, who was apparently the second choice on many ballots, started to surge as lower-ranking candidates were eliminated. As of this writing, Leno was slightly ahead, with about 1,150 votes over Breed, and about 90,000 ballots left to count, according to the SF Chronicle.
It will be a while until it becomes clear who will be the next mayor--but Supervisor Jane Kim is out of the race. "While there are ballots left to count, I am excited for a Mayor Mark Leno administration," Kim wrote on her Facebook page. "I still feel like we won--because San Francisco won. Rank Choice Voting, a system progressives fought for and implemented in 2004, allowed multiple candidates to run, put forward their vision and agenda and have a robust discussion about the future of our City."
"We are proud of the work of our dual-endorsed candidates, Mark Leno and Jane Kim," wrote the San Francisco Bicycle Coalition, in a statement about the races. "We also know that London Breed ran a powerful campaign, and we have a lot of respect for how all mayoral candidates deeply engaged San Franciscans."
Be it Leno or Breed, "We are looking forward to working with any of the mayoral winners on getting to Vision Zero!" wrote Walk San Francisco Executive Director Jodie Medeiros, in an email to Streetsblog.
Meanwhile, TransForm's Cohen is already thinking about the next steps to get transportation funded and built in the Bay Area. "Now that RM3 is in the bag, advocates are immediately looking to an upcoming 'mega measure' for transportation that could provide even bigger, bolder solutions to our transportation and housing woes. If RM3 has taught us anything, it's to make that mega measure as equitable and comprehensive as possible."
For statewide election coverage, check out Streetsblog California.
Stay in touch
Sign up for our free newsletter