Muni
Guest Commentary: Tips for a Tunnel Shutdown
3:37 PM PDT on June 18, 2018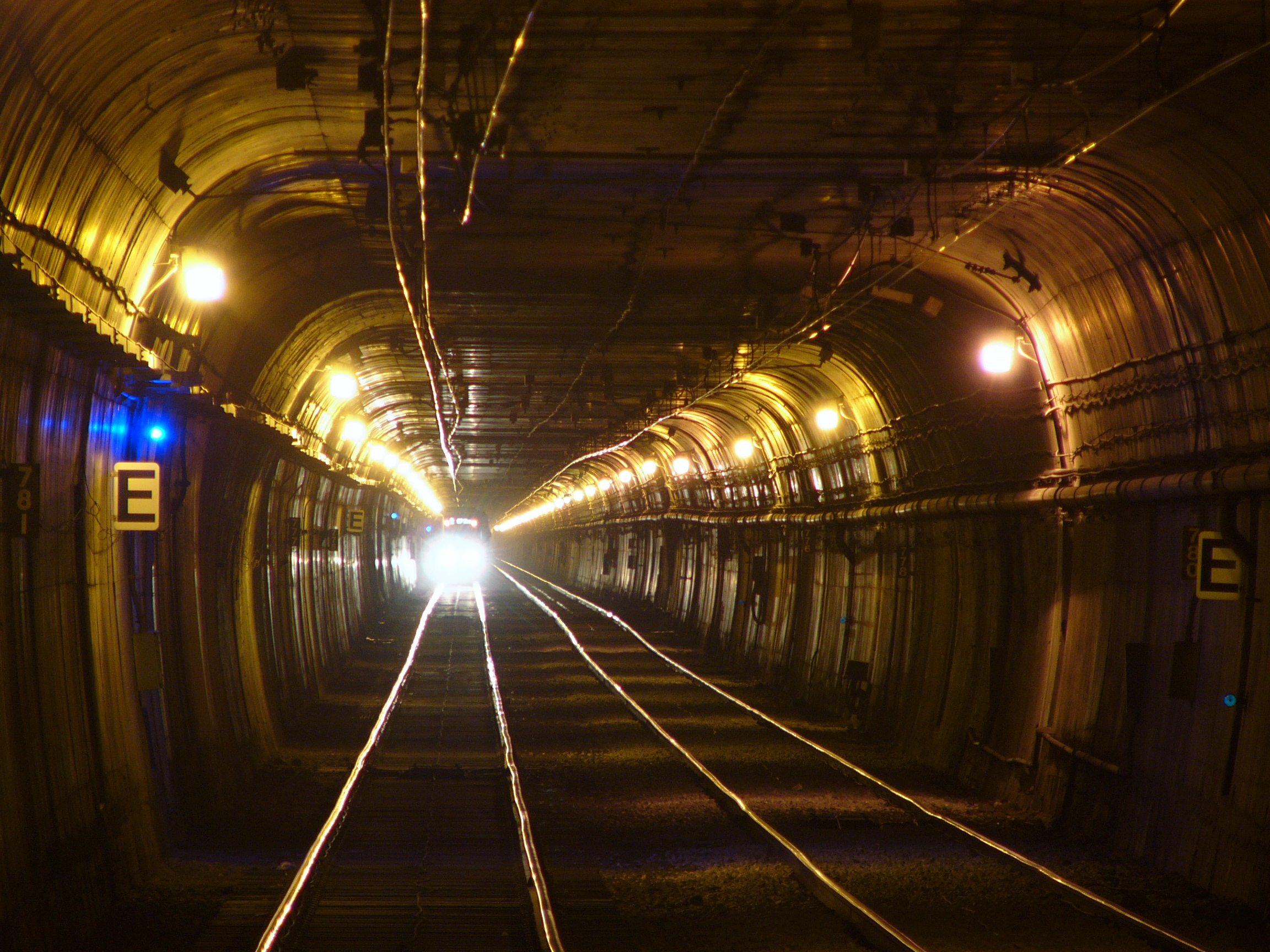 Note: GJEL Accident Attorneys regularly sponsors coverage on Streetsblog San Francisco and Streetsblog California. Unless noted in the story, GJEL Accident Attorneys is not consulted for the content or editorial direction of the sponsored content.
Sunset residents and visitors are in for a long summer. The Twin Peaks Tunnel will be shut down for repairs for about 60 days straight, starting June 25. Over 80,000 daily riders normally whooshed across the city in a subway tunnel are moving to surface streets. This is an excellent moment to take a step back and appreciate the wisdom of investing in subways for the benefit of everyone, riders and drivers alike.
We support infrastructure maintenance and upgrades. Without them, we get breakdowns, delays, accidents, and limits on capacity. But the disruption of upgrades is not fun for anyone, and riders often get left behind with inadequate and confusing replacement service, with more challenges and more travel time to get through the week.
What Happens When A Subway Moves To The Street
Longer commute times. It takes longer to drive over a hill than to zip through it. The disruption affects the L-Taraval most: SFMTA estimates an end-to-end increased time of 20 minutes. Each way. For two whole months.
Less reliability. We already have significant issues with our light rail vehicles competing for space once they leave the dedicated space of the subway. SFMTA regularly blames irregular service, the gapping and bunching of trains, on interference from traffic. Now there will be that much more competition for space on the streets.
More congestion for everyone. Buses will be stuck in traffic, and drivers will be affected by the extra 80,000 daily trips with which they'll suddenly have to share the road. During rush hour, it will be around 24 buses in one direction per hour going over the hill. At least it's not 80,000 extra cars throughout the day. Drivers may want to reflect on why they should be all in for public transit funding and priority, to keep more cars off the road and out of their way.
Tips for a Rider-First Subway Closure
How do we keep riders moving smoothly so we don't hop into private transportation and contribute to traffic congestion? How do we avoid crushing our souls by tacking on an extra three or four hours to our commute week?
Put transit first. In a Transit First city, prioritize the transit riders displaced by construction. Give the substitute buses dedicated transit-only lanes for their full routes. Program traffic lights to hold the green for buses and shorten the red. Divert cars from the worst of the congestion, where the bulk of riders are transferring: around West Portal, Castro, and Church St. stations.
Just putting in transit-only lanes could bring the 20-minute increase for L-Taraval riders down to 15 or fewer. That's at least a 50-minute time savings over the course of the work week. So, let's do it!
Give free BART transfers within San Francisco. Since BART from Balboa Park is part of the solution, offer free transfers between Muni and BART within the City for the duration of the shutdown. (Wait, shouldn't we have that anyway?) Muni plans to pay BART for free transfers from Muni at Balboa Park during the shutdown, but not for the return trip. Let's do it everywhere, or at least there and back, and see how it impacts ridership and travel times.
Add plenty of clear signage for riders, well in advance. How much warning did cars get before the holiday weekend Bay Bridge closures? Every stop on all three affected lines needs clear signage: "Tunnel closed between West Portal and Castro for two months starting June 25," for example. Have route-specific instructions with a clear map. Provide stop-specific information like "this stop is moving over there," with a clear map.
Give suggestions of alternate routes on signs, like "don't go inbound from here, it's quicker to head to Balboa and get a free transfer to BART." Alert all the travel apps to inform users about the shutdown, the substitutions, and real-time information on their options.
Produce signs large enough to see from across the street at the stops that are being moved, so you to know something's up before missing the bus when it's actually stopping a block away.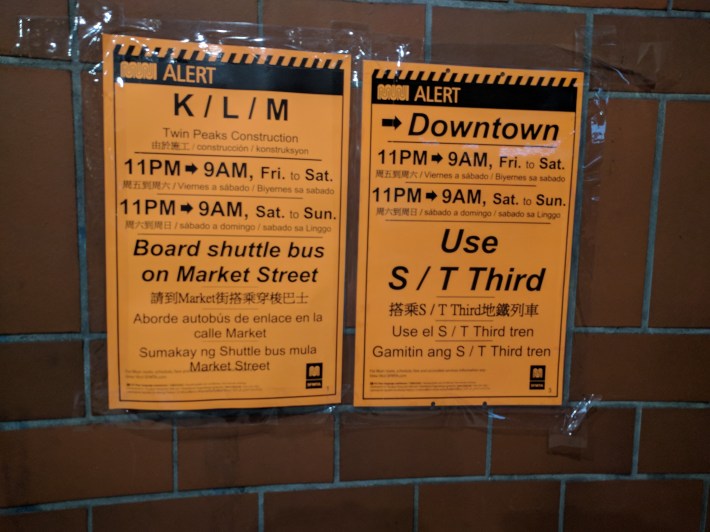 Minimize headways, coordinate transfers. Buses need to come twice as frequently as trains, since they're slower and hold half as many people. Put real-time information at all transfer points so folks know how long they have to wait, if it's worth running up or down the stairs, or if an alternate route would serve them better.
Provide plenty of clear signage for drivers. Add digital signage on surface streets to let car drivers know what's coming, and advise them to find alternate routes while those 80,000 riders are displaced from the subway to share the non-fixed asphalt routes.
SFMTA is trying to do some of this, which is good. In the past, they haven't.
Tunnel closures have happened with a couple weeks' notice. Routes or stops get changed, and all the rider sees is hard-to-read small-print dark orange signs you barely see until you're right in front of them; even then they're impossible to decipher and provide no real-time help. There's been no street priority given to the substitute buses. These are some of the signature moves that show little regard for riders and what we experience every day while trying to make our way through our lives.
We want SFMTA to be bold in providing the best service possible to its customers, the riders. Don't hesitate to take needed street space for riders - let car drivers understand the impact riders have on the livability of the city. Maybe once the construction is done and we're once again off the streets those poor cars have to use, safely speeding through our tunnel at 50 miles per hour, some of those drivers will consider leaving traffic and joining us.
Rachel Hyden is Executive Director of the San Francisco Transit Riders, a rider-based grassroots advocate for world-class transit in San Francisco.
Stay in touch
Sign up for our free newsletter