Muni
And the Twin Peaks Tunnel Closure Begins
5:01 PM PDT on June 25, 2018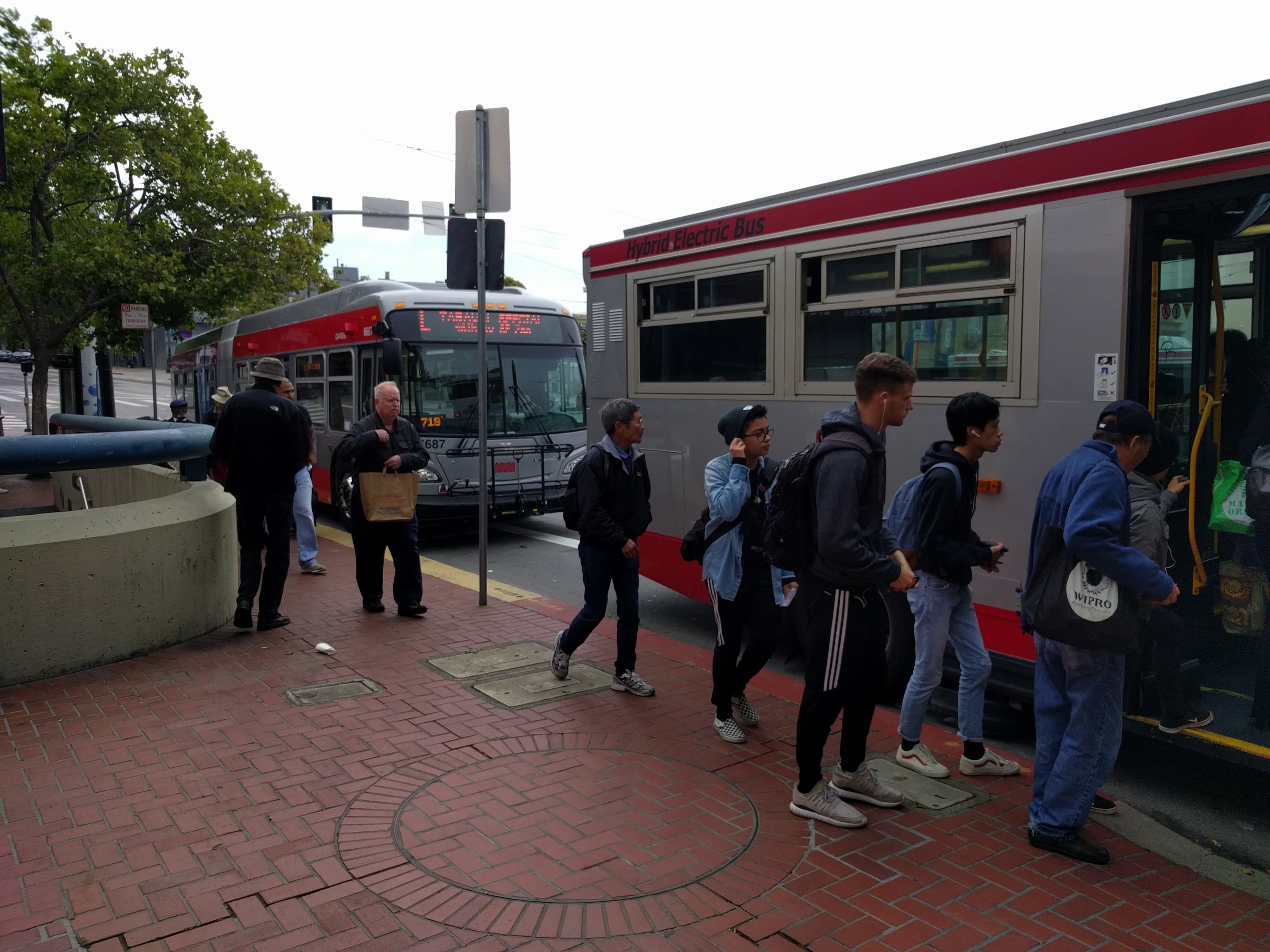 Note: GJEL Accident Attorneys regularly sponsors coverage on Streetsblog San Francisco and Streetsblog California. Unless noted in the story, GJEL Accident Attorneys is not consulted for the content or editorial direction of the sponsored content.
Today was the first day of the two-month planned closure of the Twin Peaks tunnel, temporarily shutting down all rail service between Castro, Forest Hill, and West Portal.
From the SFMTA post explaining the project:
With 100 years of service under its belt, Twin Peaks Tunnel needs extensive work to its interior to continue to operate safety and reliably for years to come. This vital part of our transit rail system connects Castro Station to West Portal Station and serves over 80,000 K Ingleside, L Taraval and M Ocean View customers every day.
The scale of the work is most apparent outside West Portal station, where the agency has already staged pipes, gravel and other heavy equipment and parts. One of the contractors, Universal Forest Products (UFPI), was busy putting up wooden pedestrian shields along the sidewalk, as seen below: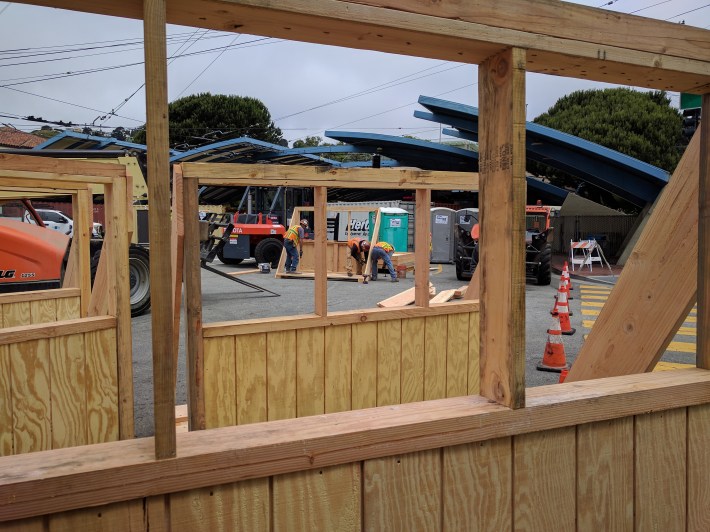 The shields are to protect pedestrians from dust and debris and, to some extent, noise. "Some people don't know what's going on and are irritated," said UFPI's Natasha Salas. "Others are aware and are just happy it's only for two months."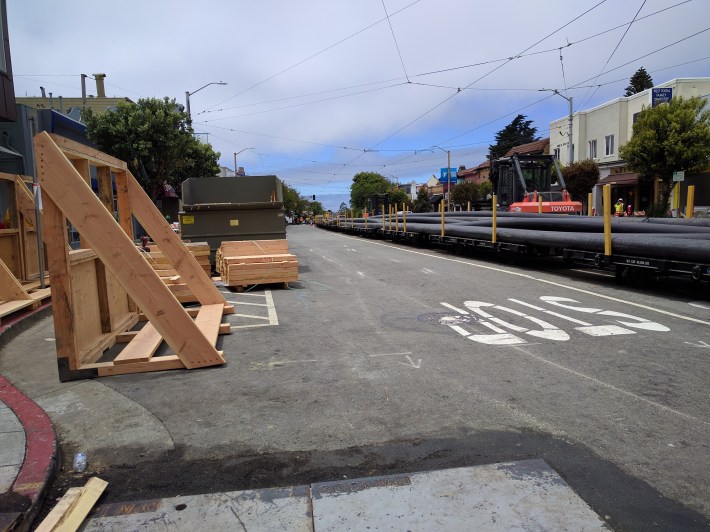 She also said some of the shop owners seemed concerned about getting deliveries.
"For over a year they've [SFMTA] come to every merchant meeting," said Maureen Staus, owner of the Eezy Freezy market on West Portal Avenue. She explained that all the businesses were well informed of what was coming and that they narrowly avoided serious complications with deliveries, since the pedestrian shields, as originally positioned, would have prevented beer and other heavy deliveries from reaching her shop. The agency agreed to re-position the shields so delivery trucks could get to her shop and still get back out of the area without backing up several blocks. "It was a little snafu, but they got it figured out." She also said the SFMTA was short a crossing guard this morning, but that also got fixed.
It's only day one of course, but the Squat & Gobble restaurant right across from the West Portal Station seemed to have a healthy crowd. Although Julieta Cervantes, the manager at the restaurant, said they're concerned about the loss of parking and fewer Muni customers walking past the shop. It also probably isn't helpful that the restaurant was shaking every few minutes from the work.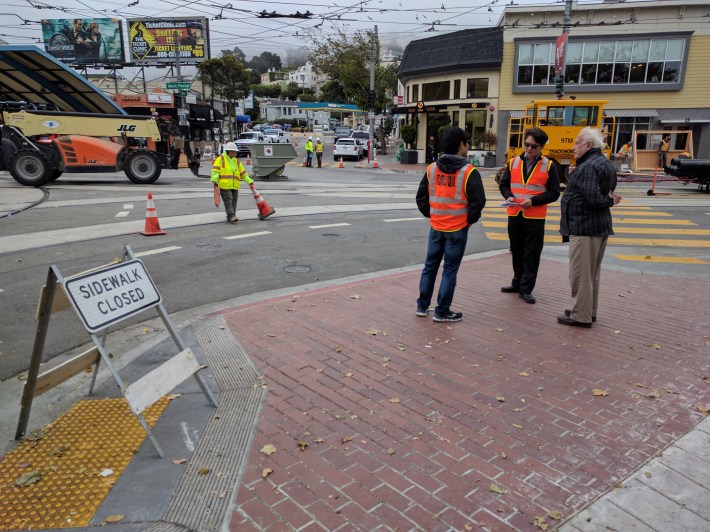 Meanwhile, SFMTA had guides at Castro, Church, West Portal and St. Francis Circle, and other places along the lines. They also had signs on the trains and in the stations. And Google maps included the closures in its directions. There were a few confused riders here and there, but instructions seemed much clearer than in previous shutdowns. Advocates such as the San Francisco Transit Rider's Rachel Hyden would like to see SFMTA do even better, by reserving lanes and giving signal priority to the replacement buses. Still, even she was impressed. "The onboard digital signage was displaying transfer points, I couldn't believe my eyes! This is something we'd love to see on every line, but it's especially important during a shutdown of this nature," wrote Hyden, who rides the L Taraval. "There were ambassadors every step of the way; large, visible signage in all the stations; and most impressively, lots of multi-lingual materials inside the trains and buses."
Perhaps the best test of how well the agency is disseminating information comes down to how tourists, who aren't familiar with the system and would have no reason to know about the closure, were getting on. Judi Gould was visiting from Ventura and was taking her grandson Rye to the zoo from Castro Station. "I saw the signs. I saw it on my app," she said while waiting for the replacement L Taraval bus at Castro. Her grandson Rye, meanwhile, seemed to enjoy the view from the bus as it chugged over Twin Peaks,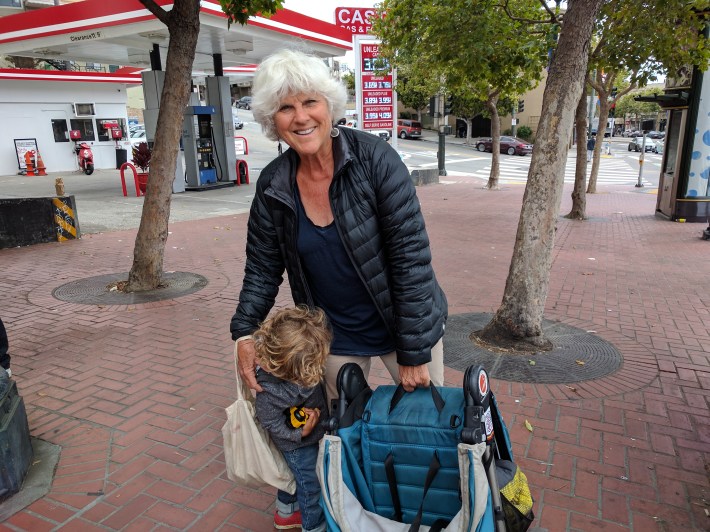 Regular rider Kate Rabbit found the extra stop on the replacement bus confounding (the bus stopped twice on Portola, at O'Shaughnessy and Laguna Honda, whereas normally it only stops at Forest Hill station between Castro and West Portal). "There should just be one--it's confusing," she said, adding that it's just the first day and things will become more clear as the closure continues. And Theolia Valentine was thrown by a lack of clear stop announcements from the driver of the L Taraval replacement bus (there was an automated message that cycled every minute or so, explaining the closure and the replacement bus service, but nothing about upcoming stops). The driver, meanwhile, was a bit confused himself, and neglected to stop at Wawona Street, a stop on his route and the nearest one to West Portal station.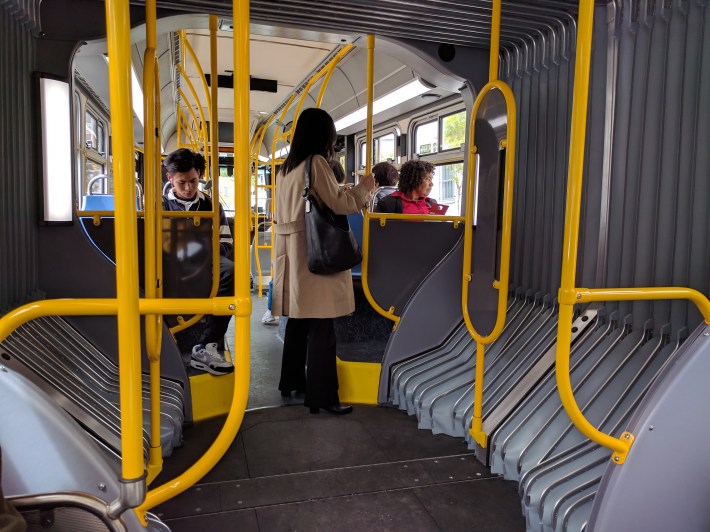 Meanwhile, a Muni guide working at Castro station said he found about half the people he encountered knew about the tunnel closure. "There's a little bit of confusion," explained one of SFMTA's information volunteers, who was directing people from the exit of the Castro Street Muni subway to the replacement bus service. "There's always going to be some."
Most people, however, calmly went with the flow. They were also looking forward to the end of summer when things should return to normal--and, hopefully, more reliable service. "People don't realize how important these trains are until they don't come anymore," said Valentine.
"Bus substitutions are an inconvenience for everyone, but it's really important we maintain our tunnels to provide safe and reliable service for the 80,000 people who depend on it," wrote Hyden. "San Francisco Transit Riders will be keeping a close eye on how it's going, and will continue to push SFMTA to deliver the service frequencies they've promised."
For full details on replacement bus services and reroutes, check out SFMTA's web page. Or watch the embedded video below. And if you ride the impacted routes, let us know how it goes by posting your comments.
Stay in touch
Sign up for our free newsletter