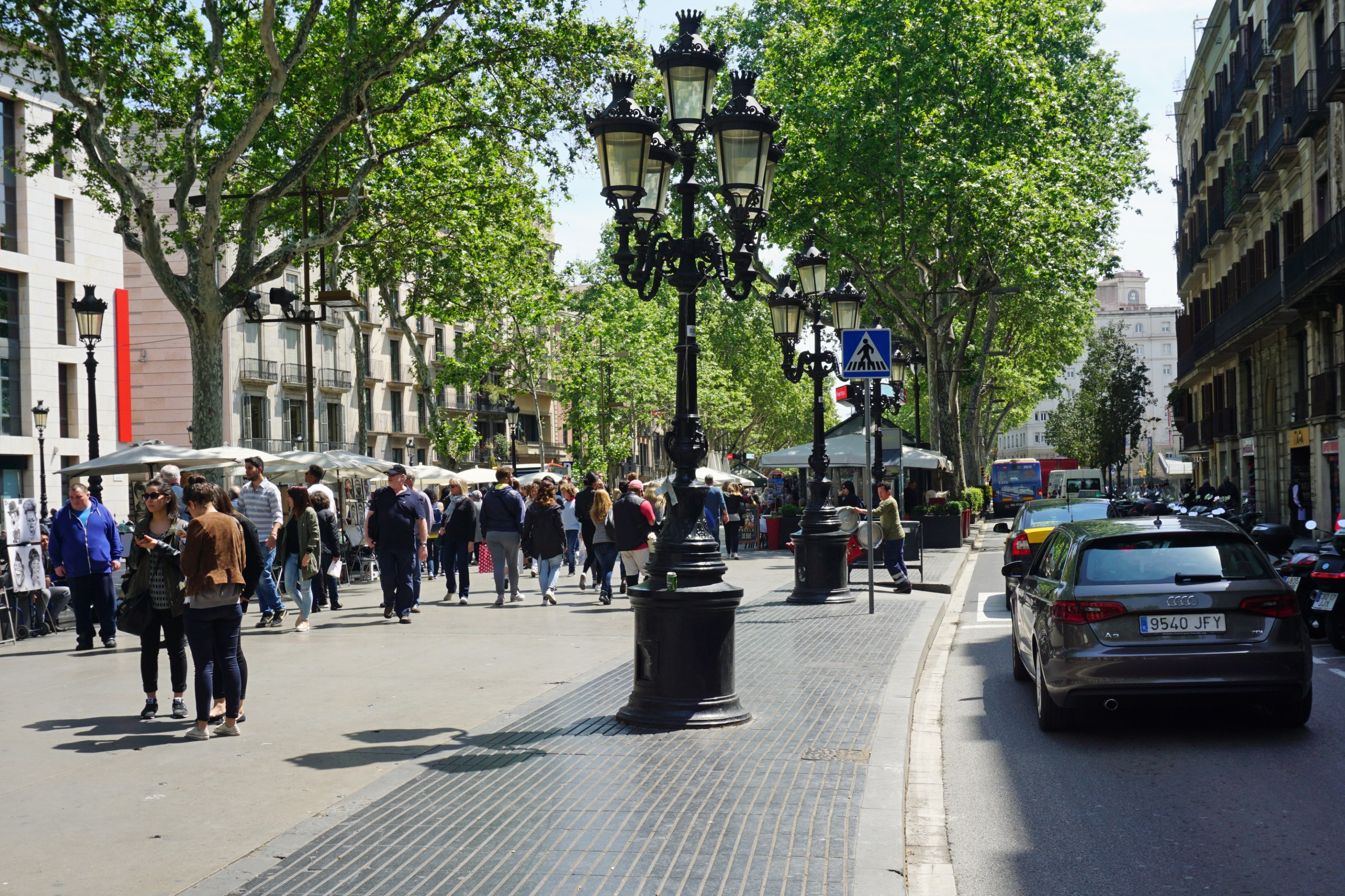 SFMTA planners and engineers unveiled three initial design proposals for re-configuring the bike lanes on Valencia Street yesterday evening during an open house held at the Synergy School on Valencia near 24th Street. This was the first of two planned workshops for the Valencia Bikeway Improvement Project.
The design options were for parking-protected bike lanes on both sides of the street, a two-way protected cycle track on one side of the street, and a configuration that was met mostly with consternation--a center-running two-way cycle track in the middle of the street.

"Center-running violates the principle of putting faster in the center," said Dan Connelly, a local resident who came to the meeting. He added that there was too much risk of collisions at intersections or, unless the center-running lane is protected by a substantial concrete barrier, a car or truck finding its way onto the lane. He said it would only work if we had perfect driver behavior. "Maybe if we switch to 100 percent self-driving cars?"
"A center bikeway would be terrible," said Kyle Grochmal, a cycling advocate who rides through the area frequently. He said, among other things, that it's bad for merchants since cyclists wouldn't be able to leave the bike lane to stop off in a shop. "It disconnects cyclists from businesses."
Indeed, other American examples of center-running cycle tracks that Streetsblog could think of are on much wider streets than Valencia, such as Pennsylvania Avenue in Washington DC (which SFMTA cited), or there's a very short one on Pico Boulevard in Santa Monica, which is used as a connector to jog cyclists between two adjoining streets with conventional bike infrastructure. If Streetsblog readers have experience with other examples of center-running bike lanes please post about it below.
That said, in the countries with the highest bike mode share, center-running bike lanes generally aren't done. "If the Dutch and the Danish don't do it, we probably shouldn't do it," said Tom Radulovich, Executive Director of Livable City, who was also at the meeting. That could also apply to the two-way, curbside cycle track option presented at the meeting, which almost seemed like a throw-away option and was barely discussed at the tables.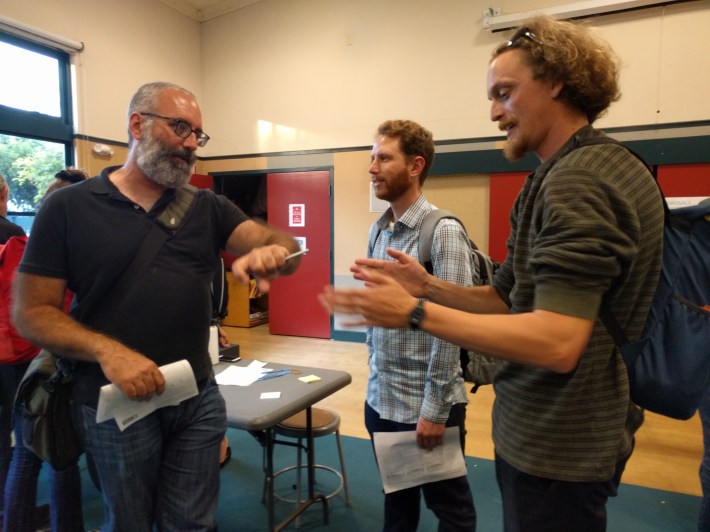 Radulovich was unimpressed in other ways as well. Even the more conventional, parking-protected bike lane option showed mixing zones, where bikes have to cross paths with cars looking to turn right, instead of protected intersections. Streetsblog NYC did a great critique of mixing zones (it includes a bike-cam video of a collision in a mixing zone that painfully drives the point home).

But, most of all, advocates at the meeting were aggravated that there was no proposal to fully or even partially pedestrianize Valencia. "There's no official vision in this room, even in the bikeway designs," said Radulovich.
SFMTA's explanation is that other users of the street (ref: merchants, Ubers) would object. Here is what it says in SFMTA's documents about the idea of eliminating through traffic and making Valencia a pedestrian and bike priority street:
As to traffic circulation, Grochmal pointed out the obvious: "You have Dolores and Guerrero for cars." As to the needs of merchants, which came up at the open house, advocates weren't buying that either, especially since commercial corridors all over the world (with nearly identical characteristics to Valencia) have flourished when configured in a car-free way (you don't even have to go out of state to find a great example--think of the Santa Monica promenade, which was originally opposed by local merchants).
Catherine Orland is the advocate who gathered data two years ago on Uber and Lyft violations of Valencia's bike lanes (and she deserves a large amount of credit for starting this whole redesign in motion). She's inspired by La Rambla in Barcelona (just imagine the lead image with bike lanes added) which she thinks would make a great model for Valencia.
At the open house, she said she is now working on a resolution she hopes Supervisors Rafael Mandelman and Hillary Ronen, whose districts together encompass Valencia, will sponsor and eventually bring to a vote before the Board of Supervisors. The resolution would instruct SFMTA to make Valencia into a primarily bike and pedestrian corridor. Under this scheme, there would remain some space, perhaps a single narrow lane, for cars and delivery trucks, with designated loading zones here and there. And the designs would divert that traffic off of Valencia at each intersection, or at least at regular intervals, to eliminate all through traffic. In other words, cars would be permitted onto the street only in one direction, and only for loading.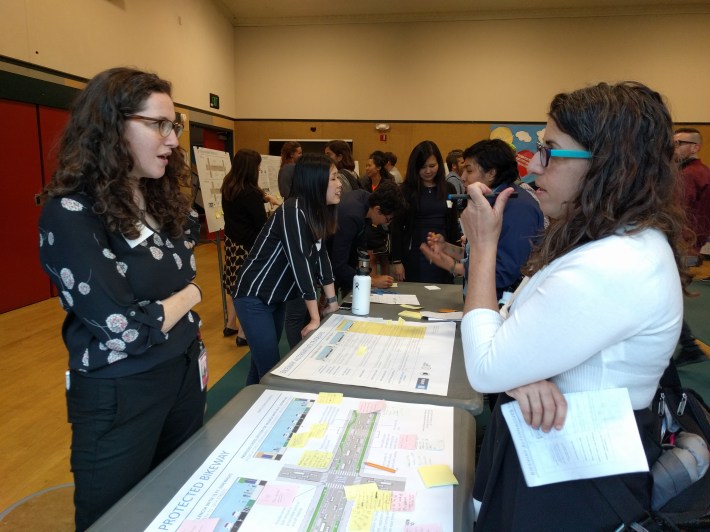 The push now by advocates is to get merchants on board. And then, they hope, lawmakers and SFMTA will follow.
The next outreach meeting/open house will be held on July 28th from 4-6 p.m. at The Women's Building, 3543 18th Street.
In the meantime, here's a list of the best pedestrian streets in the world (spoiler alert: businesses are flourishing).
Stay in touch
Sign up for our free newsletter