SFMTA
SPUR Talk: The Business of Public Transit
4:43 PM PDT on July 31, 2018
Note: Metropolitan Shuttle, a leader in bus shuttle rentals, regularly sponsors coverage on Streetsblog San Francisco and Streetsblog Los Angeles. Unless noted in the story, Metropolitan Shuttle is not consulted for the content or editorial direction of the sponsored content.
It has customers. It takes in revenue. It provides a service. Public transportation sounds like a business, doesn't it? "I'm a transit customer. We're exchanging value. I took BART to get here. The value I got was getting here quickly and affordably, and I got a pretty relaxing trip," said Justin Lokitz, partner and strategy designer for Business Models Inc., during a panel discussion on public transit's business model held today at SPUR Oakland. "I exchanged money for a ride--that was it."
According to Ratna Amin, SPUR's Transportation Policy Director, "business model planning tools can help our agencies adapt and thrive in a competitive transportation era."
BART's weekend ridership has been dropping over the past three years, explained Dennis Markham, Manager of Financial Programs and Planning for BART, who was also on the panel. "Some of it is due to TNCs (Uber and Lyft), but also because we've had a lot of closures for maintenance, so our reliability is limited."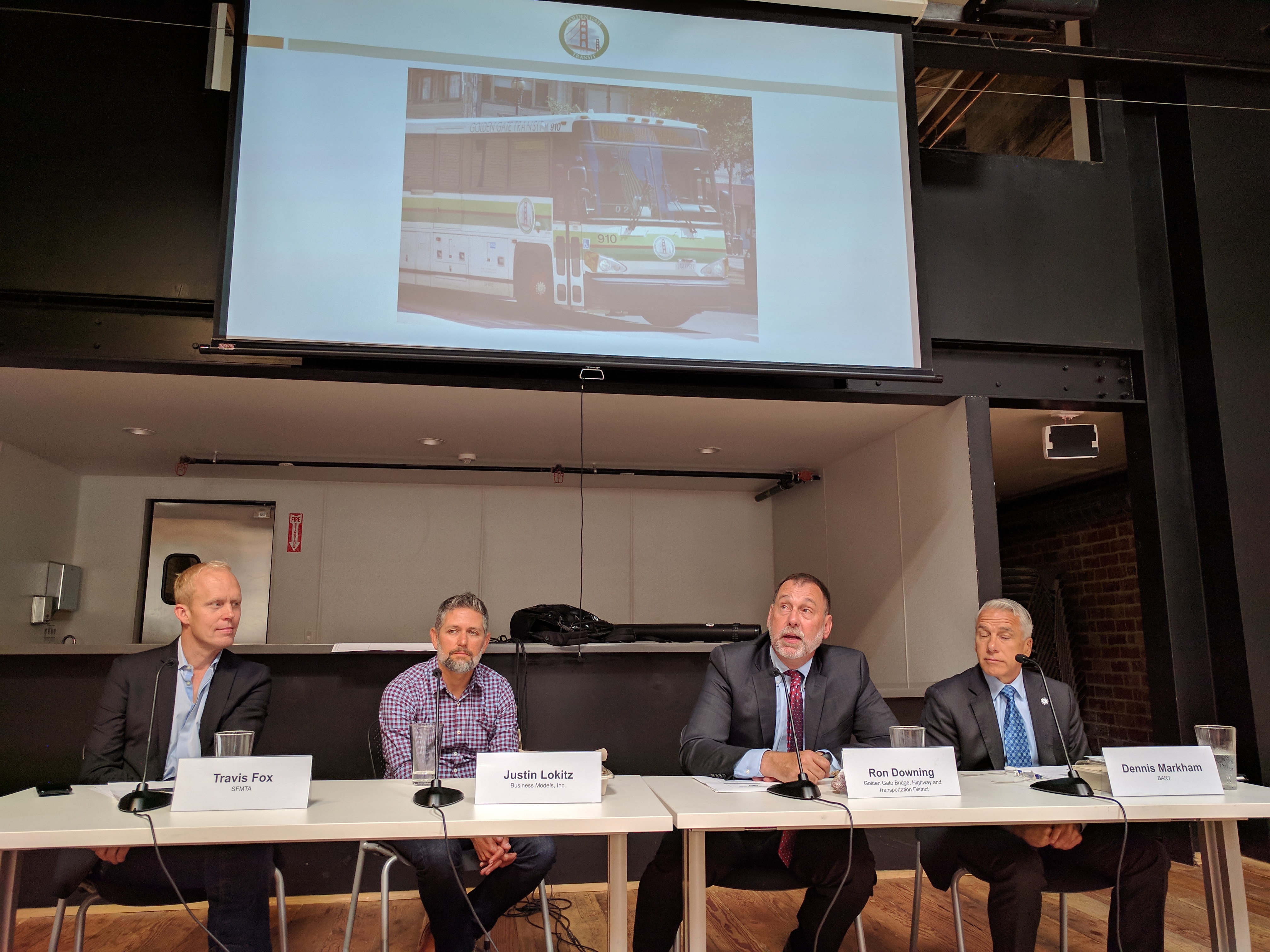 Markham said BART customer surveys show that noise, cleanliness, and homelessness are big factors keeping people away from BART. He said they have taken substantial steps to clean up some of the worst stations, such as Civic Center, and that the new rail cars--once they are widely deployed--will be quieter. "Employment continues to go up, but ridership [relatively] goes down . . . if you give the customer a not-so-great experience, how can you expect them to ride the system?"
In addition to a drop in off-peak ridership, trips to the airport are down, he said. But, as reported in previous Streetsblog stories, there are paths to being competitive in these realms--and one of them is to run shorter trains more frequently so that people don't have to wait twenty minutes for a train. Lokitz pointed out that a key to business success is to be a "relatively consistent train system."
Meanwhile, Travis Fox, Chief Performance Officer for the SFMTA, explained that his agency has to balance the needs of its Muni system with other street users who bike, take paratransit, park, walk, and use taxis. Like BART, they were also taken by surprise by TNCs. "We didn't really have much competition," he said, before TNCs--at least not in terms of sustainable modes of transportation. "I think that what we have done, or tried to do, is put out a service that is constant and everywhere, and is fairly priced."
Fox explained that Muni is committed to offering safe and equitable transportation. "But what can we do to recruit more discretionary and choice riders?" He said they can improve the fare structure to encourage people to use Muni for more than commute trips. "One of the things we're about to launch on Muni Mobile is a day pass, at two times the price of a ticket--this way you can go to work, and then everything else is free."
But he also said Muni should focus on its strengths, such as cost, and not necessarily try to take on TNCs head-to-head. "We can't offer door-to-door rides, or privacy--but that's not what we strive for. And we're not going to offer bottled water or Jolly Ranchers." He also pointed out that on some trips, say on the underground rail portions of trips, Muni can actually be faster than the competition.
However, he implied that Muni could also try some of the relationship-building strategies of for-profit enterprises, but it's tricky. "If Delta sent you an email that said 'Hey, we haven't seen you in a while, here's a $100 pass,' you'd be okay with it, but if we did that? We have a significant potential trust gap. It's a tough one."
Ron Downing with the Golden Gate Bridge, Highway and Transportation District, meanwhile, gave a history lesson on his agency, and talked about how it started out simply administering tolls on the bridge. Transit service was provided by Greyhound until the late 1960s, when bus service was transitioned over to the district. "Our mission was modified in 1969 to use surplus bridge tolls to fund transit," he explained. "It's a pretty unique model; the only other place they use that is NYC, with the Port Authority Bridges." Greyhound had used older buses on the route with no air conditioning and hard seats, so the district upgraded the buses with reclining seats and luggage racks to help draw people out of cars on the clogged routes from Marin and Sonoma to downtown San Francisco.
"Now customers expect reclining seats, AC and wifi," he said. The agency also started providing ferry service from Sausalito, Tiburon, and Larkspur; those services have since grown. He said customers respond very well when they cut travel time. "When we introduced high-speed catamarans, it shaved 15 minutes off the 45 minute travel time, and ridership response has been incredible."
Disappointingly, there was not a word about fare integration or inter-agency schedule coordination and cooperation. The challenges of attracting and retaining customers seemed to be viewed only from within their own agencies and systems.
As Lokitz, the one non-transit-agency person on the panel, explained, good businesses partner with each other to provide better service to customers. And they should be asking themselves: "Who are the key partners, who are the other agencies that we can work with that help create value?" he said. "This is the way you should think about business models."
For more events like these, visit SPUR's events page.
Stay in touch
Sign up for our free newsletter