Muni
SFMTA Launches "Muni Backward" Program
4:25 PM PDT on August 20, 2018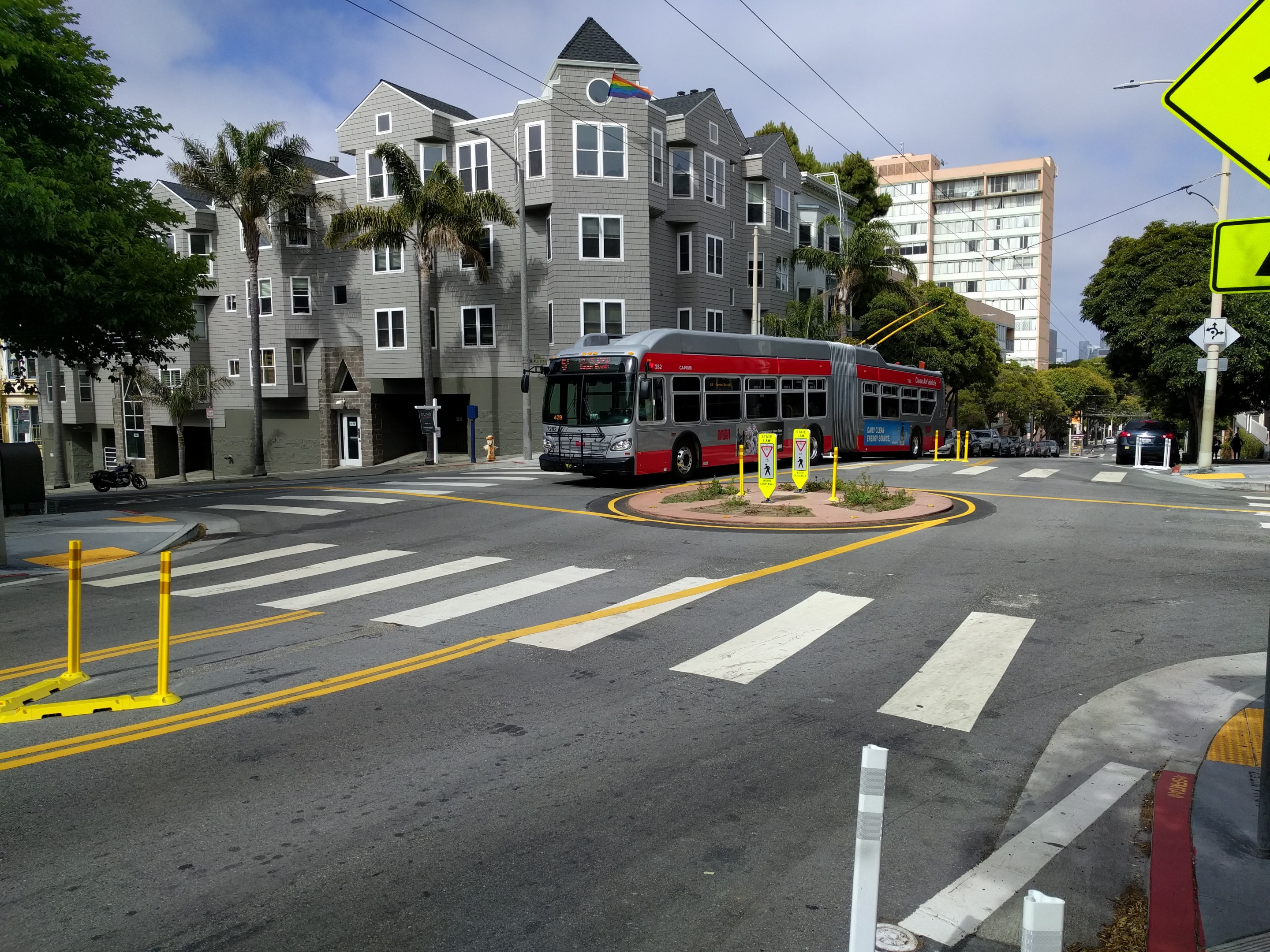 Note: GJEL Accident Attorneys regularly sponsors coverage on Streetsblog San Francisco and Streetsblog California. Unless noted in the story, GJEL Accident Attorneys is not consulted for the content or editorial direction of the sponsored content.
Advocates at the San Francisco Transit Riders were outraged to learn that another hard-earned transit and safety improvement is being rolled back, with a decision by the SFMTA to remove the recently installed traffic circle at McAllister and Steiner. "It is really disappointing that SFMTA is capitulating to a few neighbors without any input from the more than 20,000 daily riders who are currently benefiting from the circle," wrote SFTR Executive Director Rachel Hyden in an email to Streetsblog. "They've already reinstalled stop signs, going backwards instead of forwards with a real traffic signal. And they're doing it without public notice or comment."
Earlier this month the Alamo Square Neighborhood Association posted on its website that it had successfully lobbied SFMTA to remove the traffic circle and return the intersection to a four-way stop.
From the Alamo Square post:
Due to the safety and noise concerns observed and documented by neighbors, the SFMTA will re-install stop signs and remove the traffic circle at McAllister/Steiner. The two-stop roundabout was not a typical design, and SFMTA has determined it was not the right design for this intersection.
As Streetsblog previously reported, the traffic circle was itself a compromise with local residents on the recently completed 5 Fulton Rapid project. Originally, the plan was to put in traffic signals that would favor the 5 Fulton bus, giving it transit priority over private cars, as part of the larger Muni Forward program to improve transit service throughout the city. But local residents lobbied against the traffic signal upgrades on some intersections along the route, including Steiner/McAllister, and a traffic circle was installed instead.
"The traffic circle on McAllister and Steiner is part of a larger transit project with added safety benefits for pedestrians. Removing it seems a little premature. It has been in place for only six months, barely enough time to allow drivers to alter their behavior and evaluate its effectiveness," wrote Walk San Francisco Executive Director Jodie Medeiros in an email to Streetsblog.
Streetsblog has a request in to SFMTA public affairs and will update this post accordingly. However, Hoodline confirmed, via a spokesperson from SFMTA, that the traffic circle will be removed "as soon as the city agency can schedule crews to complete the work." The San Francisco Transit Riders confirmed that the stop signs have already been replaced, so now there is once again a four-way stop at Steiner and McAllister.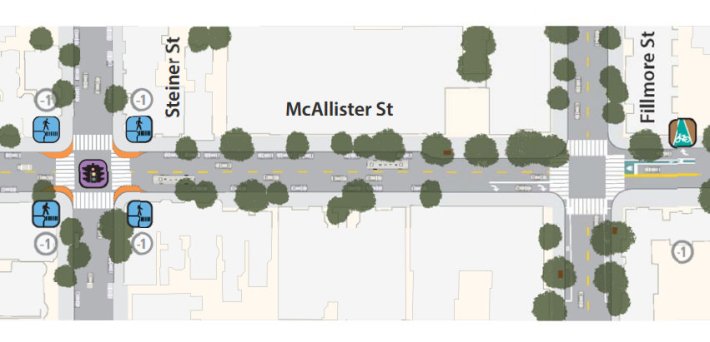 "I'm surprised that the City would remove something that seems to be working pretty well so immediately after installing it. I'd strongly support a much longer testing period. It seems likely that over time the honking will reduce and people will learn to navigate the circle. Other neighborhoods in SF and other cities in the Bay Area have effectively adapted to traffic circles," wrote Kearstin Dischinger, a resident of the Alamo Square neighborhood and an advocate with Walk San Francisco. "I've really benefited from having the traffic circle there – when I'm pedaling uphill I can ease my way into the intersection rather than stopping completely – this is a big help in keeping momentum up the hill.  I rely on the 5 Fulton often to get to work – SFMTA has done great work to speed up this bus. I support any measure, including this traffic circle, that can get all the 5 Fulton riders to work faster and more reliably."
All of which raises the question: why pay SFMTA staff and outside consultants to do years of outreach meetings if plans can be cancelled, amended, or, in this case, reversed without input from the public at large? Streetsblog asked District 5 Supervisor Vallie Brown and Mayor London Breed for comments, and will update this post.
As reported several times in Streetsblog, roundabouts, also known as traffic circles, reduce serious crashes. As reported in Streetsblog USA, a 1997 study done in Seattle found that the traffic circles reduced collision injuries by 97 percent and all collisions by 90 percent. They also reduce pollution, since motorists can often retain some momentum through the intersection if there isn't already a vehicle in the roundabout. "Roundabouts are better… the most important thing is it slows traffic down, you don't need traffic lights, it's safe, people are more aware of other traffic, and traffic flow is better," said Dutch transportation engineer Mark Sloothaak in a previous post.
Transit Riders' Hyden just wants the city to prioritize safety and the needs of riders on the 5 Fulton. "Returning the stop signs is not the answer. Putting in actual transit priority traffic lights results in greater safety for everyone and improved transit service," she wrote.
Meanwhile, this short video published by the Washington State Department of Transportation, explains why circles are safer than other types of intersections:
Editor's note: Prior to publishing this piece, we talked about how some traffic engineers will take exception to us conflating "traffic circle" and "roundabout." And I see this mentioned now in the comments section. To be clear, I (Roger Rudick) decided not to follow traffic engineering jargon, because Streetsblog isn't a traffic engineering manual. In common parlance and understanding, traffic circle and roundabout are the same thing. In fact, the California Driver Handbook only lists roundabout. It says "A roundabout is an intersection where traffic travels around a central island in a counter-clockwise direction. Roundabouts do not have bicycle lanes, so traffic must share the road. Vehicles or bicycles entering or exiting the roundabout must yield to all traffic including pedestrians."
Stay in touch
Sign up for our free newsletter