Caltrain
High-Speed Rail Conference Kicks off in San Jose
4:00 PM PDT on September 11, 2018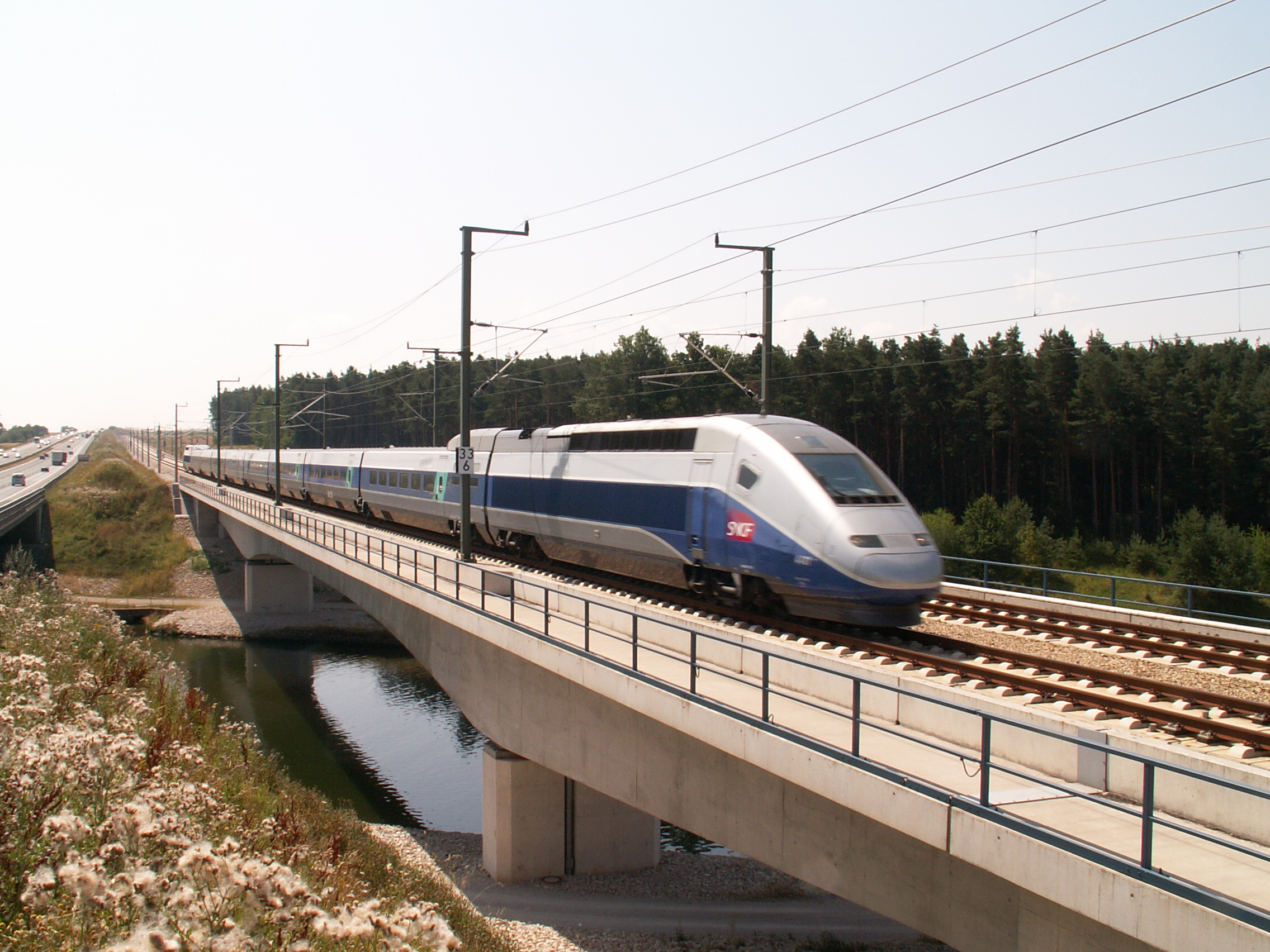 Note: GJEL Accident Attorneys regularly sponsors coverage on Streetsblog San Francisco and Streetsblog California. Unless noted in the story, GJEL Accident Attorneys is not consulted for the content or editorial direction of the sponsored content.
The earth's ice caps are melting, which means eventually "Silicon Valley will be under water," said Rod Diridon, Chair Emeritus of the U.S. High Speed Rail Association," during a keynote address at the start of the National High Speed Rail Leadership Summit, which kicked off Tuesday morning in San Jose. "Science is telling us if the polar ice melts...the water levels will go up over 200 feet, which means we're under water right here...and that is going to occur unless we can reverse our addiction to carbon-based fuel."
Diridon, retired politician, advocate, former chair of the California High-speed Rail Authority, and the namesake of San Jose's main railway station, talked about how California's High-speed Rail project will help reverse that addiction. Diridon said transportation--from cars and airplanes--now contributes nearly 40 percent of all greenhouse gas emissions, according to research from the State's Office of Environmental Health Assessment.
High-speed rail, which is powered from electricity--and, according to Californian's plans, 100 percent renewable electricity--will help wean people from carbon-emitting ways of moving around.
"You hear that there are no silver bullets, but this really is a silver bullet" when it comes to emissions, explained Andy Kunz, President and CEO of the US High Speed Rail Association, the organizer of the conference.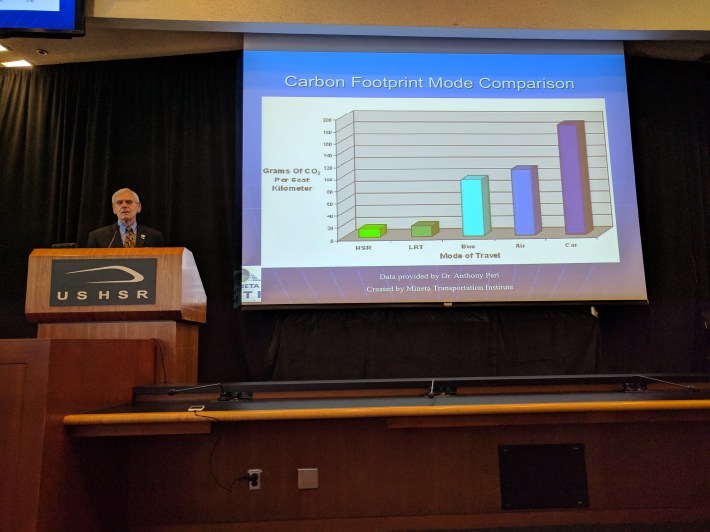 As seen in Diridon's chart in the above image, HSR produces far fewer grams of CO2 per passenger mile than airplanes or cars. In fact, because of the low friction and high efficiency, all steel-wheel-on-steel rail forms of transportation consume less energy, explained the conference speakers.
But one could be forgiven for not knowing that fact, explained Kunz. "There's a well-funded, negative campaign against high-speed rail... lots of 'think tanks' continue to spread misinformation." He talked about some of the catch phrases favored by oil-funded lobbyists, such as "train to nowhere," "It's a boondoggle" and "No one rides trains anymore, it's yesterday's technology."
"They saturate the media," he said.
Of course, it isn't yesterday's technology. It's just technology that can replace long-haul drives and short-haul flighs, which contribute enormously to the state and the world's pollution problems (and the profits of petroleum and automobile companies). But for now "America is currently spending over $200 billion a year still widening roads, and doing it while spending zero on HSR," Kunz said of the current federal budget.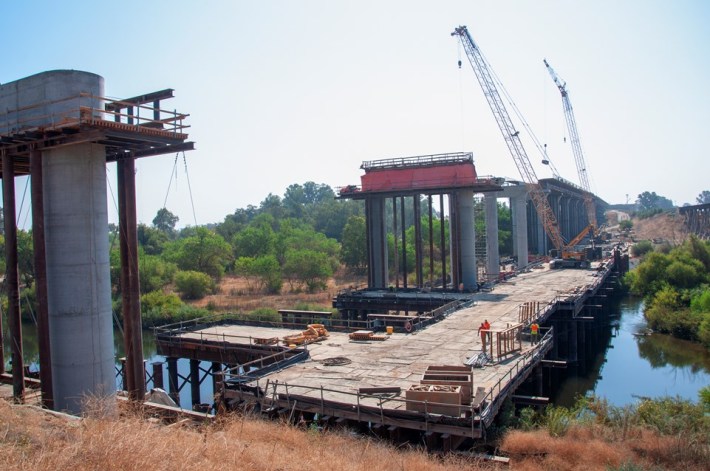 He pointed out how once California's system is set up, other states will start to connect to it and, with sufficient change in leadership, the U.S. can start moving towards a nationwide system. But the country has a lot of catching up to do. High-speed rail was first introduced in Japan in the 1960s, explained Bonnie Lowenthal, a former assemblywoman for Long Beach. Now more than 12 countries have high-speed rail, but not the U.S., she bemoaned. "Even Uzbeckistan has it. Uzebeckistan!"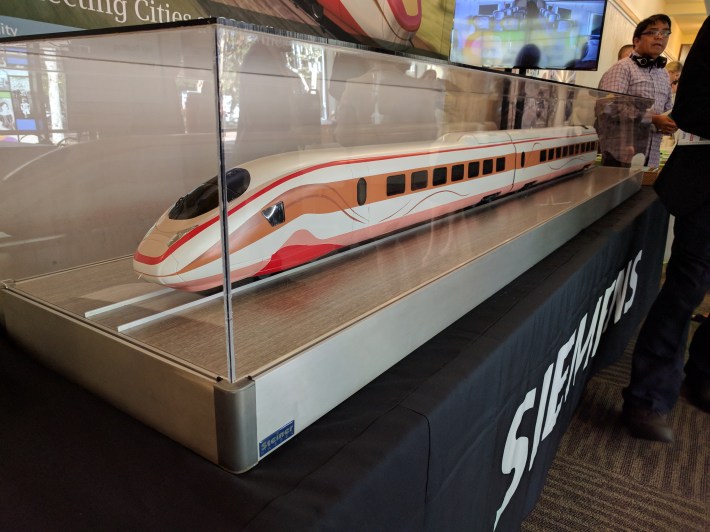 Many of the speakers echoed how the rest of the world, most notably China, have overtaken the U.S. in transitioning to electrically powered transportation. They hoped this conference, which continues through Thursday, can dovetail with the Global Climate Action Summit in San Francisco, which starts tomorrow, to help remind people that reducing greenhouse gas emissions requires converting to electric transportation--such as light rail, electric commuter rail, and high-speed rail.
Meanwhile, the California High-speed Rail Authority has posted this video update of work in the Central Valley.
Stay in touch
Sign up for our free newsletter