Caltrain
Caltrain Electrification Zooms Along in Prop 6's Shadow
4:28 PM PDT on October 29, 2018
Note: GJEL Accident Attorneys regularly sponsors coverage on Streetsblog San Francisco and Streetsblog California. Unless noted in the story, GJEL Accident Attorneys is not consulted for the content or editorial direction of the sponsored content.
Caltrain is back to full service after this weekend's closure of its four tunnels in San Francisco. The railroad is closing the tunnels--and suspending weekend service to 4th and King Street station--every weekend through the spring, as part of work to repair tracks and add brackets and string wire for the Caltrain electrification project.
On weekends, SamTrans is providing bus bridges between San Francisco, 22nd Street Station, and Bayshore Station. As previously reported, work inside the tunnels and the weekend service disruptions between San Francisco and Bayshore Station are expected to last through March 17 of 2019. There's one exception: tunnels will be open the first weekend of January.
From Caltrain's update page about this round of work inside the tunnels:
Crews will perform grouting and drilling work in the tunnels as well as notching work to provide additional clearance for the new electric trains. Crews will also perform potholing work outside of the tunnels. Weekend tunnel work will be around the clock from Friday evening to Monday morning. Weekday work will be from 8 p.m. to 5 a.m.
It's now possible to see the results of the ongoing work, with potholing and foundations for electrical masts going up all along the corridor. The infrastructure is especially visible in areas from South San Francisco to Millbrae (which includes San Bruno, as seen in the lead image, and on other parts of the line, as seen below).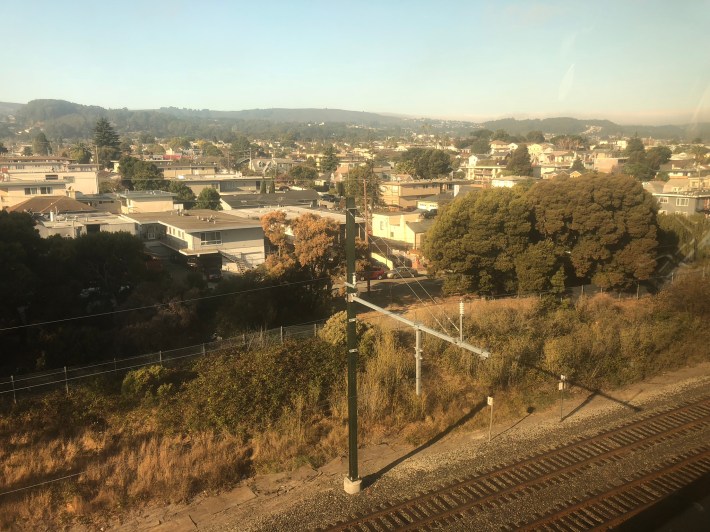 Poles and wires are now a common sight between San Bruno and Millbrae, with more going up all the time. The project is moving quickly after a very rocky road to get federal financing in place.
Caltrain's $1.9 billion electrification project, which includes overhauling the signal and train control systems, installing power substations, putting in poles and stringing overhead wire and buying new, off-the-shelf electric rolling stock, is on schedule to be operational by 2022.
Unfortunately, should Prop. 6 pass next week, Caltrain won't be able to fully exploit the electrified infrastructure when it's completed. As previously reported, Seamus Murphy of the San Mateo County Transit District explained that cuts under Prop. 6 would reduce the number of electric trains that Caltrain can buy. The funds that Prop. 6 eliminates "allows us to fully convert the Caltrain system to electric trains, and instead of operating six-car electric trains we could operate seven-car trains," he said. (For perspective, currently Caltrain runs five or six passenger cars per train).
That's because Prop. 6 would cancel out $164.5 million in S.B. 1 funds that are part of a package to purchase Caltrain's fleet of electric multiple unit trains, in addition to providing WiFi, and increasing bike parking at stations, said Dan Lieberman, a spokesman for Caltrain.
That's yet another reason that all advocates for better transit, including the publishers of Streetsblog, are urging a "no" vote on Prop. 6. "Polling on Proposition 6, which would ax funding for longer electric Caltrain trains (and other essential transit and transportation funding), is mixed and worrisome," wrote Friends of Caltrain's Adina Levin, in the Green Caltrain blog.
For more information on Prop. 6, check out the "no" campaign web page.
For more information on the tunnel work, visit www.calmod.org/SFTunnels.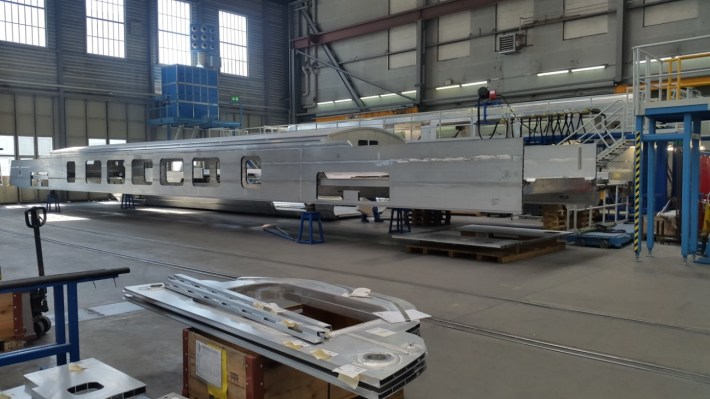 Stay in touch
Sign up for our free newsletter