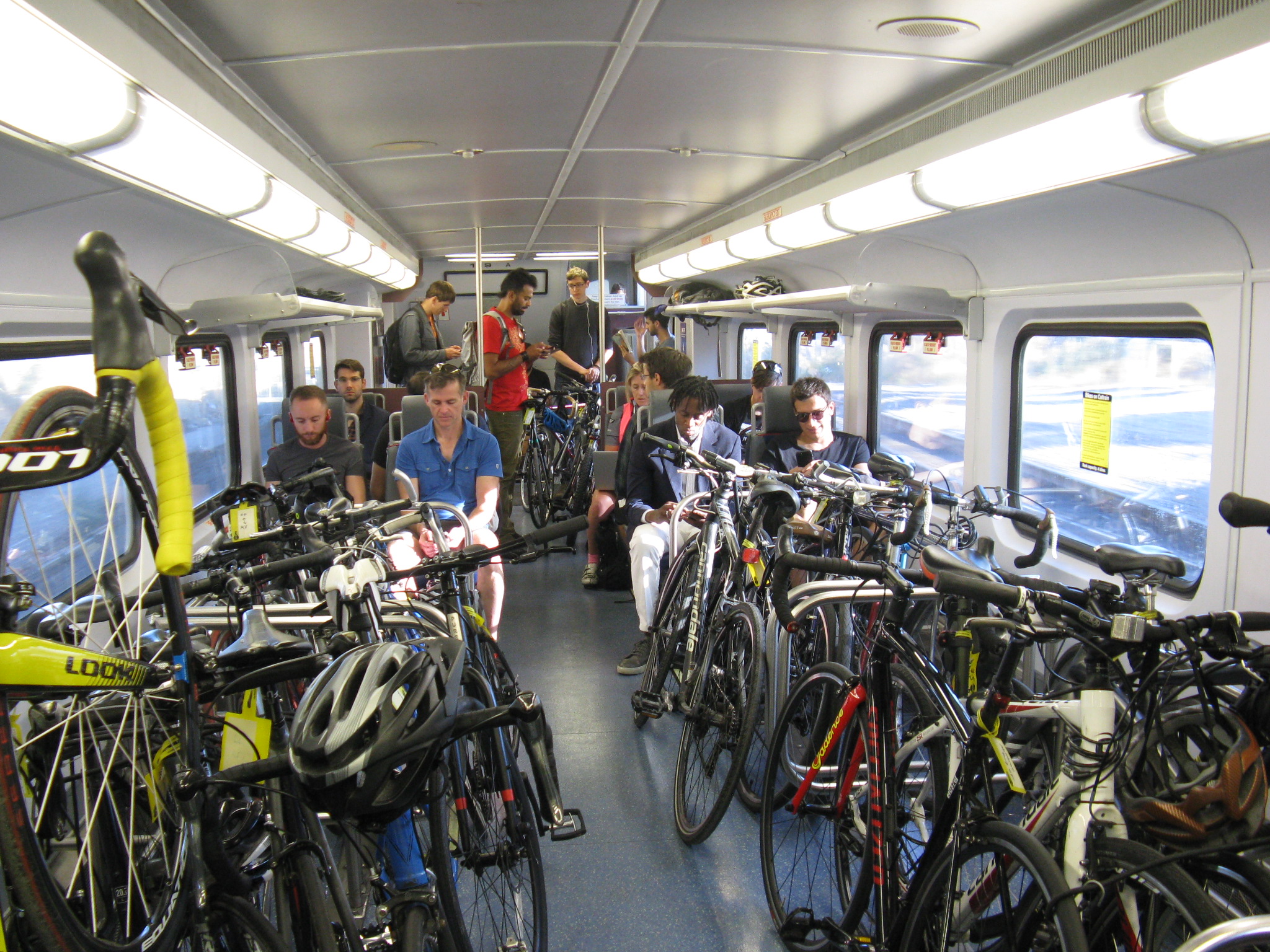 Note: Metropolitan Shuttle, a leader in bus shuttle rentals, regularly sponsors coverage on Streetsblog San Francisco and Streetsblog Los Angeles. Unless noted in the story, Metropolitan Shuttle is not consulted for the content or editorial direction of the sponsored content.
Wei Liu bikes two miles from his home to Caltrain's Lawrence Station. He puts his bike in the bike car and then sits down for a 15-minute train ride to Palo Alto. He rides his bike another two miles to his job as a solar astrophysicist at the Stanford-Lockheed Institute for Space Research. In June last year, when he went to retrieve his Trek Verve 1 from the bike car, it wasn't there. In retrospect, Liu is pretty sure he saw the man who stole his bike--because he happened to notice a man get on right behind him carrying a very junky-looking bike.
Liu is convinced the man who got on behind him left the junker and got off at the next stop with his Trek. He believes the man was using a common ploy of grabbing whatever junk bike he can find and following someone with an expensive bike onto the train. Then they leave the junk bike on the train and get off with the high-priced bike of the person they followed. This avoids suspicion, since nobody is likely to notice if someone gets on the bike car with one bike and leaves with another. Wei says Caltrain's 'bike car' arrangement, where cyclist are routinely forced to sit far and out of sight from their steeds, encourages this kind of theft. "The thieves are very smart--they watch you go to the other car."
Liu's experience is not isolated.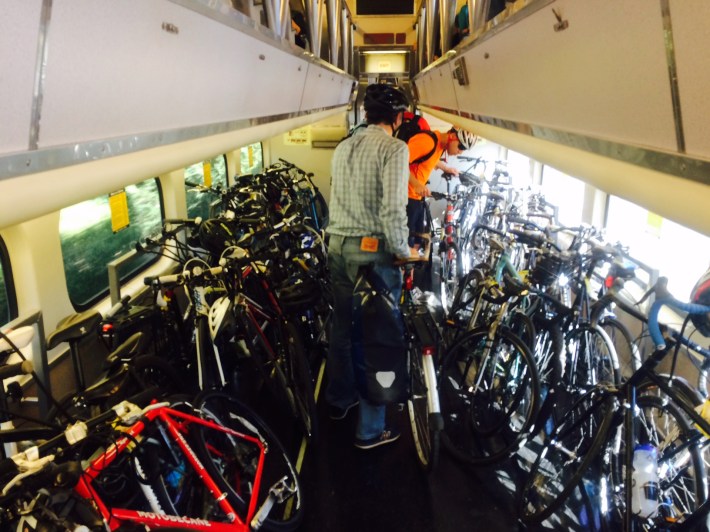 "We've heard concerns about theft ... and have moved to update a lot of our practices to better address the issue," wrote Dan Lieberman, a spokesman for Caltrain, in an email to Streetsblog. "In the coming months, we're looking to partner with 529 Garage, which makes it easier to both prevent theft and to recover stolen bikes after the fact. We're also working with our conductors and the Transit Police to improve our response to thefts, and are looking into providing additional cameras at stations in addition to the cameras that will come equipped on our electric trains."
529 Garage is a bike registration service, to help police--and bike owners--track down a bike once it's stolen. But Liu, and other bike riders who use Caltrain, say they'd rather not have their bikes stolen in the first place either by better organizing the cars so they can lock their bikes in place, or by organizing the seating arrangements so all cyclists can sit with their bikes in sight. That's because if thieves really are carrying junker bikes on and getting off with a more expensive bike, there's little conductors and Transit Police are going to be able to do to catch them in the act, considering they'd have to monitor every one of the 6,000 bikes brought on board every day to make sure it leaves the train with the proper owner.
Either way, Caltrain and bike advocates are at odds about how common on-board bike thefts have become. Cliff Bargar, who represents San Francisco on Caltrain's Bicycle Advisory Committee, thinks it's a much larger problem than Caltrain currently acknowledges. He told Streetsblog that Caltrain police estimated only one bike was stolen from onboard the trains last year. But "I decided to do a deeper dive on Twitter and found that in 2017 there were at least 10 thefts reported." Further investigations by Caltrain and Bargar pushed that figure even higher. "The estimate of one stolen bike from on board in 2017 was adjusted upwards to 27," said Bargar of the latest figure. "I'm grateful that Caltrain staff made the effort to investigate this and are still pursuing this issue."
Pursuing it perhaps, but not seriously enough for Bargar, Liu or other Caltrain riders who reached out to Streetsblog. Drew Winget wrote that he has had two bikes stolen off of Caltrain. "I use my bike every day," he wrote, and "Caltrain makes it worse because you're not allowed to secure your own property with a lock" because of the arrangement of Caltrain's bike cars, which forces cyclists to stack bikes on top of one another.
Bargar added that he was disappointed at a recent meeting with Caltrain's Director of Rail Operations, Joe Navarro, to hear him downplay the significance of the thefts. "Mr. Navarro responded that 27 bikes were reported stolen and [that] is minimal" as Caltrain handles thousands of bikes every day.
Advocates are afraid designs for the new Electric Multiple Unit trains--due to begin operations in 2022--will make this situation even worse.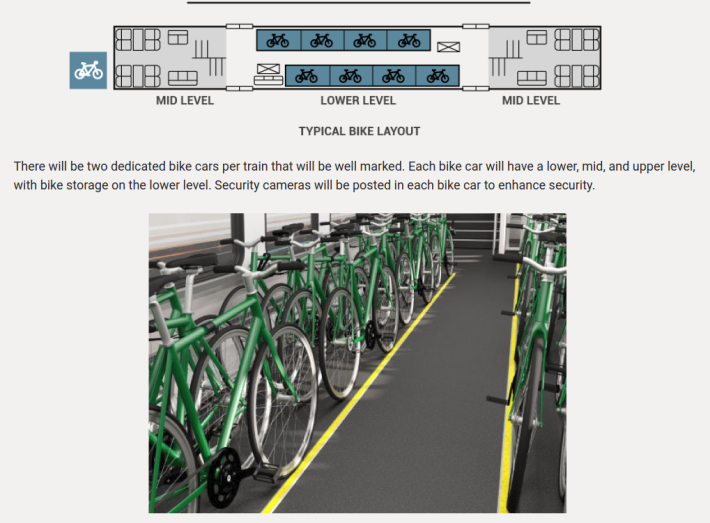 Caltrain's electric fleet will have bike cars with basically no seats with a view of the bike storage area. Caltrain spokesman Lieberman wrote that the new cars will all have security cameras.
But advocates don't consider that a viable solution. "We know that security cameras are not a deterrent and even Caltrain's transit police acknowledges that having seats within view of bikes would help deter and prevent some thefts," Bargar wrote.
Advocates are offering two solutions. On the existing bike cars, they want seats in the bike car held available for cyclists and not random customers.
"Legally, we can't prevent people without bikes from sitting in the bike section," said Lieberman. But Liu thinks much can be accomplished just with some better signage, reminding passengers who don't have bikes to sit in a different car.
"Caltrain actually has a tiny sign on the bike car hidden in the stair-well leading to the upper deck that reads something like 'As a courtesy, please allow passengers with bikes to sit in this area of the car,'" wrote Liu in an email to Streetsblog. "This is so hidden that nobody can see it." He wants to see larger signs, and signs on the back of seats in the bike car.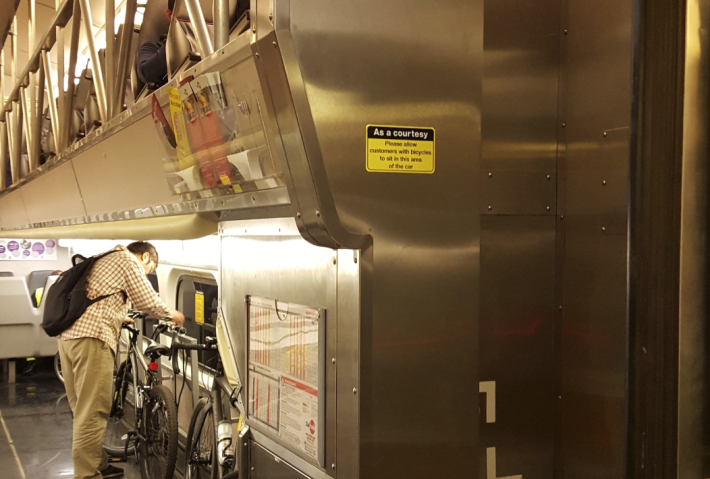 On the new cars, advocates are hoping bike storage can be more distributed, with seats nearby, so cyclists can maintain eyes on their bikes--something more akin to the layout of the current Bombardier fleet, shown in the lead image. "This layout would be preferred for EMU cars over Caltrain's current proposal, which has no fixed seats within view of bikes and stacked bikes blocking emergency exit windows," wrote Shirley Johnson, who formed the group BIKES ONBoard to help advocate for bike space on BART and Caltrain.
Johnson has launched a petition for more bike space and a more secure layout on the new electric trains.
Lieberman said Caltrain is also trying to improve first/last-mile connection options at stations, with better bike parking and with bike- and scooter-share areas, so that fewer riders will need to carry bikes on board in the first place. "We've hired a project manager to execute the Bike Parking Management Plan that our Board adopted last year," he said.
But Liu told Streetsblog that locking a bike at the station and using bike- and scooter-share may never be a practical option for cyclists who need their bikes on both ends of a commute. During the six weeks it took him to replace his Trek, he ended up borrowing his wife's bike sometimes--and driving directly to work others. When he got his new bike, he covered it with duct tape to try and make it look less attractive to thieves.
Lieberman, meanwhile, is encouraging riders to fill out Caltrain's Bike Access Survey, which will remain open until this Sunday, November 11.
Stay in touch
Sign up for our free newsletter