Bicycle Infrastructure
San Franciscans Are Buying E-Bikes Like Never Before. Where Do We Put Them?
3:40 PM PST on January 3, 2023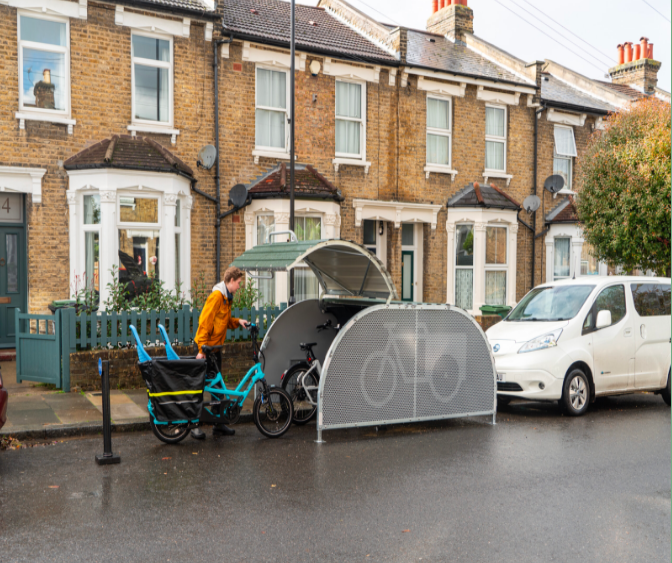 Note: GJEL Accident Attorneys regularly sponsors coverage on Streetsblog San Francisco and Streetsblog California. Unless noted in the story, GJEL Accident Attorneys is not consulted for the content or editorial direction of the sponsored content.
There's a new technology in San Francisco that could be key to both meeting our city's climate change goals and stemming the scourge of traffic - and traffic violence - on our streets. Let us introduce you to the e-bike.  
About 800,000 e-bikes were sold nationwide in 2021, a 70% increase over the year prior, and it's clear the momentum is only growing. San Francisco is riding this same national trend. In our hilly city by the bay, e-bikes can transform trips that used to require breaking a sweat into comfortable, everyday transport. The advent of e-bikes has come with a variety of new vehicle types, from adaptive to cargo, meaning that a new wave of riders feel more welcome to take to the streets. 
Family e-bikes that have room for passengers and similar amenities to an SUV are available at a fraction of the cost. Adaptive e-bikes make the vehicles more accessible. Meanwhile, delivery workers switch to e-bikes for lower costs and more flexibility. 
This is great news for our city, and great news for the climate, too - over its lifecycle, an e-bike causes just a tiny fraction as much greenhouse gas emissions as a car, whether gas or electric. And their lower cost makes a new e-bike accessible to vastly more people than a new electric car. In fact, there were over 20% more electric bikes sold than electric cars in 2021, making them the most popular electric vehicle type by far.
But, the good news mostly ends there. E-bikes face one steep challenge: where to store them overnight? For e-bikes to fully flourish, they must be paired with widespread access to secure, insurable, easy storage near home - just like we offer for residents with cars. Without that, an e-bike will get stolen - it's a matter of when, not if. If San Francisco wants residents to invest $1,000 or more in an e-bike, purchasers need to know that their new vehicle won't disappear a week later.
In our dense city, the majority of our residents live in multifamily buildings and may not have dedicated garage space. This is good for climate change and for having thriving, bikeable neighborhoods. What isn't good is that we've turned over nearly 100% of our city's curb space to the storage of private, largely fossil-fuel powered vehicles, and made it impossible for our neighbors who don't have a garage to invest in an e-bike instead. 
The Board of Supervisors held a hearing last month to look at possible solutions. This isn't a technology problem: There are numerous residential bicycle storage lockers available. The oldest bicycle lockers were developed a quarter century ago, and the latest models have been redesigned to accommodate today's larger cargo bikes. 
The Board also explored policies to actually bring these lockers to San Francisco streets. Some options were simple, bureaucratic, and privately-oriented: expanding the Shared Spaces program to include secure residential bicycle storage as an option, or creating a spinoff program based on temporary moving crate permits. Some were more creative and publicly-oriented: piloting a widespread, city-managed locker system. 
We should look to other cities for guidance. Portland is piloting eight bike lockers at affordable housing sites, while New York City is placing a six-bike curbside bike locker at five separate sites over a six month pilot. Both models give us a head start to learn from. 
Supervisor Matt Dorsey showed leadership in calling for the hearing, and other members of the Board seemed interested in solutions. Now, it's our role as residents and voters to make sure the city and the Board take bold action in the months ahead. As we start 2023, let's make our intention absolutely clear: We expect concrete plans for scalable programs that can be piloted this year. 
By one estimate, San Francisco has nearly 300,000 on-street parking spaces reserved for cars. That represents enough space to parallel-park a line of cars along the entirety of California's 840-mile coast. Is it too much to ask to turn a bit of that space over to e-bikes, so that we can do our part to protect the actual California coastline?
***
Joanna Gubman is the Executive Director of Urban Environmentalists and previously served as an Administrative Law Judge at the California Public Utilities Commission.
Danny Sauter is the Executive Director of San Francisco Neighborhood Centers Together. He lives in North Beach and previously ran for District 3 Supervisor in 2020.
Stay in touch
Sign up for our free newsletter